The North Face Rock 22

The Rock 22 has been discontinued. If you're looking for something new, check out the best three-season tents for 2023.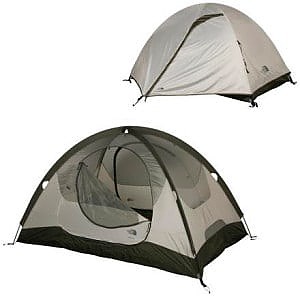 I bought the tent a few years ago and I really like it. Sturdy, lightweight, holds up in the wind, with room for two adults. If you are going solo then it is an excellent choice. The price is also attractive if you are on a budget.
Pros
It is light, strong, sets up in no time at all and has ample room.
Cons
If you are in severe rain, it can develop some condensation.
I bought the tent a few years ago from a local outdoors store. I find the tent to be lightweight, easy to set up, and it holds up well in wind. It may look small from the outside, but once you get inside, you find there is a lot of room.
I like the various holding sleeves inside the tent. I especially like how you can hang a small tent lantern from the center of the tent. It also has double doors, so this way you can enter or exit from either side of the tent.
It was kind of cute a few days ago when my kids were getting kind of cabin fever, or in this case camping fever. They wanted a campout and being the first week of April it is still too cold for them to camp outside. So we decided to set the tent up inside the living room. Our living room is small, but even with the restricted space the tent fit very well in the living room. The kids loved it, and they slept very comfortably through the night.
But overall, if you are looking for an inexpensive tent that is reliable, lightweight, easy to set up (less than 4 minutes) then this is one very good investment.
I also liked how, when the tent is set up, if you have not staked it right away and you want to move it a little before staking it down, you can literally pick it up with two fingers; it is that light. And besides that it is a cute little tent. I like it.
Source: bought it new
Price Paid: $165

My Rock22 is the older green & beige one that I bought in early 2009 on clearance just before the current salmon & beige one came out. Except for the new color scheme, it appears to be physically identical. Feature-wise, the new one comes with the gear loft which I paid $18 for. I also bought the optional nylon footprint which enables the Fast Pack option.
Good workmanship with high quality materials that I'd expect from TNF. Lots of thoughtful design elements such as:
- The all clip design makes for faster set up than the 2007 Rock22 which had pole sleeves.
- Double doors are handy so you don't have to climb over/disturb your tent-mate.
- Full coverage rainfly with double vestibules each add 9 sf more sheltered space so each of you can keep some of your gear outside the tent, freeing up more interior space.
- Roof and upper portion of walls are mesh which is great for stargazing and exceptional ventilation but with the rainfly on, you can't see out at all because it covers all the way down to the ground. I would have preferred traditional nylon walls with zip up nylon over mesh windows and a rainfly that doesn't cover the doors, just for the ability to see out anytime I want.
- 2 Aluminum poles are strong yet lighter than fiberglass ones.
- Fast Pack option allows you to use just the fly, poles, and footprint to create an ultralight summer shelter weighing only 4lbs. 1 oz. - a substantial savings over the 5lbs. 14 oz. full setup. While the full setup is not exactly ultralight it'll pass as a backpacking tent.
- Very smoothly operating zippers and the Ladder Lock buckles that attach fly to tent provide adjustability that typical stretch cords can't.
- 2 Large mesh storage pockets on interior wall is a nice touch. I've seen bigger tents with only one.
- Very roomy 87"L x 60"W x 43"H When I use it solo for car-camping with the Scouts I can actually squeeze in a 79x32 folding cot inside with room leftover for my gear inside or even under the cot!
I've used it at the wilderness campsites at Round Valley Reservoir in the pouring rain and had no leaks.
Design: 3-season freestanding X-dome
Sleeps: 2
Ease of Setup: Very easy with tent pole clips and color coded rainfly-to-tent-to-footprint straps & buckles.
Weight: 4lbs-1oz FastPack setup or 5lbs-14oz full setup
Price Paid: $129

I purchased this tent a year ago, and have used it 6-times. I have used it for backpacking and car camping. For backpacking the complete tent borders on being too heavy, but using the fly only is lightweight. The poles are aluminum.
I also bought the ground cloth which has a color coded system which aligns a corner. I have setup the tent w/o matching up the corners, and I don't see any difference.
It is a very roomy tent for 1 person, and can definitely accommodate two people easily. If you are sharing the tent, the two entry ways and vestibules are a plus. There is an "attic" which is nice to store a light and any other thing you quickly need.
Setting up the complete tent is easy - it is intuitive after the first try. I have used the fly only several times, and you have to work with the poles to keep the tent upright. Once the fly is attached to the poles, the tent is ridged enough to complete the setup. If you are using the complete tent, the interior has clips which attach to the poles, and give the tent rigidity needed to setup the tent.
I have used the tent two times in moderate rain, and have been kept dry. (I have not been exposed to windy conditions with this tent, but I'll post an update on setup and protection when I experience this.) The vestibule can easily accommodate and protect two backpacks and pairs of boots.
As noted on other reviews, this tent does not breathe very well. When temperatures dip below freezing, the fly and poles will accumulate a frost, which can be a problem when you want to hit the trail early and you have to pack the frosty fly. I am going to start guying the tent more to see if this helps with the moisture problems, and will update if it does.
Conclusion: The Rock 22 is a very good two man tent for the price and weight, and should be seriously considered when purchasing a two man tent.

Design: 3-season, free standing, dome tent
Sleeps: 2
Ease of Setup: Easy
Weight: Complete: Less than 6 pds. Fly only about 4 pounds.
Price Paid: $180

Easy and fast to set up. Great design with two doors and two vestibules.
Pros
Easy to set up
Durable
Comfortable
Lightweight
The tent is easy to set up with three (very high quality, lightweight) DAC poles (2 primary poles and one for the fly). It have plenty room for me and my wife and my gear. It's nice to have 2 doors for easy in/out on either side. 2 large vesibules keep gear dry.
The tent fits easily into my 55L pack. The stakes that come with it are your typical metal stakes and heavy so I replaced with the aluminum stakes and they worked great and were lightweight. The bamboo green color is great, it blends with the trees.
Source: bought it new
Price Paid: $150

Bought this tent 2 years ago. My wife and I (and sometimes our small dog) have used it about 20 times since, for hiking, canoeing, and even car camping. May not be exactly roomy, but what do you expect for a tent this price and weight (it is a 2 person tent after all?) I really like the double vestibules for storing gear and the double doors for bailing out in the middle of the night for nature's call. Zippers are easy to use and still not problem with them.
Always stayed dry, even in pretty heavy O/N rains. Has held up well in 40+mph winds w/o a problem. Used in frosty conditions, but all frost stayed on outside of rainfly and very little condensation on the inside.
May not be the lightest of tents for 2, but really manageable. Was a bit large in the sack for my 5300 cu in. backpack, but cinching it down with about 3 velcro straps made it much more compact.
A commons sense note: if you're in rocky ground, don't pound the stakes into the ground like King Kong- they will bend as with any other tent of this type; either adjust according to the terrain or replace with heavier stakes!
Have the most confidence in this tent of any tent I have ever owned.
Design: 3 season freestanding dome
Sleeps: 2
Ease of Setup: takes about 5 minutes max in calm conditions
Weight: about 5.5 lbs.
Price Paid: $130

I just spent 10 days camping out in France in this tent. We've had very hot days, very wet nights in bug infested fields and tent held up great against all of that. (I used the separately sold footprint as well)
Setup was very easy, just a few minutes with a decent wind blowing over the field. The tent comes with a few spare cords intended as replacements. These are perfect for tying the tent poles together at the top, it makes any dome tent a lot sturdier in heavy wind.
It kept me completely dry during nights with heavy rain and thunderstorms with heavy wind. During the hot days I could open both sides of the tent to let the wind blow through. The mesh inner tent let all the wind through without letting a single bug inside. Even at the end of 35+ degree C days the tent was pleasantly cool when I turned in.
If I had to pick one complaint it would be that the canopy doesn't reach completely to the ground. The raised edges of the floor sections were enough to keep me dry but the canopy was far enough off the ground to let heavier winds blow a fairly hefty draft through the tent. No problem for me at the time but it might be quite chilling if you camp in colder climes. That said the tent is a two season tent, not a three season tent as suggested at the top of the page and in many webstore pages. (the 22 in rock 22 after all means 2 person 2 season)
Spacewise it's a very roomy 1 person tent or a fairly cramped 2 person tent. With two people you'll definitely end up stowing your belongings in the vestibules. The included loft was very welcome for my glasses and other small belongings.
Design: two season freestanding dome
Sleeps: 2
Ease of Setup: Very easy,
Price Paid: 225 euro's

I really like this tent because it is a very roomy and was super cheap when I purchased it. The only reason I dropped a half star was due to the weight which is a bit heavy for its class. I was thinking since I only paid 95 bucks for it I could certainly fit the bill for some CF poles to bring the weight down to other in it's class but I think I will just ride it till it falls apart.
Make sure to use the guy lines on the fly during heavy rains (duh), even though not wet condensation seemed to be noticeable as I sometimes eliminate stakes for the guy lines during my weekend trips but a surprise thunderstorm caught me slacking once.
Great value, Great tent.
Price Paid: $100

Good solid tent, but a litte bulky and heavy.
Pros
2 doors makes it easy to get in/out and great for air circulation.
Mostly rain proof
Easy and quick to setup
Cons
Little bulky and heavy
Under heavy rain/wind, the rain fly let some water inside
I have used it for three years at festivals in Europe under heavy rain and heat wave. It kept me dry for the most part and kept me cool in hot weather. I like how easy it is to set up the tent.  It is a little too big and heavy to carry around in my backpack however. That's my main problem with this tent.
One other issue I found with this one is when it rains hard and windy, the rain fly actually let some water inside because the fly does not cover the sides too well. Front and back door sides are fine, but the fly on the side flaps a little under the wind and water comes in. Not much but it did bother me a little.
When it gets hot, being able to open both front and back to let air breeze in was great. I used mylar emergency blanket in between the tent and rain fly to cut down some of the heat from sun and it helped a bit.
Overall, I really liked the tent and it helped me survive cold/hot, but I think it's time for me to move on to something lighter to carry in my backpack.
Source: bought it new
Price Paid: Don't remember

The perfect tent — fast, easy setup, perfectly weather tight yet cool in hot, steamy summers, and smartly designed in every detail. Has features typical of high-end tents at a relatively entry-level price.
Pros
Absolutely leak-proof
Easy setup
Built-in gear loft
Full mesh
Cons
The door zipper can jam if you haven't pitched it tight.
Got this tent because I was tired of sweating it out in hot, steamy, Southeast US camping trips. Fits the bill with full mesh interior and good spacing from the fly for best ventilation. Also makes the tent completely leak-proof, even in horizontal, driving rains.
Full-clip set up lets you camp with just the fly and footprint for ultra-light camping (although, admittedly, it's a two-man, three pole tent, so even "ultralight" is not the lightest on the market). Same feature also lets you take down and fold the tent, dry, while it's raining, leaving only your fly wet.
In terms of space, the tent is adequate. There is a built-in, adjustable height gear loft overhead, and pockets on the sides. Gear loft does cut into headroom. Not a problem for me at 5'9", but might be an issue for taller users.
There are doors on both sides, with vestibules for each, but the vestibules are small. They'll fit a pair of boots, but not a pack. Also, the zipper for the vestibule entrance faces up. Advantage is, you can sit in the door, unzip the vestibule, and simply stand up to exit the tent. Disadvantage is, in active rain, you can unzip the tent and get a lapful of rain. This can be avoided, but it does limit the usability of the vestibule space in wet weather, somewhat defeating the purpose of a vestibule. I find I tend to use one side for a door, and the other side for storage.
In terms of stowage, I've never had a piece of gear fit its stuff sack more perfectly. It slips into the bag, and the bag sits nicely in my pack. 
I've used this tent as a Scout leader and for family camping, on trips in the Southeast of the US, where this officially three-season tent works perfectly all year long. In the north and mountains, it would probably be a true three-season performer.
Source: bought it new
Price Paid: $120

Perfect for car camping, weight doesn't matter then. Though I'd prefer a larger and heavier tent when car camping. Small hikes and trips, also excellent. For a longer or more sophisticated trip, you would probably prefer a much more expensive tent. Bombproof tent for a great price.
Pros
Double doors
Double vestibules
Cons
Heavy rain fly
Thin tent bottom
This tent is wonderful. Perfect for one person, obviously, with gear. Decent weight. I prefer more comfort when car camping, weight doesn't matter then. Small hikes and trips, also excellent. For a longer or more sophisticated trip, you would probably prefer a much more expensive tent.
The main point, this is a quality tent for beginners and intermediate outings. I got a blue color version, beautiful! I did get a compression sack, compressed it to a small ball and saved space.
It's easy to set up. You don't need to be strong. For the poles sliding through the sleeves, two people would make things easier. Waterproof and amazingly strong against the wind. Breathable mesh and fly. Storage pockets inside and loops to attach lofts and other things. There's also a loop in the middle for a light.
Source: bought it used
Price Paid: 40 USD

Quick, easy setup.
Pros
Double door design
Amazing clear view with rain fly off
Cons
Poles slide around at top of tent
Cheap stakes
Center floor seam
Easy setup; color coded. Good interior space. Should have included some sort of clip or way to tie the three poles together at the top of tent. I will makeshift something as I can see they slip back and forth — makes tent seem unstable.
It's heavier than I would have liked, not a tent for backpacking, for sure. Glad I got some decent stakes as suggested in other's reviews; ones that come with are flimsy.
I will update my review after my week-long canoe trip.
UPDATE 7/14! RAIN rain!! Tent stayed dry inside, except: misty splash back into tent all along base where rain hit ground, splashing back to the netting under the fly. Torrential rains — I ended up one night with a huge puddle of water under tent. Floor did NOT leak! I could press on the floor and feel the water undulating underneath!
Tent must have weighed 40 pounds of absorbed when repacked that morning, but dried out quickly the next day.
Source: bought it new
Price Paid: $124

I have a Rock 22 I got on clearance from the North Face outlet in Freeport, ME.  I got a great deal (~$80) so I can't complain because it has been a great tent for the past three years.  My model is the older one with full sleeves for the poles, which I prefer because it spreads out the stress from wind more evenly.  
My wife and I have used it car camping, backpacking and canoe camping, and it has been a great all-rounder.  If you feel like buying a different tent for each activity, feel free, but this tent does it all for us.  
We have to carry more weight than a dedicated back packing tent, and it isn't that big when you are car camping, and it isn't the best in high winds on a back country canoe trip.  BUT, it does them all, and will keep you dry to boot.  
The stakes that come with the tent are junk, plan on getting some better ones before you use it.
Also, it would be great to stitch on a few small strips of velcro to supplement the existing ones on the fly's zipper guard.  
Other than that, it has been a great tent, at least as good as anything else in this price range (regular price ~$160 US.)
Price Paid: ~$80

This is a mediocre cheaply priced tent. The weight of the tent is fairly low and it is easy to set up. The best thing about this tent is how big it is for a two-person tent. Two grown men can sleep in it without feeling "too close".
The second best thing about this tent is the lightweight poles. They are almost weightless, and when put together have no seams, so no snags when sliding it through the tent sleaves.
The worst thing about this tent is ventilation. On a normal summer night in central Ontario (Algonquin Park) it is TOO HOT. If it is raining, you are in trouble because you can't open the fly zippers. Also, if you are camping in sub zero temps your breath's condensation will freeze on the inside wall of the fly, which will in turn soak the interior of the tent. It is classed as a 3.5 season tent, probabaly because it keeps you warm in fall temps and too warm in summer temps.
I do not recommend this tent for the price I paid, though I do not feel I paid too much. However, I do recommend the Eureka Apex tents, the one made before 2004 if you can find one.
Design: 3.5 season free standing
Sleeps: 2
Ease of Setup: very easy
Weight: 6 lbs 11oz
Price Paid: $119

I purchased this tent at least 3-4 years ago and used it most recently on the outerloop trail in the Chisos Mountains at Big Bend National Park. Of the 3 of us (all with different tents) I was the only one to stay dry during the 1 night of high winds of up to an estimated 30 MPH gusts and almost a driving rain.
I used it as a solo tent because of my affection for mucho space. The ventilation on this trip was ideal. I cannot recall any condensation issues during the 4 day trip. If I had one wish though it would be that the tent was at least 1 lb lighter.
All in all I consider it to be a basic no-non-sense backpacking tent that exudes The North Face reputation for quality gear. I will admit that I just purchased a different company's much lighter 2 person tent for a CDT trip planned for early July.
I would recommend this tent to anyone. It's sturdy, moderately lightweight and bottom line...it's a North-Face.
P.S. my candle lantern was knocked around while in tent and the melted wax just peeled right off without any fabric degredation...wish I could say the same for my sleeping bag :(
Design: dome
Sleeps: 2
Ease of Setup: very easy
Weight: 5lbs and some change
Price Paid: don't remember

We LOVE our Rock 22!!! We call it our vacation home! We bought ours in 2005 on clearance (it has pole sleeves, which I prefer for speediness) and have been so pleased. I don't usually write reviews, but this tent warrants it. It has withstood deluges in Maine and 50 mile/hour wind gusts at the top of Mt. Mitchell and in Patagonia.
We use it for backpacking as well as extended car camping. This tent is sturdy and versatile, light enough for backpacking, with super easy set-up. We love the twin vestibules for boots and backpacks, ample room, plenty of pockets, and even a means to hang a lamp at the top. It adapts to NC summer heat as well as the Chilean Andes.
The rainfly is awesome-- It was the reason we bought the Rock 22 (as well as the price and versatility) and we have not been disappointed. We talked about getting a roomier tent for car camping, but it simply isn't necessary. The Rock 22 is all we need!!
Design: three-season, freestanding
Sleeps: 2
Ease of Setup: It is soooo easy to set-up. After every winter we take it out and remark on this.
Weight: About 4-5lbs.
Price Paid: about $125

So yea, this is an amazing tent. It is super lightweight. I take my dog backpacking all the time and this tent is perfect for me, all my gear, and him. I don't think I'd use it as a two-man if you are doing to be hauling gear, but could work in a car camping scenario.
The tent is incredibly strong, sets up in less than 5 minutes, and the design of it allows you to sit in the middle of some of the harshest weather conditions and be just great. I've gotten snowed on, hailed on, rained on, and been in constant 60mph winds, and this tent held up like Fort Knox. Despite the actual tent structure being almost entirely mesh, the rain-fly was so superbly designed that no wind gets through to the Rock 22 inhabitants.
Really just a great product, and one of the many reason North Face has the clout in the adventure world that it does.
5 stars, highly recommend.
Sleeps: 2
Ease of Setup: Super easy, 5 minutes
Price Paid: $122

There are better tents for the price. This tent seems fine for light duty use, but design details could be greatly improved with some simple fixes and would make this a great tent:
1) put some eyelets on the long ends of rain fly to guy/ stake out to keep rain fly off of tent for rainproofing instead of or in addition to the corners;
2) vestibule opening WILL get you and your gear wet in inclement weather and could have been more efficiently designed;
3) you'll get wet in rainy weather attaching the velcro straps on the bottom side of the rain fly to the poles;
4)there is only one clip fastener at top of tent. Whichever pole you don't attach is loose and makes the fly hard to fit snugly. It seemed like it might be best to put the other pole through the loop with the clip, but this puts added strain on the one sewed point at the top.
Design: three-season rectangular freestanding
Sleeps: 2
Ease of Setup: easy enough
Weight: 5.9
Price Paid: $116

Version reviewed: 2010
Highly recommend the tent. Mine is a 2010. About 4-5lbs with footprint. Quick setup, very sturdy. Take care of your gear and it'll last forever. This is the only 2p/4s tent I'll be needing.
Pros
Quick pitch
Well made
Bomb proof
Well made and has great features. Roomy and has the double vesty/double doors, which is pretty slick. Lot of bang for your buck.
Source: bought it new
Price Paid: $120?

I just came home from my yearly Canadian fishing trip where the weather was hit and miss. I've spent many nights in tents. I owned the North Face VE-25 which is bomb proof but a bit excessive to carry around. I also have a Marmot Swallow which is an excellent tent in itself.
However, the North Face Rock is my new love. It sets up under 5 minutes, has excellent ventilation for air and star gazing, and it handled possibly the worst lightning storm I've ever had to deal with while camping. Tons of rain and not an issue at all with water in the tent after the storm passed. I highly recommend this tent for not just the price, but also its durability.
Design: Three season
Sleeps: 2
Ease of Setup: Under 5 minutes
Weight: 3 lbs
Price Paid: $120

Just got back from Dick's Sporting Goods where I purchased The North Face Rock 22. I have spent much time reading reviews and comparing dozens of backpacking tents.
I went to purchase an Eureka Apex 2XT, but it was already gone. While gathering data on that tent I happened to come across The North Face Rock 22 information and fell in love w/ it, but upon checking on the price ($180) I knew I couldn't afford it at this time.
But, upon arriving at Dick's I came across the sole remaining Rock 22 where it was on clearance for $99.97. In addition, I has a $20 off coupon. So, I am excited at knowing I got a $180 tent for $85!! Can't wait to try it out!
Design: three-season
Sleeps: 2
Price Paid: $85.57

This is a great tent for my needs. I have only used it as a 1 person tent. Another camper in our group showed up with the same tent on my second outing with it. We ended up next to each other for the weekend. We both enjoy the tent.
Unfortunately, I bought mine one month before the 2 door model came out. I would much prefer 2 doors for better access to the 2nd vestibule area and for any tent-mates in the future to not need to climb over me in the middle of the night.
I have spent at least 20 nights in it including some very wet and cold nights. The tent performs very well.
Sleeps: 1
Price Paid: $159

I would buy this product over and over again.

Pros
Two doors
Lightweight
Easy construction
Cons
I wonder how many seasons it will last!
I like this product because it is easy to set up and it is lightweight. Packs really small. Enough room to sleep two people, although if you have a lot of gear you'll have to keep it in the vestibules.
Overall great buy, would recommend.
Source: bought it new
Price Paid: 120$

Bought this tent 2 years ago and I love it. Best quality tent I have ever owned, and very light. I love the fact that no matter how much or how hard it rains I always stay dry. Stands up to wind very well.
I only wish it had a bit more headroom, but it's a 2 man so I expect that. Easy tent to setup, I'm always the first one done setting up tent. I help others after. I keep my gear outside where there's ample covered room.
Saving up so I can upgrade to a North Face 4 season expedition tent.
Design: three season freestanding wedge
Sleeps: 2
Ease of Setup: quick easy
Weight: 1lb
Price Paid: $150

We have had our Rock 22 for 3 years and have used it in rain and snow from Washington, Oregon, Alaska, Michigan, Wisconsin to Colorado without a complaint.
We just spent Sept. 2, 2008 at Boulder Field tent grounds below the slope of Long's Peak at Estes Park, Colorado. Although our night at Boulder Field was not as severe as Sept. 1st, the 2nd was also extremely windy and cold. I thoroughly stake down the Rock 22 and tied the guide lines and it stood up to 70 mile per hour blasts. We actually slept very well the whole night.
Greg Booher
Wisconsin
Sleeps: 2
Ease of Setup: can be done easily with one person
Weight: always want it lighter - 5+ pounds with fly
Price Paid: don't remember

This is a great tent for its price and I have spent many months sleeping in the Rock 22. I find it to be a little heavy, but use it mostly for kayaking trips. The major problem that I have came across are the low vents, which allows sand to blow in when you are camping on a sandy beach or a trip to the desert. I love the two side doors and the roomy interior. I recommend this tent to people that are not self conscious about their weight.
Sleeps: 2
Ease of Setup: vey easy
Weight: close to 5lbs
Price Paid: $150

A good tent for the price point. Not for weather below 25 however due to ventilation. Freezing temps will cause interior condensation on the fly which will be on you as water when the sun hits the tent in the morning. For the money, a good tent and the normal great quality of TNF. Additionally, the 2007 model has double doors and nearly twice the storage beneath the fly as does the 2006 model. Makes it an even better value!!
Sleeps: 2
Ease of Setup: Easy to set up
Price Paid: $130

I couldn't be more pleased with this purchase. I got this tent at a cheep price from campmor.com and was sleeping in it within a week. Easy set-up, no moisture problems, amazing "D-Door" design.
Overall the tent has had a lot of thought put into it and it definitely shows. Two doors and vestibules makes it extremely easy to get in and out of the tent. I would recommend getting some different stakes though.
Design: three-season freestanding dome
Sleeps: 2
Ease of Setup: Easy
Weight: 5-7 lbs.
Price Paid: $135

This is really two tents in one. If you know the weather will be good you can take only the inside/screen portion of the tent. If you are expecting rain with no bugs, take just the fly portion of the tent. If you are expecting rain and bugs, take both the fly and inside/screen portion of the tent.
Very versatile for conditions and weight reduction if desired.
Price Paid: $100

This tent is fantastic. It's so light and can still withstand some almost freezing temps. Spent a week in it just outside Canmore, Alberta, CA, and it went down to -2C/30F and it stood up well. It's almost too ventilated for a 3-season, nice if you could close off some of the vents more securely.
You'll love this tent from spring to autumn.
Design: 2 poles, 2 people
Sleeps: 2
Ease of Setup: 2 minutes
Weight: 5 lbs 14 oz (2.68 kg)
Price Paid: $200 CAD

A good all-around tent. I like the two door and vestibule design, no more waking your backpacking buddy to enjoy something only meant to be enjoyed by you and nature. The size is big enough to not go crazy within half an hour on a rain day. Not for the lightweight crowd, but it will do great for the rest and last far longer.
Price Paid: $119.95

I love this tent for the hot summers in the southeast. It vents very well and will keep you quite dry in a downpour. I also like the room of the tent. I have used this tent down to almost freezing temperatures with no condensation problems.
Overall would recommend this tent to anyone.
Design: free standing
Sleeps: 2
Ease of Setup: super easy
Weight: 5.5 lbs
Price Paid: $129

perfect for my needs. great backcountry tent for 1-2 people. 2004, has 2 doors which makes the tent seem so much larger. lightweight, sets up quickly, not to mention its a room with a view (by far the best feature).
Design: three season
Sleeps: 2
Ease of Setup: simple
Weight: 6 lbs
Price Paid: $119

I love this tent. I am an Eagle Scout and take this tent on every camping trip. Great for beginners or expert campers. It's an all around good tent.
Design: three season freestanding dome
Sleeps: 2
Ease of Setup: easy but slightly hard with only one person
Weight: about 7 pounds
Price Paid: $169

I have camped in FEB with this tent and it kept the snow and rain at bay with no hot spots. Good tent for the money!!!
Design: three 1 /2 season
Sleeps: 2
Ease of Setup: very easy
Weight: 8lbs
Price Paid: $130

Your Review
You May Like
Specs
Price
MSRP: $189.00
Historic Range: $99.99-$209.00
Reviewers Paid: $40.00-$180.00

Capacity
2

Canopy Fabric
70D 190T Nylon Ripstop

Floor Fabric
70D 190T Nylon Taffeta with 5000 mm PU Coating

Fly Fabric
70D 190T Nylon Ripstop with 1500 mm PU Coating

Floor Area
34 sq ft / 3.1 sq m

Number of Poles
3

Pole Diameter
9.0 mm

Stuffed Size
22.5 in x 7 in / 57 cm x 18 cm

Vestibule Area
9.3 sq ft / 0.86 sq m

Trail Weight
5 lb 4 oz / 2.38 kg

Total Weight
6 lb 11 oz / 2.59 kg

Recently on Trailspace