The North Face Salamander 23

The Salamander 23 has been discontinued. If you're looking for something new, check out the best three-season tents for 2022.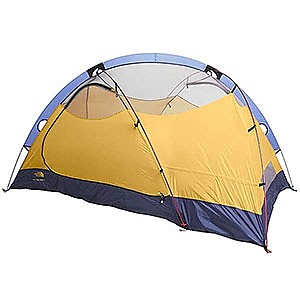 The Salamander is very well constructed, one of the biggest 2P tents I've used, has two great vestibules and double doors. A bit heavy by current standards.
Pros
Great construction and materials
Heavy duty
Big vestibules
Double doors
Cons
Heavy
A bit off kilter if not staked down
Great tent. The materials used are heavier gauge. The seams were still intact after years of use.
The tent is a 3-pole design and the fly is big (two vestibules; one large for packs, one for shoes/boots) which makes the tent heavy but if you split the weight, the tent has plenty of reasons why it is great.
Setup: Poles are color coded so it's a rather easy setup. The first time can be a bit of a mind bender.
Stability: The tent is unbalanced if not staked but can be considered a free standing tent if need be. The lack of balance does not affect the tent's performance so it is a detail that can be overlooked. Once you throw your gear into it with bags and pads, it's stable enough. When staked out, the tent is fantastic. The vestibules are taut but still zip open easily which is not usually the case. 
Weather resistance: I was in a light rain that lasted for an hour or so and stayed completely dry. Even though I bought the tent used and it was nearly 10 years old, the seams were perfect. 
Ventilation: In the fall I had no condensation issues. Vented well enough.
Room and storage: Very spacious. Plenty of head room. For a 2P tent, this is one of the most spacious I've ever used. Standard two storage pockets. Enough room for 2P and gear or 2P and child/dog.
Packability: Packs down very well. The bag is compressible with three straps (approx 5 X 24 in).
Ease of use: Zippers are great.
Features: Big double asymmetrical vestibules. A great feature that should not be overlooked is that the tent material is a little heavier duty than most which makes the tent darker inside. I loved this because I could actually sleep in past 5 am!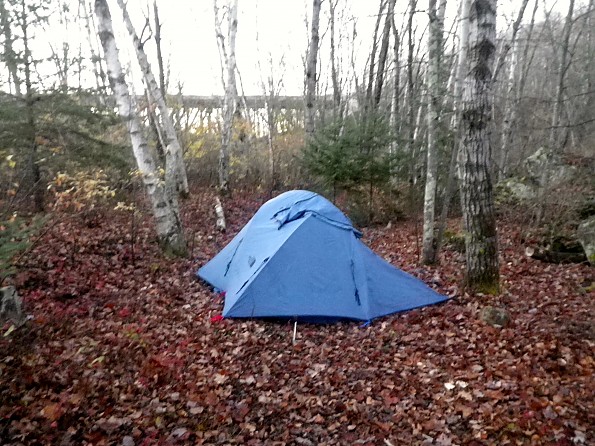 One of the most durable 2P tents I've owned since the days of the 25lb formaldehyde coated canvas tents.
I used this tent for a season but traded out because it was too heavy to pack in solo and I sleep solo.
Source: bought it used
Price Paid: $50

My husband and I have had our Salamander 23 for over 6 years. For two people it's awesome. There's enough head room to sit up straight and play games on rainy days. The North Face warranty is great too. Since we take this tent everywhere we've had to send it into warranty department to have it repaired a couple times. Thanks to them it always comes back good as new.
Even though it's a 3 season, we've taken it on numerous winter camping trips. It has performed great, never letting us down.
I recommend this tent to everyone!
Sleeps: 2
Ease of Setup: I can set it up in 45 seconds

My son-n-law and I have used this tent on 2-3 day Cohutta Wilderness River trips as well as 4-5 day trips on the A.T. in Georgia. Although a tad bit heavy, the Salamander packs well and has plenty of room for two and their gear. One of the vestibules is adequate, but the other one is only good for boots and keeping the rain off. We love the two doors when midnight bathroom calls are necessary and ease of entry (my son-n-law is 6'3").
Setup is not that difficult, but not easy. You get used to it, due to the strange geometric shape it has. The colored poles(3) help to alleviate the confusion as long as they are matched with the colored tent floor tabs.
A small downside is that the tent sits unbalanced when it is not staked due to its funkified shape. The crossing pole over the middle makes it pull up on its ends. But that pole lends tremendous strength to the tent and that was demonstrated by some strong winds and accompanying rains on the AT one fall.
The tent has sufficient storage on the inside, but the hikers must sleep head to toe with each other to make good use of the doors. (Probably good with snorers) The two doors and the vented slots near the bottom make for good ventilation even with the fly on. I have used the fly only one cool and windy night on the AT and it did well, although we had light rain and some blustery winds.
Overall the tent has been a Clint-Eastwood-tough one with over 50 nights spent in it, spread over a dozen trips. It has suffered only one small hole in the netting. I only wish it was about 2 lbs lighter.
Design: three-season freestanding dome
Sleeps: 2
Ease of Setup: medium ease--see article
Weight: 6lbs 10oz plus a 12oz fly (7.6lbs total)
Price Paid: $150

I just took my new Salamander 23 out for the first time this past weekend with my girlfriend for a two-night backpacking trip in Shenandoah National Park in Va. It performed great. It takes mere minutes to set up. It was also very spacious and I would submit that if it was necessary three people could fit (but it would be tight). I love that I could sit up in side and I'm 6'2". The vestibules worked great. It rained all night for one of the nights and we kept EVERYTHING dry. Both of our packs easily fit under the large vestibule. The interior gear pockets were nice too. We actually fit our nalgenes, boots, wallets, and headlamps in them with no problem. I only saw two negatives and they were minor. It's two stakes short and I think the vestibule should have more reflectors so it's easier to find in the dark.
Design: Three-season
Sleeps: 2
Ease of Setup: Simple
Weight: 7 lbs
Price Paid: $170

I bought the Salamander a year ago, and used it on a three-week, cross country road-trip through various national parks (mainly out west). I did a lot of research before purchase, and overall, I am very happy with it. It performs as advertised, but I do have one minor (?) gripe...
The Salamander is supposed to be a free-standing tent, but for some reason (and I don't know if it was just the model I had, or what), if the tent wasn't pegged down (and sometimes it wasn't possible to do so) not all of its poles touched the ground. In other words, it would sway from side to side. I suppose it wasn't that big a deal.
Apart from this, I never had a problem with any moisture build-up; the ventilation, although could have been better, was perfectly respectable. The tent sleeps two VERY comfortably. I'd argue that a third person could fit in a bind. One other thing: although the large vestibule seems pretty spacious, it's not very practical as the door is very steep. This also makes it difficult to close, as you have to crawl pretty close to the ground a foot or two out of the tent to zip the thing all the way down.
That's not to say I wouldn't buy it again. Some things you simply can't do research on, and little details, like some of the ones I mentioned, won't become apparent until you're in the field.
Design: 3-season freestanding tent
Sleeps: 3
Ease of Setup: Easy
Weight: approx. 6 lbs.
Price Paid: $260

Your Review
You May Like
Specs
Price
Historic Range: $151.96-$259.00
Reviewers Paid: $50.00-$260.00

Recently on Trailspace