The North Face Snowshoe

The Snowshoe has been discontinued. If you're looking for something new, check out the best 3-season synthetic sleeping bags for 2023.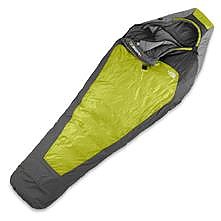 I have broad shoulders, so this bag is tight. However, at 20 degrees, it allows one to sleep like in front of a heater. Never have tried it below 20 degrees. However, would believe it would be fine at 10 degrees or even at zero, considering the comfort at 20 degrees. For the cost, this is a keeper. If you are a big guy, just know that it is tight. Which is not a bad thing. Holds in the body heat. Just a bit difficult to get use to the tight mummy style.
Pros
Very warm at 20 degrees.
No moisture problems. Airs out and dries fast.
Cons
A tight bag around broad shoulders.
Well over Three and a Half LBS.
No cold spots. No drafts. The construction is solid. The hood covers completely. Plenty of foot room for a six plus footer. Zipper seems to be very good. Compresses well for a synthetic. Tight around my shoulders. But at 3AM in the morning, when it is really chill, it works. Otherwise, just keep it partially unzipped.
Doubt that I will ever sell it. It is a keeper for low temps in the Southland. Not a minus 15 or minus 20 bag. But good for 10 or so above. Zero or below. May need some extra protection to sleep well. 
Source: bought it new
Price Paid: under $200

Really a great bag--very light relative to the warmth. However, like all bags, I've found that at 12,000+ foot elevations, you must assume the bag will not keep you nearly as warm as nearer to sea level. So, in the case of the Snowshoe, if you're up really high, it's basically a 10 to 20 degree bag, not a zero degree bag. I've pretty much frozen in a NF Cat's Meow on the Continental Divide Trail in southwestern Colorado in the summer; however, I've been mostly comfortable in the Snowshoe.
Design: Mummy
Fill: Polarguard Delta
Temperature Rating: 0 Farenheight
Weight: 3.7 pounds
Price Paid: $180

A very warm, not too heavy sleeping bag.
Pros
Warm
Pretty light
Good in wet conditions
I've taken this bag on many trips, one of which was to Alaska. We were there through the end of August. On an average night it got down to the low 40s/upper 30s. However, there were some nights when it was quite went and got down to freezing or below while being very wet out.  
This bag held up quite well. I should say that I usually sleep warmer than many people, but I always stayed warm in this bag.  Once it gets down around freezing you definitely need to take advantage of the "mummy" part of the bag and zip it tight around your face. It was wet 90% of the time in Alaska. The bag dries well and doesn't allow a reasonable amount of moisture to penetrate.
It certainly isn't the lightest or smallest packing that a sleeping bag can get, but it is good enough for someone who doesn't want to spend $300-$400 on their bag. That is the only reason the bag doesn't get 5 stars from me...but if you understand that you aren't buying the best pack-light bag on the market, it will be 5 stars for you.
Source: bought it new
Price Paid: $150

I took this baby for many snow trips in the mountains and it did very well. However when temperature drops below -10°C it gets a bit tricky, so I always have an inliner fleece sleepingsack with me. Combining those two I've survived several night of -25°C.
I always sleep cold and have been using my hubby's Long -20 bag in Alaska summer for years with poly pro jammies. I actually had to take my poly socks off right away and ended up unzipping as I was too hot with the baby climbed in this me this last spring and it has been a repeated thing. I don't need socks to sleep in the summer in my bag anymore.
The collar feels a bit confining and claustrophobic, but I will enjoy it when temperatures require it. I've not used a women's bag before but this is reminiscent of sleeping in a down bag for warmth in about 20 degree weather.
Design: mummy
Fill: climashield PRISM - sinthetic
Temperature Rating: 0 F, -18C
Weight: 3 lb 8oz
Price Paid: $179

I think it is a very well made bag. I went camping at 9200' in Colorado in November and we had temps in the single digits F on some nights and I used a bag liner reactor and it worked OK.
I would not say it's a 0 degree bag, just 10 to 15 F to be real warm. Overall great buy for the price.
Price Paid: $179

I recently received this sleeping bag, but it has proven to be very strong because I ended up sleeping on just the ground for a night (it was cold out) and I was out like a rock through the entire night.
I recommend this sleeping bag to anyone looking for a nice, warm, comfortable night's sleep.
Design: mummy
Fill: chicken
Temperature Rating: 0 degrees Farenheit
Weight: ~3 pounds
Price Paid: $180

I bought this bag a little over six months ago and it has proven to be the best bag I have owned!! I have taken it winter camping several times in the snow and wind with the temperatures reaching sub-zero and I have always been warm!! Very lightweight bag, great for cold backpacking!!
Design: Mummy
Fill: Polarguard Delta
Temperature Rating: 0 celsius
Weight: 3 lbs 12 oz
Price Paid: $145

I have used this bag on countless trips over the last 2 years and it has performed flawlessly. The soft flannel-like lining is awesome and is warm when you first crawl into it.
This is a high quality bag and I recommend to anyone looking for a warm nigh's sleep.
Design: Mummy
Fill: Polarguard HV
Temperature Rating: 0 F
Weight: 4 lbs ?oz.
Price Paid: $200

This sleeping bag is very comfortable and very warm. It molds perfectly to your body and once you are in there and warmed up, it stays warm all night. 
Price Paid: $147

Your Review
You May Like
Specs
Men's
Regular
Long
Price
Historic Range: $122.95-$199.00
Reviewers Paid: $145.00-$200.00

Weight
3 lb 8 oz / 1590 g
3 lb 11 oz / 1670 g
Fill Weight
2 lb 3 oz / 1000 g
2 lb 5.5 oz / 1065 g
Temperature Rating
0° F / - 18° C
0° F / - 18° C
Fill
Climashield Prism Synthetic
Climashield Prism Synthetic
Shape
Mummy
Mummy
Max User Height
6 ft 0 in / 183 cm
6 ft 6 in / 198 cm
Shoulder Girth
62 in / 157 cm
64 in / 163 cm
Hip girth
58 in / 147 cm
60 in / 152 cm
Foot Girth
40 in / 102 cm
40 in / 102 cm
Women's
Regular
Long
Price
Historic Range: $119.83-$199.00
Reviewers Paid: $147.00-$179.00

Weight
3 lb 7 oz / 1550 g
3 lb 9 oz / 1600 g
Fill Weight
2 lb 1 oz / 950 g
2 lb 3 oz / 990 g
Temperature Rating
0° F / - 18° C
0° F / - 18° C
Fill
Climashield Prism Synthetic
Climashield Prism Synthetic
Shape
Mummy
Mummy
Max User Height
5 ft 6 in / 167 cm
6 ft 0 in / 183 cm
Shoulder Girth
56 in / 142 cm
56 in / 142 cm
Hip Girth
60 in / 152 cm
60 in / 152 cm
Foot Girth
38 in / 97 cm
38 in / 97 cm