The North Face Squall

The Squall has been discontinued. If you're looking for something new, check out the best 3-season synthetic sleeping bags for 2023.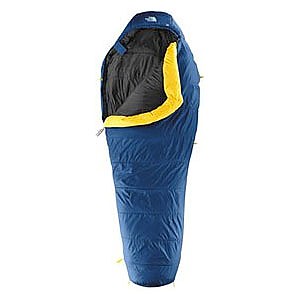 Lightweight, synthetic mummy bag with 20 degree rating.
Pros
Lightweight
Stays warm when wet
Cheap!
Cons
Can be compressed, but still larger than some
I picked up this bag on a closeout sale for around $75. Especially for the price, it has really been a good investment. I've used it in below-freezing temps, as well as the summer. It gets a little too warm in the summer, but otherwise it has done everything I've asked of it.
I've had it since 2003, and it still looks brand new. It is machine washable, and all seams and zippers hold up well against wear and tear.
I'm a 5'4" female, so I have the short length. For those who have complained this bag did not keep them warm in cold weather, it may actually be user error. When buying a sleeping bag, especially a mummy bag, it's crucial to get the right fit. You want to have some room at the bottom (pro tip:  keep your water bottles there in freezing temps so they don't turn in to ice overnight!), but not so much that your body heat is working to maintain warmth in too much extra space.
It's also essential in all weather to have a sleeping pad of some kind underneath. This is not a comfort question, but an insulation one. Another strange-but-true fact is that while it's hard to want to leave a warm sleeping bag and tent at night in cold weather, needing to pee expends body energy keeping the urine warm. Bite the bullet, go use the bathroom, and when you crawl into your sleeping bag after, you'll be much warmer.
My only other note on the fit of the bag is that it does tend to be a bit narrow, even for a mummy bag. 
As I've used this bag in a variety of weather, here are some basic thoughts:
Rain: I ended up on the wet end of a ridgeline camp out probably my first time out in this sleeping bag. Although sleeping wet is never comfortable, the fall nighttime temps were still doable even when the bag was soaked through.
Snow: I've only ended up in a dusting, not deep snows, but same concept as above.
Summer heat: The bag gets a bit sticky in hot, humid weather, especially if you prefer to be inside the bag rather than just on top. I have a super cheap summer weight sleeping bag for hot weather car camping when I'm not worried about the size of my gear.
Cold: As stated above, I've generally stayed quite warm in this. On cold mornings, it's nice to zip several bags together, and I have been able to do that even with bags from other companies.
The only time I was truly uncomfortably cold in this was when I was camping in sub-freezing temps at a campsite that consisted of a wooden platform jutting out from the side of a hill. With snow on the ground and freedom for the cold air to circulate below me, that was one cold night!
I see this bag has been discontinued by North Face, but if you run across one left over in stock somewhere or secondhand, it's worth picking up as good value for the price, particularly for someone just taking the jump from comfort camping to beginning backpacking or multi-seasonal camping.
Source: bought it new
Price Paid: $75

As a cold sleeper, I can only use this bag on nights 40 degrees and above. For that purpose it is great. I tried this bag during one below freezing night and I thought I might lose a few toes. Other 20 degree bags insulate better, but for the price it's a nice bag and holds up well against wear and tear.
Design: mummy
Temperature Rating: 20 degree
Price Paid: $100

Version reviewed: tall
Actually, I wanted to rate it 3 and a half stars, but it wasn't an option -- hey Trailspace?? I bought this bag for the price and temp. rating; and it hasn't dissapointed, especially for the price.
The pros: CHEAP!, is rather lightweight, stuffs up rather nicely, insulates well when wet, and keeps me warm down to freezing.
The cons: below freezing you need fleece, a little tight around the midsection, limited loft.
Overall an extremely cheap, 3-season (early-mid spring and fall) backpacking bag that will keep you happy; but don't forget your fleece layers or liner when the temp. dips below freezing or you'll end up dissing this bag like others have. It's not a serious mountain bag; it is what it is, if you push it, be prepared and you'll like it! Also, it's so CHEAP you can buy some Arc'teryx with the $$ you saved.
Design: mummy
Fill: synthetic polarguard
Temperature Rating: 20 Farenheit
Weight: 3lbs.
Price Paid: $79 (closeout)

This bag is terrible. In 50F temps, I need a blanket liner. In 30F temps, I need to put another bag inside it. Forget this one -- I'm moving on to down and staying away from TNF.
Fill: polarguard
Temperature Rating: 20F
Price Paid: $95

I've used a pair of these bags for around two years. I absolutely love them! While they aren't the highest tech bag, and they don't pack down to a bread loaf, they are comfy, quick to dry, and have kept me warm, even in temps under the recommended value. The build quality is good, standard North Face quality. I wouldn't hesitate to buy another one of these if mine ever died. I have a right and a left, and they are easily mated. I do wish there was a tad more fill, but for the price, you can't beat this bag. Great for budget minded hikers & campers!
Jim Jamesson
groovyadventures.com
Design: Mummy
Fill: Polarguard Synthetic
Temperature Rating: 20
Price Paid: cant remember, but it was good

Your Review
You May Like
Specs
Price
Historic Range: $79.95-$111.20
Reviewers Paid: $75.00-$100.00

Weight
2 lb 14 oz

Temp Rating
20°F