The North Face Stratos

Top 25 in 3-4 Season Convertible Tents
The Stratos has been discontinued. If you're looking for something new, check out the best 3-4 season convertible tents for 2023.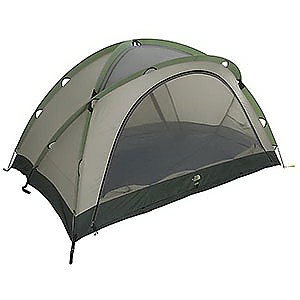 No leaks or wear visible after 18 years, 2-3 trips per year. Once slept 5 (2 shorter adults in middle of 4; slimmest lying at 90 degrees with hip and shoulder in space yielded this way). Four could backpack fine at ave of 1.2kg (2.5lbs) each.
Pros
Cool in summer warm in winter
No worries about wind/ rain — very strong and dry
1 person can pitch in 10min
Light and small pack for how robust and spacious
Huge mesh area for ventilation
Managed to cook in vestibule
Excellent internal pockets for storage
Optional gear loft useful for airing clothes, torches
Cons
Needed more pegs (to double up on windward side when extra breezy)
Love this—would buy again. Baking hot, snow, hiking, car booting, campsite, wild camping... all accomplished with ease.
Anyone who says too heavy, note you can sleep four, unless all large, even five average adults at a squeeze, by moving all kitbags into ample vestibules. Someone could bivvy bag in the vestibule.
If it's too large or heavy, a smaller, lighter tent, smaller maximum party capacity, taking greater risk of tent failure, or being more selective about possible conditions is what you need. Awesome design, materials, flexibility, longevity.
Source: bought it new
Price Paid: 400GBP

This is a very good tent at an affordable price. It goes up very quickly and can withstand some strong weather. It is just big enough for 4 adults, but not for more than a weekend backpack. Alternatively car-camping, it is ideal for.
Pros
Ambient space
Flexibility of ventilation
Wide opening front vestibule
Cons
Hard to get the tub groundsheet wrinkle free, due to tension of the middle pole
Got this tent 18 years ago, and this Scottish summer (worst for 30 years) it leaked through the groundsheet. This is the only problem we ever had with it, and when new we sealed it up as per the manufacturer's instructions.  
There is definitely a knack of pitching it with the small space between the flysheet and the ground evenly all around. Nearly always, there is more gap on one side than another. We have rigged a drying line around the loops inside, which is perfect for everything from a dishcloth to damp socks.
For us, this tent has been well used and well loved, and now needs a little TLC in the form of re-sealing.
Source: received it as a personal gift

I have owned my Stratos for 8 years now and at last count have spent 279 nights in this tent. I use this tent not only for personal use but I also used it in the past while guiding hunters here in Alaska. I have used several other types of mid sized tents, and the Stratos beat them all hands down. Set up and tear down time, durability, comfort, and piece of mind knowing I have a reliable shelter I can depend on.
It will sleep 3 adults with room to spare, the dual doors and vestibules make it perfect for two. It is not an ultralight tent nor was it designed to be, but it is in my opinion the best tent in its class.
Once on a spring bear hunt along the Alaska coast the weather went sour with winds sustained at 60 to 90 mph and gusts over 100, of the three tents my Stratos and two made by MSR, the only tent without damage and still standing a day and a half later when the weather cleared was my Stratos.
Design: four season freestanding dome
Sleeps: 3
Ease of Setup: piece of cake
Weight: 10

We have used this tent for 2 adults/2 children (5 & 2) with a queen size air mattress and plenty of room for our stuff...just looking online for a similar tent which would hold our now growing 2 adult/3 child family especially as they are getting older...love this tent and will keep if for our kids to use when they are old enough to be in it on their own.
Never had a problem with rain/leakage/etc...have had the tent since about 1998+/-...and don't see where people are saying there isn't enough air!. The sides both can fold down to expose a massive amount of screen AND you can even take the rain flap off on beautiful/clear/rainfree nights and see all the stars while you sleep.
We have taken this primarily around NE...in the cold wet of Acadia National Park in Maine in May when it always seems to rain each year...to the backyard in Rhode Island...and over to Nova Scotia where we watched the stars! Also have slept very comfortably 4 adults in Vermont! and I think it is actually a 6 person tent if you put your stuff outside the tent (which I don't like to do personally!).
We have also taken it backpacking on a very hot weekend in July in VT (which turned to rain the second we reached the peak to set up) and like others have said it can be divided up between packs if needed and setup I think is easy and should typ. be done in the house or backyard first...why would you ever set up for the first time in the middle of the woods with no stores around you??? Maybe it's just that I lack those male genes?
Anyway...I think this tent is no longer made, but if you see one on ebay def. grab it...there are pictures on www.outdoorreview.com too if you need to see it! We were choosing between this and a Moss tent at the time and didn't want to pay the price for a Moss when this was so similar!
Design: 3 season freestandig dome (i think)
Sleeps: 3
Ease of Setup: once you've done it once it's all good!
Weight: 10+/- pounds
Price Paid: $300+/-

My wife and I have used this tent now for 4 seasons. I have to say that, although the tent is well constructed, it is much harder to set up than the Sierra Designs tent we have. Once set up, it does withstand some severe weather though.
Last week, I found that the shock cords on the poles are starting to weaken (like an elastic band that doesn't work anymore), to the point where the poles are difficult to insert into each other (a lot of slack cord needing to be finangled into the poles!).
We are looking to replace this tent with another...after only 4 summers of use. Not impressed!
I have a Sierra Designs Clip Flashlight that is 20 years old, and it sets up as good as the day I bought it!
Ron Hofman
ronhofman@shaw.ca
Design: 4 season ?
Sleeps: 3
Ease of Setup: difficult
Weight: 11+#

Great tent! I know people don't like the weight, but if you take a three-man tent you should not be by yourself. Break it up between the group. I had this tent at 7,000 feet in 20 degree weather in 40 mph wind and it worked great. The only problem was one of the zippers froze. The size is great and you can really put three big people in this tent. The inside zipper has cool glow tabs so you can get out at night. The two door design is great so you don't have to step over people getting out. Overall 90 out of 100. The only problem is the top of the tent has a small flat stop that holds water and snow.
Design: dome
Sleeps: 3
Ease of Setup: Very easy
Weight: 9.5
Price Paid: $200

Great for inclement weather car camping. Too heavy for a backpacking or motorcycle camping tent. It's huge and heavy. My only real complaint is that the rainfly is a pain. It takes twice as long to put the rainfly on as it does to erect the tent itself. The quality is excellent, as with most NF products, and it has a whole host of well-thought-out extra features that, once you have, you don't want to live without.
Design: 4 season convertible
Sleeps: 3
Ease of Setup: easy
Weight: 9+
Price Paid: $389

Version reviewed: 1998
The more I use this tent the more I like about it. I have used it in wind, rain, sleet and snow and it has never failed to impress. The more you use it, the more versatile you find it to be. The fly allows an infinite amount of adjustments for any weather conditions. My gear and I have never gotten wet. I love this tent!
Design: 3+
Sleeps: 3+
Ease of Setup: simple and quick
Weight: 9#7oz
Price Paid: $425 retail

This is a sturdy tent, but tends to dry out rather slowly. It seems kind of stupid that they expect you to seal the seams for yourself though. The top opens up to vent well, which is good if you're just done hot boxing. Also it doesn't wash to well either.
Design: 3 season dome
Sleeps: 3+
Ease of Setup: Not too hard if you read the instructions and have a little practice.
Weight: kinda heavy
Price Paid: $250 cdn (used)

Great tent if you don't need a serious 4-season/expedition tent. Most 4-season tents are actually 3-season anyway since they're too hot in the summer. This tent is a nice compromise--plenty of ventilation in the roof and double doors. Large vestibules on both sides. Has held up great for me in high winds, rain, and snow. Plus, you don't have to buy a footprint. A generic rectangular tarp fits the floor profile just right (if you don't mind the extra bulk and weight).
Design: 3-4 Season
Sleeps: 3
Ease of Setup: Easy--Rain fly takes a little longer and must be staked or tied off for the vestibules.
Weight: ~9 lb
Price Paid: $300 (on sale)

Allright, now that I've sold my Himalayan Hotel to someone doing a Denali trip, I can comfortably tote this nine pound wonder into Yosemite backcountry! Being a convertable tent, it has zip-out solid panels inside all mesh, leaving you with endless options for ventilation. I actually found myself raising and lowering zippers throughout the night to fine-tune the cross-breeze. And since I hate staggering out in a downpour to put up the fly, the zip-out roof is perfect for iffy nights.
I couldn't be more happy with room either, as I buy three-man tents for two people. This is because I'm over 6 feet, and I hate touching walls with condensation in the morning!!! So, very generous room, both floor and height! The other beautiful thing is the three equal poles that make for very quick setups, and enough pockets to guarantee you never roll over on a Mag-lite at 2 a.m! The hooks in the ceiling are unfortunately at different heights, so when using a gear loft, you have to be careful things don't roll out onto your head.
Rating: 10 out of 10, definitely worth the weight! (pun intended) :)
Design: modified dome
Sleeps: 3+
Ease of Setup: 2-3 minutes max, due to 3 equal length poles
Weight: around 9.5 pounds
Price Paid: retail: $425, I paid $320 with store discount

The tent was incredible!! I used it on a one and a half week canoe trip into Canada, and it was just fantastic!! It put up through torrential rains, and it was easy to carry on our long portages. I'd recommend it to anyone!!
Rating: 98 out of 100
Design: 4 season expedition dome
Sleeps: 3+
Ease of Setup: extremely simple
Weight: 9 lbs. 7 oz.
Price Paid: $395

Extremely well ventilated with two opposing full screen doors and a large ceiling screen--all of which can be zip shut in cold weather. Many nice convience features included--lantern loop, plenty of intergrated storage pockets, etc. One really nice feature is the fly can be partially installed on one half leaving the ceiling open for star gazing and should rain occur later the fly can be completely installed very quickly. Only drawback is it is heavier by about a pound than the lightest three-man tents. If weight isn't extremely important would highly recommend it.
Design: 3-4 season
Sleeps: 3
Ease of Setup: Easy after 2 or 3 practices
Weight: 9.5 lbs
Price Paid: $425

I found this tent to be a luxury on a three day trip in northeast Iowa. It performed great, staying dry for the most part. Only bad things were that if you completely close the roof there is a build up of condensation on the floor and walls. Also, a foam support is needed on both sides of the tent to keep the fly and tent seperate, only one provided. It stood up to a night of fog and rain, even when the water droplets froze to the outsides.
Great tent, great design, great performance.
Design: 4 season plus
Sleeps: 3
Ease of Setup: very easy
Weight: 9 lbs
Price Paid: N/A

The only drawback of this tent is the weight, other than that it is a great 3+ season shelter. The tent is completely waterproof. It recently held up very well during 65 mph winds and torrential rain in Algonquin National Park, Ontario. Like all North Face tents, the fly goes all the way to the ground, and this particular tent has two doors, and two vestibules for storage.
The best tent I've ever owned.
Design: 3+ season
Sleeps: 3
Ease of Setup: Very easy after some practice
Weight: 9.3 lbs
Price Paid: $580 Canadian

Your Review
You May Like
Specs
| | |
| --- | --- |
| Price | Reviewers Paid: $200.00-$425.00 |
Recently on Trailspace