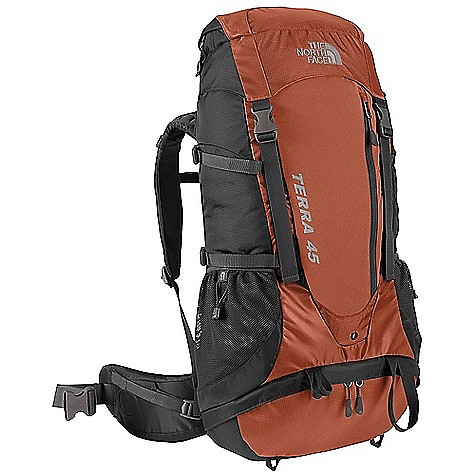 Specs
Men's
Price
MSRP: $129.00
Historic Range: $94.95-$149.00
Reviewers Paid: $75.00-$150.00

Weight
3 lb 14 oz / 1795 g

Capacity
2750 cu in / 45 L

Dimensions
27.75 in x 13.5 in x 8 in / 70.5 cm x 34.5 cm x 20 cm

Fabric
420D Polyester Dobby, 420D Mini Ripstop Polyester

Women's
Price
MSRP: $129.00
Historic Range: $73.98-$149.00
Reviewers Paid: $120.00

Weight
3 lb 14 oz / 1790 g

Capacity
2750 cu in / 45 L

Dimensions
26.75 in x 13.75 in x 8 in / 68 cm x 35 cm x 21 cm

Fabric
420D Polyester Dobby, 420D Mini Ripstop Polyester

Reviews
6

reviews

5-star:

1

4-star:

4

3-star:

1

2-star:

0

1-star:

0
Great pack, I have had this for years.
Pros
Good size for an overnight
Fits nicely
Good compartments
It's a great pack for its size, fits well, and works great for me.
Source: bought it used
Price Paid: $75

Bought this pack for my teenage daughter to use on our summer backpacking trip. She's slight in stature so I was looking for a pack to fit her body size. The pack is really nice and I've ended up using it on some of our longer day hikes to carry items for the family (coats, camera, tripod, food, stove, etc.). I'm 6'3"/215 lbs and the size seems to work well for me as well as my daughter.
Pros
Adjusts well from smaller to larger users
Supports a 30 lb load
Decently breathable
Cons
A few more pockets would be nice, esp on the waist belt
This is a versatile mid-size pack.  It works well for my 5'4"/90 lb daughter on weekend backpacking trips and also fits me (6'3"/215 lbs) for long day hikes when I carry items for me and the family. It is definitely better suited for an overnight trip as my daughter now wants one a little bit larger (around 60L) for our three-day trips. She had to carry too many things on the outside of the pack and lash them down and she'd rather have a size where she can put most of the things inside the pack.
The main drawback is its lack of outside pockets. It only has the lid pocket and a stretchy pocket in the front that doesn't hold too much.
Depending on the type of activity you're trying to perform, I recommend this pack. If you are a lightweight backpacker, it likely meets that need. If you're more into comfort backpacking, I'd suggest you look for something a little larger. At 45 L it's a bit on the large side for single person day trips but since I'm often carrying for 2-4 people, this pack works well for us.
Source: bought it new
Price Paid: $99

This pack is so comfortable you forget you're wearing it! It's a perfect size for day trips, and I use it kayak camping all summer. I gave it 4 stars instead of 5 because I like more pockets for organizing, but I improvised by using a car seat organizer inside the pack. I would highly reccommend this pack.
Pros
Comfortable
Easy adjustments
Versatile size
Durable
This pack "fits like a glove." and is easily adjustable. It is the most comfortable pack I've ever owned. I almost forget I'm wearing it when out on a hike! I've used it for day trips, overnights, and week long kayaking camping. A lot of my camping gear stores in my kayak, and I attach my Terra 45 behind the seat so that I always have the pack handy with essencials, and it's easily accesible for a hike.
The venting on your back isn't the greatest. It doesn't have the air flow that some of the high priced packs do. I'm a backpackaholic and love to try different packs every chance I get, and I always come back to this one.
The dog and I camp and hike all over New York state, our favorite place being the ADK'S. This pack has gone everyplace with me over the past 2 years, usually kept in the back of my Jeep so I'm always ready for a hike! It's very durable, and I would highly reccommend this pack for its comfort and versatile use.
Source: bought it new
Price Paid: $150

I'm a 24 yr old female. 5'6", 116 pounds, 18" torso, 28" waist (where I like my pack to ride). I bought the Terra 45 for backpacking and hunting.
I really like the color (I have the dark green/charcoal), because I can use it while hunting and still have a "cool, classy" pack instead of the traditional camo. I tried on numerous packs in the $100-$150 range, I also wanted one that was an earth tone and under 5 lbs, which this one is about 4 lbs.
This one was the most comfortable to me. The shoulder straps are adjustable in three different areas making it a custom fit. Super comfortable, padded, adjustable waist belt. The back ventilates nicely. The weight of the pack is carried on the hips, so your shoulders don't get tired from being pulled back. It has a compartment for a water bladder inside and the setup on one of the shoulder straps. I've used a 2L bladder and it works pretty well without taking up too much room. Has a good-sized sleeping bag compartment and it has straps on both sides to carry a tent/sleeping pad vertically (no straps on bottom). I like all of the pockets.
Two of my favorite features are the zipper along the one side that allows you to get into the main compartment like a duffel bag, so you can easily grab stuff on the bottom and the outermost pocket on the front has stretchy fabric, so you can really load that little puppy up!
I used it on a 10 day trip in the Selway-Bitterroot Wilderness area in Idaho. I packed around 25lbs all day, everyday. A few days I packed it for about 10-12 hours, with a few breaks of course, and it was surprisingly comfortable for that amount of time. I personally think any pack gets a little tiring after 6-7 hours. I've also used it on a dozen or so day hikes carrying food/clothes/hunting gear and I almost forget I'm wearing it. 
I should also note that I had an accident where I compressed my spine and strained numerous back/neck muscles, and I still have one muscle between my spine and shoulder blade that gets aggravated with most packs, but this pack didn't seem to bother it nearly as much. 
The reason I didn't give a full five stars is due to the water bottle pockets being hard to reach with the pack on (although they're deep and hold most bottles well) and it didn't come with a rain cover. Which, I noticed it can't stand up to too much more than a steady mist or a couple hours of snow before it starts absorbing water, so it would be smart to purchase a cover.
Before I bought this pack, I was looking at videos of packs and the one I watched on the Terra 45 had a little pocket with a rain cover, but for whatever reason it wasn't on the model I have. I don't know if it's a 2009 or 2010, so maybe the newer ones do?
Overall, I love the pack, quality, and the price. I don't expect to be buying a new pack for a long time!
Price Paid: $120

I too like this pack. I've actually used it on 4 day/night trips when we had a separate kitchen / food pack. I did have to pack light! I didn't skimp on the under garments LOL, but had to stick to 2 pairs of pants and 1 pair of shorts (not including rain gear).
It's very comfortable, breathes well as mentioned above. To address the tent issue also mentioned above, I just strapped my tent vertically on one side of the back (there are 2 straps you can use for that) and my sleeping pad on the other side. I also bring a sleeping pad for my dog, and that was strapped in the typical fashion with zip ties to horizontal to the bottom of the pack.
I've had it for 5 years, it's gotten lots of use and it holding up great!
NOTE: Mine is the Terra 45
I really like this pack (last year's model was on sale at REI). It is one of the most comfortable packs I've ever worn and the cooling system built into the back really works well.
I wore it for a 10 mile hike on a 90 degree day and my back stayed as cool as it possibly could. i did a 15 miler the next day with a different pack and it didn't breathe nearly as well. The straps are adjustable at different points (shoulder, sternum, etc) and allow for good customization.
I like way the pockets are set up for the most part - it would be nice if it were easier to get to the side water bottle holders without having to remove the pack (ll bean's bigelow bag is a great example of this). It accepts a bladder and i find that my Platypus 3.0L Big Zip fits quite well, though it does take up a lot of space. It would also be good if the front pouch, typically used for a rain jacket or fleece, was a little bit bigger to accommodate the clothes of us larger fellows.
On the the one big issue i have with it: Where do you strap a tent to it? The loops at the bottom of he pack are very small and don't really accommodate the nylon straps typically used. There are no loops at the top of the pack either.
Overall, a great bag depending on your needs and what you pay for it. If you are looking for a backpacking pack and you intend to carry a tent, you may want to see it in person before buying. Loops on the bottom may have made this the perfect backcountry weekend pack.
Price Paid: $90

Your Review
You May Like