The North Face Terra 50

The Terra 50 has been discontinued. If you're looking for something new, check out the best weekend packs for 2023.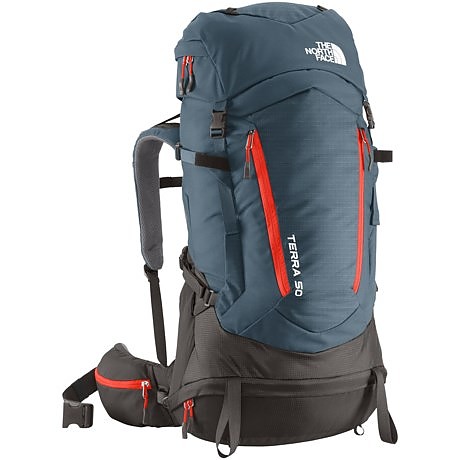 Best for hiking. Incredibly annoying to use for travelling because of the narrow opening. My belt strap broke first week and the lid started ripping off by the third. Will never buy a North Face pack again. Also, for a 50L pack, I found it had very little storage...a small 50.
Pros
Comfortable with heavy weight
Cons
Things started to break first week
Bad opening/pockets/setup
Small 50 L
I'm not sure if I was missing something about this pack, but it was just bad. Carried the damn thing on a 4-month backpacking trip. 
Belt strap broke first week, the lid started ripping off by the third (nowhere near capacity). Contacted North Face who sent me a generic "send us your pack" and then wouldn't respond after that. Called customer service and was transferred only to be hung up on. Emailed again with no response. Seems like a common North Face response.
The opening at the top sucks because it narrows at the top. This means you have to pull everything from the top out to get to the bottom. There are two fair sized front pockets to use, but they don't really extend and using them just takes space away from your main compartment. 
For such a big pack footprint (super long) it really didn't hold much at all. I could fit substantially more in my GF's 55L, (about 30% more).
The only good thing is that it really did disperse weight quite well and the fabric it is made of is really tough. 
Will never buy a North Face pack again, so many better options in this price range.
Source: bought it new
Price Paid: $225

Great mid-priced pack. Pockets on hip belt, good padding on belt & shoulder harness, relatively light (3.75 lbs). Hold enough gear for me to go on a 5 day/4 night trip. Wears well at my normal hiking weight of 27 lbs (all-in, including water).
Pros
Great name
Service
Price
Quality materials
Cons
A tad heavy, but not too much
I would buy this again. In fact, I am thinking of getting the 65L version for shoulder seasons when I want a heavier bag and clothing with me.
Source: bought it new
Price Paid: $129

Very adjustable, good weekend pack.
Pros
Fits well
Very tough
Seperate sleeping back compartment
This is a great weekend pack, but never honestly tried it longer than that. Very comfortable and adjusts easily. The pack stands up well to abuse (ex. scraping on rock faces). I would definitely recommend.
Source: bought it used
Price Paid: $50

This bag was awesome, as an eagle scout I think I survived Philmont with it. This means 60 lbs. of gear, 12 days on the trial.
Other critiques are correct, the bag lacks an adequate place for strapping a tent on, but that is one of its only downfalls.
The only other issue I have with it would be the large side pockets. Normally side pockets are split, 2 and 2 on each side, which allows compartmentalization of gear. This bag has two so you may have unlike types of gear mixed up in the same pocket. ie. firestarters, and bird-calling equipment.
Hope this helps. This is a great soft bag though!

Number of Pockets: 3, one on top, two on sides
Max. Load Carried: 60 lbs.
Height of Owner: 5'11

I had purchased this pack for my wife a couple years ago for hiking in Porcupine Mts. in Michigan's Upper Penninsula.
As it happens instead of my wife carrying the pack my son did. He was loaded up with about 48 lbs. of gear. The pack was pretty well packed out and he commented that it rode fine. At that I felt we had made a good purchase.
I got the chance to try the pack this winter on a weekend camping trip snowshoeing into the back woods.
My impressions of this pack are pretty much are as follows:
Pros: slim profile, well constructed, the materials all seem to be durable, easy to adjust for different size people, sleeping bag hatch with divider, bellows pockets are very nice, they give storage options and yet fold out of the way when not needed.
Cons: The top lid is sewn to the pack so it can't be adjusted up evenly when you over-stuff the bag, could use one or two hip belt pockets for small handy items.
I had about 45 lbs. in the pack and it rode very well. It was easy to adjust even when moving. I used the pack the first day and switched with my son on the second day to try his pack out, a Jansport Carson External another review, another good pack.
I would recommend this pack to anyone needing a very versatile pack that can go from day trips to about 3 days max.
Design: Top Load Internal Frame
Size: 50L 3050 cu. in.
Number of Pockets: 5
Max. Load Carried: 48 LBS
Height of Owner: 6'1"
Price Paid: $115

This pack is great for up to two nights, any more than that you might have trouble fitting everything. The only complaint that I have is the lack of convenient place for strapping on a tent.
Design: Top-loading, internal frame
Size: 3000 cu in
Number of Pockets: 3, one on top, 2 water bottle pockets on side
Max. Load Carried: 75 lbs
Height of Owner: 6' 2"
Price Paid: $99.99

The North Face Terra 50 is a very comfortable pack. I was going to do some local overnight camping after not having backpacked for 20 years, so I was looking for something smaller than some of the big rigs I had seen.
I went out for a winter camp in a local state forest with a friend and my son. The pack is a little small for going more then overnight, but the outside lashing points held both my Therm-A-Rest pad, and my old (read big) tent. On the first day I had the tent on one side and the pad on the other which was unbalanced, still I was able to adjust the straps to make the load comfortable.
There is a fold-down lumbar support that acts as a sitting pad when taking a rest...very nice. The overall comfort and adjustablility was great, I'm looking forward to more trips.
Design: Top loadiing
Size: 3200 ci
Number of Pockets: 5
Max. Load Carried: 30 lbs
Height of Owner: 6'1"
Price Paid: $138

Your Review
You May Like
Specs
Price
Historic Range: $78.93-$159.00
Reviewers Paid: $50.00-$225.00

Recently on Trailspace