The North Face Terra 60

The Terra 60 has been discontinued. If you're looking for something new, check out the best weekend packs for 2023.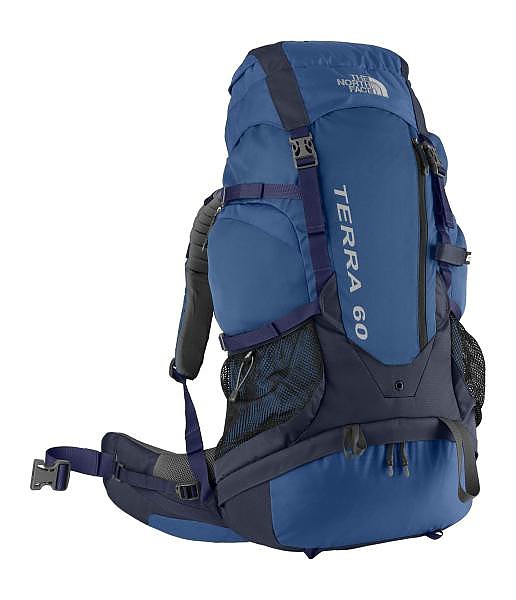 Me and a friend decided to do something different this year. So bought new gear and went off on our adventure.
I took the Terra 60 as a main back pack to a 21 semi-urban backpacking trip in Japan, hot, humid, and more HOT was what we encountered.
The bag proved big enough for an expedition like this. Total carried load on the pack was about 15KG (30 lbs.). I pack really light with really light gear, I dislike carrying around a lot of stuff and at 2 kilos (4lbs.) this pack is quite light for its volume.
I found the bag one of the most comfortable backs I have used in the last years. Shoulder and hip strap are nice and soft.
The airy suspension systems keeps the back cool while providing excellent support. It's a great bang for your buck.
A negative point I found the lack of external attachment options. (just 2 side straps).
4.5/5 for this well price semi-all rounder. If you plan to do a long, but light hike through fairly civilized parts of the world I can seriously recommend it. For heavy backpacking you'd better be off using a much more technical bag.
Number of Pockets: 6 external, And a trampoline divided main hold.
Max. Load Carried: 15 kilograms
Height of Owner: 186 centimeters
Price Paid: 129 Euros

My wife and I searched for about 3 months before finally deciding on this pack. We had no intention of both getting the same pack, but we were both so impressed with it that we ended up with the same one.
The difference between this pack and all the others we tried, is the level of comfort. TNF designed this pack to function in a euro-urban role as well as an outdoor hiking one. The padding on the waist and shoulders is better than any of the other 50+ packs we tested, and the price was less than half of some of the others.
We've had the packs for about a year now, and last trip I traded packs with a friend for a few hours due to the fatigue he was experiencing carrying his pack. He didn't want to give it back. I, on the other hand, couldn't wait.
Design: top-loader
Size: 60 liters
Max. Load Carried: 50 lbs
Height of Owner: 6'2

TNF Terra 60 is a rugged and sturdy pack. I found that all of the compression straps held up very well despite their small size. The Verticool pad design kept my back cool and dry. Organization is good within the pack due to its many pockets and daisy chains.
My only complaint is the size of the pack. I bought the medium which is supposed to fit up to a 19 inch torso. I have a 19 inch torso and found the pack to be way too small! It's been two days since I returned from my trip and I still have red marks on my shoulders from the straps.
If you are going to get the pack, I suggest buying the next size up if you are close the the upper thresholds of its fit range.
Design: Top Loading Internal Frame
Size: 3700
Number of Pockets: 2 main, 2 side, 2 mesh, hydration pocket, and a top flap pocket
Max. Load Carried: 45 pounds
Height of Owner: 5'11"
Price Paid: $144 including tax

It's almost perfect... here in a very tropical country.. we have rainforests during the end section of climb then grassy land to peak and summit... .5 will be the pack cover itself missing...I have to customize my pack cover... then remove the inner tag of my TNF Feather thermal jacket tag and place it to the pack cover so its TNF pack cover. New Editions have pack cover now , I gez the black Terra 60. but for my forrest green (Vietnam made). Much less.. earlier not quite engineered by TNF.
Design: No pack Cover
Size: TERRA60 forrest Green
Number of Pockets: 3
Max. Load Carried: 20 kiliograms or more
Height of Owner: 178cm
Price Paid: 7000 Philippine peso

Great pack for the price. Plenty of space for a weekend hike. Great suspension system and very comfortable to carry. My wife and I go backcountry hiking about once a month and this pack is perfect for us. My only complaint would be the weight of the pack itself, but if you're a fairly athletic person it should not bother you much. Bottom line: Great pack for a reasonable price.
Price Paid: $120

I just took my new Terra 60 out for a weekend of canyoneering and I must say, what a great pack! It carried my 40lb load with ease and the cushie straps never rubbed me wrong. At first I was apprehensive about the adjustable suspension but load transfer was terific. Even when boulder jumping! My only gripe would be the lack of hip belt pockets.
Design: top loader
Size: medium
Number of Pockets: 3
Max. Load Carried: 40
Height of Owner: 5'6
Price Paid: $139

I guess I am just and old school type.
This pack does not transfer weight to hips.
I will be using it for a luggage bag and will go back to my old Jansport external.
Source: bought it new

A fantastic bag. You can use it for a week long trip or a two nighter, you just need to be smart in the way of what you bring and how you pack it.
Max. Load Carried: 90lbs
Height of Owner: 5'10
Price Paid: $150

Your Review
You May Like
Specs
Price
Historic Range: $96.95-$149.00
Reviewers Paid: $120.00-$150.00

Recently on Trailspace