The North Face Tundra

The Tundra has been discontinued. If you're looking for something new, check out the best cold weather synthetic sleeping bags for 2023.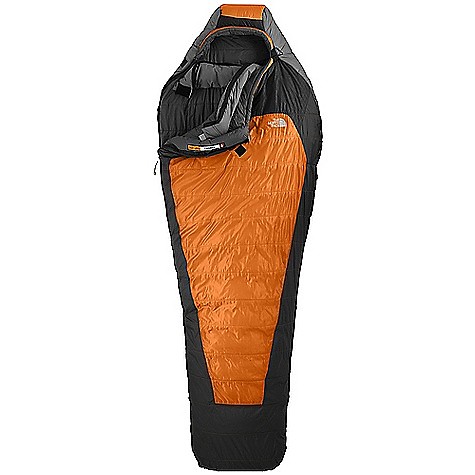 I didn't want to believe it but this bag is not warm. I do not blame the bag's construction: it is superb. Super high quality grid nylon, design, and stitching make North Face bags as good as any out there.
The problem is the insulation. This was the first time I used PolarGuard Delta and has studied its properties before buying this and some other NF Bags (Snowshoe, Cat's Meow). I was intrigued by its lighter weight, high lofting properties even when wet (very important when winter camping), and supposed warmth. But despite the promises, I ended up very disappointed. In a sucession of 10 degree tent camping excursions in the mountains in Utah the North Face Tundra failed to keep me toasty.
And toasty it should have been, as it's rated at -20 below. And yes, I had Thermax long johns on and some good body fuel in the "tank" to produce warmth. I did not get cold, but could only achieve a lukewarm uncomfortable state that prevented good sleep. I wasn't warm until I donned my LL Bean Primaloft snow suit and wore it in the bag.
I also noticed that the PolarGuard Delta insulation lacked "drape," that is the ability to mimic down and drape around voids negating lingering air pockets that sap body heat. This bag was returned to Campmor due to this unacceptable performance. Truly a heartbraker as its weight, size, and construction was everything I had been looking for.
What did I end up getting (for now)? An REI Primaloft "Nooksak" for $189 rated at 10 degrees. I tested this back in 15 degree weather and it was adequately warm. I think Primaloft is a better mimicry of down: more drapeable, softer, warmer, and more comfortable. And my experience shows it's fairly durable as well (the snow suit that has it is over 10 yrs old and has been through several washings). Only more testing with the REI Nooksak will prove its real world worth but it looks promising for 10 degree or warmer conditions. But the market truly is lacking a synthetic truly warm at -20 degree bag that is light and compressible. The quest continues...
Design: Mummy
Fill: PolarGuard Delta
Temperature Rating: -20
Weight: 5 lbs
Price Paid: $219

I hate to say it but most people do not understand how sleeping bags really work, or what the degree rating actually means.
First of all a sleeping bag is essentially insulation for your body. If you didn't heat your home, the insulation would not heat it for you. A sleeping bag will only keep warm what is actually warm. Meaning, you cannot just jump into a bag at 0 degrees Farenheight and expect to keep warm. You need to preheat the bag and preheat yourself. A sleeping bag is only as good as its user.
I am a dog sled guide in northern Minnesota and I used this bag every night for 4 months. It proved a quality bag when used properly. I would heat a bottle of water and preheat the bag 10 minutes before I got in. I would also do a number of jumping jacks immediately before getting in; to preheat myself.
One last thing that no sleeping bag does well, including this one, is manufacturing a quality neck gaiter. I just wrap a fleece jacket around my shoulders to conserve all the heat my body produces throughout the night. It is all seems common sense when you think about it. I have slept comfortably in this bag at -20 Farenheight.
The other thing people do not understand about sleeping bags is that the -20 F rating is a "survival" rating. Meaning that you could "survive" through a night up to -20 F, not comfortably, but alive.
This bag has served me well for 4 months straight in a near arctic environment. I think there is a huge misconception about what sleeping bags can and can not do. Every night throughout the winter I was teaching people how sleeping bags should be used, and they slept comfortably. If used properly, this bag is tops.
Design: mummy
Temperature Rating: -20 F
Price Paid: $220

After years of hauling around my old military surplus sleeping bag, I decided it was time for an upgrade. I knew I wanted something that would be warm in sub-zero temps. I also knew I wanted it to be as lightweight as possible. Finally, I didn't want to spend a fortune. This bag was the only one that met all of my criteria.
The problem that I think people have is that they don't know how to sleep in the cold. One one weekend trip in single digits, I tried this out. The first night I did nothing...no exercise before getting in the bag, no food, no warm water bottle, no extra clothes for morning. I slept okay. The bag was cold and a little tough to get warm, but it did, and I slept okay.
The next night, I ate a snack, did some jumping jacks, heated water for my water bottle (which I put in the bag about 15 minutes before getting it), and put some extra clothes and my boots in the bottom to have them warm for morning. I was toasty! Almost too warm. But, I slept great and had a good morning to boot.
My friend had a Trekker, rated the same, about $100 cheaper, and about 4 lbs heavier. He was COLD the first night. The second night he did the water bottle trick and had an okay night. Point proven. The extra $100 I paid was a good investment.
There are better bags out there I am sure. There are crappier bags out there as well. But, if you want to backpack and sleep well, I would recommend this bag.
Design: mummy
Fill: Polarguard Delta
Temperature Rating: -20 degrees Farenheight
Weight: 3 lbs 13 oz
Price Paid: $200

This bag is rated to minus 20. I used it with an insulated pad, North Face Mountain 25 tent, and snowy temps at minus 10 degrees. This bag is cold. It is NOT the bag to buy for the cold. I froze and I do not sleep cold. I agree with the previous reviewer, Rich, about the Tundra's synthetic fill. It does not loft well at all, which means a colder bag. I had to really bundle in order to be moderately comfortable. I own a Mountain Hardwear Spectre SL down bag rated to 20 degrees above zero and that bag is actually warmer due to the 800 fill down. I do however, like the fit and the features of the NF Tundra bag. I use it for a survival bag in my truck in the cold of North Dakota and for occasional sleepovers at the inlaws. Yes, it is perfect enough to use to sleep indoors and one will not sweat.
Design: mummy
Fill: polarguard delta
Temperature Rating: minus 20
Weight: 5 lbs.
Price Paid: $249

I backpack a lot in the Smokey Mountains and in Virginia, but I'm moving to New England so I wanted a really warm bag for winter up there. I bought this sleeping bag from Campmor and tested it in my backyard close to the Smokies in December.
I wasn't entirely satisfied, it's about a foot too long for me and so my feet were kind of cold. I was comfortable when I expected to be sweating, and I was using a sleeping pad, AND in a bivy (it was rainy). It's rated at -20F and it was only about 31F. This makes me doubt its effectiveness in really cold weather, so I'm thinking about sending it back.
Design: mummy
Fill: Polarguard Delta
Temperature Rating: -20F
Weight: 3 lbs 13 oz
Price Paid: $210

Okay, this bag, when you buy it, is hot enough for its rating. The problem is that if you are a frequent user and you compress it often, it really loses its loft. Me, after one winter of use, my Tundra looked like a blanket. Now I only use it for autumn or spring trips where it's humid and I can't bring my down bag.
The price is right, but if you are a frequent user, be prepared to replace it every year. In my opinion, a more expensive down bag is a better deal because it lasts a lot longer.
Design: Mummy
Fill: Polarguard
Temperature Rating: -29C
Weight: about 5 pounds

I agree with some of the previous reviews. This bag has a tendency to be a little on the chilly side. Although I've never slept in it when the temperatures dip in to the minus teens, realistically I don't think it would keep a person comfortable at -20F. However, I also feel that a good sleeping pad is key. I use the Exped 9 downmat from OR and this has made a world of difference.
I think the bag is very well made. The oversized draft tube and zipper are nice. For the money, it's a great sleeping bag.
Design: mummy
Fill: synthetic
Temperature Rating: -20 F
Weight: 4 + pounds
Price Paid: $200

Don't buy this bag. I am a guide in NW Montana that wanted a syn bag that could take a beating. This one can't and I have froze all over the state of Montana the past two seasons. Crap, I am biting the bullet and buying a Marmot Col.
Price Paid: $170

Version reviewed: Long
I love this bag. If you are considering buying this bag do it! Buy the long so you can stick a fleece down at the bottom so you can keep warm in the morning if need be.
Design: mummy
Fill: polargaurd delta
Temperature Rating: -20
Weight: 4 lbs 4 oz
Price Paid: $199.99

Your Review
You May Like
Specs
Regular
Long
Price
Historic Range: $110.84-$259.00
Reviewers Paid: $170.00-$249.00

Weight
4 lb 0 oz / 1813 g
4 lb 3 oz / 1899 g
Fill Weight
2 lb 9 oz / 1153 g
2 lb 13 oz / 1278 g
Temperature Rating
- 20° F / - 29° C
- 20° F / - 29° C
Fill
Climashield Neo Synthetic
Climashield Neo Synthetic
Shape
Mummy
Mummy
Max User Height
6 ft 0 in / 183 cm
6 ft 6 in / 198 cm
Shoulder Girth
64 in / 160 cm
64 in / 160 cm
Hip Girth
60 in / 152 cm
60 in / 152 cm
Foot Girth
43 in / 109 cm
43 in / 109 cm
Price
$249.00 USD
$259.00 USD
Recently on Trailspace