The North Face Windstorm 3D

The Windstorm 3D has been discontinued. If you're looking for something new, check out the best warm weather synthetic sleeping bags for 2023.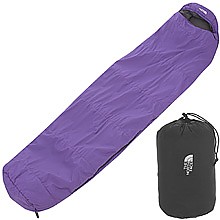 This was the first bag I bought for backpacking and I've used it for well over 8 years. It's light weight, packs small and performs as advertised.
The bag has been all through GA, up to Maine, to the Smokies, Yellowstone, Tetons, Carolinas...I've easily spent a few hundred nights in my Windstorm.
The only problem I can think of is the zipper sometimes gets snagged but it's easily reversed and has never torn the fabric.
For those complaining it's not warm enough I suggest a fleece blanket. It's only a 35 degree bag, however, I've camped many nights below freezing by adding a small cheap fleece blanket inside the bag. I've gone into the teens with this method but I have to admit I wasn't always toasty warm.
With that said, for mild temps this has been an awesome backpacking bag and since it shows absolutely no sign of wearing out I'll continue to use it!

Design: mummy
Fill: polargaurd 3D
Temperature Rating: 35
Weight: ?
Price Paid: ?

This is a no frills fair weather bag for a decent price. It's light (although there are lighter 35 degree bags), compresses pretty small, and has good construction. It's 35 degree company rating is not accurate though. I've taken it down to maybe the mid 40's and was chilled. For true near freezing weather I'll use my Cat's Meow bag with its 20 degree rating. The Windstorm does have a functional hood, light draft tube, and nice big zipper pull. It has lost a lot of it's loft over 3 years of use, but that is typical of synthetic bags (and I have used it many times in those 3 years). It is a good late spring, early fall bag; too cold for real mid 30's weather and too hot for summer weather. It shows no sign of wear other than the losing some loft.
Design: mummy
Fill: Polarguard 3D
Temperature Rating: 35 F
Weight: 2 lbs
Price Paid: $110

Purchased on clearance over the net. First thing I noticed was how incredibly light it is. Construction is good. The Windstorm has some features you would expect to see on high end bags: Pad lock loops, draft tube, great hood, good heavy duty zipper, velcro zipper cover etc. The body and liner are both made from a very soft and silky nylon material.
The Windstorm's 35 degree rating is over rater in my opinion. I'm cozy and comfortable in the 50's, and would not want to use this in any weather below 40-45. This makes a great lightweight summer/spring/fall bag for the mild winters we have here in the south.
Design: Mummy
Fill: Polarguard 3D
Temperature Rating: 35
Weight: ~2lbs
Price Paid: $75

I love my sleeping bag, but I have to agree with most of the other reviewers in that this bag is not the best for cooler weather. I was pretty cold at night while camping in South Australia during their spring/summer. The bag was perfect, however, in Western Australia where the temperature was warmer. The x-small stuff sack keeps everything compact and is amazingly water resistant. The bag fell overboard one night and was floating in the Indian Ocean for quite a while before it was found and retrieved. Upon recovery, only a miniscule portion of the bag inside was wet and that section dried in no time.
Price Paid: $70-80 (can't remember)

The North Face Windstorm combines the nifty extras and high quality you expect from TNF with a low price and weight.
The bag weighs about 2lbs, and you would be hard pressed to find a bag with this quality and this weight at this price. While it is too light of a bag for early spring and late fall weather in Northern Wisconsin (where the night temps dip to about 32°F or lower), it is perfect for most spring/summer/fall nights here in the upper midwest. A great summer bag for those conscious of weight and wallet.
Design: mummy
Fill: Polarguard 3D
Temperature Rating: 35°F
Weight: about 2 lbs
Price Paid: $75

I will stay away from the North Face Windstorm 3D. The company's temperature rating of 35F for this sleeping bag is overrated. I took it to the sierra in the spring when the temperature dropped to around 35 degree at night, I felt so cold at night I couldn't sleep! This sleeping is way too expensive for its quality. The cheaper sleeping bag in other brandnames could guard low temperature better than this one. Not a good sleeping bag for its price. I don't think it's suitable for 35 degree either. Upper 40 degree maybe!
Design: mummy
Fill: Polarguard 3D
Temperature Rating: 35F/2C
Weight: 2lbs

I've had my North Face Windstorm sleeping bag for about a year now, and I love it. It's not very technical- doesn't have wicking lining or heavy duty outer, but it does the job especially for a backpacker. I got it because of the low weight, and low price. I also trust North Face to be durable and practical, which it is. Only one problem. My drawcord sincher broke.
Overall, I would recommend this sleeping bag to anyone looking for a durable, cheap, light, warm weather bag.
Design: mummy
Fill: Polarguard 3D
Temperature Rating: 30+
Weight: 2 lbs. 1 oz.
Price Paid: $110

Your Review
You May Like
Specs
(no Gender)
Price
Historic Range: $49.97
Reviewers Paid: $75.00-$110.00