Therm-a-Rest Honcho Poncho

#2 in unisex Synthetic Insulated Jackets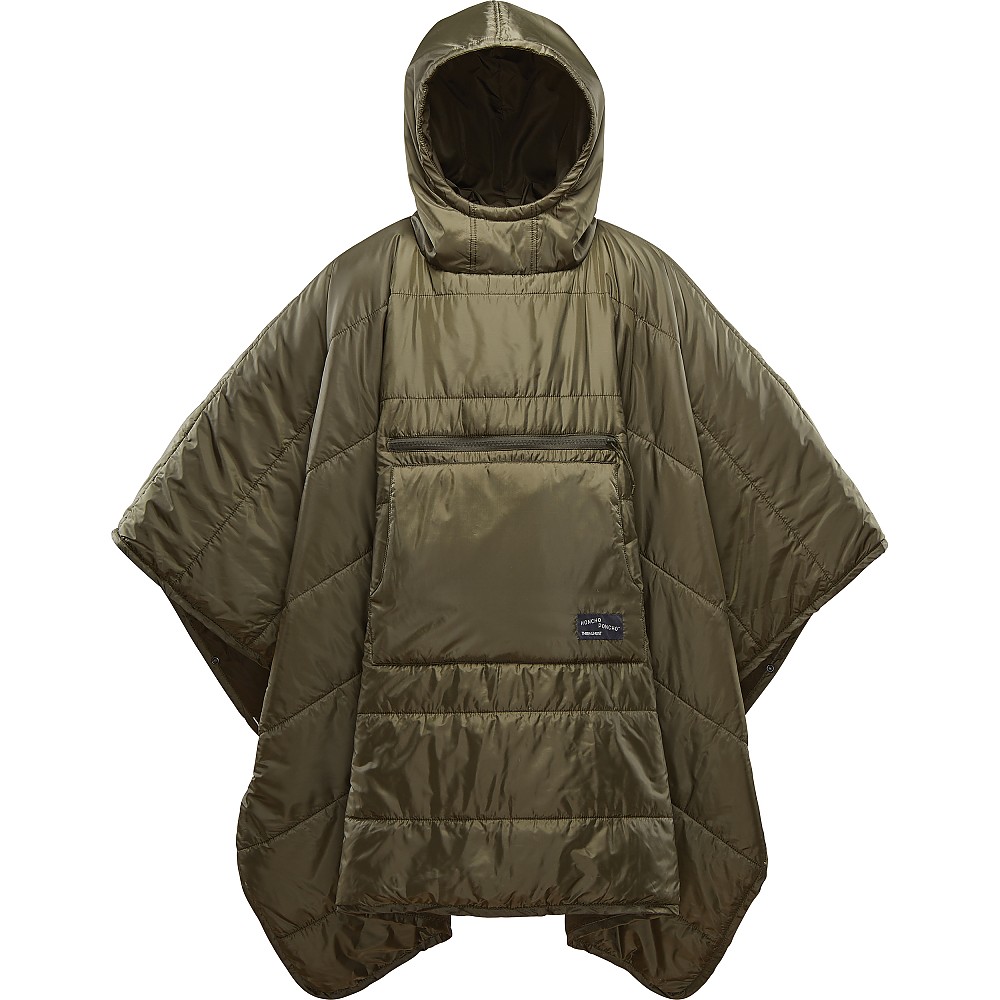 The Therm-a-rest Honcho Poncho is an indulgent piece of gear that can shed rain and help keep you warm as a garment or convert into a blanket for more supine endeavors. It is ideal as a wrap for car camping and sporting events or as a throw while lounging at home, but definitely a questionable choice of luxury for backpackers owing to its bulk (16 x 12 x 5 in./ 40.6 x 30.5 x 12.7 cm ) and weight (28 oz/ 794g).
Pros
Thoughtfully conceived garment delivers on many of its promises
Good quality garment made of good quality materials
Provides welcome warmth and functional water repellency that 
feel indulgent
Cons
Adds bulk and weight to load for a niche item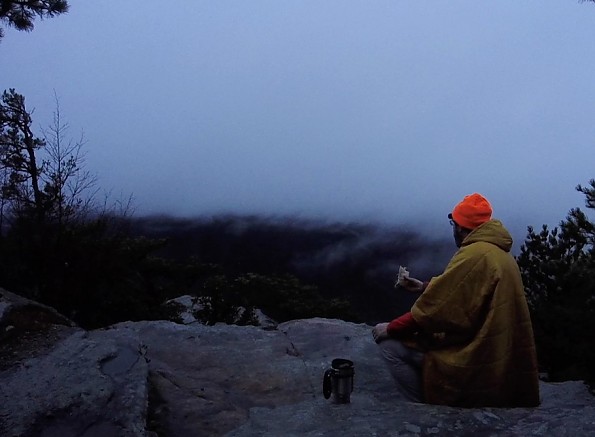 Design and Materials: The Poncho Goes Technical
The Honcho Poncho is essentially a light, insulated blanket, 79 in./ 200.6 cm. by 58 in./ 147.3 cm., with an insulated hood in the middle.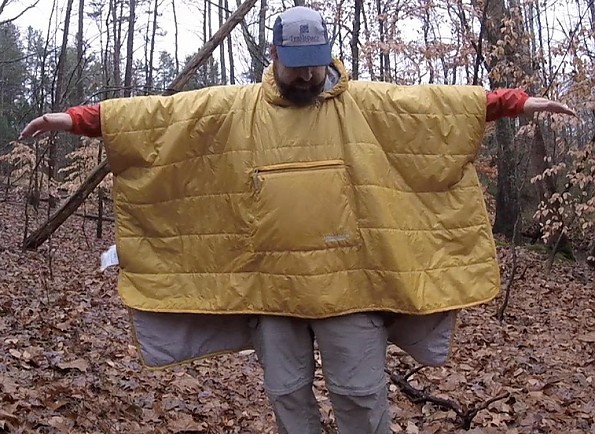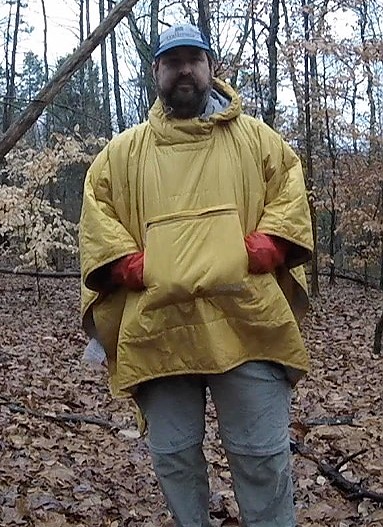 A zippered pocket on the front doubles as the Honcho Poncho's stuff sack for storage when it is not in use.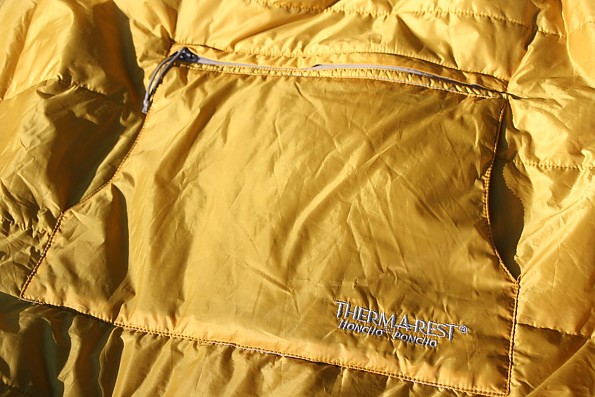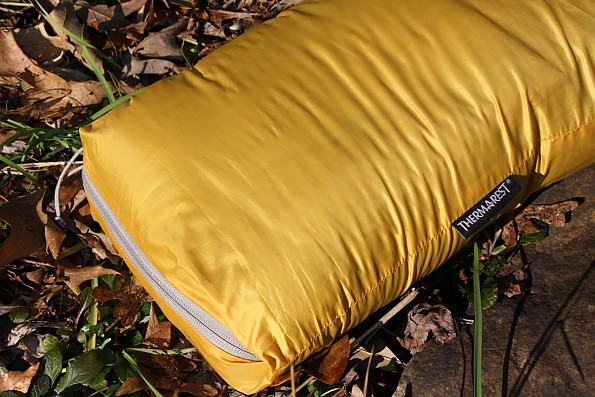 The Honcho Poncho pulls over the head and secures with two sets of snaps on each side to form traditional, loose-fitting poncho sleeves.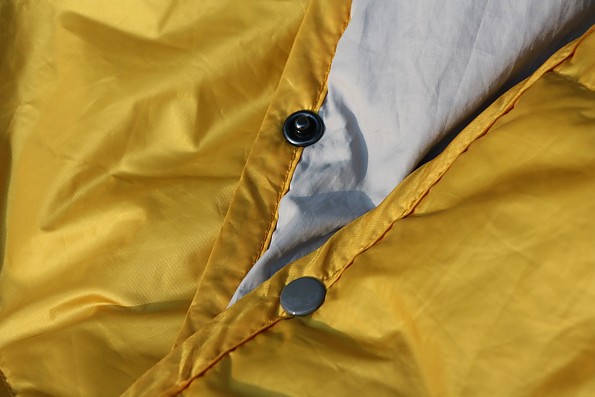 As the garment is one-size-fits-all, there is no adjustability insofar as size goes. Therm-a-Rest calls it a Large, but obviously the poncho will drape over different builds differently (for reference, I am 6'2"/ 188 cm, 225 lbs/ 102 kg). The back tail is longer than the front, a feature which does permit one to throw the poncho over a pack (first image, below, with 65L internal frame pack; second image with 35L external frame pack) or to simply enjoy greater coverage of one's posterior (third image, below).
Let me get technical for a while. Therm-a-Rest notes that the exterior shell is made from "Waterproof Breathable 20D Polyester RipStop w/DWR 1000mm Hydrostatic Head / 5000 MVTR." That mouthful means they've taken a relatively lightweight polyester fabric (20D) and made it waterproof with the application of a durable water repellent (DWR) coating. This coating is rated at 1000mm Hydrostatic Head, meaning that a column of water 1 meter tall was gradually added to a tube sealed by the fabric at the bottom before the water leaked through the fabric. In practical terms, 1000mm is designed to withstand rain showers.
There is always a tension between waterproofness and breathability: the 5000 MVTR references the latter, the moisture vapor transmission rate. The 5000 MVTR is measured in grams per square meter per 24 hours; 5000 g/m2/24 hrs. is a mid-range rating. However, the inherent openness of a poncho design allows greater airflow than do more confining jacket designs, something that aids the Honcho Poncho in terms of its breathability (more on water repellency and breathability later).
Insulation
The insulation of the poncho is Cocona's 37.5 insulation. Therm-a-Rest notes that this is a polyester insulation, and Cocona claims that this insulation (which embeds activated carbon of coconut shells at the fiber level of the fabric) offers 800% more surface area to the fiber and to trap and release moisture by using body heat to help drive moisture away from the body (The 37.5 is a reference to 37.5˚C, the ideal core body temperature).
Lining
The interior liner is a 50D brushed polyester taffeta, which feels great against the skin. I slept many a night with this as my cover. Enough said.
Nitpicking Design Features
I did discover a few issues relating to the design of the Honcho Poncho. Superficially, I felt a bit foolish in the Honcho Poncho (my wife was greatly amused when I first tried it on) because the marshmallow man effect is immediate.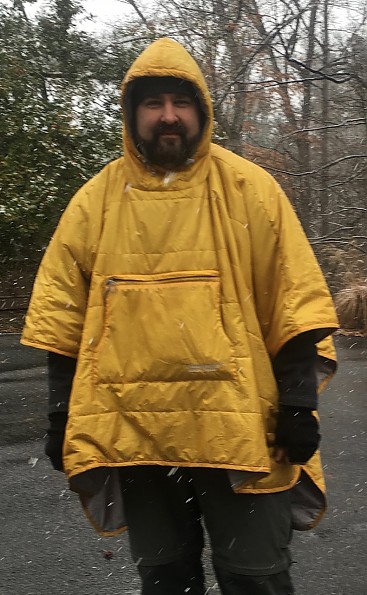 She was not especially fond of the Lemon Curry yellow color (though I had no problems with it), either; I imagine she would have preferred the other available color, Poseidon blue. As a backpacker, though, I have little self-respect when it comes to my appearance, and once engaged in outdoor activities, I soon happily forgot about how I might appear to others.
Of greater note, the drawcord adjustments on the hood are a trifle finicky; they are sometimes hard to loosen.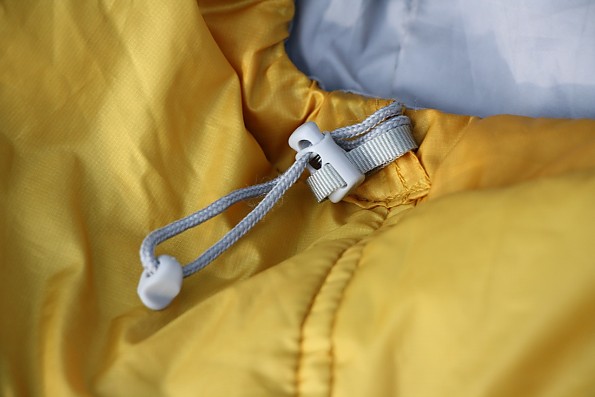 This isn't a deal breaker, just an annoyance. I found the head opening to be a bit snug for my big old skull, but I was able to pull it on and off with judicious handling. The depth of the front pocket means that something of an excavation is required to dig an item out of it—a sticky excavation in wet conditions. Moreover, weight in this pocket tends to pull the front of the poncho forward when one bends over, a fact that one must take into consideration when bending over a stove or fire, for instance.
The side snaps are generally adequate but can come unbuttoned if the "wings" of the poncho snag something. However, owing to the fold of the fabric, this does not diminish the efficacy of the garment unless one is in windy conditions, and in practice the 20D fabric seemed smooth enough to deter most incidental snagging (I took it deliberately through tree branches and brush to test this, though I did avoid briars).
Fun or Technical? A Flexible Range of Uses
How and where does one use such a garment—part-blanket, part-rain coat?
On Therm-a-Rest's web page, the caption under the Honcho Poncho reads "Fun or Technical? You decide. We built it for both." I used it in as many different ways as I could in pursuit of an answer.
I tested the Honcho Poncho over a period of months in a wide range of environments and temperatures. I used it as a throw blanket in my recliner on chilly winter nights at home. I used it, too, as my sole covering on many a night over the holidays when overnight house guests kept me from my usual roost. I used it as a top quilt in my hammock on evenings in the 60˚F/15.5˚C range, and, by accident, as a sort of insulated tent over my hammock's structural ridgeline one night at 45˚F/ 7.2˚C when I tried to dry it from a day's abuse (it was toasty in this novel capacity).
I used it as both rain cover and insulating layer in temperatures ranging from just below freezing to the same 60˚F/15.5˚C range mentioned earlier. I used it in mist, rain, and snow, in windy and in still conditions, both around my home (where it was convenient to toss it on and take advantage of changing weather) and on camping and backpacking trips (over a 65L pack), notably a wet stay in the Linville Gorge Wilderness of North Carolina.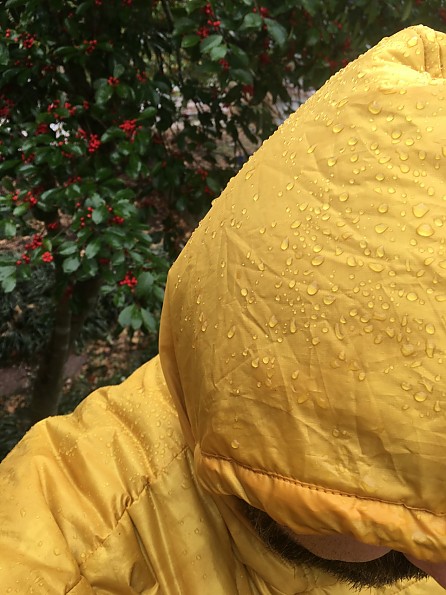 I even subjected it to 20 minutes of direct flow from my showerhead to test its waterproofness (more on this later).
I also tested the Honcho Poncho in a range of activities. Reading while covered by the poncho and snoozing under it in a hammock were not exactly taxing, but donning the Honcho Poncho for a vigorous day hike or tossing it over a pack for backpacking upped the ante for this interesting piece of gear. On the more energetic side, I also sawed branches and split wood by axe while wearing it.
What were the results?
Let me tackle Therm-a-Rest's claims, which they state on their site as
Cozy: 37.5 insulation provides micro-climate control for superior temperature regulation and comfort; cinchable hood adds warmth.
Water Resistant: Offers a wet weather barrier with its water resistant/breathable shell.
Versatile: Use at camp, at the game, or anywhere you want a little warmth and freedom.
Handy: Kangaroo pocket warms hands and top zip pocket stows essentials.
Packable: Packs into its own storage pocket.
Cozy: I was impressed by the coziness of this garment. It is wonderful to cinch the hood over a beanie or baseball cap and have one's neck and ears warm and free of icy, invasive winds. I had feared draftiness in the wind on the sides, and I did experience some body coolness as I took the Honcho Poncho out in sub-freezing snowy weather with only a Capilene base layer and a Salomon wind shirt on my torso, but basically the Honcho Poncho allows one to adjust layers under the poncho to remain comfortable at a wide range of temperatures.
For me that included temps from 30˚F/ -1.1˚C to 60˚F/15.5˚C, all that this curious winter allowed me when I had opportunity to test the poncho. Almost as if by instinct, I developed a sense of what I needed to wear under the Honcho Poncho. This means one can really tailor one's attire to wearing it as an outer layer, and that means comfort.
Therm-a-Rest asks the prospective buyer if he or she is "ready to be king or queen of the campfire?" Because the company lists the Honcho Poncho as part of their "Camp and Comfort Series," I did not tax it by wearing it during a run or some similarly intense activity—this seems beyond the scope of the design of a baggy, bulky outer layer such as this. And yet, whether the 37.5 insulation produced an ideal micro-climate or the open design of the poncho was the cause, I was comfortable and never clammy while wearing the Honcho Poncho.
Indeed, the only moisture I experienced on the inside of the poncho came from rain on my arm being transferred by arm movement to the inside of the poncho's sleeves, and rain on my backpack being transferred to the inside of the poncho as I threw the poncho on over me and the pack.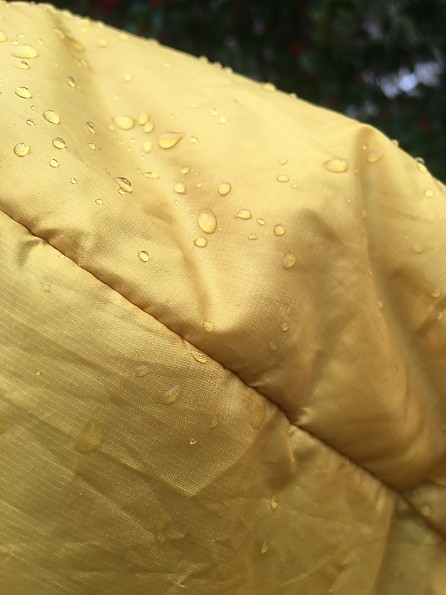 Water Resistant: Normal rain showers and snow were no problem. The Honcho Poncho also shed my 20-minute shower barrage without issue. I once did note, however, that friction had caused water to permeate the outer membrane of the poncho, evidently due to it being crumpled up in wet condition; this occurred when I was transferring the poncho home after a backpacking trip.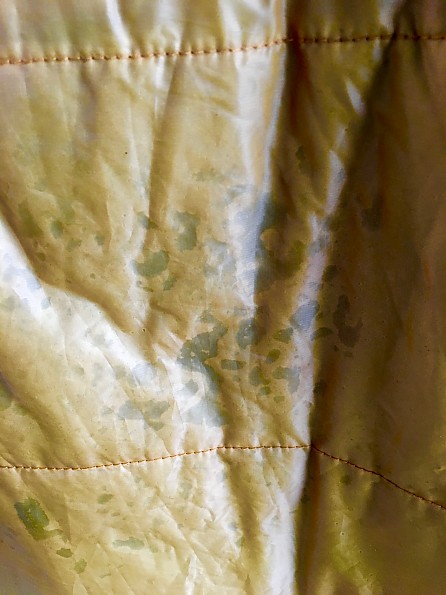 I never experienced water wetting through the poncho to the interior taffeta, though.
Versatile: I will vouch for the versatility of the Honcho Poncho. If you are not terribly vain, you'll find plenty of ways to use this garment. My original interest in the Honcho Poncho came from curiosity about whether or not its inspiration had come from the U.S. military's famous "woobie," or quilted poncho liner blanket. Veterans I know love the versatility of this insulated blanket, and I found I developed similar affection for the Honcho Poncho.
It was nice to don the Honcho Poncho when my body was wet from climbing up 1500 feet/ 457m of mountain and I encountered an icy wind; my body was quickly protected from the wind and warmed by the insulation. My body heat dried me off under the poncho. I savored its warmth at home, too, on those chilly nights when I stayed up working late. Watching football on T.V., I couldn't help thinking that the Honcho Poncho would probably be pretty awesome at a game, too.
Part of its versatility derives from the ease of switching between poncho mode and blanket mode. One night atop Shortoff Mountain, N.C., I wore the Honcho Poncho to repel rain and to warm me. When I crawled under my tarp into my hammock, I unsnapped it and threw it over my ridgeline to dry, inadvertently discovering the coziness of having an insulated partial roof on a hammock. In stuffed form, the Honcho Poncho makes a fine pillow, too.
Handy: Therm-a-Rest proclaims the handiness of its pockets, but here I'll take minor issue with this claim. I found the handwarmer pocket could be a bit drafty, and my big old paws were barely covered within its width (more delicate hands will likely find it more adequate). The zippered pocket is capacious, but almost too much so: I had to dig into its depths to retrieve items. Both pockets could admit moisture from rain, too, though the zippered pocket is protected by a flap of fabric when no open.
While on the subject of pockets, I should note that was not always easy to find my way into my own pants pockets through the side of the Honcho Poncho: I could do it eventually, but it wasn't as easy as I would have thought, perhaps owing to the freely flowing fabric eluding my hand as I tried to locate the opening by feel.
Packable: Therm-a-Rest's final claim is the packability of the Honcho Poncho. 

It does indeed pack into its own stuff sack, but its packed size is formidable for most backpackers. I stuffed and cajoled the Honcho Poncho into my pack for my Linville Gorge Wilderness trip, and I really enjoyed having it (it felt downright decadent), but had I not had the impetus of testing it, I don't know that I would have carried it—I've scrupulously shaved grams too many times to commit willy-nilly to a toting 28 oz. / 793 g, 16 x 12 x 5 in./ 40.6 x 30.5 x 12.7 cm bundle into the backcountry.
Takeaways
The Honcho Poncho is an interesting piece of gear. It is certainly a niche item that caters to our longings to be warm and dry. Both Therm-a-Rest's playful question about being campfire royalty and my own experiences suggest that the Honcho Poncho isn't really made to be crammed in packs over and over again. It is of good quality, though it doesn't have the forever feel that some military surplus items exude. It feels as though it is intended more for particular occasions than to serve a fundamental role in your kit.
I would not, then, call it practical in a traditional sense—dedicated rainwear can come with higher Hydrostatic Head ratings, and obviously dedicated thermal layers can be warmer. What it offers is either a compromise or something over the top, depending on one's perspective.
Would it work for car camping? Without question. At a sporting event? Sure. As a spare throw blanket around the house? Check—my wife even commandeered it one evening. For warmth around a campfire? I've done that and I loved it. Pass the coffee or hot chocolate!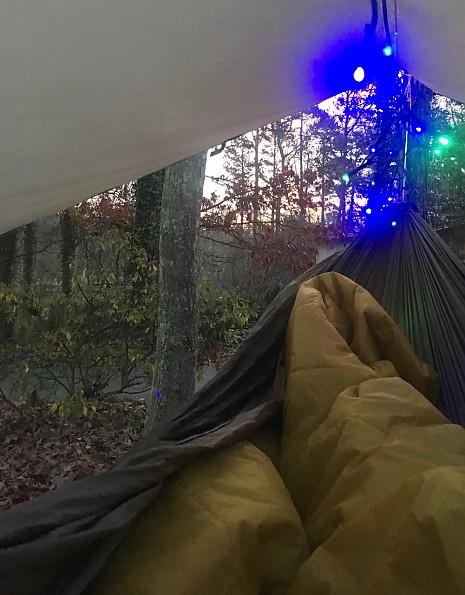 As a top quilt for hammocking? Other quilt options afford greater warmth, so this would have to be a call made by the hammocker and predicated upon consideration of bulk, weight, and sleeping temperature tolerances. It would favor the warm sleepers, I'd guess intrepid sleepers in the upper-50˚s F/ mid-10˚s C and up with appropriate clothing worn to complement the Honcho Poncho.
One con in my mind is the absence of any rating on this product, which Therm-a-Rest classifies as a "Tech Blanket" (none of the products in this category are rated for warmth). For backpacking... well, that also depends on an individual's needs and tolerance for bulk and weight. It is neither tiny nor ultralight, though it has its own unique virtues, enumerated previously.
Yet there is something a bit seductive about the Honcho Poncho after one gets used to its bulk. We've all indulged in wrapping ourselves in blankets, and in some ways wearing the Honcho Poncho is akin to that. As I noted before, it proved to be brilliant at warming a sweaty, chilled body when I covered up with it after a climb, even allowing me to dry off beneath it. It felt great to sip coffee by the fire, my knees protected from the rain as I sat on my stool.
While the Honcho Poncho could be a bit dangly at times, particularly with items weighting its pockets, I was able to hike, backpack, saw wood, chop, build fires, cook, and more in it without really compromising my movements and without developing any sweaty or clammy sensations. It delivers on many of its promises.
Fun or Technical? The Honcho Poncho is both. As with all niche items, the decision of whether or not this fits your niche is up to you: if weight and bulk are not major concerns, the Therm-a-Rest Honcho Poncho can add functional indulgence to your outdoor experience.
Source: received for testing via the Trailspace Review Corps (Sample provided by Therm-a-Rest for testing and review)

Your Review
Where to Buy
Help support this site by making your next gear purchase through one of the links above. Click a link, buy what you need, and the seller will contribute a portion of the purchase price to support Trailspace's independent gear reviews.
You May Like
Specs
Price
MSRP: $129.95
Current Retail: $90.96-$134.95
Historic Range: $69.95-$134.95

Weight
1 lb 12 oz / 793 g

Width
58 in / 147 cm

Length
79 in / 200 cm

Packed dimension
16 x 12 in / 40 x 30 cm

Fill
37.5 Active Partical Polyester

Fill weight
9 oz / 250 g

Liner fabric
Brushed 50D Polyester Taffeta

Shell fabric
Waterproof Breathable 20D Polyester RipStop w/DWR 1000mm Hydrostatic Head / 5000 MVTR

Recently on Trailspace