Therm-a-Rest RidgeRest Solar

#5 in unisex Closed-Cell Foam Sleeping Pads
The RidgeRest Solar has been discontinued. If you're looking for something new, check out the best closed-cell foam sleeping pads for 2023.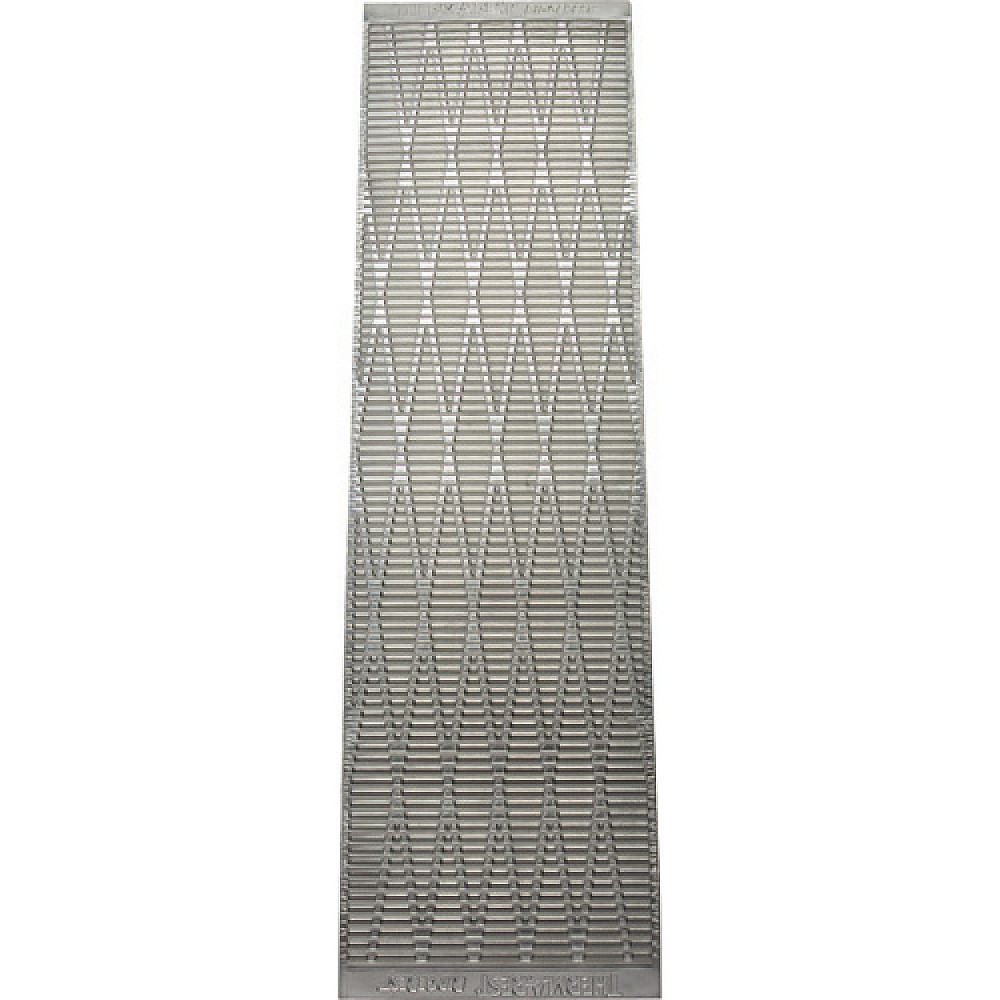 I will go without TP before I go without this pad.
Pros
Light
Warm
Ridged for sleeping pleasure
WILL NEVER DEFLATE
Reflective
Inexpensive
Durable
Makes a good pillow
This is one of those iconic pieces of gear that came along and made the world a better place and will never go away. The bad thing for Therm-a-Rest is that, this works so well that I will never go back to an iffy inflatable mattress. I can buy enough of these to outfit my whole family for the cost of one super-light pop-able pad. 
I did my first 72 mile hike in my teens with no pad at all. Then I graduated to the ubiquitous blue foam pad.  Next I upgraded to an inflatable pad that popped on me one night in the snow so I switched to the RidgeRest Solar. 
Never again will I have to wake up at night to re-inflate my leaking sleeping pad!
I can wipe my butt with snow, it's not that bad; its actually quite refreshing. I will NOT sleep in the snow without this pad! The ridges keep you in place at night, trap warm air and provide enough comfort for my 200+ pound body to sleep soundly. The reflective material is a nice addition which, with no weight penalty, reflects a few more calories back to me so I stay warmer.   
I hike with kids and end up carrying a LOT of gear. The last thing I need is a heavy inflatable pad that might spring a leak on me some night. Oh, I know that lighter ones exist (a hundred bucks for a sleeping pad?? Seriously?) and that, with proper care an inflatable will offer dozens of nights of comfort before it pops but I have kids, I sleep on rocks, I'm not wealthy, I don't always sleep in a tent.   
I have slept on this thing in snow, rocks, dirt and even inside the occasional tent. Last month my son put a crampon spike through it. Did I cry?  He11 no! It still sleeps me fine and will continue to until I have to burn it to signal rescue planes.  I could shoot it with a MACHINE GUN and it will still be sleep-worthy.  Got any piece of gear that can do that??!! 
Druthers: It collects stuff like snow in those ridges, which will melt and get you wet and cold.  Shake it out before you sleep on it. What? It doesn't fit inside your minimalist 600 cubic inch pack? Lash it to the outside (with two pound monofillament of course to save weight) YOU WILL NEVER KNOW IT'S THERE!
So unless you medically require a pad that resembles the softness of your bed at home (why are you hiking?) this is the deal! In a world where gear technology cost and complexity are increasing exponentially, the humble RidgeRest remains. 
The pics: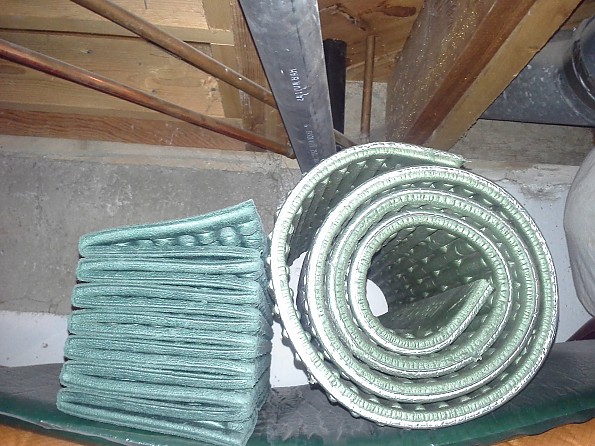 The Ridgerest sleeping in the man cave. Notice the bulk compared to the Z-Rest (which I inherited; did not buy)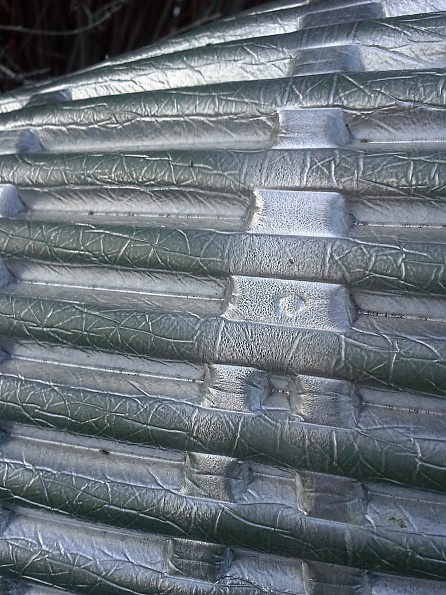 The cool shiny stuff in wearing off. I hope it shows up in your screen. Before it started wearing off after three seasons, it made a great reflector for tanning!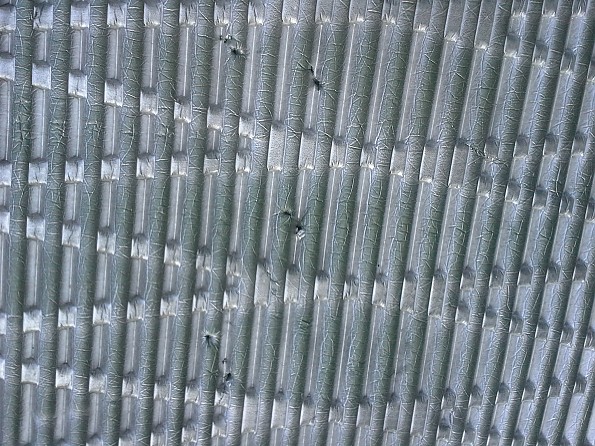 The boy stomped it with his crampons on.  Ridgerest don't care, Ridgerest says, "Bring it on," 'cause its tough.  This is why I eschew inflatable pads as a rule.
Source: bought it new
Price Paid: $22

I would highly recommend this sleeping pad! If you are looking for a sleeping pad used during winter camping, look no further.
Pros
Warmth
Comfort
Durability
Multi-use
Lightweight
I am typically a very cold sleeper when I am winter camping. After many nights out using supposedly warm sleeping pads, I finally purchased the RidgeRest. I have not had a cold night since. I have not felt the cold ground beneath me at all, and in fact, the pad seemed to actually be warm (the closed-cell technology, reflective layer, etc.). 
I have used this pad many times backpacking, sleeping in subzero temperatures, and it is still great for three-season camping as well. It also has multiple uses, since I often use it as a seat at camp. If I am winter camping, I do not want to be without it. Additionally, I'm sure to keep it with my bug-out bag at all times. 
This is the best sleeping pad! It has totally exceeded my expectations and I tell everyone I know about it.
Source: bought it new
Price Paid: $38

The most important thing about backpacking to me is my level of comfort. Most of my time spent on the trail, I'm walking. So the comfort level of walking is most important. The Therm-a-Rest RidgeRest Solar's weight is a crucial piece of the puzzle for helping keep the weight down on my pack and making my time walking as comfortable as possible.
I don't mind sleeping on the ground and prefer a firmer pad. This is something one should keep in mind about most closed cell pads amongst the RidgeRest lineup. I use a 20-degree down bag and have not once been cold on a winter hike where temperatures reached mid to low thirties here in Alabama. I have had this pad for four years and it looks the same as the day I got it. 
Source: bought it new
Price Paid: $50

Your Review
You May Like
Specs
Price
MSRP: $39.95
Historic Range: $29.96-$55.79
Reviewers Paid: $22.00-$50.00

Recently on Trailspace