Therm-a-Rest Slacker Super Snuggler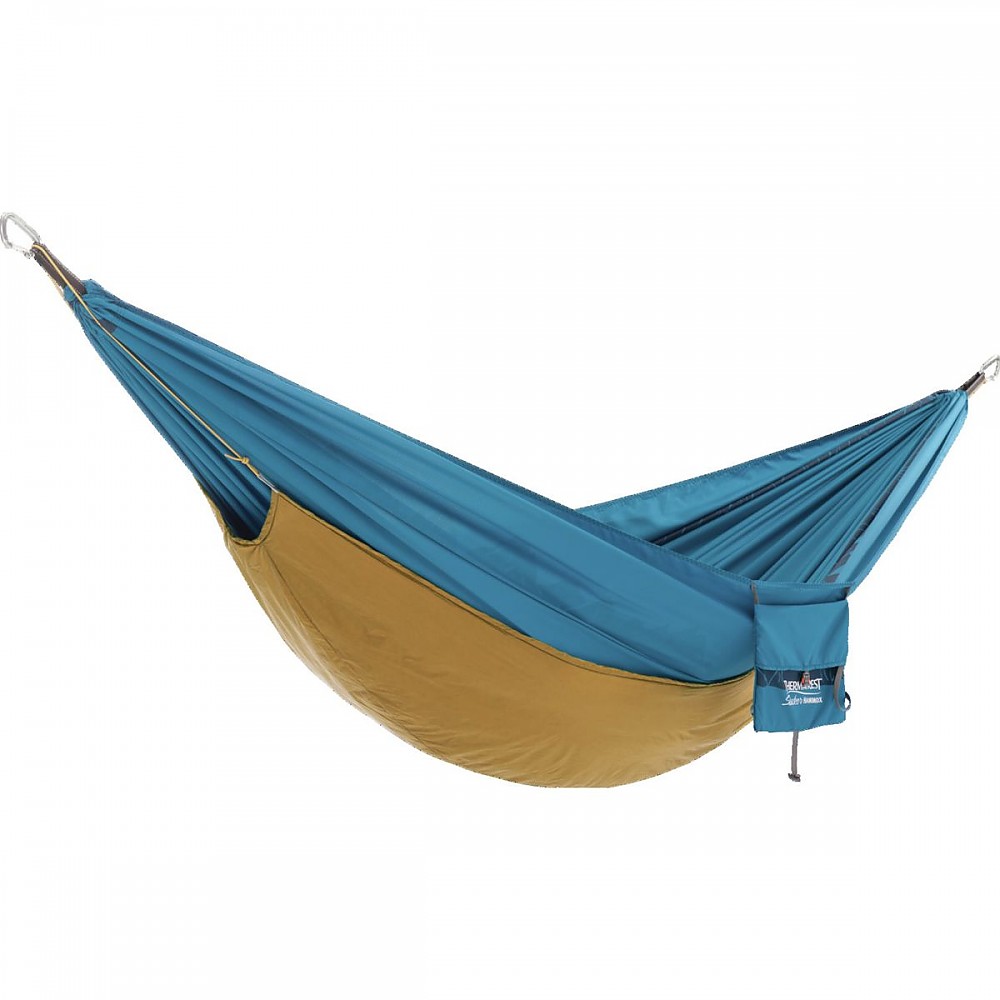 The Slacker Super Snuggler is an inexpensive, easy to use, robust, lightweight hammock underquilt that works well in above freezing temperatures. This hammock would be an excellent choice for new hangers due to its ease of use or for folks that are looking for a down alternative with similar performance.

It doesn't offer as much coverage as a full size, rectangular cut underquilt and offers a different style of coverage than a traditional three-quarter quilt. Overall I would recommend this quilt for 3-season use.
Pros
Much less expensive than down
Easy to use
Low maintenance
Durable fabric
More comfortable than a foam or inflatable pad
Cons
Head and feet coverage could be lacking for some users
Slightly heavier than down
Specifications
Weight: 23 oz
Length: 80 inches
Width: 44 inches at center, tapers to 10 inches at head and feet
Packed Size: 10 x 13 x 5 inches
Estimated Temperature Rating: 30 Degrees F (no temp rating given by manufacturer)
Fill Material: 100% eraLoft polyester hollow microfiber w/ ThermaCapture lining
Fill Weight: 20 oz
Effectiveness
I've always used either a down, full length underquilt or a closed cell foam pad (CCF) to keep warm in my hammock, so this was my first entry into the realm of synthetic quilts. I occasionally backpack with an ENO Vulcan user, but her feedback about its warmth-to-weight ratio made me never seriously consider trying one.
I backpack with members of the hammock forums and a group of hammock users here in St. Louis, and down is the standard for underquilts (UQs,) seeing a synthetic is rare. The general attitude is that if it's not down, and it isn't made by a cottage manufacturer, then it's not a serious underquilt.
Snugged up tight to a DreamHammock Sparrow:

My initial impression on opening the package was that for the upcoming shoulder season, the loft was low, the weight was too light, and that the convex shape wouldn't provide coverage for the head and feet in an asymmetrical lay. 
Below is the Slacker Super Snuggler laid out over a Hammock Gear Incubator 20, showing the differences in cut: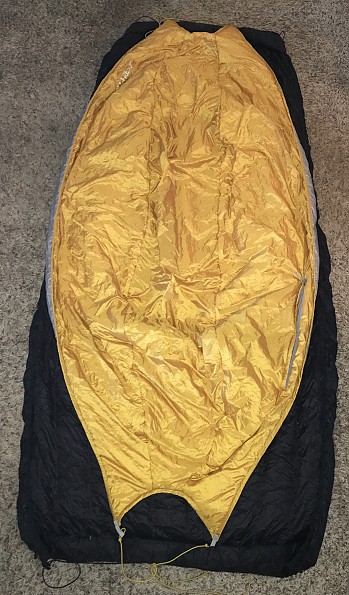 I'm happy to report that I was wrong, and I've slept comfortably using the Slacker Super Snuggler alone down to freezing.
The convex shape almost always provided coverage for my head and feet without the excess coverage of a standard rectangular UQ. The quilt is designed with a slight downward curve in the middle which did a great job of hugging the body. The 20 ounces of eraLoft continued to surprise me over multiple, humid nights around freezing. Never once did I get the dreaded feeling of the quilt being pushed beyond its limits.
Hammock Forums group hang, member trying out the coverage: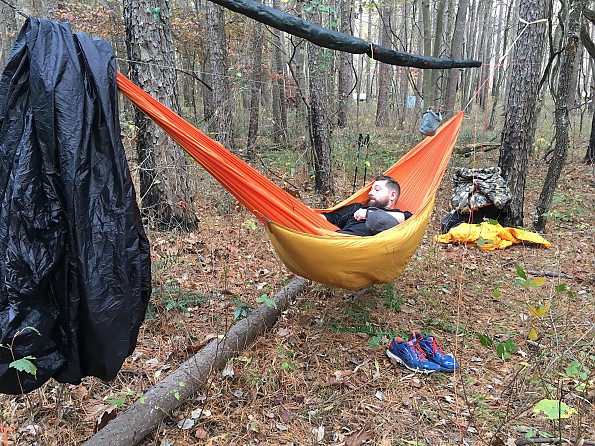 Ease of Use
The Slacker Super Snuggler is attached with a simple system consisting of two shock cord loops on each end. The loops are independent and not channeled through the quilt sides as with most UQs. The lack of channels didn't affect the fit at all. I experienced no openings for drafts.
Unlike a down quilt where the tension has to be "just right," tight enough to seal out drafts but not too tight to lose loft, the eraLoft can be snugged up as tight as the shock cords will allow and the quilt won't lose its thermal properties.
During the testing period I found that this style of cut and eroLoft insulation should be affixed much closer to the hammock than a down or full cut rectangular quilt for maximum warmth. To  affix the quilt to the hammock, I simply ran the suspension through the loops and knotted the loop over the continuous loops (where the hammock meets the suspension.) 
Easy setup, knotted through continuous loops: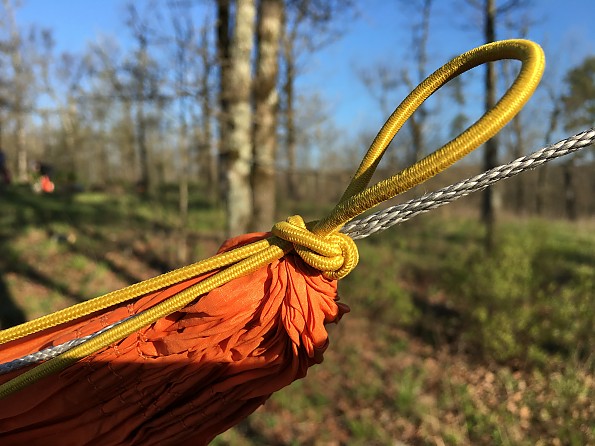 A variety of different methods could be used to attach the quilt to the hammock. I'm not a knot person, but the thick and robust shock cord made tying on to the hammock suspension easy. If biners and cordlocks and mitten hooks are your thing, there are plenty of ways to improvise!
Features and Construction and Durability
Therm-a-Rest uses proprietary ThermaCapture technology for the interior of the quilt in 30D polyester. It's essentially a reflective coating that radiates body heat back into the hammock. Initially I was worried about this creating the same kind of vapor barrier and its associated pooling or puddles of condensation similar to a CCF pad, but I noted no condensation buildup on the interior of the quilt. So while the quilt blocks wind quite well, it also has a good measure of breathability. I've had ice/frost on my ridgeline and tarp several times, but no ice formed on any area of the quilt.  
Here the sun is going down, but it's a no fuss and fidget setup, tied to DutchWare 11ft Netless and packed uncompressed in bottom of pack. Note zippered pocket for self stuffing for compact packing: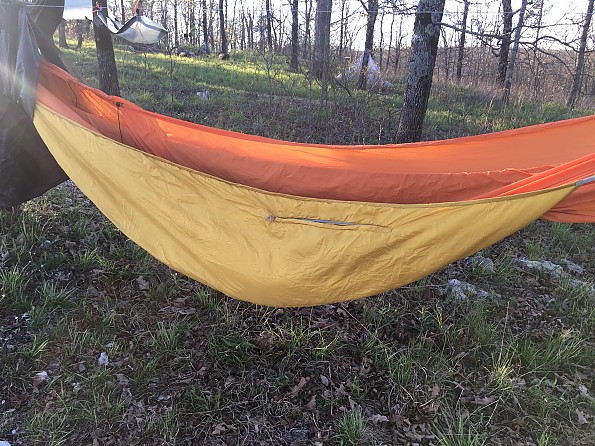 The outer material is a DWR treated 20D polyester ripstop. The ripstop is sewn in small, almost indiscernible fashion. For those of you used to 10 and 15D down shelled UQ's, the heavy, smooth 20D will be a welcome change when hanging in brushy conditions or sleeping in downpours where you might get some spray in the nest. Water beads easily off the fabric.
Outer fabric is yellow ripstop, silver is ThermaCapture, simple shock cord loop shortened with knot so I know where to make my knot when tying to hammock: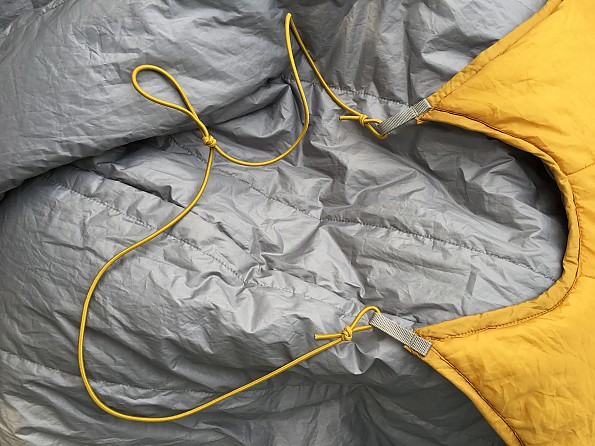 The quilt stuffs into its own pocket fairly easily. It's a little more voluminous than a similar 20-degree down quilt but not terribly so. It's a nice feature to have, though I don't pack it that way. I leave the quilt affixed to the hammock and only remove it after trips for storage. 
Stuffed into its pocket it would make an excellent pillow or a firm seat. Stitching is quality with no noted loose threads. The smoothness of the outer and inner materials and inherent qualities of the synthetic insulation make for smooth packing (shoving down into the bottom of my pack.)
Packed in its own pocket, Nalgene on left and Hammock Gear 20 packed in stuff sack at right: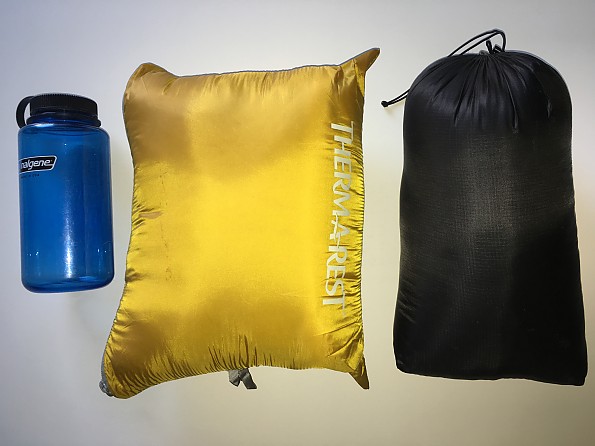 There are three kinds of cold one should worry about when cold weather hammock sleeping.
Drafts – This is when wind makes it to your underquilt, and finds a hole not snugged up to your hammock. Air moves between your hammock and underquilt and takes away all of the heat. With the Slacker Super Snuggler I experienced no drafts.
Coverage – When your head/arm/feet are in the hammock but not covered by the quilt. The Super Snuggler is a little small on the ends, and I did experience cold arms a few times. I'm 5'9", 180 pounds. For a user taller or wider than me coverage around the arm, shoulder, and head areas could be a problem. Adjusting the quilt by pulling it up on the uncovered side worked for me. That may not be an option for a larger user.
Temp Rating – This is when you sleep in your 20F degree quilt and it's 15F outside. You put on all the clothes in your pack, your raingear, pop a Hot Hands, and spend the night shivering anyway. I didn't take the Slacker Super Snuggler alone below 30°F (-1°C) and would not recommend it.
I did use the Slacker Super Snuggler in conjunction with a down 20 degree quilt and slept wonderfully in high humidity teens. This was after two cold nights using the same setup in similar temperatures with the down inside the Slacker. If you're going to use the Slacker to extend your current quilt's temp rating, make sure to use the Slacker Super Snuggler on the inside, affixed tightly, closest to your body.
Dream Hammock snuggled by the Super Snuggler. Say that three times fast: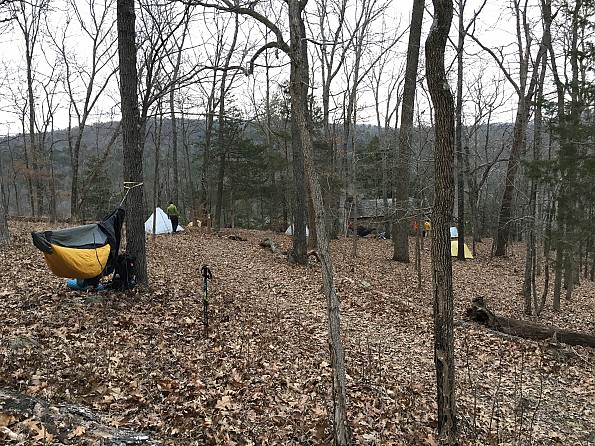 This is a robust quilt that is showing no signs of wear. Unlike down, a small tear isn't an issue, and it doesn't snag and catch like my down quilts in underbrush. The packed unit on my scale comes in at 23 ounces, 2 ounces lighter than the 25 ounces stated on the Therm-a-Rest website.
In my opinion this is not excessive, being only an ounce heavier than my 20 degree down quilt. Won't call it ultralight, but it certainly is lightweight.
Summary
This is a great piece of gear. Retailing at $129.95, it is almost half the cost of down quilts that offer slightly better warmth and are slightly lighter, but that require much more attention in setup and maintenance. It's possible taller or larger hammockers may find the coverage lacking. My Slacker Super Snuggler came without any instructions, though Therm-a-Rest says there will be a close-up picture of the setup on the tag. An instructional video on the website or insert of some variety showing different methods of setup would be helpful. 
Conditions
This underquilt (UQ) was tested in the Shawnee, Mark Twain, and Ouachita National Forests from mid-October 2016 to April 2017 for 24 nights, in temperatures ranging from the high teens to the 50s Fahrenheit. The most intensive test was a four-night, three-and-half-day, 56-mile hike over the Blair Creek and Karkaghne sections of the Ozark Trail in late October. It made its way on many an overnighter and plenty of car camping.
Addendum - Hammock Hanging near freezing and below
Most hammock users will tell you that once the temps dip below 40°F (4°C) that things can get uncomfortable fast unless you're in windless, arid conditions. I typically sleep in a hooded synthetic jacket of some variety with thick bottom baselayers, and extra thick sleeping socks or down booties. That doesn't mean that all layers stayed completely on and buttoned up, but they're always in the hammock. Additionally, I always have gloves and a balaclava or fleece face covering close at hand.
My clothing system for the Slacker Super Snuggler was the same as with my down 20 degree UQ. Additionally, I keep a half roll of CCF that I use for a sit pad close by that I can use to combat late night Cold Butt Syndrome (CBS.)
Source: received for testing via the Trailspace Review Corps (Sample provided by Therm-a-Rest for testing and review)

Your Review
Where to Buy
Help support this site by making your next gear purchase through one of the links above. Click a link, buy what you need, and the seller will contribute a portion of the purchase price to support Trailspace's independent gear reviews.
You May Like
Specs
| | |
| --- | --- |
| Price | Historic Range: $59.96-$129.95 |
| Weight | 1 lb 9 oz / 0.7 kg |
| Length | 80 in / 203 cm |
| Packed dimension | 12 x 13 in / 30 x 33 cm |
| Fill | 100% eraloft polyester hollow microfiber w/ ThermaCapture lining |
| Materials | 20D polyester ripstop shell, 30D polyester ThermaCapture lining |