Tilley TWP1 Waterproof Hat

#3 in men's Rain Hats
The TWP1 Waterproof Hat has been discontinued. If you're looking for something new, check out the best rain hats for 2023.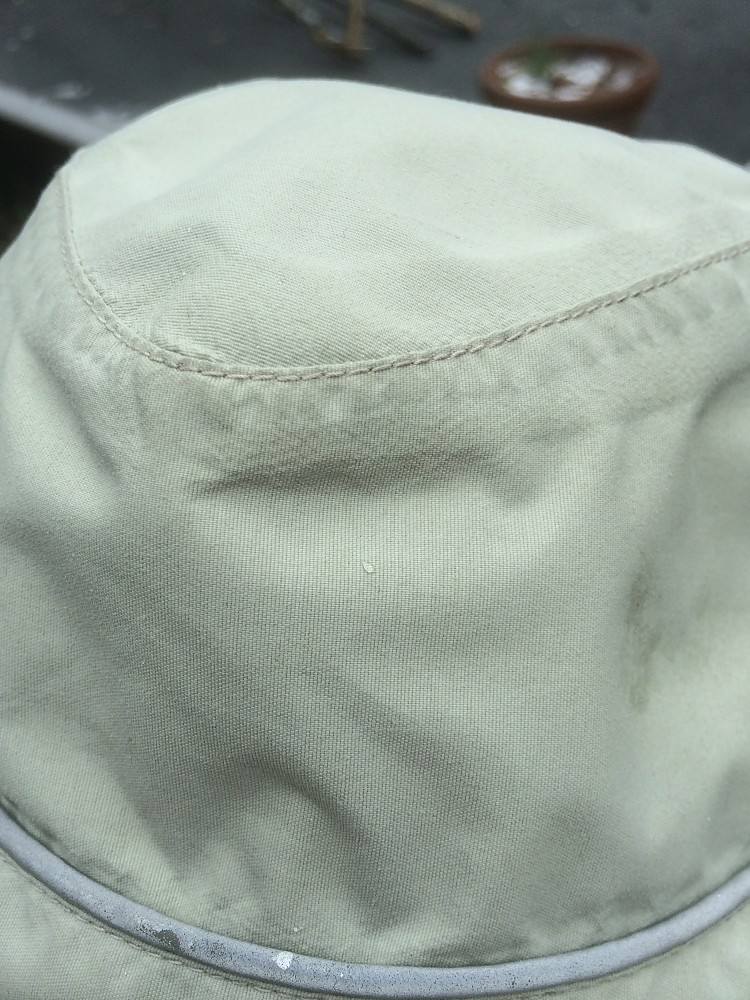 A hat that does its job so well it is a pleasure to stand in the rain! Excellent design and craftsmanship yield a durable, effective hat that can tackle the elements, staying on your head in windy conditions.

In balmier weather, a waterproofed zipper opens a vent in the rear of the hat to enhance breathability. Great for sodden conditions anywhere, and an option to consider when one hat needs to offer rain and sun protection over the course of a trip.
Pros
Superb quality craftsmanship
Highly effective rain protection
Brim: not too narrow, not too wide
Style
Cons
Heavier than some similar options
Not as crushable as some (too pretty!)
Cost
Once upon a time there was a middle-aged backpacker who sought the ideal rain hat that could also double as a sun hat to preserve his pale flesh from scorching. His quest for the ideal rain hat was fraught with perils--the siren songs of various manufacturers lured him, sultry harmonies of weight and waterproofness, style and packability. However one hat caught his eye and won his heart: the Tilley TWP1 Waterproof Nylon Hat.
Overview: The Tilley TWP1 is constructed of laminated, seam-sealed nylon wrapped carefully around a lightweight foam brim that permits the hat to float should need arise. A waterproof, zippered vent opens on the rear of the crown for ventilation.
The brims measures 2 1/2 inches wide from the base of the crown to the edge; side to side the brim has a diameter of 12 3/4 inches and 14 3/4 inches front to back. The interior contains a breathable polyester mesh that features an adjustable sizing strap as well as an ingenious little secret pocket. Tilley packs this with witty little cards promoting their product (one urges others to buy the wearer of the Tilley a beer!).
Dual cords hold the hat in place: a shorter, state trooper-style cord wraps around the back of the head while a second, longer cord forms the chin strap. Retention is excellent in all conditions as a consequence of these two straps. Hat, retention straps and all weigh in at 152 grams (about 5.4 ounces).
Sizing: Tilley offers their hats in a range of sizes as indicated below. This was a selling point for me, as I have found that the S-M-L-XL range of hat sizes has often proven unsuitable for my big old head. In the interior of the hat Tilley thoughtfully provides an adjustable Velcro strap to further customize the fit. The result? A hat that fits me perfectly, resting comfortably on my head without squeezing it.
Construction, Design, and Effectiveness: Construction is top-notch, from quality of materials used to the care with which the hat is finished. This hat is backed by Tilley's lifetime guarantee (see image, below).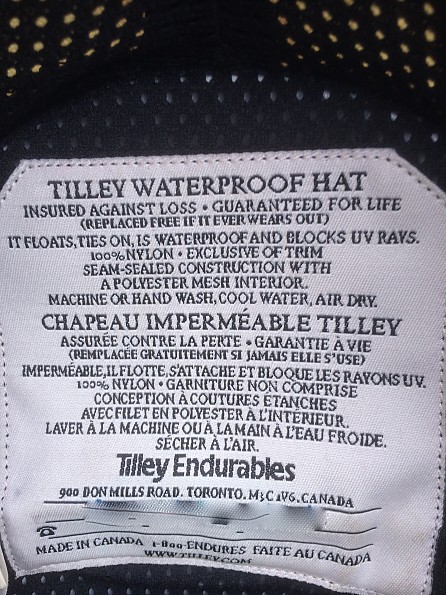 Take a look at the interior, at the secret pocket (opening onto the white compartment, below), the polyester interior mesh, and the adjustable sizing strap.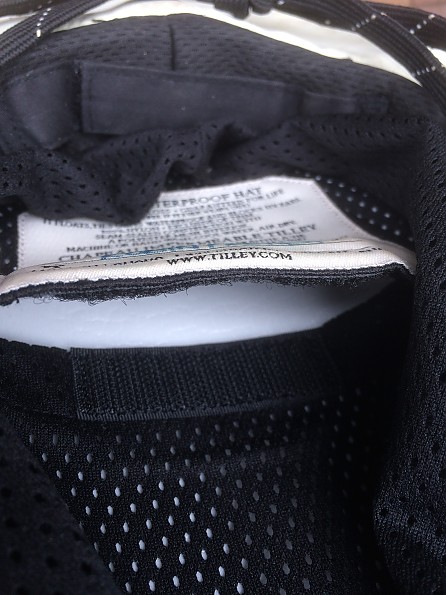 Or exterior seam detailing: note the fine stitching, the lines beneath that betray the seam-sealing (the dirt is my own addition).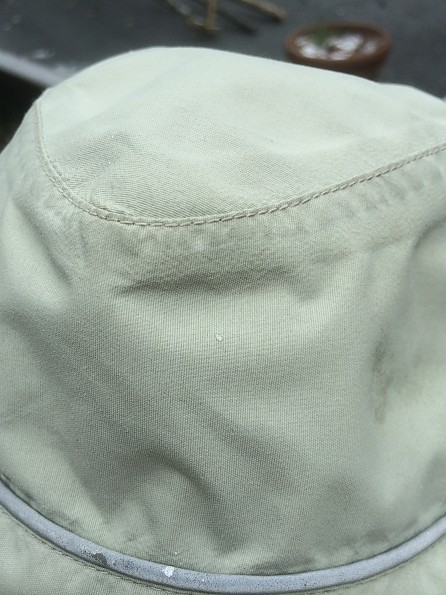 The delicate waterproof zipper on the rear of the hat show Tilley's attention to detail, too: it unzips upwards, readily opened by a lightweight pull that is thoughtfully adorned with reflective tape. The zipper is a marvel of compactness, a testament to the attention to detail that typifies this hat and, evidently, this company.
Moreover, it functions noticeably to help ventilate the hat; on sunny days I leave it open in what I term its sun-hat mode while on rainy days it stays zipped and my head stays dry. As with rain jackets, no waterproof layer is going to enjoy complete breathability, but this useful zipper and light interior polyester mesh go a long way to making this hat breathable.
The brim catches breezes, shunting them in and out the open zipper vent for more pleasurable wear in sunny conditions (I once read a review from a backpacker who lauded the TWP1's coolness after dunking it in a stream—great idea!). With a UPF 50+ rating and a 2.75 inch brim, this hat gets the job done as a sun hat, too, saving my pale fresh from acquiring a lobster tint on many a trek.
But what of its utility as a rain hat? It's brilliant! Simply put, it is one of those satisfying pieces of gear that gives one that heady feeling of invulnerability despite adverse conditions: bring on the downpours; this hat will keep you dry! With rain the brim really shines: it is wide enough not to dump water down the back of your jacket, and if you wear glasses, it will help keep your lenses rain-free.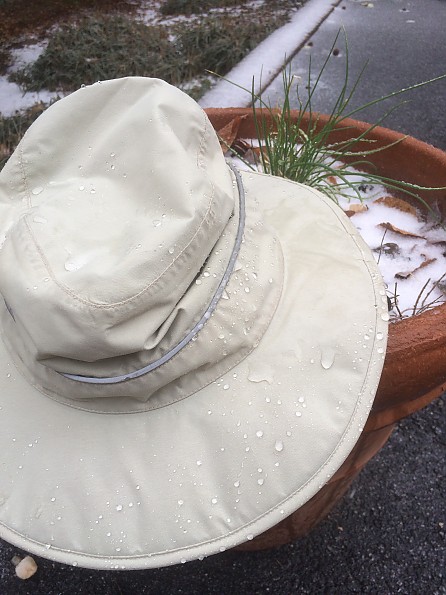 And at night? A bright, round reflective cord encircles the crown of the hat, catching any available light due to its rounded shape, while reflective strands are also interwoven into the cords that secure the hat to one's head. The pull cord for the vent zipper is also reflective, affording additional visibility if a hiker or vehicle approaches you from behind. In the day, these features all but disappear on my tan hat, revealed only as a white check in the black retention straps, but in the dark they glow brightly.
At night I generally hang my hat on my trekking poles, which I stick into the ground by my tarp when not using them for tarp support. This means I can readily locate my tarp when my flashlight catches the reflective materials, a bonus I've enjoyed numerous times when departing the blinding warmth of the night's campfire to retreat to my tarp, hidden in the shadows beyond the glow of the flames. Or, less glamorously, it glows in a cluttered, dark closet:
I've been using my TWP1 for several years now on weeklong backpacking treks in sun and rain, on day hikes, around town and more. I love it! It has kept me dry in heavy rain, unburned after days in the sun. The hat has held up well, collecting only dirt (not rips and tears) as the result of my adventures. Sure, I could wash it (see the label, above), but I don't like my gear to look brand new anyway.
I have not crushed this hat deliberately, but I don't think getting smushed in a pack would impair its functionality. In any case, if I have it with me, I generally either wear it or hang it by the retention straps on the back of my pack. I don't always indulge in the luxury of a rain hat when backpacking, but if clouds are threatening, using my Tilley is a deeply satisfying pleasure.
Source: received it as a personal gift

Your Review
You May Like
Specs
| | |
| --- | --- |
| Price | Historic Range: $39.83 |
Recently on Trailspace