Timber Top Tent

(8)
Timber Top is no longer in business, and the Timber Top Tent has been discontinued. If you're looking for something new, check out the best three-season tents for 2020.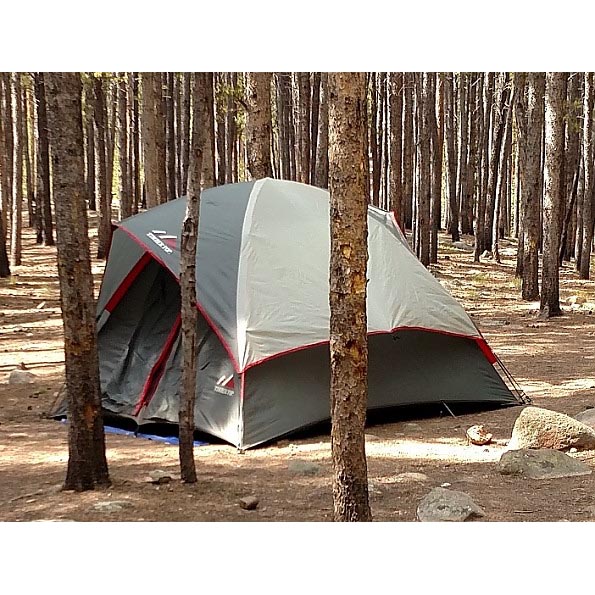 Specs
| | |
| --- | --- |
| Price | Reviewers Paid: $3.33-$60.00 |
Reviews
Received this tent as a gift from my parents in the early 1990's. Still use it today on every camping trip.
Pros
Easy to set up
Compact
Durable
Hi all, I received this tent way back in the early 1990's as a Christmas present from my parents (purchased from Service Merchandise). It was my first tent and still is my only tent. I use it every time we go on a camping vacation, which is at least 2-3 times a year.
My kids, while they choose to sleep in their hammocks mostly, do end up in the tent with me when it gets too cold or in a rainstorm. There is plenty of room for the three of us to sleep.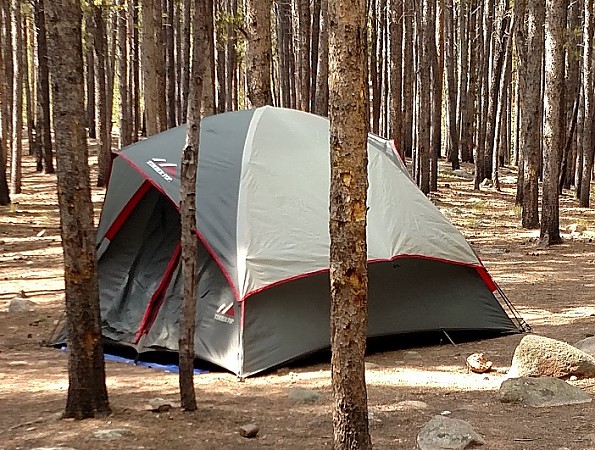 Photo is from Geneva Park Campground on Guanella Pass, Colorado Aug 7, 2018.
We were camping a couple weekends ago when we were caught in a late night thunderstorm. My tent actually started to leak for the first time. It was coming in right from the peak of the dome. Very strange since this is the highest point on the tent and rain fly was covering it. There are no tears or worn spots anywhere on the tent.
I am wondering if anyone out there knows what material this tent is made of? Is it treated with a waterproof coating or is the material itself waterproof? I would like to clean it (as it has never been cleaned before), and re-waterproof it. Can anyone enlighten me on how/what to do in this situation?
Thanks
Experience
This has been a great tent. It has been all over the U.S. and Canada and has never failed on me. I plan on using it as long as it functions as it has done these many years.
Source: received it as a personal gift

I love my Timber Top 3-man tent. I've been camping with it so many times. The fact that it sets up in a minute or so is the best. Sadly, I have lost the tent's fly and would like to find another one. So far, I've not been able to find one anywhere.
Design: free-standing dome
Sleeps: 3
Ease of Setup: super easy
Weight: 3-4 lbs
Price Paid: Don't remember, I've had it for so long

In 1998, my daughter and I were researching in South Africa. At the end of our time there, my wife came to join us, buying—I think at Service Merchandise or a similar store—a small TimberTop tent before she came. We camped with three of us for a month throughout SA and Zimbabwe with that little tent. En route back we camped in England and Wales for eight days, sometimes in sodden conditions.
A year later, our son took it with him to Kenya, and two years later to rural Morocco, setting it up in rugged terrain. We have camped throughout the U.S. with it since then, most recently setting it up eight times between Chicago and California, including a wind and gully-washing thunderstorm in Missouri during which we did not experience a drop of leakage.
That little $45 square tent is probably the best single investment we ever made. It is unpretentious, but incredibly dependable—used probably a hundred times in variant conditions. The quick-set poles, zippers, and fabric corner tie-downs still work.
We now also have a larger, more expensive one, but still use this little guy affectionately whenever we travel with the two of us, and need simple, fast compact shelter. Thanks for an inexpensive and durable basic product!
Design: freestanding dome
Sleeps: 2
Ease of Setup: simple
Weight: guessing 4-5 lbs
Price Paid: $45

I have owned a Timber Top tent, where the poles stay in the tent always and collapse like spider legs when you are done with it. I have had it since 1996. I bought it at Service Merchandise.
Well it has survived Maine camping since then, and I now wish I could get another, so I can have a selection to choose from. Let me know if I can still find this type of tent. It's the fastest set up ever.
Design: collapse tent poles for easy set up and take down
Sleeps: 4
Ease of Setup: easy easy that's all I have to say, everyone is jealous when they see me set it up by myself
Weight: not sure
Price Paid: $60

Easy to set up when I first bought/used it.
Pros
Ease of setup
Very few pieces to worry about
Cons
After 20+ years, am having an issue setting it up.
At the top, it appeared that two poles were out of place, and the lower joints kept collapsing. I rearranged them, and still have a collapsing issue. Can anyone take a couple pics of the poles at the top and at the joints so I can align them correctly? Thanks!
Experience
Great
Source: bought it new
Price Paid: $30

Easy setup and take-down.
Pros
Light enough to carry
Fast, fast setup and breakdown.
Cons
Can't find replacement parts
I bought this tent at a tag sale for $3.33 (Actually bought three tents for $10) Great investment!
Set up all the tents I'd bought to air them out and clean them up, and this was the easiest and fastest to set up and take down. Packed back into its bag without a struggle.
I didn't stake any of them down, but this little guy pretty much stayed put (as I went chasing the others across the yard!).
It's missing the rainfly and two tent stakes, but I've already replaced the stakes. Still hunting the rainfly! Let me know if you have one!
It's going to have a new life as a loaner for my daughter's scout troop.
Source: bought it used
Price Paid: $3.33

Have two Timber Tops — large dome and cabin style.
Pros
Easy setup
Roomy
Never leaked
Never tore.
Cons
Cording in tent poles stretched out and can't find replacements.
Bought in the '90s for my son and I when we took our first cross-country camping trip, as well as camping with the Boy Scouts.  Easy setup.
Downside, all my tent poles have stretched out and I can no longer set either tent up unless I can find replacement poles.
Love these tents. Lots of great times.
Source: bought it new
Price Paid: don't remember

Rockin' the second generation with my Timber Top!
Pros
Excellent quality
Easy to assemble/disassemble
Easy to store
My parents bought my Timber Top for me at the age of 11 in 1988. We were a very rugged family, and my tent went with me everywhere. Through my teen years my brother and our friends used it every weekend, often staying in very rugged terrain for a week at a time during our summer breaks. When my husband and I started dating in the late '90s we had so many excursions in this tent!
Every time I set it up I'm flooded with memories of river banks, cliff tops, public campgrounds, waterfalls, and so many other amazing places that it's traveled with us! Now, my old orange tent has been handed down to my own son. It's Summer 2013, he's 7 years old and we just returned from his first camping trip in a tent by himself.
I think the quality of this tent speaks for itself. The fact that the fabric may be slightly faded, but is still in excellent condition. The tent went up with as much ease as it did that first summer in 1988 and now my own child is creating his own memories with it.
Source: received it as a personal gift

Recently on Trailspace