Timberland Cadion Waterproof Mid

The Cadion Waterproof Mid has been discontinued. If you're looking for something new, check out the best hiking boots for 2023.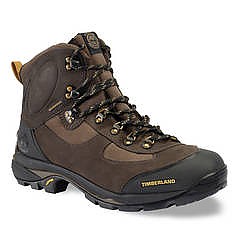 At best these boots are supportive and allow the miles to go by easily. At worst so uncomfortable that a level three mile walk hobbled me.
I have had four pairs, replaced by Timberlands Extraordinary returns policy. The first pair I had the cleats broke (a common problem). The trick is less pressure and tie up the lace slotting in sideways. The second and third pair had waterproof problems with water seeping in via the join at the toe cap. The last pair and worst had exposed sewing to the inner heel on one boot that would tear through my sock and my heel.
The good boots were comfortable and ideal for the wet hikes we do in the lake district (England). My feet remained mostly dry but incredibly comfortable even after long hikes.
My next boot will be the Timberland Ledge GTX Mid boot which is more trainer like. I hope that these will at last provide the ideal hiking boot.
Materials: Leather and gore-tex. Vibram sole
Use: short dayhikes
Break-in Period: very little
Weight: 82 kilos

I got these as a free replacement for an older pair of Timberland boots that fell apart. Timberland service is amazing. I picked these off a website but they just did not fit me well, and never got comfortable (I tried 2 sizes too).
I have wide feet and they seemed to be just too narrow (did not come in wide) and a local cobbler would not stretch them as there was some rubber around the base. That being said they seemed nice and well made and probably good enough for more serious hiking / climbing.
I instead chose a pair of Chocura (sp?) which are extremely comfortable and also waterproof. However they not very firm and have not done any heavy duty backpacking and wonder if they would offer enough support. I like them enough may purchase an expense after market inner sole to stiffen them up.
I think if you can get the Cadions to fit well they would be very nice. I could not. I think the older boots were a touch nicer.
Price Paid: free

I own a pair of Men's Cadion Mid Dark Grey w/ Gore-Tex XCR® Membrane, and have used them for a couple of backpack trips. I have been backpacking for over 15 years, and have logged over a two thousand miles. I have owned three other pairs of backpacking boots.
I think these Timberland boots are good, but could be better. I have taken a couple of weekend trips, and logged almost 50 miles on them. What I have found is after hiking on a irregular trail, with lots of rocks and roots, my feet start to give out. The problem is with shooting pain between the balls of my feet and in the arch. I can feel the soles flex too much when backpacking rough-trail, especially when stepping on softball-sized rocks. My feeling is that these boots do not have adequate sole-stiffness, nor adequate arch and metatarsal support.
I am going to shop for some new insoles, but think that, due to the sole-stiffness issue, the insole upgrade will provide only a partial-solution.
I also have a problem with the top-cuff not adapting to my bony-ankles, causing me pain when laced all the way up. This wasn't noticeable till after I have been backpacking rough trail for at least six or seven miles. I have worked around this issue by re-lacing to relieve pressure at the top, but at the price of support. The problem is the boot-cuff puts too much pressure on the outside ankle-bone that comes up from the outside of my foot. I did not notice any of these issues when I tried the boots on in the store--although I walked around the store for an hour before buying them.
These issues aside, I like the lightness of these boots and think this boot-design shows a lot of promise. I can't speak to the waterproofing of these boots yet, as it didn't rain on either trip this year, although my feet were wet from sweat at the end of a hot day.
I lead multi-day trips for a local group of Sierra Club, and feel that the Cadions are good backpacking boots. If they had better support, they would be much better.
Use: Rough trail w/ heavy pack (35 lbs)
Break-in Period: Two, 10-mile day-hikes, and 50-miles of backpacking.
Weight: Under a lb each
Price Paid: $140

My first hike with these boots was in rain, up and down a steep rocky and muddy trail, some slickrock and 2" puddles. The Cadions are light, comfortable, and the traction was incredible, even from the mud to rock transitions. Uneven footing on the rocks was met with firm ankle support. My toes never once scrunched on the descent and my socks were the only dry clothing on me when I reached the trail's end. I also have a pair of Vasque Skywalkers that have travelled with me to Alaska, California and Hawaii; great boots but often my feet are sore after 10 miles. These Timberlands are like strapping clouds to my feet. Best boot I've ever worn.
Materials: Gore-Tex
Use: Rough Trail w/20 lb. pack
Break-in Period: none
Weight: 2 lb.
Price Paid: $140

Your Review
You May Like
Specs
Men's
Price
Historic Range: $79.95-$109.99
Reviewers Paid: $140.00

Women's
Price
Historic Range: $139.99

Recently on Trailspace