TOPS Knives Fieldcraft by Brothers of Bushcraft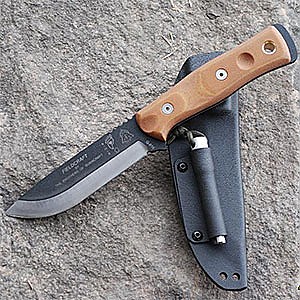 This is an excellent knife for general camp tasks—processing wood, shelter building, cutting, and carving that does not require fine detailing. My favorite knife in the hand, this workhorse revels in taking abuse without losing its edge.
Pros
Strength: full tang allows you to baton to your heart's content
Feel: the scales and weight feel amazing!
Performance: sharp, strong, comfortable
Cons
Thickness: not the best for fine carving; hold on to your Moras
Cost: some may find the cost prohibitive
Weight: not for ultralighters!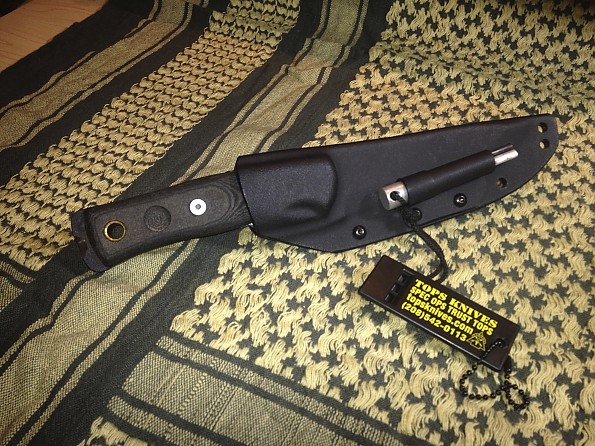 The TOPS Brothers of Bushcraft (BOB) Fieldcraft knife is a workhorse of a knife that will reliably execute a host of camp chores for those willing to tote its not inconsiderable weight. I turn to the Fieldcraft when I want strength and peace of mind, or, for comparison, to the Light My Fire/Mora Fire Knife when I want less weight to carry on backpacking treks.
What you get: the TOPS Brothers of Bushcraft Fieldcraft knife, wrought of 1095 HC steel; an excellent Kydex sheath; TOPS combination ferro rod/magnesium rods tool; TOPS 3-tone whistle.
Ease of Use/Features: Held by a well-designed and executed Kydex sheath with a spring steel clip, the Fieldcraft rides securely wherever it is attached. This knife feels great in the hand; I found myself simply holding it with satisfaction long before I ever began testing it.
In use it stills feels great, filling my hand nicely without any irritating contours or bumps. Thumb scallops are thoughtfully included for different knife grips, and both sides of the Micarta scales include a divot for bow drill use (I haven't had the opportunity to test that feature yet, but I will amend this review when I do). A substantial lanyard hole is provided as well.
The blade is powder-coated, a moderately beefy 3/16" that inspires confidence when whaling on it with a baton (such fun! Yes, I know some say not to baton . . .). The modified Scandi grind works beautifully for splitting wood when batoning but also works well when one is carving--three strokes and I had a tent stake.
The edge is paper-curling sharp right out of the utilitarian plastic wrapping. The end features the so-called Shango notch, a scalloped and uncoated portion of the knife end used for striking the supplied fire steel. The steel is a good idea: magnesium rods backing a ferro rod. I got the notch and steel to work, but I did not develop facility with it as rapidly as I would have liked, and thus I have replaced the steel with another of different manufacture that fits readily in the sleeve provided on the sheath.
I used the knife for moderate limbing, carving stakes, cutting paracord, making feather sticks, and batoning wood--it passed all tests with flying colors. While this knife could be used for food processing, it would not be my first preference--the thickness of the blade would split some foods, and the 1095 would discolor; for food prep I generally prefer thinner blades made of stainless steel.
I would also not choose the Fieldcraft for fine carving, but it is surprisingly agile given its heft--it was more capable than I would have thought when I first saw it. This is the knife's trade-off: power and strength at the price of greater weight and less precision.  
However, jimping on the spine contributes more to the overall positive feel of the knife and offers steady control for more precise tasks. The whistle offers an obviously inorganic sound that is efficient to use and which would probably useful as an aler if needed.
Construction and Durability: No worries here! At 3/16" for the blade width and with the knife being fashioned of 1095 HC steel, this is a knife that will last a few lifetimes with proper care. I batoned this knife through a variety of hardwoods ranging in diameter from an inch or two to four inches--enough to almost completely swallow the blade--day after day. The knife reduced the wood to 1/2" kindling. The wood left pieces of itself on the knife, not the other way around, as the follow image reveals. Note the untouched coating, too.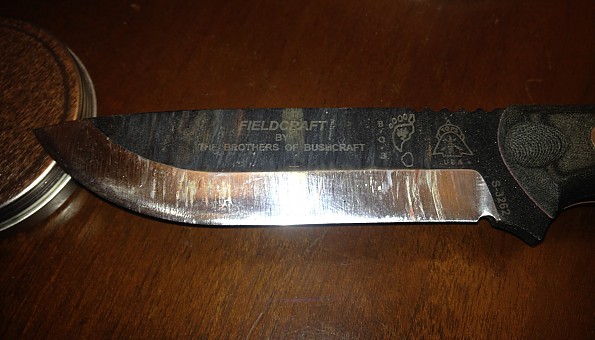 The Kydex sheath is built to last, too. The ferro/magnesium rods wear down quickly, though, and would likely soon require replacement with regular use.
Conditions: This test took place over a November weekend that featured mostly sun but also some rain. I worried about the 1095 in the moist air, but I had applied Tuf-Cloth to the blade and had no signs of rust (another reason I avoided using it for food prep!). I had used the knife before this for a variety of tasks, but it was with the goal of reviewing the knife that I used it over these three days.
Bottom Line: This is a strong, sharp, and capable knife suitable for a host of cutting tasks. While it assumes a middle price point (MSRP $159.95; available online for as much as $30+ less), the Fieldcraft promises long life and greater durability than most less expensive options. The refined design and sharp blade make this knife a pleasure to use for those seeking the reassuring heft of full tang steel.
Source: received it as a personal gift

BEAST of a knife with fantastic edge retention! This knife DESTROYS any ESEE I've used and makes the BK2 seem derelict. BRILLIANT knife!!!
Pros
Full tang 4.7mm thick Scandi type grind and pommel that'd crush a coconut!!!
Excellent edge retention brilliant handle
Cons
No weakness, but it's not for light backpackers
I've loved this knife from day one!! It cuts, slices, smashes, pries (yes, PRIES), digs, carves, you name it!!
The only thing I found this knife CAN'T do is unsheath and sheath ITSELF!!!!
I've sharpened this knife on a rock...HAMMERED in pegs, which it almost made itself...dug a fire pit...started the fire (shango notch once mastered is SUPERB). I work as a mountain rescue volunteer in the Brecons in Wales. harsh environment...HARSHER KNIFE!!!
I wouldn't blink an eye using this monster as an anchor point to BELAY!!!! I'd trust my LIFE to it (actually DO).
Source: bought it new
Price Paid: £119

Your Review
Where to Buy
Help support this site by making your next gear purchase through one of the links above. Click a link, buy what you need, and the seller will contribute a portion of the purchase price to support Trailspace's independent gear reviews.
You May Like