Trailspace Innate Motus Top Reviewer Water Bottle

Top 25 in Water Bottles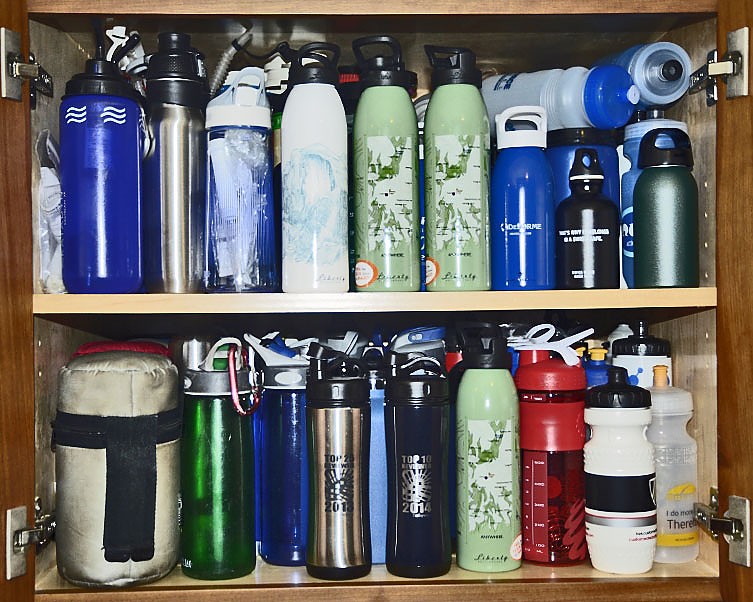 In what can only be described as the greatest prize ever given, the Trailspace 2013 Top 25 Reviewer Water Bottle (mine says, "Top 10"...sorry, Pillowthread) will be proudly displayed on my office desk until the day they fire me for spending too much time on Trailspace.
Pros
Provides the affirmation never provided by my parents
Makes me feel good about myself
"It's a major award!"
Cons
Causing violence within my home
Wife is jealous
Not a leg lamp
Specs:
Weight: yes
Holds Water: probably (too precious to actually use)
Color: shiny
So I wanted to be totally cool and nonchalant about this...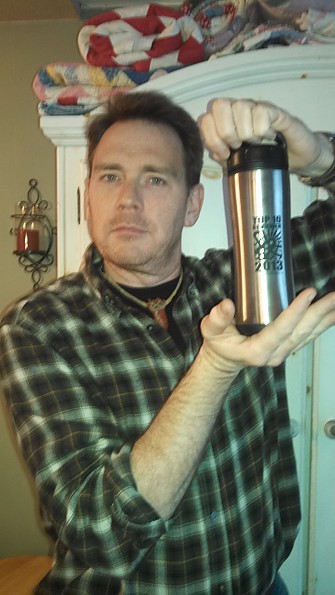 ...but I love this bottle.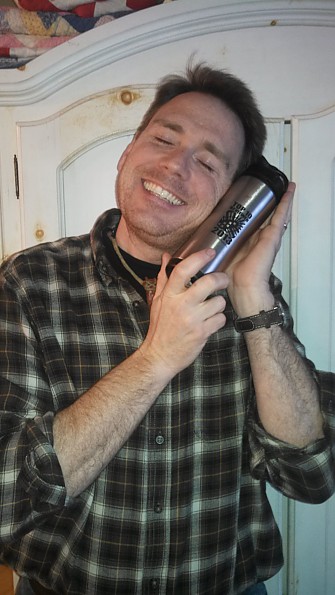 Unfortunately, I've had to hide it from my three kids. (Rotten brats!)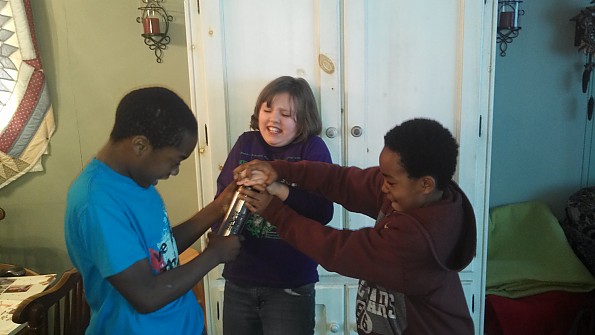 I would highly recommend that EVERYONE become a 2014 Top 25 Reviewer by posting your gear reviews at Trailspace.com. It's easy. It's fun. It's an excuse to buy and use new stuff ("But, honey, TS is counting on me to test this whatchamacallit by the end of the month!"). And it helps us all to know what's worth buying and what's crap.
Source: received it as a sample, freebie, or prize (Trailspace Top 10 Reviewer of 2013 prize)

This container is best used by the most experienced of Trailspace's gear reviewers as a recognition of their multifold achievements in the face of challenging outdoor conditions. It should be proudly displayed on mantles and as ornaments on the dash of their chariots as they head for the hills.
Pros
Beautiful logo that proclaims to the world the outstanding level of skill, talent, and knowledge of the bearer.
Readily carried in pack side-pocket, aiding hydration of user
Also fits in standard cupholders in backpackers' and climbers transportation vehicles
Durable – doesn't disintegrate in water like paper recognition certificates
Easy flip-top spout cover can be operated with one hand.
Cons
Flip cover for spout bumps some backpackers' noses, bothering the less-skilled.
Non-insulated - chills the hand when filled with cold adult beverages
Manufacturer cautions container is not usable for hot beverages
Background: One of, if not the, most important practices in staying healthy and safe in the out of doors is proper hydration. This means carrying and drinking regularly a fluid that provides water at the minimum, plus possibly some energy (sugar, fruit juice), hydration salts (depending on temperature and level of effort), and a good taste. This may be a cold or hot beverage. In some circumstances, the beverage may be an adult beverage or one suited to celebratory activities.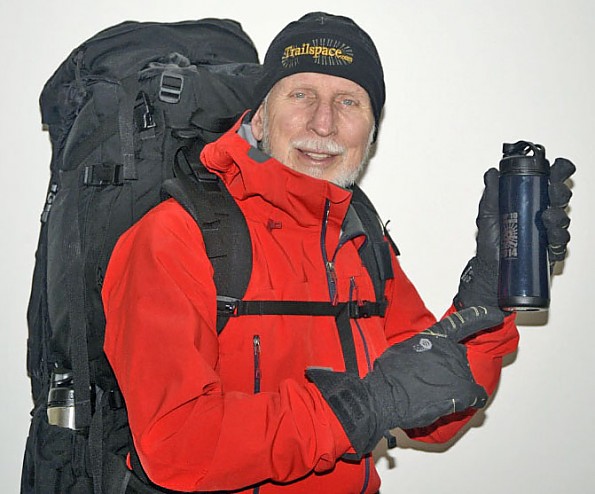 Testing the Top 10 Reviewer bottle on the way out the door for a hike in the woods. Note the second Motus bottle in the pack pocket. Note that the Reviewer is using several other items he reviewed for Trailspace (Beanie is embossed with the Trailspace logo).


A basic requirement is that the fluid be contained in a suitable container that does not leak or allow the carried liquid to deteriorate. Another requirement is that the container be light of weight and bulk, as well as easy to access and to imbibe said fluid with all of it passing through the hiker's mouth to his/her innards without moistening or staining the hiker's carefully chosen clothing layers.
The most desirable of such containers should have appropriate decorations, with the best of these acknowledging and promulgating the hiker's high level of talents and skills, along with her/his tremendous contributions to humankind and the environment and fellow woodsy folk.
Details: Over the past 7+ decades, I have used a wide variety of containers with a wide variety of fluids during backcountry, polar, and mountaineering expeditions. I have developed a strong antipathy toward the kind of aluminum and glass containers that too many people use only once, then discard along the trail and at campsites. Thus I look for containers made of a durable material that is comfortable to hold and has a high artistic quality.
Details of testing: Upon arrival via FedEx from Vancouver, BC, via the State of Washington, I opened the cushioned package to find a container designed to contain a refreshing fluid, with an outer skin of "Midnight Blue" and having a magic logo portraying a boot sole, as designed by Vitali Bramani. Bramani had lost 5 close friends and climbing companions due to inadequacies in the typical hobnail boot soles of the time. He designed a far superior sole of durable rubber that changed the whole approach to hiking and climbing footwear. The shapes of the lugs mimicked the shapes of the edge and central nails of the time, but with far better grip than the old nails. The name of his company was a contraction of his name, Vibram (Vitali Bramani)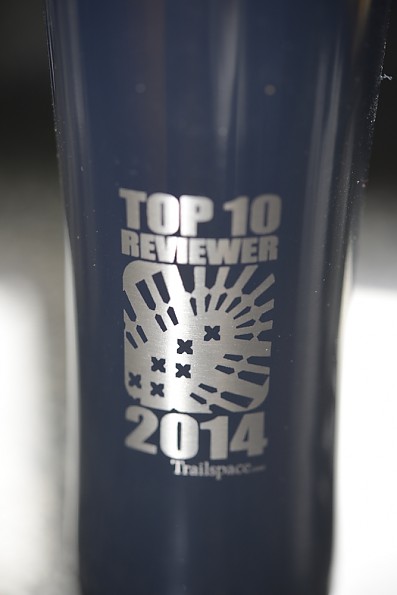 Details of logo on container, proclaiming great accomplishments of awardee
Above the bootprint, I found a label reading "Top 10 Reviewer". Clearly, this was an acknowledgement of my superiority in conveying abstruse and arcane concepts to the woodsy population. Below the footprint is a date, 2014, and the name of the Awarding Organization, Trailspace.com.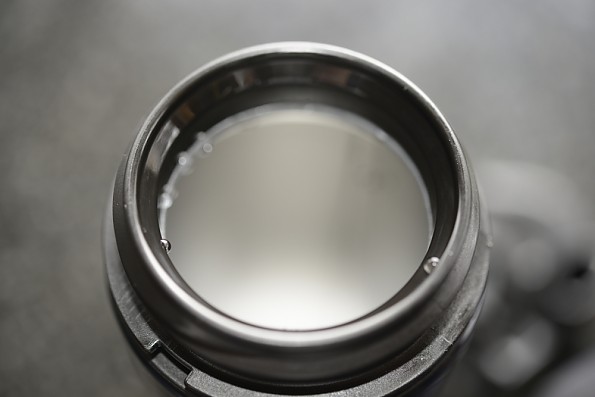 Stainless Steel Interior of Container, which preserves the qualities of beverages

In many ways, this container, produced by a company named "Innate", is similar to another container in my huge collection of fluid delivery devices, but with 3 important differences – the other container has a shiny metal outer shell of stainless steel, an upper label reading "Top 25 Reviewer" (a bit less distinguished recognition), and a date of 2013. Innate is based in Vancouver, Canada, although the Motus bottle is made in China, as is common for many manufacturers these days.
Removing the locking cap from the container revealed that the 2014 "Top 10 Reviewer" version is lined with a stainless inner shell. The shape and "hand" of both the 2013 and 2014 versions is similar and very comfortable. Checking the side pockets of several of my vast collection of packs revealed that both versions will fit comfortably and will be readily to hand. The pour spout is covered by a flip-up cover that, unfortunately, has a couple of minor flaws.
First is that the cover does not latch firmly in the notch of the spout. Second is that for some people, the opened cover tends to rest against the drinker's nose. This latter problem is readily resolved by several simple methods – The flip-top cap is easily removed and replaced from the cap by simply popping it out of the 2 hinge slots. The user can also rotate the container by 90 degrees so that the cover rests against the cheek. The third alternative is to simply unscrew the cap from the container, giving the advantage that the contained fluid can be downed with a single gulp.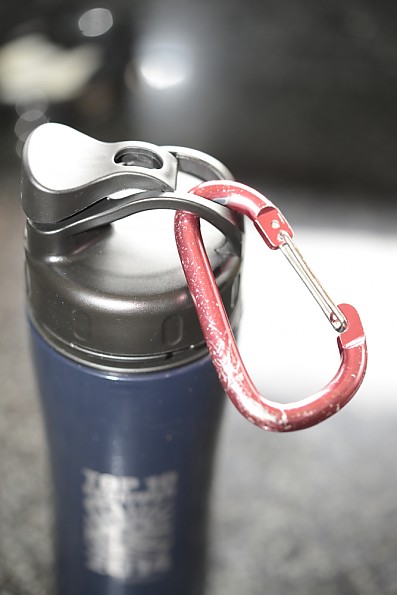 Arched Loop Design of Container Cap provides for clipping a carabiner to the container and to the backpackers pack or climbing harness.

The cap has the spout cover on an arched "bridge" that can accommodate a small carabiner. This allows clipping the container to one's climbing harness or to the D-ring found on many pack straps. This makes the container readily available for a pause in the middle of a tricky crux on a climb for refreshment and a boost of energy to get over the crux move.

The Flip-top Spout cover can be removed and replaced easily, allowing rapid ingestion of refreshing fluids, thus preventing dehydration.
 
The information tag attached to the container has instructions in two languages (English and French), both of which I can easily read (though I can barely speak either). Despite this challenge, I noticed that the English and French capacities agree at 560 ml/18 fl. oz.. To check the accuracy of the label, I measured by filling the container using a proven scientific device to be slightly larger at 600 ml/20 fl. oz. The empty container weighs 200 gm/7.0 oz. 
When filled with H2O straight from the Hetch Hetchy reservoir (which Governor Moonbeam is intent in diverting to the LA Basin) I noted that the spout cover does leak a few drops when the bottle is inverted and shaken (stir, do not shake!).  The tag lists several safety precautions, the most important of which are to not microwave (risky for stainless steel to be in a microwave), do not use with hot liquids, do not freeze (follow Little Red Riding Hood's dictum of only "just right"), and do not fill with carbonated beverages ("these can cause the lid to eject forcibly").
At the same time, the instructions say "Before using, clean all parts with HOT WATER … if bottle becomes stained use a mixture of 1 tablespoon of baking soda in warm water [hmmm, baking soda in warm water will fizz] … rinse well with HOT WATER". Curious inconsistency there. The directions also caution against chlorine cleaners. So, this means I can't purify my stream water with chlorine dioxide tablets.
Despite these precautions (I wouldn't drink bleach straight anyway), the Innate Motus Water Bottle is a superior approach to its primary function of publicizing the awardee's superior talents and just being an all-around good person, richly deserving of recognition of her/his outdoor skills. Other recognition items, such as paper certificates, are subject to deterioration when one attempts to use them to imbibe celebratory beverages, such as certain fizzly adult beverages. Other recognition items, such as Oscar statues, serve no purpose other than occupying space on the mantle and only add weight when carried into the wilderness. Even more inferior are cash cards, checks, and unused lottery tickets with their false promise of millions of dollars, francs, or Euros.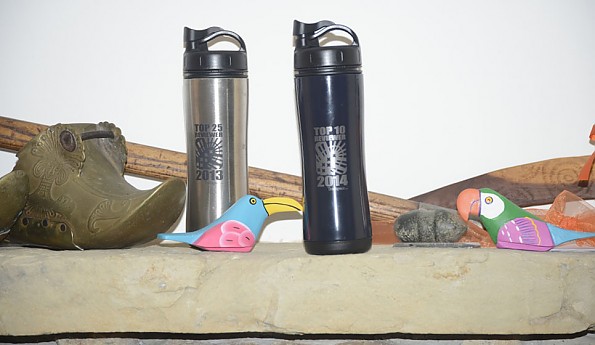 The 2014 Top 10 Trophy prominently displayed on the mantle, along with a 2013 Top 25 Trophy and well-used climbing gear and memorabilia.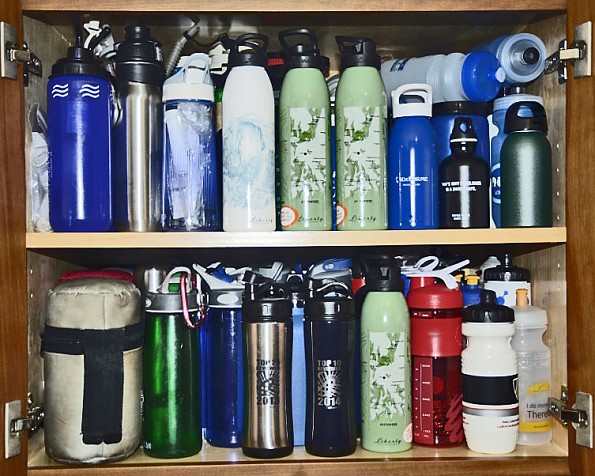 The Trailspace MotusTop Reviewer Water Bottle can be conveniently stored with other containers to preserve its qualities when not in use in the field.

Conclusions: This container is best used by the most experienced of Trailspace's gear reviewers as a recognition of their multifold achievements in the face of challenging outdoor conditions, including the verification of stove boil times, the insulating properties of sleeping bags during polar blizzards and tropical rainstorms, and the durability of hiking footgear on the rugged trails of the world. It takes great courage and determination, as well as persistence in the face of the forces of nature to do complete tests and in-depth write-ups, despite the threat of carpal tunnel syndrome and "keyboard-itis".
I awarded the Trailspace Innate Motus Top 10 Reviewer Water Bottle a full 5 stars, based on being well suited as a recognition of the awardees accomplishments and contributions to the outdoor world.
Source: received it as a sample, freebie, or prize (Trailspace.com, as a Top 10 Reviewer for 2014)

Received my 2014 Top 25 Reviewer Award Trophy (water bottle) today and it has found a home next to my Academy Award, Nobel Peace Prize, and Augusta National Green Jacket. I'll cherish it forever!
Pros
Dark navy blue color (I think)
Nice ergonomic design
Cons
Lid doesn't fit securely (but doesn't matter since this is a trophy :-))
Kidding aside, I wanted to thank Alicia, Dave, and Seth for such a great site and for hosting a great, outdoor enthused (and participating) community. Over 30,000 reviews have been posted and the variety is staggering.  
I'd like to encourage all the other subscribers to continue with your postings, even if they are brief, because the more information provided the better when researching gear to buy. For non-subscribers who happen to stumble upon this review, try joining for a while and post some reviews.  You'll find this to be a very welcoming group.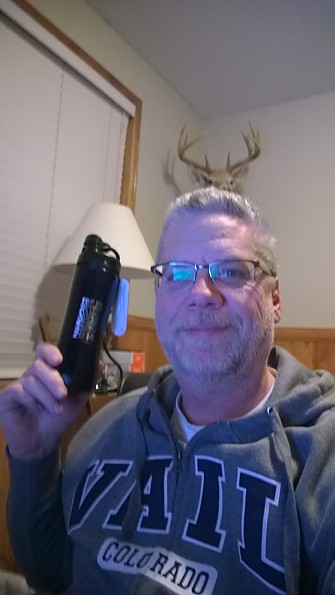 Source: received it as a sample, freebie, or prize (My 2014 Top 25 Reviewer award from the wonderful staff at Trailspace)

Very nice-looking bottle. Would hold enough water at hand while hiking, doesn't leak (at least mine doesn't) and the hourglass shape makes it easy for small hands to grip it securely. There are, however, a couple of 'flaws'.
Pros
"Ergonomic" grip
Sturdy
Doesn't leak
Cool logo
Cons
Made in China
Loop hits your nose when drinking
Not for use with hot liquids
Hand wash only
First of all I'd like to thank Trailspace for an awesome prize for being a Top 25 reviewer. 
The hourglass shape makes it easy to grip it with my small hands and it does not leak. The logo on the outside looks cool.
 There are, however, two issues that need to be noted:
Made in China, an issue sensitive with me. I try to always buy American or Canadian-made products. Although it's not entirely easy or cheap, I am suspicious of all things made in China due to their poor track record with health and safety.

The spout top lid bumps into the loop on top, and your nose bumps into the whole thing while drinking. I have a small nose, too.
Kudos to Trailspace for wanting to give out a nice prize and I am not ungrateful, but I have to give an honest review, so that is what I did. And truthfully, I probably won't use it in the field.
Source: received it as a sample, freebie, or prize (Trailspace Top 25 Reviewer of 2013 prize)

Fantastic prize awarded from Trailspace. Didn't have to do it, but they did. Great company, sleek bottle, proud reviewer!
Pros
Great conversation starter
I get choked when I see it, proud
Cons
My wife is getting annoyed at how often I discuss it
My coworkers are getting annoyed at how often I discuss it
Random people are getting annoyed at how often I discuss it
No way G00SE can be outdone, I second everything he's said.  The bottle is great and works like a charm…"works" is the best word, right?!
Trailspace has recognized 25 of its top 2013 contributors. They didn't have to do this at all and that is one reason that makes them great and brings people here to read and write reviews. Ooh, such grace, such class!  Trailspace.com is a great platform for us outdoorsy folk to discuss our experience, both good and bad, with one another. The blog and forums are fantastic pieces too that makes them so much more than just a review site.
Highly recommend you to take a second, check out some reviews, and feel free to leave one of your own. It's a great community here and the contributors (those with one review or twenty) are here to help you out!
---
A mysterious gleam has been reported once bottle is showcased (actual results may vary)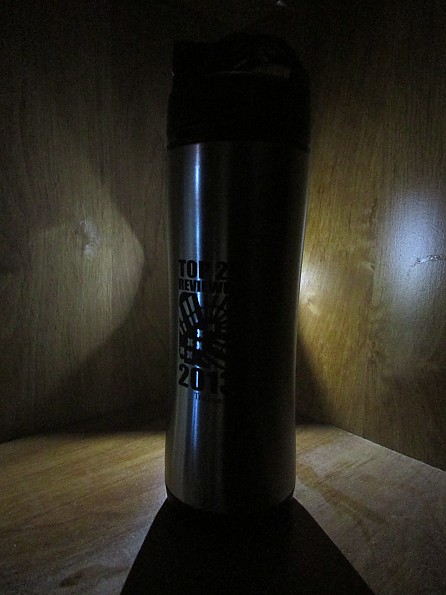 Proudly showing my award with other noteworthy trophies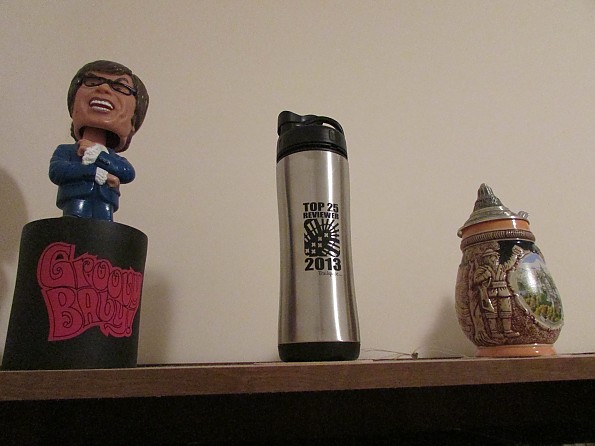 Source: received it as a sample, freebie, or prize (Trailspace Top 25 Reviewer of 2013 prize!!)

This is a really great water bottle. It doesn't transfer any plastic taste to the water when you drink from it.
Pros
Sturdy
Looks cool
Unique
Water tastes great in it
Simple design
Thanks, Trailspace for this great prize! I really appreciate it.
This water bottle is pretty great. I love that it says "Top 25 Reviewer" on it. If any one of my co-workers tries to 'borrow' it, I'll know immediately.
Like another reviewer stated, the flip top lid does bump your nose when you drink. This really annoyed me at first, until I started rotating the bottle 90 degrees before drinking. It works great, but would be even better if the drink spout was shaped with that in mind.
It has a very simple design. This might sound like a strange thing to note in a review, but it's very important to me. I have had other water bottles and travel mugs that have fancy lids with push button spouts that only dispense liquid when you have tilted the bottle to your lips AND pushed the release button. I understand (sarcastically) that some people may rely heavily on these features to protect them from mistakenly drinking their water or coffee at a time when they have only tilted the bottle to their lips without any intention of actually consuming the afore mentioned beverage.
However... I hate trying to clean the lids, knowing full well that all I can really do is rinse the fancy push button valve release mechanisms. When I wash my bottle, I like to scrub each part in hot soapy water. Call me narrow-minded, but I'm just not all that interested in drinking months worth of bacteria.
SO... this is why I love the simple lid on this bottle. You can actually see every surface of the lid, and therefore, you can scrub every surface of the lid. The only improvement in this category, would be if it was dishwasher safe.
I also like the loop on the lid. I haven't really tested it yet, but I expect it will hold onto a carabiner or piece of paracord  to secure it in the bottle holder of my pack.
As with most stainless steel water bottles, the water tastes great coming out of it.
Thanks again, Trailspace!
Source: received it as a sample, freebie, or prize (Trailspace Top 25 Reviewer of 2013 prize)

Your Review
Where to Buy
Help support this site by making your next gear purchase through one of the links above. Click a link, buy what you need, and the seller will contribute a portion of the purchase price to support Trailspace's independent gear reviews.
You May Like
Specs
| | |
| --- | --- |
| Weight | 240 g / 8.5 oz |
| Capacity | 560 ml /18 fl oz |
Recently on Trailspace