Tubbs Men's Flex TRK

#5 in men's Recreational Snowshoes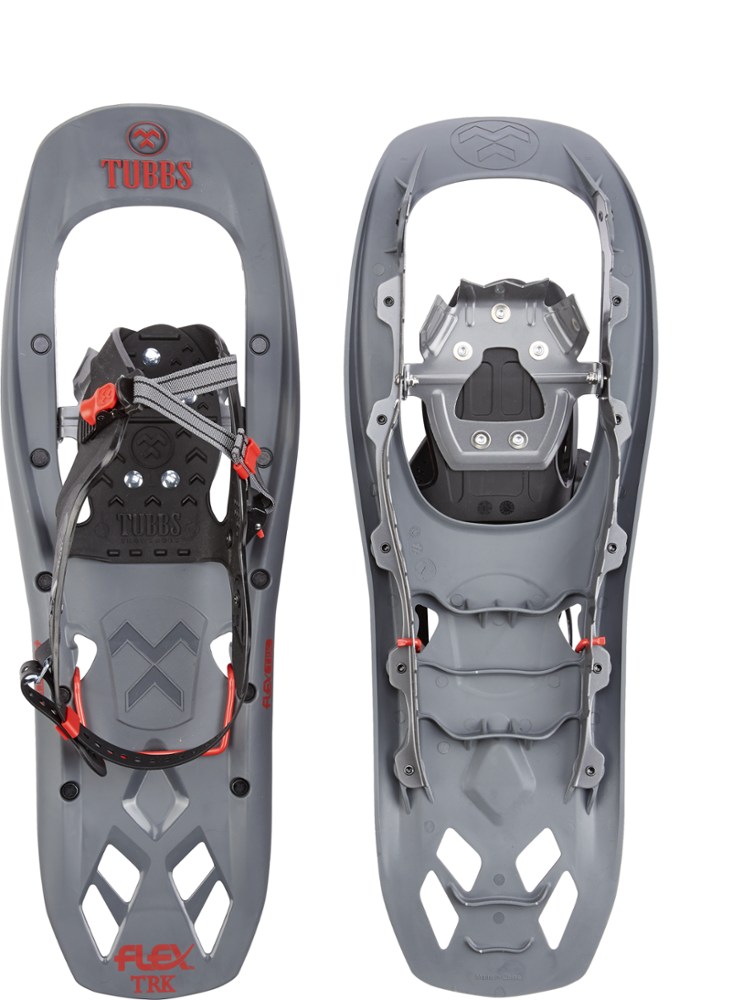 Specs
Price
MSRP: $149.95
Current Retail: $159.95
Historic Range: $39.98-$189.90
Reviewers Paid: $150.00

Reviews
1

review

5-star:

0

4-star:

1

3-star:

0

2-star:

0

1-star:

0
I bought these this morning because after weeks of snow here in Boston they were the only snowshoes available at the local EMS store. I just went out for an hour and a half tromp in the woods.
They passed the first test easily, which was whether I could secure my boots in the bindings. The adjustments both around the toes and on the strap that runs behind the heel were simple and straight-forward.
The heel strap is made of some sort of rubberized material. You adjust it by stretching the strap over a metal prong. The prong goes into one of a series of holes in the strap, as on a belt.
I was a little concerned with this arrangement for three reasons:
1.) I'm concerned that the metal will distort or tear the rubber over time;
2.) I wonder if the rubber would get stiff and unworkable at very cold temperatures (say below 0 F) and
3.) I'm not sure the tab that's provided to tuck away the unused tail end of the strap will be terribly effective during extended snowshoeing.
I can't comment on the first two, but one of my boots came out its binding about halfway into my little outing. At this point I noticed that the tail of the other strap had worked its way out of the retaining tab. I don't know if that would have contributed to that boot also coming out of its binding. In any case, I tightened both straps a little more than I had done intially, and didn't have further problems.
I snowshoed over mostly gentle terrain, with one craggy interruption. I had to break trail for only a small part of my trek; the rest was on a reasonably well packed trail.
I am at the upper end of the weight scale recommended for this snowshoe. I found I sank a little more than I would have liked when I broke trail. I was snowshoeing in mostly powder snow with a bit of a crust on top.
The crust gave way with a loud crunch on each step. Quite a lot of snow flew around my ankles, and large quantities found their way into my boots. That's my fault for not wearing gaiters! But in any case I had to climb a good four to six inches to get out of the holes I made with each step. A good workout.
On the packed trail, the snowshoes were terrific. I had walked the same route in hiking boots a couple of weeks ago; my progress was noticeably faster and easier on the snowshoes, because there were no miscues where my leg sank halfway up my calf, as there had been without snowshoes.
I was a little concerned about the craggy part of the trail. This is a steep rise over rocks with an altitude gain of perhaps 100 ft. and a pitch somewhere in the range of 30 to 40 percent. You'd encounter similar terrain in some of the steeper, but not the steepest sections of trails in the White Mountains of New Hampshire, for example.
I found that by standing on my toes, I could handle this section easily. The snowshoes gave very stable grip even in a spot which involves basically climbing stairs, albeit rock stairs covered with snow. I was impressed with how solidly the snowshoes held on.
I tested the snowshoes on one other type of terrain. There was a section of partially plowed road that had subsequently frozen over. There are sets of metal teeth that run in a sort of hourglass pattern under the sides of each snowshoe; there is also a sort of mini-crampon under the toe of the boot. This combination was adequate to give a secure grip on the icy road.
Conditions today were just about freezing, with a bit of freezing rain, perfect conditions for gobs of snow to adhere to the metal teeth, or to the snowshoes themselves. That could have made the snowshoes VERY heavy! This didn't happen, which is a terrific point in favor of these snowshoes. The metal pieces seem to be coated in teflon, or a similar material. Possibly this is standard on all snowshoes these days.
All in all, these appear to be very serviceable snowshoes. I wouldn't want to spend an entire day breaking fresh trail in them, but they do break trail adequately when called upon. Similarly, they're capable of taking me up a steep pitch, but I wouldn't take them to the Himalayas.
I give them 4 rather than 5 stars because even for casual use, I'm not convinced about the security and longevity of the rubber heel strap. I could be wrong about that, though; it could be that my own experience of a boot coming out resulted simply because I didn't stretch the strap enough at first to keep the boot in securely. And the material may be as tough as kryptonite.
Price Paid: $150


All Flex TRK versions
In addition to the 1 men's review above, there is 1 review for another version of the Flex TRK. Read all reviews »
You May Like
Recently on Trailspace