TurboPUP Complete K9 Meal Bar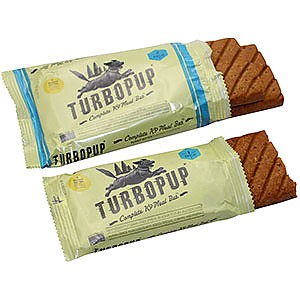 TurboPUP bars are nutrient dense meal bars that can be used to feed your furry friend on backpacking trips, day hikes, while traveling, or any other time. The bars offer complete K9 nutrition for short or long term feeding.
Pros
High quality ingredients
Biodegradable, waterproof packaging
Lightweight and compact
Passed doggie taste testing
During a last-minute rush of shopping before leaving for a weeklong trip to New Hampshire's White Mountains, I stumbled onto Backcountry K9.com. Since my dog Pickle would be backpacking with me for three days of this trip, I wanted to see if there was any new dog gear worth trying. That's when I stumbled across TurboPup bars.
These bars advertised high quality "human-grade" ingredients in a dense, packable bar form. The bars contain all the nutrition your dog may need and can be fed both long- and short-term.
Packing dry dog food in Ziplock baggies has always irked me to a certain extent. In order to keep Pickle's pack balanced, I always had to be careful to use equal amounts of food from each of his "saddlebags." With no exact way to measure in the backcountry, sometimes this was easier said than done. Along the same vein, with no measuring tool on hand, assuring that the dog ate the right amount of food each day was difficult. Ziplock bags have also failed on me in the past, which could mean wet kibble if it was raining.
Dog food in bar form seemed to solve most of these problems. Bars would be much easier to ration and keep balanced than baggies of dog food. The bars are also individually wrapped, which meant an extra layer of protection from moisture.
I turned to "hiking with dogs" guru and fellow Gossamer Gear Trail Ambassador Whitney "Allgood" LaRuffa to find out some more info. As it turns out, he is a brand ambassador for TurboPup, and he gave me a few helpful notes about the bars. Allgood also put me in touch with TurboPup's founder and owner Kristina, who offered to send me a few bars for testing. A few days later, a 3-day supply of her K9 meal bars arrived at my door.
I decided that it would probably be a bad idea to go into the woods without ever having fed the bars to Pickle. What if he hated them? What if his typically iron gut didn't tolerate them? To test this, I arranged a little taste test at home. The bars come in two flavors (peanut butter and bacon), so I sacrificed one of each for my experiment.
I fed half of a peanut butter bar to Pickle (my hard-hiking Brittany Spaniel) and Samira (my non-hiking English Mastiff). They each gobbled up their share and came looking for more immediately. This time they shared a bacon-flavored bar, which they devoured with gusto. After this little test, I felt confident that Pickle would be happy to eat these as his primary food source during our upcoming backpacking trip.
I packed the remaining bars (now a 2.5 day supply) into Pickle's Ruffwear Palisades pack along with all his other gear for the trip. The bars took up much less volume in Pickle's pack than my typical Ziplock baggies full of dry food, and also weighed less. 10 TurboPup bars, packaging, and two 1qt Ziplock bags weighed in at 22.7oz (Compared to 30.1oz for a 2.5-day supply of kibble). I attribute this to the higher density of nutrients in the TurboPup bars. Since lightening the load for your dog is just as important as lightening your own, I was beginning to like TurboPup already.
On Friday, Pickle and I hit the trail with TurboPup in tow. Since we used up two bars for the taste test, I fed Pickle a little of his normal food before we left the house. He had one of the bars for lunch on the summit of Mt. Flume and devoured every crumb. He ate two more bars for dinner that night. On day 2, he had 1 bar for breakfast, one for lunch, and 2 for dinner. On day 3 he had 2 for breakfast and one when we got back to the car.
Based on this 3-day trial, I can say that TurboPup bars seem to be the best dog food option that I've found for backpacking. They are very nutrient dense, which means that the total food weight in Pickle's pack is lighter than with his normal food. He definitely loved both flavors, which is also a plus. Pickle hiked strongly all weekend, which tells me that the TurboPup bars were supplying him with enough food energy to keep him going. I even noticed that his poops seemed to be a little more compact than normal, which can be attributed to the bars' lack of fillers and use of high-quality ingredients.
All in all, I'd say that TurboPup bars are definitely worth a look for anyone who hikes or backpacks with their dogs. Check them out!
DISCLOSURE: I am a TurboPUP Brand Ambassador. I was not a TurboPUP Brand Ambassador at the time this review was written, but Trailspace seems to think that my Brand Ambassador status has some sort of time-traveling ability and could somehow influence a review after it has been already written and published. Hence, I'm disclosing it now. As stated in the text above, I received this product from TurboPUP for free for the purposes of review. TurboPUP and its agents had no input or editorial control over the writing of this review. All opinions expressed above are my own.
Source: tested or reviewed it for the manufacturer (It was eaten...)

The author of this reviews is a TurboPUP Brand Ambassador.
Your Review
Where to Buy
Help support this site by making your next gear purchase through one of the links above. Click a link, buy what you need, and the seller will contribute a portion of the purchase price to support Trailspace's independent gear reviews.
You May Like