UCO Pika 3-in-1 Rechargeable Lantern

#6 in Battery-Powered Lanterns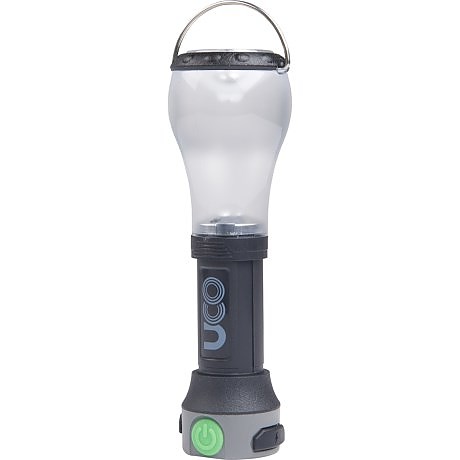 Specs
Price
Current Retail: $29.99
Historic Range: $14.99-$29.99

Reviews
1

review

5-star:

1

4-star:

0

3-star:

0

2-star:

0

1-star:

0
I love my Pika lantern, which I use in both flashlight and lantern mode. It is a small, lightweight, and dependable light for use in camping, or as an emergency light. It is easily re-charged, and also can be used to charge other devices.

I have used this reliable light for two years on frequent canoe camping and winter cabin camping trips, and would definitely recommend it to others.
Pros
Three functions
Variable beam
Bright LED
Durable
Water resistant
Reasonable price
Cons
The little caps on USB ports can be tricky to put in place
While on a recent solo canoe camping trip, I had to pack up my gear in the pre-dawn hours, while a steady rain was beginning to fall. I needed illumination that I could carry around with me, yet which provided bright lighting, and was resistant to the falling waters from above. Well, the maneuver was successful, as my trusty UCO Pika 3 in 1 LED lantern provided just what I required. 
I have used this lantern on every camping trip for the past two seasons, and have come to depend on it both for its use as a tent lantern, a hand-held flashlight, and as a short term charging device for my cell phone and other LED lights.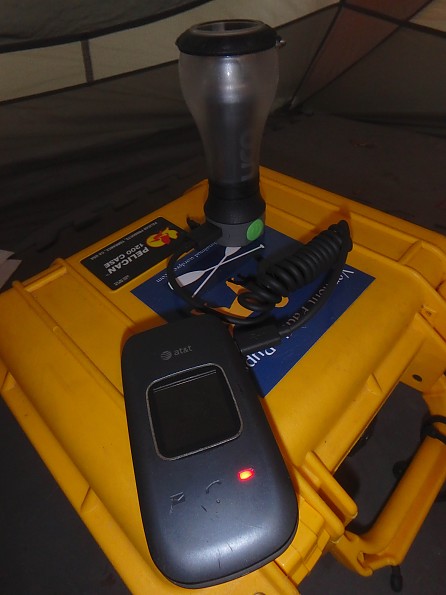 Yes, I still use a flip phone...as long as I can charge it, that's all I need!
The Pika is a small, lightweight combination lantern, flashlight and charger. It weighs 4.0 oz, and with a simple push along the barrel, morphs from a lantern to a flashlight. In lantern mode, the light is 4.5 inches tall, and 2.0 inches at the widest part of the lamp portion. When extended out as a flashlight, it is 6.3 inches long.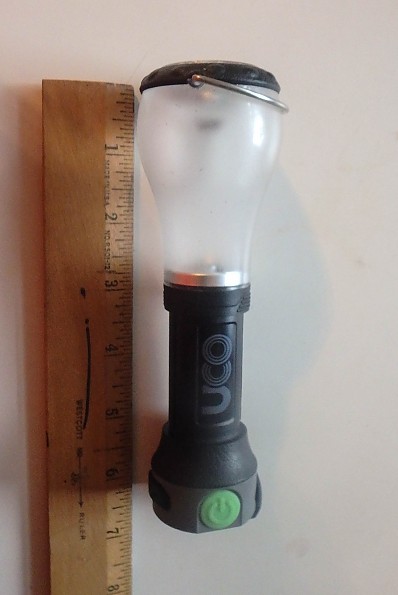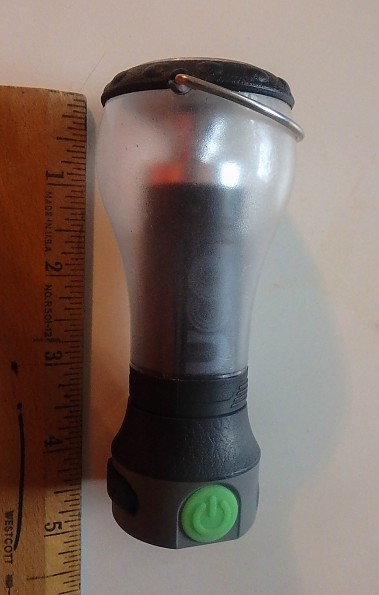 UCO describes the lantern as water resistant, and gives it a IPX5 rating…okay, so what does that mean? Well, I found a site that describes those mysterious waterproof rating numbers (http://justelation.com/ipx-ratings-described/) and learned that this lantern is reportedly protected from a  " 6.3mm spray of water (12.5 liters per minute) in any direction for at least 3 minutes" .
Basically, that is gibberish to me, but I know that I have used this lantern in the rain and snow and have dropped it on wet and muddy ground, packed it in a wet canoe, and dropped it in snow, and it has continued to perform without issue. The housing is tough, made of ABS/TPE, and the design is easy to grasp. There is a D-ring for to use the lantern in a hanging orientation.
The LED is bright. It is described as 150 lumens; there is the capacity to adjust the brightness by holding the "on" button, dimming it, and continuing to hold to a flashing mode. The projection distance is more than adequate to safely walk during darkness; UCO advises the distance is 164 feet.
The advertised burn time is up to 80 hours; I have used the lantern in temperatures from -10f. to 90 degrees, and have found it rarely needs re-charging, even with frequent use. I recharge it periodically, on general principles, so that it will be ready for use. It uses a 3.7v Li-ion rechargeable battery, comes with a USB cable, and I find it re-charges off a USB external source.
UCO's descriptions also indicate it can be charged from a standard electrical outlet; I have used a USB to AC adapter, and verified it can be charged that way. Exact re-charging time is not known, since it has only completely discharged once, but it certainly anecdotally appears to charge up in a reasonable time (less than an hour).  There is a flashing green light indicator to tell you when it is charging, and when charge is full. This green button is glow-in-the dark, so if you turn the light off, and then realize that you still need the light, it is easy to find the on button.
There are two small USB ports on the side of the lantern base, one for charging the lantern itself, and the other as a means to use the lantern to charge other devices. There are covers for each port, which can be a bit tricky to get back in place snugly.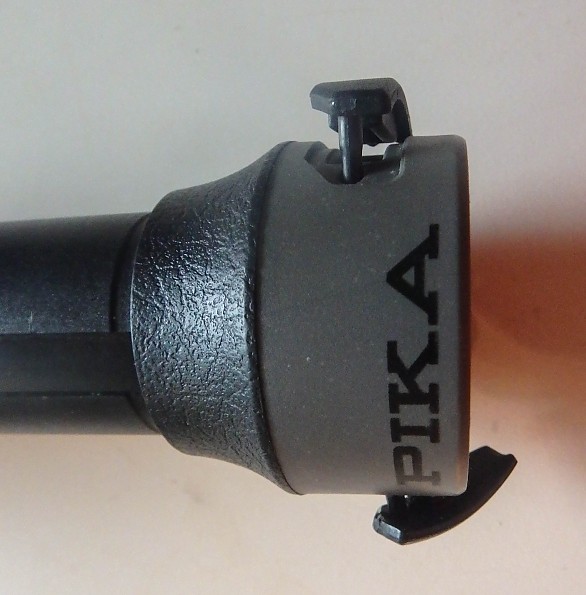 I have used this option to give my cell phone a quick emergency charge, and within 30 minutes, it went from one bar to all three bars full, even while the lantern was in use.  I have also given re-charges to other LED lanterns, using the Pika.
Admittedly, this is not an option I use a lot, since I want to maintain the charge on the Pika itself, and we have started carrying other portable power devices. I also assume that the time necessary to charge an external device has many variables, and I would not depend on the Pika as my main powering source.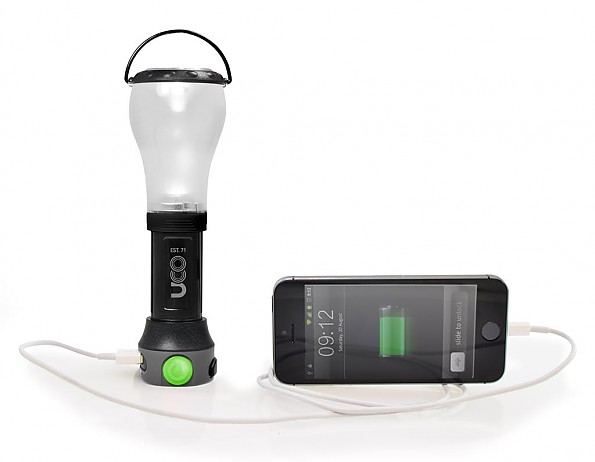 I guess if I ever get a smart phone, I will use my Pika to charge that, too!



On any camping trip, I always carry multiple lighting sources, and extra batteries for those devices that use them. However, the Pika has become my first-choice light to use, and I certainly feel comfortable recommending it to others. It has proven to be durable, reliable, and provides excellent illumination.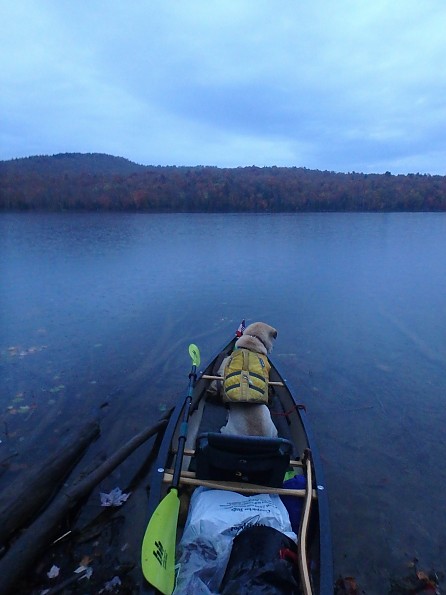 One of the last items to go in the canoe, on this rainy dawn...my Pika LED lantern!
Source: received it as a sample, freebie, or prize (UCO Trash Project Contest)

You May Like
Recently on Trailspace