UCO Utility Spork 2-Pack with Tether

Top 50 in Utensils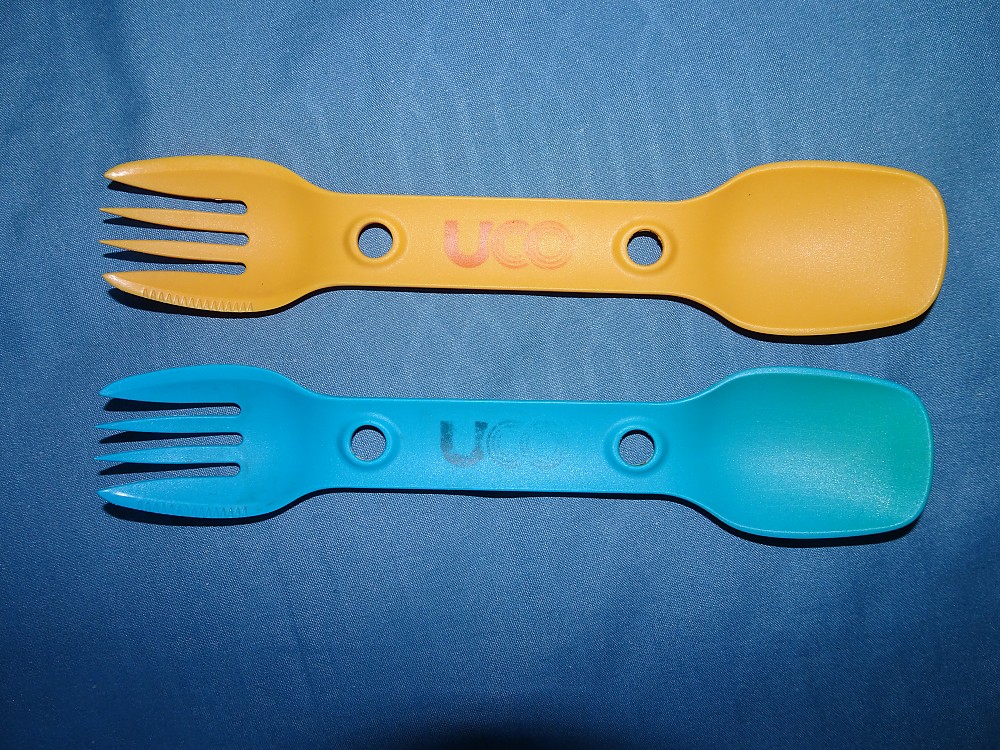 Specs
| | |
| --- | --- |
| Price | Current Retail: $4.99 |
| Weight per spork | .5 oz. / 15 g |
| Length per spork | 7 in / 17.8 cm |
| Material | Ultra durable FDA food-safe, BPA-free glass-filled nylon |
Reviews
1

review

5-star:

0

4-star:

1

3-star:

0

2-star:

0

1-star:

0
UCO labels it a "spork" but it isn't the often seen blending of spoon and fork. A fully functional spoon on one end and a fully functional fork on the other. The fork has a serrated edge for minor cutting. UCO sells these same sporks as a single item, but the two-pack comes with a handy tether to keep them together when not in use.
Pros
Very functional eating tool
Long enough to reach bottom of quart bags
Not really long, so still easy to pack
Tether is nice to keep them together
Mostly easy to clean
Cons
Some color absorption
Logo texture can hold food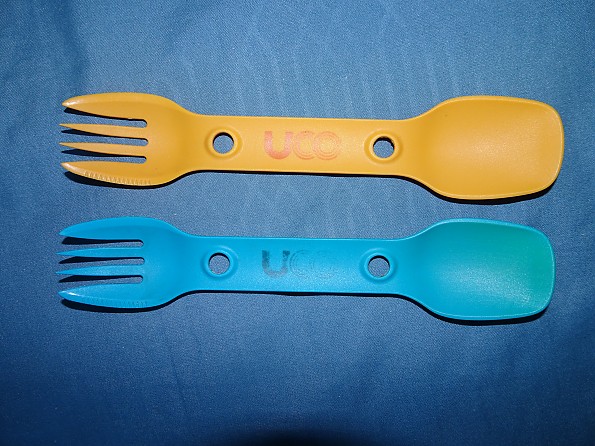 UCO has put two of their Utility Sporks together, literally, with an easy to use tether to keep the set intact.
Ease of Use: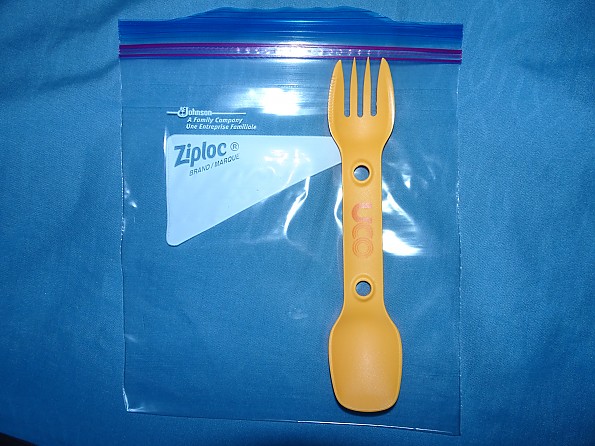 Most of my sporking involves digging rehydrated meals out of a quart-sized freezer bag. The most important thing to me is being able to reach the bottom of the bag without getting my fingers in the food. The UCO Utility Sporks are in the neighborhood of 7 inches long so won't reach deeper bags, but are just the right size for me to dig all those valuable calories out to stuff in my face. Scraping up the last of the sauce is good nutrition and keeps the garbage bag lighter too.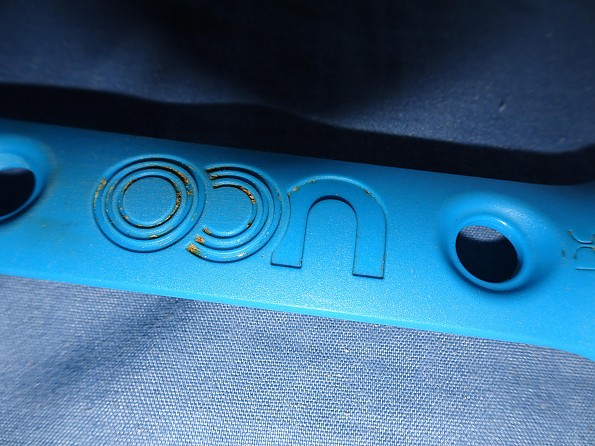 Easy to eat is important, but so is easy to clean. For the most part the UCO Utility Sporks are easy to clean with a tongue bath, but there were a couple of issues worth noting and they account for my less than perfect rating. As seen above, the UCO logo is a textured imprint on the back of the sporks. That texture is a food magnet and challenging to clean in the field. It scrubs just fine at home with running water and a sponge, but my tongue is just not up to the job.
Features:
UCO designed the Utility Sporks to stack well for tethering. The tether is flexible and long enough that adding another spork or two purchased separately would work just fine or they also offer a tethered 4-pack.
They also designed the shape of the spoon to fit the curve of the bowls in their mess kits. That makes it easy to get all the calories out of your bowl without a struggle. That is a nice bit of attention to design for folks not eating out of a bag.
Construction & Durability: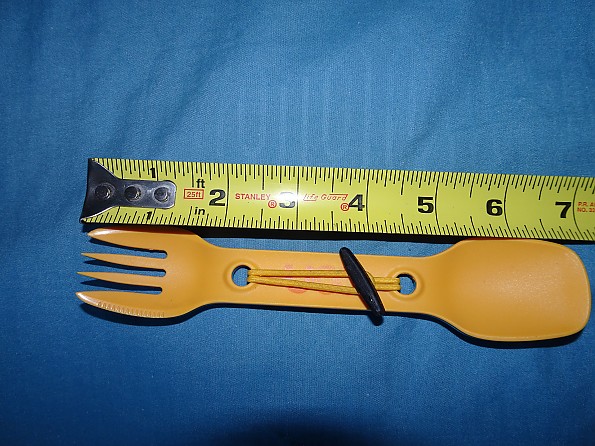 UCO used a glass-filled nylon to make the Utility Sporks strong, yet slightly flexible. Having broken a spork in my pack before I was a bit worried about these sporks surviving my level of abuse. After a year of use, in all four seasons, they are both still intact. I'd never heard of glass-filled nylon before so did some research. It turns out to be exactly what it sounds like, nylon with glass in it. Powdered glass is added to create a much stronger nylon with a stiffness up to 80 percent greater than standard nylon.
Conditions: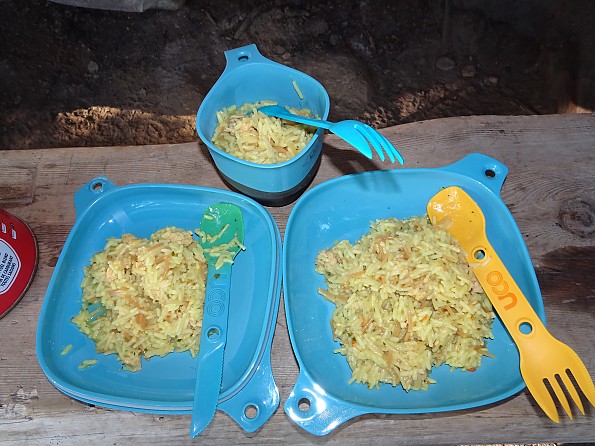 Most of my use of the UCO Utility Sporks as been on solo or family trips, eating meals out of quart sized freezer bags. I have used the sporks in all four seasons. I've also shared one of the sporks with Frau Stranger on numerous family trips. Most of those also involved freezer bag meals, but this year we also enjoyed some more elaborate cooked meals both while car camping and backpacking.
Conclusions:
Having broken similar looking sporks before I wasn't sure how these would work out. I received them as a present so figured I'd give them a shot and I have been using them ever since. They survive in my pack and definitely let me clean my dinner bags better than previous tools I've used.
The only issues I have had are food getting stuck in the imprinted logo and some discoloration. I have noticed that the yellow coloring from a chicken and rice dish really seemed to soak in. It only shows up on the blue spork since the other is yellow.
Over all I really like the UCO Utility Sporks individually. The two pack with tether is great for a couple and they have a four-pack option for families or groups.
Experience
I've used numerous plastic spork-type eating tools over the last decade or so.
Source: received it as a personal gift

You May Like
Recently on Trailspace