Under Armour Hurakan Paclite Jacket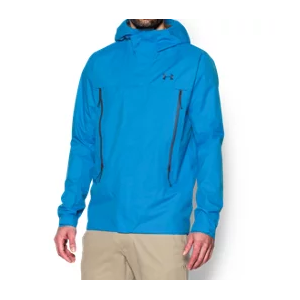 A lightweight breathable shell at a mid range price, this pretty well sums up the Under Armour Hurakan Jacket. It isn't spectacular, but it is a work horse and will get the job done. Utilizing Gore-tex Paclite technology this shell is quite breathable and well suited to hiking, trail running, backpacking, and general outdoor use. Here we have a jacket that has been trimmed of less desirable features to minimize weight, but the functionality of what remains makes for a solid performing shell.

This was a hard rating choice between 3 and 4 stars. The one big flaw of this jacket is the function of the double zipper hand/ventilation pockets. If I were not to take these pockets into account this shell would have a solid 4-star rating.
Pros
Lightweight
Breathable
Large double zipper pockets
Headphone port
Rear hood cinch
Secure wrist cuffs
Comfortable all day wear
Cons
Pockets not viable for ventilation in anything above a light rain
No pit zips
MSRP is a little on the high end of moderately priced shells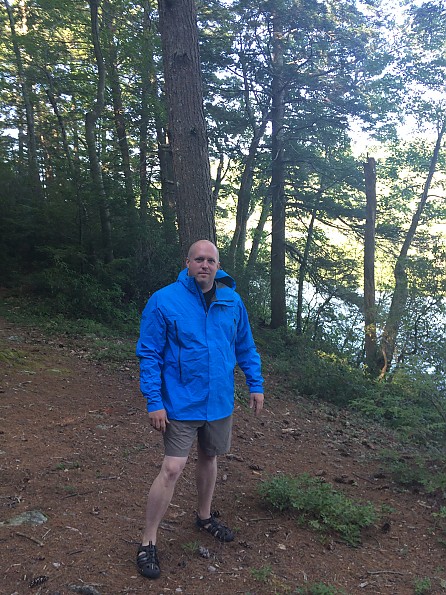 Construction
Style: Lightweight, breathable, general purpose shell
Material: Two layer bonded nylon fabric: The exterior is a water repellent ripstop, and the interior is a softer, smoother finish to be more comfortable against the skin.
Breathable Membrane: Gore-Tex Paclite
Color Choices: Daredevil Red, Electric Blue, or Amalgam Grey
Features: Adjustable wrist cuffs, full length zipper, Velcro and snap closures, Double zipper hand and ventilation pockets, interior headphone port cutout, Waist cinch, hood cinch
Weight: 2XL size-12.6 ounces
Fit: Manufacturer defined as "Loose", but I would say it is a slightly athletic cut.
Country of Manufacture: Vietnam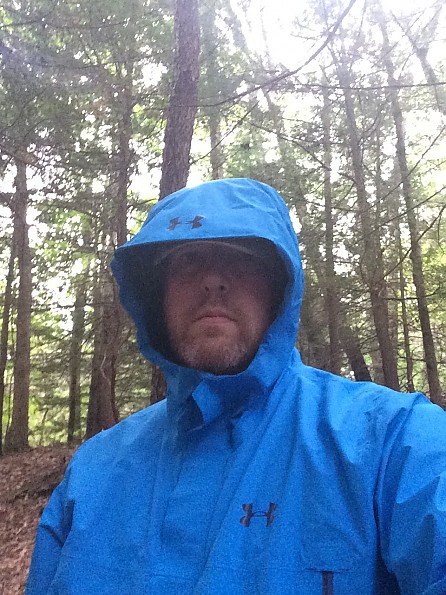 Fit
Overall I am impressed with the construction of the UA Hurakan Jacket. The quality is what I have come to expect from Under Armour. I found no visible flaws in the construction, all seams are well taped and trimmed, no loose stitching or threads, zippers move smoothly, and snaps, Velcro, and cinches all work as designed.
However, I also have come to expect that most UA clothing items are a little more on the athletic cut side. I typically wear an XL in most everything, but based on my experience with UA I elected for the 2XL size and I am glad that I did.
While the fit of the Hurakan is anything but tight, I would not classify it as loose either. I would advise any potential purchasers to closely look at the sizing charts for this product, and if at all possible try on this jacket or a similar one at a local retailer prior to purchasing.
I routinely use this style of lightweight shell all through the early and late shoulder seasons, as well as in the summer. I also will often layer insulating clothing under this shell at times based on the conditions. If you do not intend to layer clothing with this shell then your normal size would probably suffice, but if you do intend to layer or just prefer a looser fitting shell then you would be well served by going up one size. I personally prefer a slightly loose fit on any outer shell, and I found the fit of the 2XL size perfect for my intended use.
Durability
Through the nearly five months of testing with this jacket it has held up remarkably well. There is no noticeable degradation or wear of the fabric, and the breathability has remained consistent. The shell is coated with a DWR, and water will bead up and roll off of the shell. The DWR coating continues to hold up and perform as expected after five months of heavy use. Other than some dirt, and probably a little funk, I would say this shell is still like new.
Features (Hood Cinch and Zipper Pockets)
The features of the Hurakan Jacket work as one would expect, and I had only one issue of note utilizing them. Wrist closures hold the jacket sleeves in position and prevent sliding and excess movement of the shell fabric. Waist cinches pull the shell in close to the body and provide an adequate seal to maintain integrity in a windy or blowing rain environment.
The hood cinch works best when used with a hat or helmet of some fashion as it is a rear cinch type. When the jacket is fully zipped it can be difficult to remove the hood, even if it is not cinched. A firm rearward pull will remove it in most cases, but may require partially unzipping the jacket. This is both a good and a bad thing; since it does not come off easily it will not be blown off in the wind, but if you just want to remove it briefly then it is a little more tedious.
Two twelve inch double zipper pockets dominate the front side of the jacket. Interior dimensions are approximately 13 x 6.5 inches, the left pocket has a headphone port cutout. They are easily large enough to fit a variety of 1L water bottles sizes/shapes. The manufacturer states that these are hand pockets, and double as ventilation. As pockets, hand or otherwise they work great, and for those short day hikes in a local park etc where you just want to bring a bottle of water with you they are ideal.
When it comes to using them for ventilation I feel differently. Ventilation openings in a shell should maintain the shell's integrity as much as possible, and sadly these do not. Being that they are on the front of the jacket they fall short in that regard in my opinion. If you have these pockets open then you now have an opening that is not covered by another portion of your body or the shell itself and therefore allow wind and or rain to enter the interior of the shell. If you are using the shell as a wind shell, then you have two large openings that allow wind in, which could provide wanted ventilation depending on the conditions. However, if you're using the shell as a rain shell then you now have two openings that allow water in.
If you're not wearing a pack then the opening is not very pronounced and while water does get in to an extent, it is not overbearing. If you are wearing a pack, they tend to flair outward more and serve as a funnel for rainwater to enter, which defeats the entire purpose of wearing a rain shell.
In light rain or misting conditions I had no issues with noticeable water entering the interior of the shell when the pockets were fully open, but in moderate to heavy rainfall significant water entered the interior. These double zipper pockets work great as hand pockets, but I do not think much thought was actually given to them when they decided to market them as also useful for ventilation. In my experiences the best ventilation option to have on a shell is pit zippers, and sadly this jacket does not have them, which is the only major con of this jacket other than having two rain funnels included.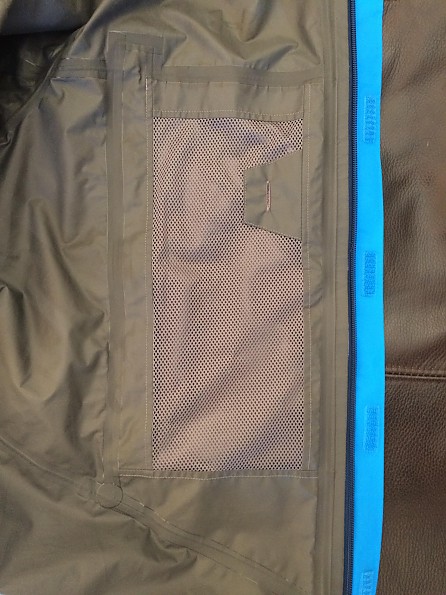 Interior view of double zipper hand/ventilation pockets and headphone port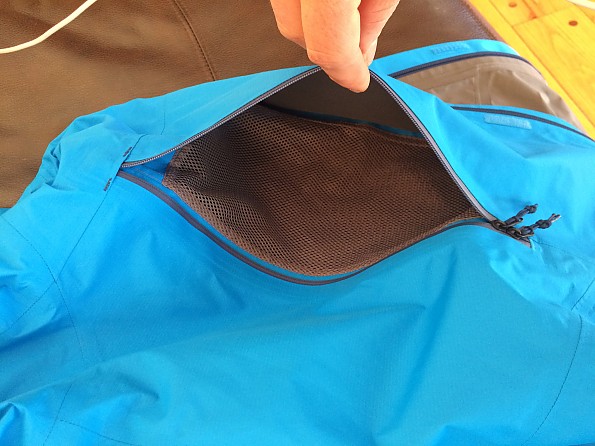 Inside view of the double zipper hand/ventilation pockets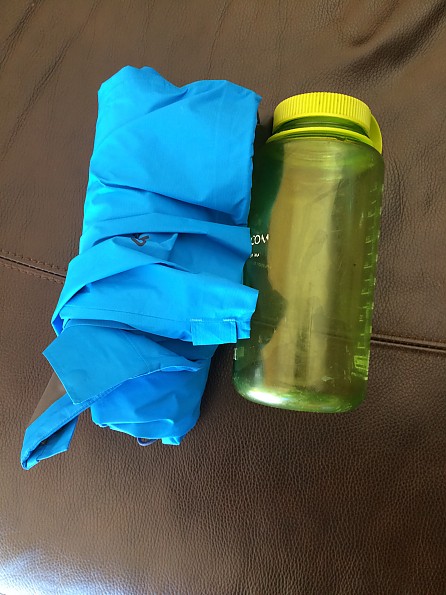 Compresses down to roughly the size of a 1L Nalgene.
Field Use and Functionality:
I had the pleasure of testing the UA Hurakan Jacket for about five months. Over the course of testing I tried to use the jacket in a variety of conditions, including heavy downpours, light drizzle, moderate rain, hot and humid days, as well as cool days. I used the jacket mainly on day hikes, but did take it with me on several mult-iday backpacking trips.
The majority of the testing was during the summer, which included a lot of hot and humid weather. The shell performed well in this regard. Breathability was sufficient enough to make the shell comfortable to wear during humid weather when a shell was warranted.  After long duration use (4+ hours) you could definitely begin to tell the shell could not keep up and you would become wet with sweat if exerting yourself above a moderate level. If activity level was low, this was not a pronounced issue and was comfortable for all day wear, especially in cooler weather.
In my experience, this is about on par with other Gore-tex shells. One can not expect much better breathability out of a shell in this price range. If this shell had pit zips, it would be perfect. This shell is quite light, and even though you can outpace the breathability with exertion it remains comfortable enough to wear and not feel like you're melting.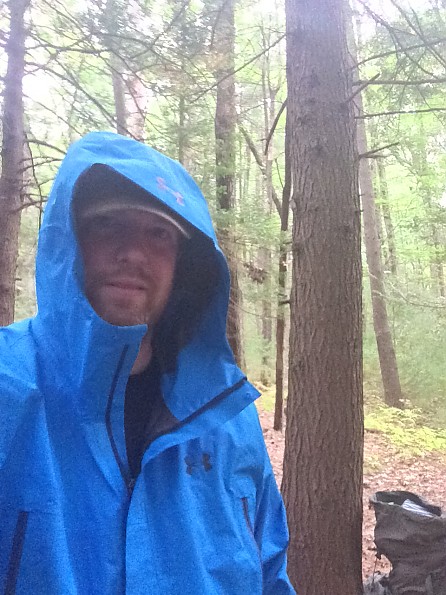 Where this jacket, and many other shells like it shine is in cool weather. Even with a moderate to high activity level the breathability of the shell is very noticeable and it takes a lot of continued exertion in cool weather to outpace the breathability and begin to get wet from sweat and moisture buildup from the inside. I wore this shell for a three-day trip to a crafts fair in Pennsylvania while car camping, temps were around 39°F lows and 60°F highs with a lot of light/misting rain. I was comfortable the entire time while walking around and at no point felt the need to remove the shell to "air out". 
Wearing the Hurakan over a simple wicking UA loose t-shirt I was comfortable in windy and rainy conditions down to about 40°F while actively hiking. Stopping for any prolonged time you could definitely feel the chill of the air start to set in at lower temperatures. During extended rest breaks or in camp I would often layer a light fleece under the shell during cool weather. However in temperature ranges above 55°F I was quite comfortable with just the shell and a t-shirt, whether inactive or active.
Remember those double zipper hand/ventilation pockets? I like to refer to them as funnels, rain funnels that is. I tried to use these guys in every way I could think of, but it never failed that if used during any moderate to heavy rain they act as funnels and just direct rain water to the interior of the shell. They did aid in ventilation, but that could only be accomplished during lulls in the weather.
However, during light rain and misting rain conditions I had no significant issues with water entering the interior of the shell. In these situations the pockets did aid greatly in ventilation. After I determined this was the case, I reserved them primarily for hand use the vast majority of the time unless conditions allowed them to be open.
Otherwise if the shell was sealed/zipped up completely its integrity was excellent. Even during heavy sustained downpours the shell's integrity held up and at no point during the course of testing did the shell wet through or otherwise become saturated. In light to moderate rain the water simply beads up and rolls off. No leakage was noted along any of the seams or other penetrations on the jacket. None of the fabric holds excess moisture, and a simple shake of the jacket will remove any accumulated water.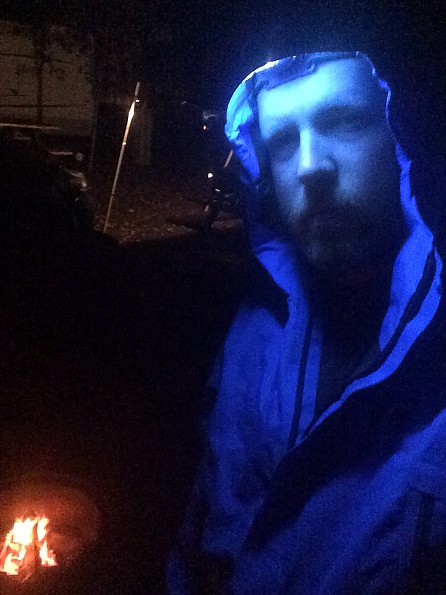 Conclusion
The Under Armour Hurakan Jacket is a lightweight, breathable, well made, and durable shell. It's not perfect, and its one main short coming is the functional use of its double zipper hand/ventilation pockets. If you can overlook that shortcoming, and not use those pockets in the rain for ventilation, then I think this is a shell that could serve you well.
Best suited for hiking, general outdoor use, trail running, or backpacking, the UA Hurakan Jacket is a good overall shell with good features at a mid range price. I would recommend this shell to anyone looking for a general outdoor use shell that was both lightweight and breathable, however, it would not be my top choice. There are more functional and more affordable shells on the market; for what this shell is it is priced a little higher than I feel it should be.
If Under Armour were to redesign this jacket to have smaller hand only pockets, AND add pit zips, OR simply add pit zips to this jacket it would be a home run and no doubt a top contender in the marketplace.
Source: received for testing via the Trailspace Review Corps (Sample provided by Under Armour for testing and review)

Your Review
Where to Buy
Help support this site by making your next gear purchase through one of the links above. Click a link, buy what you need, and the seller will contribute a portion of the purchase price to support Trailspace's independent gear reviews.
You May Like
Specs
Price
MSRP: $199.99
Historic Range: $149.99-$199.99

Recently on Trailspace