UST BlastMatch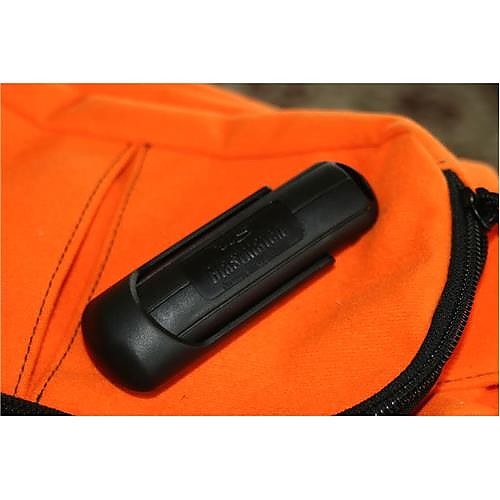 Excellent for campfires, but for stoves...
Pros
Abundant hot sparks
Works soaking wet
Cons
The sparking bar can loosen
Cannot readily be used to light a stove
All right, I admit it. I bought one of these after seeing it on "Naked and Afraid." Please note, in the woods, I may be sometimes naked, but I am never afraid. Still, this item looked like it could be handy even for someone clothed and composed. Being seduced, I did buy. If nothing else I figured I could argue about it with cronies. Come to think, I guess I am doing that now.
It is basically a standard, thick magnesium composite bar with a steel striker built in to maximize the angle of strike. It is spring loaded to jump out of the container when you encourage it to do so.
First: When it works, it works really well. It generates sparks estimated at 3000 degrees in a brilliant shower. This is hotter than an ordinary lighter or match by far.
Second: It needs a solid surface to push against the bar. You cannot use a finger or hand unless you want your fingers exposed to 3000 degrees. Ouch. I have been unable to find a way to use it therefore to start a stove. I suppose it depends on the stove, but the surface needed has to be SOLID. Considerable force is needed to thrust the unit downward to generate the sparks. For campfires, it beats other strikers to a major degree. Mostly.
Third: The sparking bar is retained in the unit with what seems to be rubber cement. It can come loose and in fact did once on me. It also did so on the program that I originally saw it on. It appears not to be a mistake of design, but deliberately designed to allow replacement of the bar when it is exhausted. The bar is thick and unlikely to wear out anytime soon. I suspect the unit will be trash by the time the bar is worn out. When the bar did come loose, I was able to remount it without replacing the cement. Nuded up people on the veldt seemed to have more issues. For those of us who wear clothes, that might not be critical.
Fourth: The spring loaded mechanism might be essential for the striker to work. The bar is retained in the holder and by pressing it in a particular way, the bar springs out ready for use. As noted, it needs a solid surface to push against. The ground will work, a fragile pile of twigs or hand held paper tinder will not. I suppose you could put the paper against the ground and use the earth as a backer for some fragile tinders. If the spring breaks or otherwise fails, you maybe could use gravity to drop the bar out of the holder and manipulate the striker to work.
Fifth: The Blast Match costs many times what a sparking bar and separate striker will. You could own maybe five or six of the simpler item for what the Blast Match costs, even paying full retail. (The Chinese sell oversized magnesium bars up to 5.5" on eBay. Smaller models sell for as little as $1. You make your own striker from a used hacksaw blade. Hint: snap off a piece of hacksaw blade. Grind off the paint and the kerf of the teeth. Put a bevel on the back of the blade with judicious grinding; I use like 60 degrees. Sharp might work. Put a plastic cable tie through the hole to avoid loss. )
Final thoughts: You cannot readily scrape off significant amounts of shavings from the bar to use as tinder. This may not be a problem as the shower of sparks is incredibly dense, far denser than an ordinary sparking bar with a piece of hacksaw blade scraper. You can sort of do this by pressing the unit down slowly and with less pressure on the striker. In no way however can you get many shavings. I could not at least.
For me, a thick handheld bar of significant length, perhaps with a plastic end for secure grip might be a better option, I can scrape the bar for shavings and direct the sparks into a stove priming cup. I do not use a propane stove often, but I think I could probably start it with the bar plus striker I prefer. I cannot think how most stoves could be lit with a Blast Match.
By being more complex, the options for failure and breakage are exponentially increased with each layer of complexity.
All in all, this item is well designed to do what it does, light fires. Even though I own a Blast Match, I think I will stick with the simpler option and a film can of cotton balls in petroleum jelly (make sure your "cotton" is really cotton and not synthetic. Most of the "cotton balls" sold in drug stores are actually polyester, which melts to your skin nicely. It also takes fire badly). This system is bullet proof, cheap, and flexible in use.
P.S. Not long ago I bought a magnesium bar with a sparking insert and a chained scraper for exactly $1 at Harbor Freight. Apparently this is a semi-permanent price. The magnesium bar can be scraped to provide highly flammable scrapings then sparks directed into the magnesium which burns intensely to ignite tinder. A big $1, the rectangular magnesium bar is like 1/2" thick by 1.25" wide and maybe 3.5" long. The sparking insert is thin, maybe 3/16" and set into one narrow edge. The sparker will be exhausted before the magnesium. This may replace the simple system I advocated above. It is heaver by perhaps 2 ounces, but does provide its own tinder. The scraper that comes with it is too short and coated with paint. Replace it from your tool room. 
Source: bought it new
Price Paid: Maybe $12 discontinued at Wally's

This is the fire starter that you need.  It is simple to use, lightweight, and provides a generous amount of large hot sparks. 
The other benefit that I would say is key is that it is one handed, letting you hold tinder against it while you strike it. 
I bought it as part of the UST survival kit, but also I bought another as a spare, even though I doubt I'll need it any time soon!
Have a look at the videos on youtube and see for yourself how great this thing is!
Price Paid: $25

Your Review
Where to Buy
Help support this site by making your next gear purchase through one of the links above. Click a link, buy what you need, and the seller will contribute a portion of the purchase price to support Trailspace's independent gear reviews.
You May Like
Specs
Price
Historic Range: $13.93-$25.95
Reviewers Paid: $12.00-$25.00