Vasque Apex

The Apex has been discontinued. If you're looking for something new, check out the best mountaineering boots for 2020.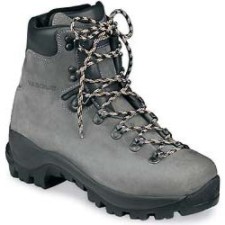 Specs
(no Gender)
Price
Reviewers Paid: $200.00-$205.00

Men's
Price
Historic Range: $139.95-$220.00
Reviewers Paid: $60.00-$210.00

Reviews
9

reviews

5-star:

4

4-star:

1

3-star:

1

2-star:

2

1-star:

1
Have over 300 miles on these in size 11.5D (am in-between 11e-11.5d) and these fit perfectly. Previously had Vasque Sky Walkers (light hikers) for 9 years (resoled with Vibram) and loved them as well, though I realized my feet grew and they became tight.
These boots are stiff and you cannot run streams as you can with lightweight boots. Even insulated they tend to make you sweat a bit in midsummer but will dry fast at camp.
Very good sole and very good ankle support make a great heavy packing and mountain trail ascension boot. I have added insoles taken from my other boots. I can easily give my recommendation. They also make good hunting boots in the winter.
Materials: leather
Use: rough trail w/ heavy pack
Break-in Period: 3 short hikes
Weight: 215
Price Paid: $145

I bought these boots for mountaineering, and they worked great. Great support, great traction, and very waterproof. I have had them for close to three years, and they still look and work like new. The sole has hardly worn down at all, over constant use in the alpine zone. Work great with step-in's, and they are the perfect stiffness for vertical ice. All in all, a well-rounded boot.
Materials: leather
Use: mountaineering, heavy backpacking
Break-in Period: two weeks
Weight: a couple of pounds
Price Paid: $60

I've put in over 400 miles on these boots and never had a blister. They are excellent. If fitted correctly, and given a proper break-in, they work perfect. Enough Said.
Materials: Leather
Use: Mountaineering, Off Trail
Break-in Period: 30 Miles
Weight: A lot
Price Paid: $200

Having had trouble finding a size 14 in anything comfortable, I wore these babies straight out of the box with heels cloaked in mole skin up Mount Whitney this past weekend. They performed great and I only have a couple nickle-sized heel blisters which were expected.
They never rolled off a rock, and I felt like I'd break a tibia before an ankle. They're very sure-footed in rock-scrambling, although it's heavy to "scramble" with a size 14 anything.
I went for the Apex instead of the Alpine because I didn't want to hold in the extra moisture with Gore-Tex. Even without the GTX, however, they were still not too breathable. So keep them away from hot, dusty hikes and look for cold mountain meadows.
Great boot.
Materials: Leather
Use: Mountaineering
Break-in Period: Still going
Weight: 3 lbs.
Price Paid: $134.95 Sierra Trdng

I am amazed at the number of bad reviews I've read for this boot. I have always purchased Vasque boots, even when they were called Voyagers. My last pair, which were Hiker II's, lasted me 24 years, with several resolings. I think the problem everyone is experiencing is with the initial fitting. y the way, purchasing the boots by mail order is not a good idea at all -- no wonder they didn't serve this person well! The boots must be fitted by someone who knows what they are doing.
Mine were purchased and fitted at Adventure 16 here in Southern California by a QUALIFIED and TRAINED salesperson. The boots hardly needed any break-in and I have worn them on several trips to the Sierra Nevada with absolutely no problems. I have also been snow camping/snowshoeing with them in the local mountains and they have performed admirably! It is also important to have a proper foot liner and to have the proper adjustments made for your type of foot.
Again, these are excellent boots if they are propery fitted. Most people, even seasoned backpackers and mountaineers, don't know the first thing about boot fitting.
Materials: Leather
Use: Heavy backpacking/Light mountaineering.
Break-in Period: Only a few days
Weight: 2 lbs. or so.
Price Paid: $210

Purchased first pair from Campmor 2-97 and wore around house for about 4 months to break in. The shoes were very uncomfortable at first but appeared to fit properly. I noticed just before a trip to Colorado in July that the lining had worn through on the inside of one of the boots. I wore it anyway for about 30 miles of day hiking in the mountains and these shoes ate my feet. Worst blisters I've ever had. Being a slow learner, I patched the worn area with a square of nylon and wore the boots on a two week backpacking trip to Wyoming. The other boot's lining wore through during the trip and they ate my feet again.
I must admit that these boots are very durable and they provide good support and traction. After returning from Wyoming I got in touch with Campmor and they exchanged this pair with the worn liners for new ones. Campmor was very good about this and even refunded the shipping cost. The new pair is much more comfortable and the liner is still intact after several months of light use.
I can't remember all of the construction details of the liner of the first pair, but I think the liner is constructed differently in this second pair. I have made a real effort to avoid using cotton socks during the break in period and have been checking daily for any balling of the liner and everything looks OK so far. I think that these boots will always require thick socks and tight lacing. Moleskin across the heel is probably a good idea for any uphill with a heavy load. I don't trust these boots yet, but I'm not ready to give up. Some of these problems might be common to any type of rigid footwear.
Materials: leather
Use: heavy pack
Break-in Period: cannot be accurately determined
Weight: about 4 lbs ?
Price Paid: $200

I got the Apex because I wanted a heavy duty boot for backpacking and mountaineering. They accept step-in crampons and I had an OK experience with some Vasque Newbriers. These boots have pros and cons.
Pros - They are tough and provide good support. I have never had a problem with the external construction.
Cons - I have had them for 18 months and they still give me blisters. The inside of the heal is now wearing out and there is no indication that they getting close to being broken in.
My experience with these boots - I spent $200 on the boots and I will spend that much or more on moleskin. I re-apply moleskin every 2 hours. Other people in camp refer to me as "the guy with no heels".
Mountaineering IS the art of suffering if you wear these boots.
Materials: Leather
Use: Heavy Backpacking/mountaineering
Break-in Period: Eternal
Weight: 4.0
Price Paid: $210

Where do I start with these boots. Nothing but blood, sweat and tears. I took then on several medium hikes with different sock combinations but nothing seemed to work. The initial fit in the store seemed outstanding. And still to wear them around town they are comfortable. But I put a pack on and start a serious up hill climb and in about 2 miles I can feel the blisters starting. When I thought they might be broke in I hiked the Grand Canyon with them and came out with a bloody mess of a foot. Even after that, they still are no more broke in then the day I bought them.
I spit on this boot.
Materials: Leather
Use: Heavy Packing
Break-in Period: there is no end.
Price Paid: $210

I bought these boots planning to use them for heavy backpacking in the Rockies. After six months of constant use I still get blisters.
The boots are very waterproof, sturdy, and their Vibram soles give great grip on any terrain - but, if you plan to walk epic distances, your feet will feel like hamburger. I am currently trying to appeal to Vasque to resolve this dilemma. Generally I have had good luck with their boots, but do not recommend these to anyone except light alpinists.
P.S. I am considering One Sport's new norwegian welted boot, the Mazama. If anyone has information on it, please post it on the review board.
Materials: FGL
Use: Rough trail/light mountaineering
Break-in Period: eternity
Weight: 4 lbs.
Price Paid: $205

You May Like
Recently on Trailspace