Vasque Arrowhead UltraDry

Top 25 in men's Winter Boots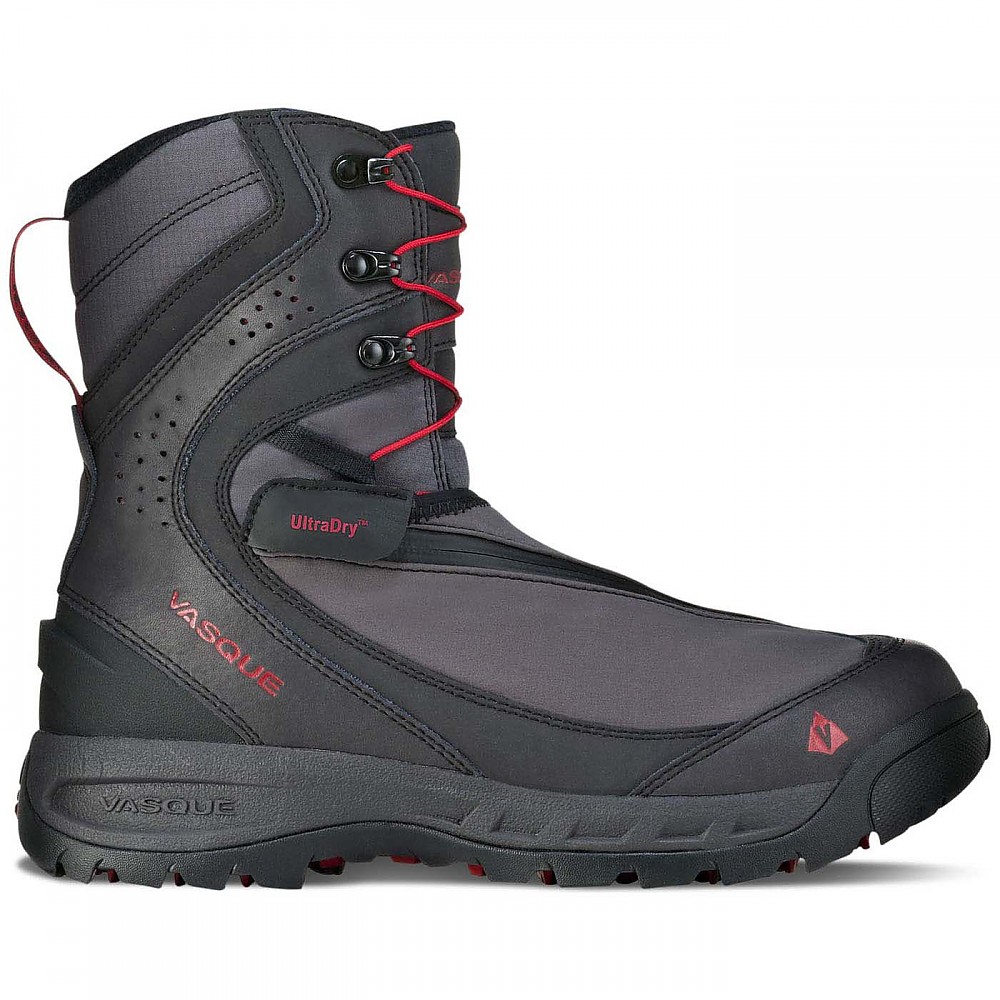 If clunky snow boots keep you indoors in the winter your excuse just went out the window!
Pros
Lighter than summer hiking boots!
Waterproof
Agressive tread
Quick lacing system
Excellent flexibility
200g Thinsulate
Breathable
Cons
No D-ring to hook gaiters to on the toe
Seems to run small in sizing
Winter boots that don't feel like winter boots!
The Vasque Arrowhead UltraDry boots are designed for people who need light insulation and athletic performance for winter activities.
Applications
My giant pack boots are now obsolete. These do just about everything my pack boots can but WAY lighter. My kids wore similar boots on Mt. Adams and Camp Muir with great results. These boots can also wear strap-on crampons.
Though ice fishing might not be the best thing for these boots I used them goose hunting (sitting in the cold) scrambling over rock piles and hiking in temps in the low twenties in thin poly socks and never had to give a second thought to my feet. Even after running on trails my feet felt relatively dry and did not get chilled while sitting around afterwards.  
Features
The Arrowhead has a zippered soft shell flap that covers the laces. This gives the boots a smooth profile which won't pack up with snow. The zipper is hidden by a rubber gusset so it won't clog up with dirt. The soft shell flap has a small Velcro tab to help hold it in place that is surprisingly strong. Having to unzip a stiff zipper every time I needed to don or doff the boots is new to me and took some getting used to but was doable with gloved hands. 
Soft shell? Is it abrasion resistant? I asked the same thing and after smashing through mud and scrambling over sandstone I found them WAY more abrasion resistant than I expected.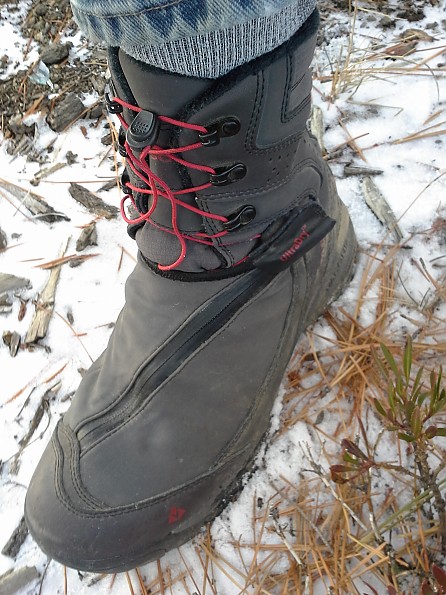 After weeks of dirt, sand, water, mud and light snow still looking pretty decent
The Kevlar lacing system also had me skeptical at first but quickly won me over. The soft uppers adjusted very nicely to the shape of my leg with little more than a tug of the lace. They give adequate support and feel great. 
Tired of frozen laces after a long walk in the snow? Hate having to take your gloves off to tie your boots? These are for you. I wonder though, if I wear out the laces, are they replaceable?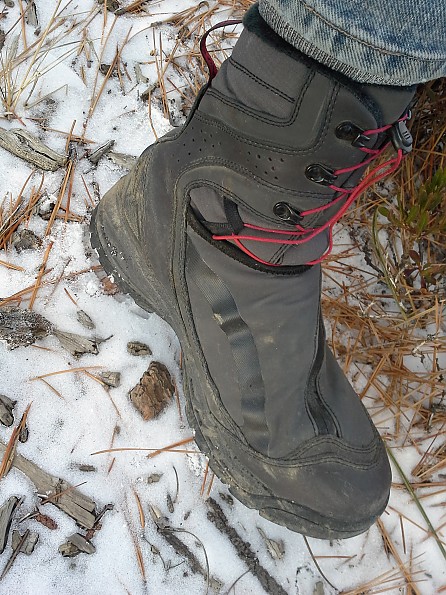 Minor wear on the heel cup
An important feature that is missing in my opinion is someplace to hook the toe hook of your gaiters.  Traditionally laced boots don't run into this issue and many boots include a little D-ring on the toe for this very purpose.  
A little D-ring needs to go right here
Sizing
I ordered a size 9.5 but the boots that arrived were marked size 11. I tried them on anyway and they felt a little big but not so much that I thought about sending them back. They should have been humungous on my tiny dogs but weren't. The larger size turned out to be a blessing because when I put my orthotic insoles inside the boots fit perfect! Issue solved. Be advised though that this worked for me because they run a little over a half size small in my opinion.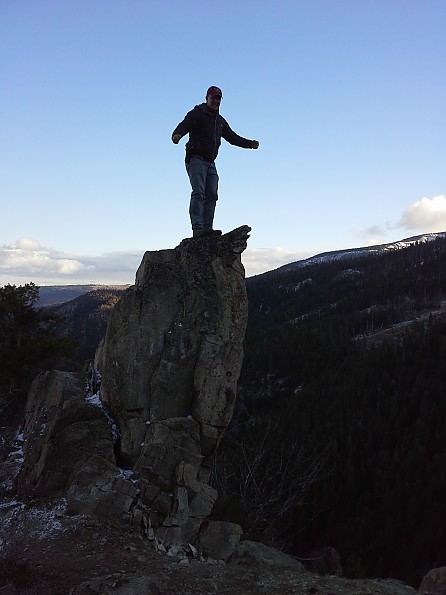 I would never do this in heavy pack boots (the photographer wishes I hadn't done it at all)
Comfort
These boots are probably lighter (2 lbs 12oz vs  3lbs+ for most hiking boots) and taller than the boots you wear on the trail in the summer. If you hike in trail runners like I do, you'll notice the same athletic shoe feel in the Arrowheads. I feel like the increased agility you gain from a lighter weight boot not only gives you a potentially longer hiking day but also more safety since the boots aren't so clunky. They feel like of a pair of trail shoes with tall uppers and a good feel for the ground.
The sole is on the thin side and, while a non-issue in the snow it might give you sore feet in lots of scree with a pack on but then they aren't supposed to be mountaineering boots. On rocky terrain the soles have excellent grip (takes getting used to) and shed dirt and mud with just a light tap on a rock.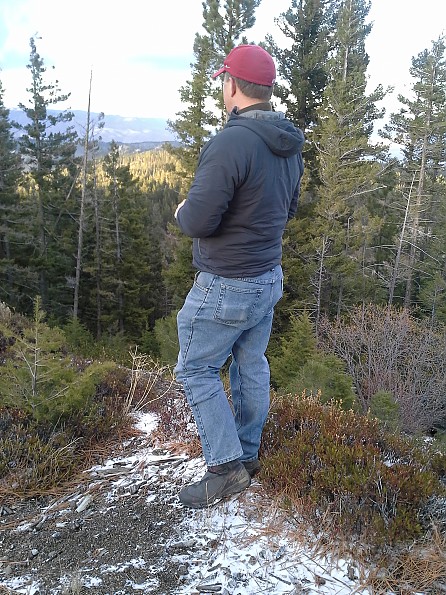 Sorry for the lack of snow in the pics, its still up at around the 6,500ft mark around here (Pic taken at 4,900ft).  Snow is in the forecast though and I will add to the review as the snow deepens.  
UPDATE: The predicted snow materialized! Only 3,000-ish feet.  These boots do well in nasty, heavy, wet snow; good traction and no snow clogging up the treads.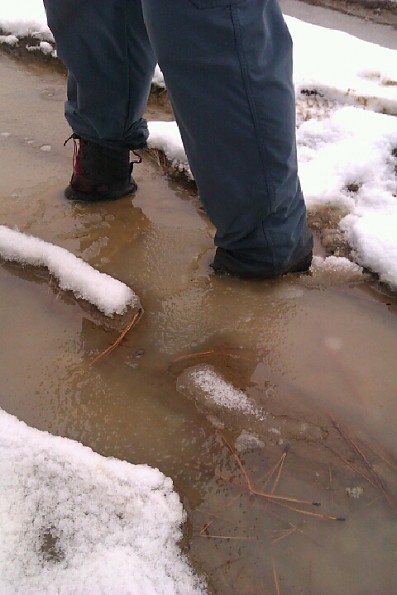 UPDATE: Yes they are waterproof.  Though my feet began to feel cold after a while sitting here they stayed dry.  A few steps after leaving the mud hole they warmed back up nicely. The mud had no appreciable effect on the zippers, they still worked the same as when they were clean.

Warmth
The weight-to-warmth ratio is better than I have experienced in other boots of this type and they remained waterproof through lots of wet brush and mud with only a slight damp feeling over the toe area but no actual water penetration. It isn't quite slow shoe season here but running in them left my feet only slightly damp inside from sweat. They breathe enough for vigorous exercise followed by times of inactivity. Personally I never need more than 200g of Thinsulate on my feet if I'm moving at all. These aren't arctic boots obviously, they are for people on the move.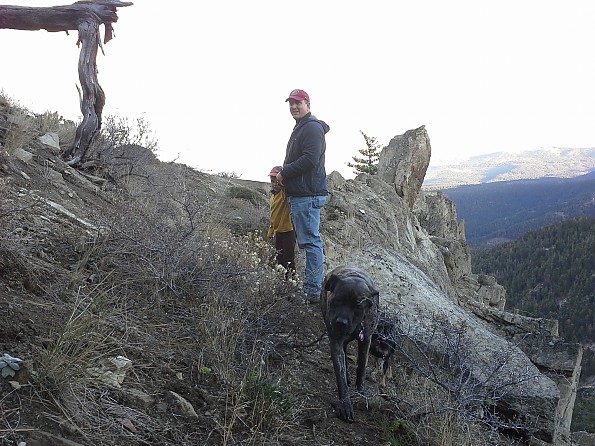 Rocky, sandy, wet, cold? No problem.
Conclusions
If you hate strapping on heavy pack boots and slogging through the snow you owe it to yourself to try a pair of these boots. If you snow shoe you need every ounce of weight savings you can get on your feet so you definitely should look into the Arrowheads. I hope later models have a D-ring for gaiters and even if they don't I still recommend them.
Source: received for testing via the Trailspace Review Corps (Sample provided by Vasque for testing and review)

Your Review
You May Like
Specs
| | |
| --- | --- |
| Price | Historic Range: $41.83-$135.96 |
Recently on Trailspace