Vasque Breeze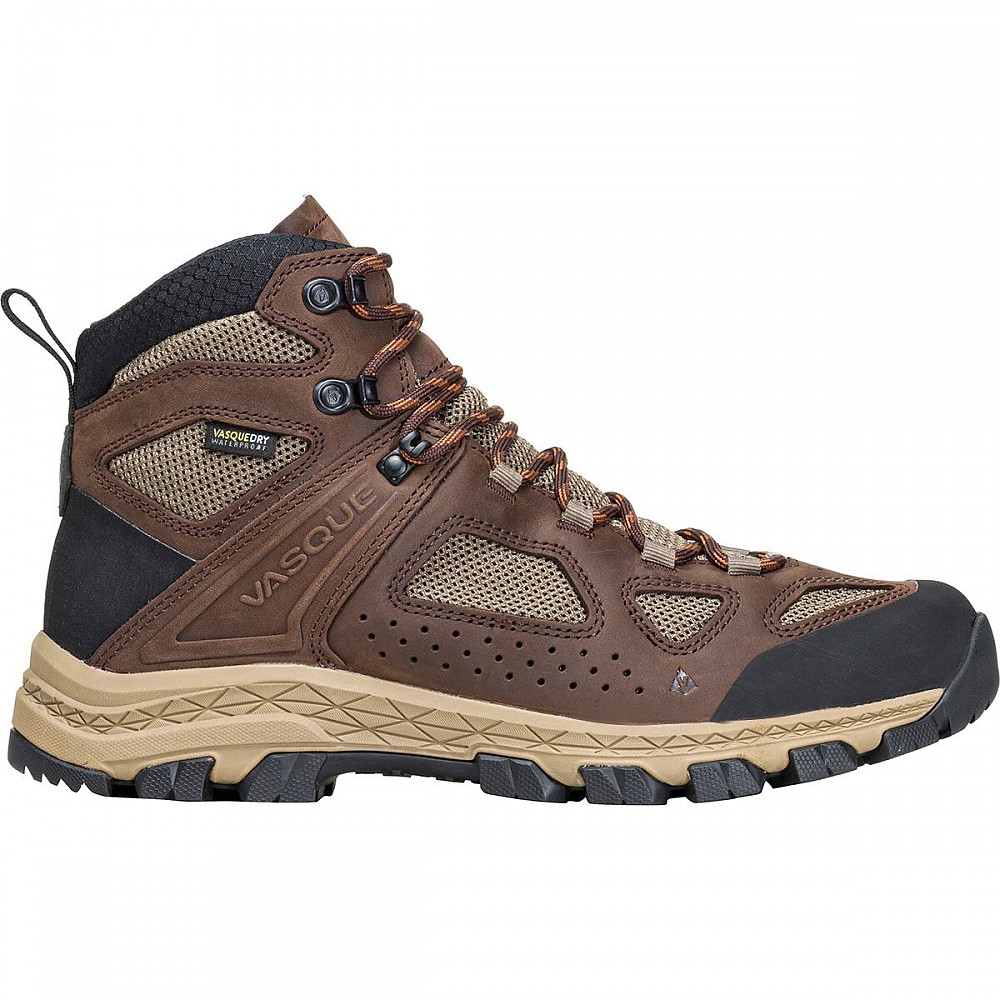 I found these boots to be comfortable and lightweight. The only reason I rated these down is because the boot is not as durable in the sole as it should be.
Pros
Comfortable
Lightweight
Good height
Decent ankle support
Cons
Not very durable
Easy to over tighten
As a woman, I have the men's version of the Breeze. I have a hard time fitting shoes of any kind, and this boot fits me exceptionally well. I use pretty heavy inserts, and they accept the inserts well. It feels like an oversized sneaker for comfort to me.
The boot does not have any noticeable heel slippage, and the toe box has plenty of room, and I have a fairly wide foot. I do use an alternate lacing pattern so I can tighten up the toe box and ankle separately.
When I first bought the boot, I found it was too tight after I had been hiking for awhile, but after I lost weight, I felt like the boot had been built for me. It took no break in period after that. I often have blisters, and on a 70 miler this summer, I only had one with these boots. I like the little higher ankle since I tend to kick debris into my boot.
When I did the 70 miler, I loved how the boot performed, but I did note that as the hike wore on, the boot wore down. I was carrying a 40+ pound pack, but in reading the other reviews, I saw they too were frustrated by how quickly the boot broke down after +/- 200 miles. By the time I was done with my summer hiking/backpacking, the boot's support definitely had changed over the course of the summer. As noted in other reviews, the heel of the boot has begun to break down.
The weather has not given me the opportunity to truly test major water resistance, but I have noted that dew or water slops do get inside the boot. The way water has gotten in through incidentally exposure to water, I would tend to believe other reviewer's comments about the lack of water resistance.
I have been very happy with the traction of this boot. I never felt any slippage during normal hiking. I had some very hard going over scree, and the boots worked great, and performed ok on the rolly-rock on dirt on the decline.
The temperature was never an issue for me in these boots. In fact, I would often just wear the boots around camp instead of changing into my camp shoes, but I would say there are certainly a summer use boot.
I really like these boots overall, but my main frustration is over how they lack overall durability in the sole. The rest of the boot looks terrific, not reflecting the use I gave them over the summer.
These boots have been used around on Mt. Rainier's trails, and a 70-mile section of the PCT. I generally only use these boots now when I go walking carrying my granddaughter in her kid pack.
A part of me would really love to get these boots again, but only if Vasque has improved the durability of the sole.
Source: bought it new
Price Paid: $100

Based upon the low model, I would easily apply this review to the high model hiking boot.
Review: Vasque Breeze Low; Non-Gore-Tex upper; 2009 model
I needed a lightweight low hiking shoe for desert/hot type climate, highly ventilated, high grip type rubber sole with an aggressive knobby tread pattern.
I avoided all Gore-Tex models since they tend to retain body heat quite a bit.
After visiting numerous stores (Campmor, Dicks, Sport Authority, REI, ad nauseum), and trying dozens and dozens of shoes, only ONE met my needs.
The Vasque Breeze Low is a godsend! You can actually put your hand inside and slightly blow on the upper and you can easily feel your breath go right through the upper mesh. Ahhhhh ....real comfort in hot weather!
After hiking miles and miles in the southern Utah Escalante desert of rock, rubble and sand. I later went online and bought another pair of these shoes to put aside for a later date.
I also tried their boot version at the Campmor store and was impressed, but being higher up the ankle, I thought it wouldn't let my foot breathe as much. Now I might take another look at them.
As an addition, since I have "flat feet", I have tried numerous inserts and all have little use. But when I tried the "As-Seen-On-TV" Walk-Fit orthotics inserts....the difference was so remarkable that I bought many more of these inserts, one for every shoe. My hiking distance quad-tripled before any leg/foot pain occurred. Wow!
Now, I'm still searching everywhere to find an EXTERNAL FRAME DAY PACK, 2,000 cu. in., Adult sized, specifically for Desert / Hot type climate hiking. So far, no luck anywhere, therefore it looks like I'll have to invent/make one for myself.
Materials: Man-made
Use: Desert/Hot type climate hiking
Break-in Period: Unknown
Weight: Unknown
Price Paid: $85

I have a love hate relationship with these boots. They are super comfortable and the weight is very nice unfortunately when they hit around the 200 mile mark the rear of the boot collapses and they push in on your achilles heel irritating the sheath that wraps around your tendon and creating pain on every step. I loved these boots and recommended them to my friend who bought them and also loved them and once he hit the 200 mile mark the same thing happened to him....BEWARE these are not for heavy backpacking!!!
Cons
crippling
incapacitating
NOT for backpacking
Good fit. Great laces that say tied; plastic loops for laces questionable. Good soles just OK on traction. Very cool temp wise.
I spent more than six hours during three trips to various stores and trying on countless hiking boots before deciding on the Vasque Breeze (Gore-Tex version). It had the perfect amount of stiffness in the sole and support around the ankle and forefoot. I had already hiked to the top of Half Dome and back three times and to Cloud's Rest once in an old pair of Nike crosstrainers, so I was ready for an honest to goodness boot. Boot fit is a real personal thing I have since discovered and the fit varies from model to model even from the same manufacturer.
I love these new Breeze boots and the have so far served me well combining comfort, support, and durability. My advice would be to take the time and try on as many brands as possible and go to a store that actually is knowledgeable and will measure your feet! God bless R.E.I. but they won't measure your feet!
Materials: gore tex
Use: long day hikes of 20 miles or more
Break-in Period: none
Weight: 2lb 8oz
Price Paid: $125

Pros
Lightweight
Comfortable fit
Breathable
Cons
Durability
Not very water resistant
I loved this shoe for its comfortable fit. Didn't need any break in time. Support was great, especially on the ankles. Had no problem backpacking with up to 35lbs loads.
The only problem was that the boot started breaking apart pretty fast (couple of months of use). The sole separated from the leather around the toe box, and even the vibram sole wore out faster than expected. Also, not very water resistant, despite the Goretex membrane.
I'd say this boot is a great buy for anyone not planning on prolonged backpacking with a load over 25 lbs.
Source: bought it new

I am on my third pair, having worn out the first two in two plus years of day hikes and casual in the woods wear and I can't stand to have these on my feet! If I wear them for more than 10 minutes my legs and feet ache for the rest of the day or longer.
I contacted Vasque via email regarding the chance that I received a mis-labeled size (the last pair feel a full size shorter and narrower than the other two??) and was directed back to the store that sold them to me for fit and comfort issues. I have maybe 100 miles on them now and the store wants nothing to do with me since they are "used".
Guess I wasted my time and money it seems. Don't expect much sympathy from the factory "Customer Service" folks either.
Materials: leather, mesh and Gore-tex
Use: Day hikes, casual and woods walking
Break-in Period: 90 days
Price Paid: $125

Great overall pair of hiking boots. Comfortable, water resistant, and versatile.
Pros
Comfort
Traction
Water resistance
I have probably put 50 or so miles on my pair and I'm a huge fan so far. They are extremely comfortable, to include the sole and the padded tongue, and have kept my feet dry in steady rain. The traction is above average, if not great, and they seem to be a very versatile pair of hiking boots.
I cannot attest to the durability as or yet or how they would be in colder temperatures (especially with the mesh composition) but I'm looking forward to trying them out.
Source: bought it new
Price Paid: $120

These are the most uncomfortable boots I have ever owned. They are ok for a few miles on flat terrain, but so are ordinary tennis shoes. I do mostly 8-15 mile day hikes in hot, dry climates. I have worked with expert boot fitters trying to salvage these boots, but nothing seems to work. I already have orthotics, and I have tried special lacing techniques to keep my foot from sliding forward in the boot.
I have been assured repeatedly that the boots are the correct size, but I still get blackened toenails from hiking more than five miles with any sort of incline. When I conducted an informal survey of people I hike with, 80% responded that they also had trouble with bruised toes from Vasque boots.
Materials: leather and nylon
Use: long day hikes on rough trails
Break-in Period: 2 days
Price Paid: $109

I walk about three miles a day and then hike on weekends. I use these shoes a lot! I wear them with Red-Wing Wick socks for longer walks (heavier and more padding (also dryer). During the morning walks I used Costco sythetic fiber white socks. I slip around in them if the socks are not heavy enough (but that is how I wanted them).
I walk the San Diego (desert) back country, the Pacific Crest Trail, Mission Trails, Anza Borrego Desert trails (dry, mountains, rocky, sandy). I have been wearing them for almost a year. I will probably replace them with the same brand and style when they wear out. Bought them at REI (expensive, but they have what you want).
Materials: Leather and cloth
Use: morning hikes (3 to 5 miles) and weekend hikes of 5 to 10 miles
Break-in Period: October 2005
Weight: Don't know ... not heavy.
Price Paid: $100

We bought these boots after spending several hours at various stores including REI. My wife intended to walk 200+ miles in various conditions in Spain. She reports they were very comfortable. Until it rained.
The Gore-tex socks failed in both boots and she had more than a 'wringable' amount of water standing in both boots. Note-rain gear was over the tops and the tops were dry and there were no large puddles. Just walking. The boots failed miserably keeping her feet dry.
Comfort was plus. REI took them right back but that doesn't help the manufacturer to gain knowledge about boot failure. I also walked in a Vasque boot (men's) with Gore-tex failure. Comfort yes. Wet, a big no.
Materials: leather/Gore-tex
Use: long walk
Break-in Period: 2 months
Weight: 3 lbs
Price Paid: $130

I agree with the other reviewer here. These are very uncomfortable boots, no matter how I lace them my feet constantly slide forward. Even more seriously I do most of my hiking on Canadian Shield bedrock and the Vibram soles on these boots are extremely slippery on even slightly damp rock.
I think the reason for both problems must be that hard thick nylon shank between the midsole and outsole. It prevents the boot from completely molding to your foot and also prevents the outsole from molding to the surface your're walking on. Very poor boots, I've given up on them.
I flat out love these boots, they have been the most comfortable pair I have ever worn. The fact that they breathe is what makes them so great.
Forget the Goretex, I have gotten my feet soaking wet on the trail, but with Smartwool socks and these boots I've continued hiking and in a short time my feet are dried out. Whereas hiking in Goretex boots my feet will get wet from the inside and then stay wet causing blisters.
Thanks, Vasque.
Price Paid: $25 on ebay

Superb boot. Before considering any boot, it is wise to have your feet evaluated by a trained professional who knows boots and how to fit them. Also, a good insert instead of the cheap ones found in all boots, can make all the difference in fit. My Vasque boots are snug without an insert (my feet spread out 1.5 sizes when I stand) but fit perfectly with my insert. I use Superfeet Green -- they are great.
Price Paid: $120

Only lasted a year, never even got to hike with them. The sole fell apart :-(
Pros
They look nice
Comfortable if they would only last!
Cons
The sole fell apart and cracked after 1 yr of light duty.
Comfortable, but only last a year and fall apart!
Source: bought it new
Price Paid: $168

There is something odd about the design of this boot. The seam that connects the boot collar to the lining is pronounced. On the pair of boots I tried, it was extremely uncomfortable and cut into the back of my foot right where the seam was located.
It's possible that this pair of shoes was defective. But maybe not.
Price Paid: $125

Your Review
Where to Buy
Help support this site by making your next gear purchase through one of the links above. Click a link, buy what you need, and the seller will contribute a portion of the purchase price to support Trailspace's independent gear reviews.
You May Like
Specs
Men's
Price
Current Retail: $119.96-$160.00
Historic Range: $59.96-$160.00
Reviewers Paid: $25.00-$168.00

Women's
Price
Current Retail: $47.22-$160.00
Historic Range: $29.44-$160.00
Reviewers Paid: $109.00-$130.00

Kids'
Price
Historic Range: $16.83-$69.99

Recently on Trailspace