Vasque Clarion Impact

The Clarion Impact has been discontinued. If you're looking for something new, check out the best backpacking boots for 2023.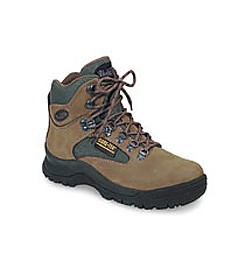 Not sure what water problems you have had, but I have owned two pairs of these boots, for about five years each. I have done some water crossings in them that scared me, but they never faltered. From Panama (Central America) to the Grand Tetons in Wyoming... these boots are the only thing I would take.

Price Paid: $115

I agree with another reviewer that these boots are NOT to be used in wet conditions -- your feet will fly out from under you in a millisecond. On the positive side: I wore these boots frequently for over a year and loved their comfort and good fit. The quality of construction is outstanding and the soles are tough (and extremely slippery when wet). Would highly recommend for dry conditions -- if walking in the wet, be very careful.
Materials: leather, nylon, gore-tex
Use: day hikes, weekend trips w/moderate pack
Break-in Period: hardly any needed
Price Paid: $139

the wide version of the impact provides loads of comfort, great support and solid construction. However, the skywalker soles on these things are like wearing iceskates whenever you encounter moisture. Even fresh out of the box they will put you on your back, and don't even think about any watering crossings with them on.
I contacted VASQUE about the problem, they seemed unimpressed. If you are a serious packer...stay clear of these things.
Materials: leather/nylon
Use: heavy pack
Break-in Period: 1 week
Weight: 3lbs
Price Paid: $115

Version reviewed: non-goretex
I got these boots cause they were on sale but they are the most comfortable boot I've owned. I also have some montrail one sports and vasque sundowners. They have a foam lining which prevents foot slippage and provides cushion. I had surgery on a toe and everything made it hurt if I walked to any extent except real cushy running shoes. I got them during a hiking trip and my foot was sore until I put on the clarions. I haven't taken them in wet conditions while backpacking but today it rained like heck so I "tested some gear" and went for a nice wet walk. I stomped through puddles, some up to the ankle briefly and much to my surprize my foot stayed dry! I did treat the leather with aqua seal which makes them look like leather and used spray on the fabric patches. I think they will be too hot for summer use cause of the foam but I like them to fall back on when my feet hurt. For the price I paid ya can't beat em!
Materials: nubuck and cordora
Use: Light / Med hiking
Break-in Period: none
Weight: 3lbs (i think)
Price Paid: 62 bucks

I have these boots for almost a year now. They have been through everything and have held up beautifully. The only thing I have had to replace were the insoles, and Vasque sent me new ones for free. I use them for work (landscaping) every day because of their comfort. All in all they have met my expectations and beyond.
Materials: Leather
Use: off trail with heavy back pack
Break-in Period: 2 weeks
Weight: ???
Price Paid: $90 on sale

I bought these boots 5 years ago and have just been amazed at the durability and consistency of this boot. They have kept my feet dry during 4 years of fishing Minnesota as well as trekking through snow and ice during the winter (not to mention the salt the boots have endured, unlike the cars can). I have also brought this boot to Texas hunting deer, quail, and dove in the fall and turkeys in the spring and have put them through every kind of weather imaginable. They have fought back the mesquite and heavy brush and thickets of South Texas hunting for 5 consecutive hard-core years and I couldn't possibly imagine ever buying anything but Vasque when the time may come. Its not easy to find a boot that can withstand extremly low temps in Minnesota and some of the roughest terrain in Texas. I put my life on these boots and trust them 200%!!!!
Materials: Leather
Use: rough hunting trails, fishing, hiking
Break-in Period: 1 week
Weight: avg.
Price Paid: $150

Version reviewed: non-Gore Tex
I've also had great experiences with these boots. They are the most undersold boot on the market. Not waterproof at first, but later the boots can be sealed up nicely with Nikwax. I help used these boots to provide ankle support after I broke my leg in a mountain stream. During recoup, these were the only shoes I had that supported my ankle so I could walk. After heavy trails, I love the way this boot feels at the end of the day. It holds up well. The only drawback is that it comes with alot of cleat at first, so I wouldn't advise rock scrambling until it takes some were.
I would buy this boot again.
Materials: leather, and canvas
Use: rough trail, mid pack wgt.,
Break-in Period: very little, one day
Weight: 2 pounds, est.
Price Paid: $120

Version reviewed: Women's
These are the worst boots I have ever owned, bar none.
I have very ordinary feet except they're on the "small" side (I personally think women's 5 1/2 to 6 should be considered average, but just try telling that to boot manufacturers and retailers), so my boot choices are limited. That's one major factor driving me into these lousy boots.
I have taken them back to the store where I bought them, and they have worked on the boots, but every time one problem is fixed, another crops up. The boots never seem to reach a point of being broken in. I have no time this summer to break in another pair of boots, so I carry Molefoam in order to try to fix the boot in the field.
They are okay with a day-pack load or a 1- or 2-night backpack load, but when I put on my pack for a 12-day trip on the John Muir Trail, I was in real trouble but didn't know it for a couple of days. Then, for the first time ever, I began experiencing crippling pain from these boots.
The cheap laces the boots came with frayed through on my first long trip (I'm a trail scout updating my publisher's guide to the John Muir Trail).
One obvious problem that I as a buyer should have been warier of is the sheer number of ill-placed seams. Inside and outside, the boot is a maze of seams that are so badly placed that it almost seems the designer wanted to cause the wearer maximum foot pain. After I applied seam-sealer, some seam-junctions became hard knots of sealer. One such knot even had to be cut out and the hole patched over--unfortunately, that didn't cure the problem!
Forget using a high-tech sealer like NikWax on these boots. They come with a factory coating that prevents NikWax from effectively penetrating until the factory coating wears off (which takes a couple of weeks of wear, according to NikWax). Not knowing this, I dutifully applied NikWax per bottle instructions, though the stuff beaded up and did not seem to penetrate. Then, during 2 of the rainiest weeks in the Range of Light for 1997, the boots were constantly wet, and I had to hike with sopping wet feet, because the factory coating that had repelled the NikWax had worn off. I finally coated the boots with petroleuum jelly from my toiletries kit, and THAT worked. When I got home, I slathered on Sno-Seal. I plan to continue using Sno-Seal till then end of the season, when I think I will take these boots out and shoot them.
In sum, these boots may be popular because they're relatively cheap, but I think they are anything BUT a bargain for the serious trail hiker.
Materials: Leather and fabric--does not have Gore-Tex liner
Use: Mostly trail/rough trail (e.g., John Muir Trail) with heavy pack, 10+-day trips
Break-in Period: About 50 miles--now have about 150-200 miles on them
Weight: Not sure--about 2-3 for women's size 6lbs.
Price Paid: $110

Version reviewed: 7798
A very good pair of boots. Lots of ankle support. I had to use a waterproofer (Nikwax Leather Boot Wax) on them and after that feet were dry.
Materials: Leather
Use: Rough trail w/big loads
Break-in Period: A week and a half
Price Paid: $125

Version reviewed: High
These boots aren't bad. They have really nice ankle support (I bought them after I injured my ankle cycling). They have a steel shank and the heal cup really helps stop ankle pivoting.
Vasque sells inserts that allow this boot to have different widths. I chose the "wide" insert. They do breathe pretty well but they aren't waterproof by any stretch of the imagination. I found the soles to be pretty good as far as stablity on wet rocks and roots goes. They've held up pretty well so far, I've worn them around the home and at work this past winter and on a few day trips.
Materials: leather/nylon
Use: light loads / day trips
Break-in Period: 1 week or less
Weight: 3 lbs
Price Paid: $90

Your Review
You May Like
Specs
Men's
Price
Historic Range: $46.99-$159.98
Reviewers Paid: $62.00-$150.00

Women's
Price
Historic Range: $79.95

Recently on Trailspace