Vasque Wasatch GTX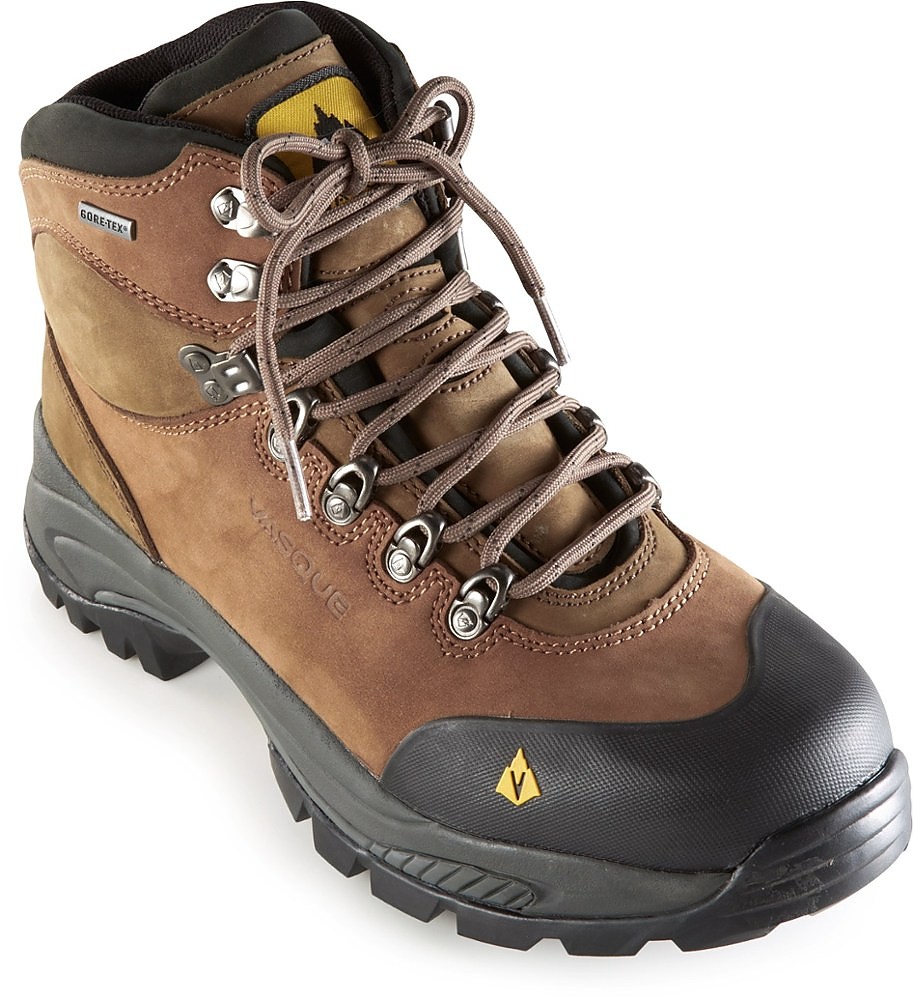 Bought these boots about 3 years ago. Horrible for walking on wet rocks, mud, snow. Would not recommend these boots to even my worse enemy. Quite a bit disappointed with how the waterproofing works, IT DOES NOT!

I attributed my feet being wet to sweaty feet and not worn in yet boots. I was wrong. Just hiked today 9-1-2014 at Revelstoke Mountain 24 km, and the boots were crap. My feet were drenched from walking in the tall grass, the inside of the boots were soaked within an hour and half into the hike. Best recommendation, don't buy GTX boots for backcountry hiking.
Pros
Lightweight
Cost effective
Comes in extra wide for wider feet
Cons
Not real Goretex boots
Grip attracts everything and makes you wipe out
Soaks up water and the boots go from 2lbs to 5 lbs really quickly
Fit: Solidly fits the foot. Lacing system is lame as I bent the pacing system already after just two years of owning them. 
Comfort: No break-in needed. Does not keep water out, mud out, or snow. Takes a day to dry out. Is there such thing as fake knockoff Goretex? If there is, these boots have it!
Support: Never rolled my ankle, but because they soak up water rather quickly, give one heck of a workout the hip flexors.
Water Resistant: Maybe these boots were made for desert walking only. Only offer about 1 hour of dryness. After that your feet will be done!
Traction: Thought I was going crazy, but the grip is garbage. Like driving with slicks on in the winter time. The grip is crap but certainly does not wear because it's so hard. Walking through mud uphill is hell, don't do it with these boots unless you are suicidal.
Temp Control: Even with Llama 100% wool socks, with a layer underneath, my feet still froze! The fact that they are not waterproof also adds to the dilemma!
Construction: NO seams have popped on the boot at all and I am big guy. 270 and they support my weight not bad except my feet are always sore!
Conditions: Live in B.C. Canada in the interior region. Get snow, ice, hail, rain, hot weather. These are good hikers for hot weather like the Sahara desert. Not meant for a cold climate. 
Source: bought it new
Price Paid: $150-250

Overview -
Good boots, but serious durability issues with the leather currently used in this model. Not recommended for off-trail use or for extended backpacking trips.
Background
Bought these boots in May 2006, used them extensively over two summers for work and play in the northern Rockies. I'm a biological field technician, so I spent many hours in these boots for work and then scrambled around the mountains on my days off.
Fit
I have slightly wider feet than average, and these boots were a great fit for my feet. They broke in with minimal discomfort and never caused any blisters. Good ankle support, despite lower height of the uppers.
Waterproofing
The leather performed well with the proper maintenance (mink oil, Nikwax, etc.) although these treatments did change the color of the nubuck leather (which didn't matter to me at all).
Durability
The soles are in good shape after 1.5 years of use. No delamination yet. However (and now we get to the reason why these boots only get two stars), the leather used to make the uppers of these boots has not performed well. It's not durable at all for my purposes. I'd bump rocks and the leather would cut and tear with ridiculous ease. After less than 1 year of use, they looked as though they'd been greatly abused after what I considered to be an easy season. I actually talked to an experienced salesperson at a national outdoor rec. chain store after that first year and he wasn't too surprised with my experience. The leather Vasque was using for this model was too soft and just wasn't up to par, especially for leather that is 2.4mm thick. Seems to me that appearance and cutting costs trumped utility in this case.
Bottom line
Good boots, if you're staying on the trail and avoiding all hard objects. Perhaps that's what they were designed for, although that wasn't what I was told when I purchased them. I won't be buying another pair.
Materials: leather
Use: Hiking, backpacking, scrambling over talus
Break-in Period: 2 weeks
Price Paid: $165

Good boot, watertight. However, even though uppers stay in good shape the soles don't seem to hold up for long especially if you do lots of hiking. Boots sole unique design results in poor sole replacement due to stiffener location.
Pros
Comfortable, hardly any break-in
Water tight
Good uppers
Good price
Cons
Soles wear out / split
Plastic stiffener in sole makes new sole poor results
Price of boot + resole = you might as well spend a few more bucks for better re-sole design.
Purchased Vasque Wasatch Gore Tex (GTX) boots, used on moderate to rugged trails on AT, White Mountains, Shenandoah National Park. After 3 years the sole split on one boot at the ball of my foot (I tend to kneel on the toe). This caused water to seep in at the pressure point even with Goretex.
Sent the boots in to get resoled and disappointed in total lose of stiffness.
Vasque is the only one that puts the plastic stiffener in the sole. Everyone else puts it up in the boots, so no matter which sole is used to resole the boots the stiffness stays the same.
This boot is made of split leather, and when received for new soles they are so soft the OEM soles will no longer fit. The replacement Vibram units don't have that plastic insert Vasque uses, thereby losing all stiffness.
Source: bought it new
Price Paid: $105 from REI (sale)

Bought these boots after extensive research. Apparently Vasque has dropped the ball regarding Chinese Quality Control of products. Had catastrophic sole failure at ball of foot on both boots after several years of day hikes. Not impressed due to fact that other Vasque products over the years have been superior products.
Pros
Easy break-in period
Wide width accommodated my orthotics
Easy to waterproof
Cons
Both soles developed splits long before soles showed much wear
Paid top dollar Canadian for inferior product
The boots fitted well and provided great ankle support over moderate terrain. The break-in period was minimal and there were no blisters. However, I found that gaiters were necessary to keep debris out when tramping through muddy or rough terrain.
When laced tightly the boots provided good ankle support and they permitted me to change out the insoles for my orthotics quite easily.
I did find the boots to slip easier than other similarly prices hiking boots when on muddy woodland trails in Eastern Canada.
The heel cups provided good support over all hiking surfaces.
The durability is THE MAJOR FAILURE OF THESE BOOTS.
THIS IS THE SECOND MAJOR BOOT MAKER WHO I KNOW OF WHO HAS HAD SEVERE QUALITY CONTROL ISSUES WITH THE CHINESE MANUFACTURERS.
Source: bought it new
Price Paid: $200+CAN

Heard good reviews about this boot. Felt good when trying them on in the store, but when I got them home and started breaking them in and around the house, I noticed the left shoe was much tighter and heal pressure was greater. The volume in the left shoe was smaller and had at 1/4 inch less leather over the fore foot. Also, the tongue was sown in a twisted manner preventing the tongue from fitting correctly. Ankle support did not feel all that great either. Foot bed and arch areas felt good although, and the sole/mid sole felt solid.
Exchanged the boots after waiting a week to come in. Verified the new boots did not have the same problem and they seemed OK fit wise in the store. Started working them in again, but this time bad arch pain occurred after wearing them 20 minutes on some basic terrain. It turns out the shoe was also defective as it placed the foot too far inward over the instep arch where part of the foot wood not even sit over the sole. Also again did not like the ankle support, and when briefly verifying waterproofness, got very small droplets of water at the seem under the tips of the toes. Returned these too.
Very disappointed with the quality control. China problem? I have bought many both cheap and more expensive shoes and boots, and I never have had these kinds of problems.
Materials: Leather, goretex
Use: Never got to use them on a hike
Price Paid: $125

This is my first pair of Vasques and so far I am relatively pleased. Tried them on in the store and loved the feel: snug but not tight. Ended up buying a pair online for a terrific price, but the fit just isn't quite as good as the pair at the store. The heel fit is great, I just feel like I have a fair amount of wiggle room for my toes... maybe that is how they were designed or maybe it is just my feet (I should note that my feet are long--size 13--and narrow, and maybe don't have the mass that other feet have).
So far I have done two moderate to strenuous day hikes of 5+ miles with good elevation gain, and one shorter 2.5 mile hike again with good elevation. For the most part, the boots are quite comfy--no blisters or sore spots--and fairly flexible, to the point that if I watch my feet while I walk, the boots look a bit big on my feet. Maybe I could have gotten by with a 12 1/2, but man, the 13s I tried on at the store were perfect. Probably should have just purchased those, but I saved $50 online. Heavier socks will probably resolve my toes having a bit too much wiggle room.
Overall, good boots, good construction, I like the traction, and I would recommend them with the caveat that you should definitely try them on first.
Use: day hikes and longer backpacking trips
Break-in Period: almost none

I live in the north of England which is permanently damp and after owning my Vasque boots for two months of lots of short walks ranging from 2 miles to 15 my friend and the faithful roxy dog set off on the three peaks of Yorkshire walk which i have have done many times before, a 26 mile walk including three peaks approx 700m each, not massive at all but long and boggy (muddy with sludge) a challenge as it must be done in less than 12 hours "its tradition " the sun started but the rain took over and the rain lasted and all day my feet felt clammy and horrible. I'm 44 years old and a seasoned walker have been to the Alps the Pyrenees north of Scotland the lake district yorkire dales my own back garden ....
I have never had the clammy and unpleasant feel of gore tex. I have always had Scarpa boots non gore tex warm and toastie in fact too warm but the "gloopy feel" was not nice. I suggest that Vasque/Redwing spend a small amount of money and make a proper boot as the base structure of this is not bad, just add some more thought.
Ditch the membrane go for quality, hikers love it .
(I have purchased Wolverine boots before for every day and work and they are unburstable so it's not a Europe only thing )
kev
Materials: leather gore tex lining
Break-in Period: almost non
Weight: n/a
Price Paid: 120 pounds sterling

A great and very comfortable boot right up until the sole starts to split right across the ball of your foot.
If you do any serious hiking at all then you should avoid this boot. It might work okay for someone who just hikes occasionally and would never put any real wear onto a tough Vibram sole but all others should avoid them particularly if you want hiking boots that will last.
My experience was shared by at least one other reviewer here - after about 20+ or so 8-10 mile hikes on our local hills (dirt tracks only) one boot developed a crack and the other a complete split across the ball of my foot which went deeply into the rubber material underneath the Vibram. The bottom literally fell apart.
I'd call this level of use about the typical hiking boot "break-in" point but with these particular boots it was the "break-apart" point instead.
Of course my boots were completely ruined by this and to my surprise Vasque did not offer to replace them at all. To put this in perspective the leather uppers showed almost no wear at all so be warned.
Materials: gore-tex leather
Use: day hikes
Break-in Period: about 6 weeks
Price Paid: $180

I've had my Wasatch boots for a couple-plus years now, and I continue to use them regularly. They're not my only pair of hiking boots, and they see more use in winter than in summer because I find them too hot many times during the warmer seasons.
They are quite waterproof--the Gore-Tex liner works as advertised--but that barrier also makes them less breathable and hotter. The leather upper is not as sturdy as on some other boots, but has worn well nonetheless for me. The rubber toe guard is a plus. The break-in period was minimal. The only difficulty I've had with hot spots was when hiking in them wet, after several stream crossings.
The largest negative, for me, is simply that the fit of the boot, while functional, never feels as comfortable as I'd like. My other boots, made by Merrell, are more comfortable despite similar sizing. Probably an effect of the specific lasts on which the different boots were made, and difficult to completely predict when trying on new boots.
I will consider Vasque boots in the future, but they have not made it quite to the top of the heap.
Materials: Leather/Gore-Tex liner
Use: Multiple--day hikes to rough trail with pack
Break-in Period: negligible

Comfortable, but not durable..
Pros
Comfortable for high arch foot
Cons
Poor traction
Soles failed at 1 year
These boots fit my foot well (very high arch, wide foot, somewhat narrow heel). Boots were mildly stiff when new, but nothing uncomfortable. Leather softened up after a few hours of wear.
Traction on these boots was not great, but acceptable. The real issue was the sole cracking at the ball of the foot (both boots on the same hike) just more than one year after original purchase. Fortunately, REI stands behind the product they sell and I received a refund since I really did not see any reason to buy this boot again. I am not a hardcore hiker so these boots probably had less than 100 miles on them. 
These boots replaced Asolo Fugitive boots that were far superior overall, but my feet have changed and the Asolo wide boots are now too narrow in the toe box to be comfortable. 
Source: bought it new
Price Paid: $180

Well, I guess I put "enough" mileage on them now. The leather cracked on one of the boots where the toe rand ends. Unfortunately now I cannot waterproof the shoes. I am changing my rating to "terrible." Very disappointed!
March 17, 2011: I've had these boots a couple years and they are comfortable. I have a wide forefoot and have always had trouble finding a boot that fit well. These keep my foot stable and snug, but without cramping my toes. 
I wear orthotics and these fit well in the boots.  Very waterproof.  Will be treating them for the first time this spring.
I haven't had any durability issues like some others. Maybe I haven't put enough miles on them yet. 
Source: bought it new
Price Paid: $159

Fit is everything. If people had trouble breaking in this boot, it probably wasn't the right fit for them. I have had two pairs of these boots. Both times required practically no time to break them in. They were quite waterproof, withstanding creek crossings and all day snowshoe trips.
Unfortunately, like several other reviewers, I found that the boots developed a catastrophic failure after about a year or so--the soles cracked completely across the ball of the foot. I took the first pair back to REI. Of course, they gave me a refund and seemed surprised that a boot would do that.
So, I got a second pair. I loved them all the way up until last week, when the soles again broke. I was in the middle of a 70-mile backpack trip in the Colorado tundra. Not a good time for breakdown. They survived well enough to get me home, but now I am not sure what to do.
These boots fit my feet great. But I do not want to replace them every year.
Use: Work, dayhikes, backpacking, snowshoeing
Break-in Period: Practically none
Price Paid: $139

These are great. I wore combat type boots for years and these were a real improvement. If you have just one pair of hiking boots, these would be a good choice.
I bought them only a week before a trip to the Grand Canyon and Death Valley. They fit excellent and required no break in time. After hiking down to the bottom of the canyon and back (about 23 miles total) I had ABSOLUTELY NO BLISTERS. That is great for a new pair of boots.
Now that it is winter I find that they make for good cold weather boots as well. The Gore-Tex lining is good at keeping your feet dry. My toes get a little cold in 10-20 degree temps but wool socks fix that. The Vibram tread seems to work great on ice and snow, very good traction.
Pros: Great all around hiking boot, from desert to ice. A little pricey.
Cons: Somewhat heavy. Feet get a little warm and sweaty at 100+ degree temps.
Materials: Soft leather, gore-tex
Use: Rough terrain hiking, mild winter boot.
Break-in Period: None.
Weight: 4lbs, 9oz (minus some dirt)
Price Paid: $180

I have to agree with vince on some aspects of his review. I just bought the boots the other day and was surprised to find out that I was fitted for a narrow in this boot and in any other boot or shoe I wear a Medium D width.
I was a bit appalled to find that Vasque had started producing their boots in China. On the right boot I noticed that the stitching on the top of the tongue that holds the gore-tex liner with the tongue is started to come unraveled. All in all though they're a damn nice boot, a bit snug in the achilles tendon area but I have a good cobbler that can stretch them out for me.
I have always been a big fan of Vasque footwear but am leery now to buy another pair knowing that they're manufactured in China, when you do purchase a pair of Vasque boots make sure to look at the stitching very closely.
Materials: Gore-tex
Use: Short day hikes, walks in the woods with me dog.
Break-in Period: not sure yet
Weight: 170 LBs
Price Paid: $160

In October of 2005, I purchased my first pair of Wasatch GTX boots. I wore them for two weeks to break them in and then took them on an overnight backpacking trip. All seemed fine until March of 2006 when I noticed that the sole on the left boot was starting to delaminate. I took the boots back to REI and they gave me another pair (...11 wide instead of 11 medium...) along with their sincerest apologies for my troubles. I broke these new boots in for about six weeks and then this past weekend I took them on a two-night backpacking trip. The stitching between the tongue padding and the Gore Tex liner has unraveled.
Tomorrow I will go back to REI, receipt in hand, and get another pair of boots...probably not another pair of Vasque boots. For many years I was a firm believer in Vasque boots, but it seems like their quality control has become very relaxed since the whole "Made in China" thing happened.
Materials: nubuck leather and Gore-Tex
Break-in Period: 2 weeks the first time and 6 weeks the second time
Weight: 3lbs 6oz
Price Paid: $160

I purchased a pair of these boots in December 2007 and have worn them for somewhere around a thousand miles in the back country of western Montana.
Until recently I thought they were the greatest boots ever made. However, a week ago while checking my gear in preparation for a rather aggressive hike, I found that there was a catastrophic failure of the sole of the left boot: it had cracked completely across, making the boot unusable. I was happy only that I found it before committing to the hike where the results could have been very serious.
Using the "contact us" information on the Vasque website, I sent them an email complete with photos of the failed boot. They have made no response at all.
After having this type of experience with Vasque, I would not recommend the purchase of any Vasque product because they have a quality and reliability problem that they will not acknowledge or address.

Materials: leather, gore-tex, Vibram
Price Paid: $140

My experience with these boots mirrors that of another unhappy hiker: "The sole split on one boot at the ball of my foot." According to an REI associate who helped me select my replacement boots — not Vasque — this seems to be a recurring problem with this model (or perhaps the entire line of Vasque boots?).
To offer some background information: I used my Vasque boots for 2-3 years; and I've never had to replace a pair of boots after such a relatively short period of time for this particular reason.
Source: bought it new

Also surprised by the bad reviews. These boots are pretty amazing in my book. I broke them in for about a week or so around school and walking around town. Then I took them out for a 20-mile hike on the Massachusetts AT and they did great.
Two weeks later I did a 25-mile, 2-day, 1-night in New Hampshire during a rain shower. I found out that I need a new jacket but my feet were the driest part of my body. I had to help cary some of my guys across a small river because they didn't have the trusty GTX lining to help them out. I might also add that these shoes where great for my wide feet. I was surprised that the normal size 12 fit so well. No wear or tear so far, overall a great pair of boots
Use: long day hikes, mild multi day hikes
Break-in Period: 1 week
Weight: 3.1 lbs
Price Paid: $160

If you enjoy gear that lasts, don't buy these boots. "What? They are like $175". I know, and they pretty much suck. 
I won't even discuss the features of these boots because they don't really last long enough for any of that to even matter. They will be alright until you use them hard for about a month or so, and then they kind of fall apart.
The soles on mine came un-glued and cracked. This also caused moisture to get in the underside of the boot and further cause the sole glue to fail.
Since Vasque only backs their products up with a one year warranty, they were unwilling to adress my problem. You would probably be better suited with another boot from another company that will back their products up when they fail under normal use. 
Price Paid: $175

Had these boots for a year and a half and I"m glad they finally wore out.
The comfort and fit were great, but the traction was so incredibly bad that I lost all confidence in these boots. If there was any moisture at all, I would slip on all sorts of surfaces: trails, driveway, tile floors. The worst boots I've ever owned for traction, period.
In addition, they didn't stay dry when conditions were rough. The boots (when new) were wet inside after a day of hiking in the rain, though the rain was substantial. The durability seems to be lacking for the price. They started falling apart after one year.
I've been a fan of Vasque in the past, but will not be purchasing Vasque for my next pair of boots.
Price Paid: $180

I ordered these from Travel Country. They arrived soiled on the toe but even that was no problem. What was a problem was that the stitching was in some places so loose that you could stick a small finish nail under it. In other places on the toe the stitching was clearly doubled over.
Overall, I'd say quality control is really taking a beating. I looked at another pair at REI and it seemed OK but a pair at Red Wings was sketchy enough so that I wouldn't buy it. A local shoe repair guy said that the tension of the stitching was out of adjustment at the factory.
Very sad. I always had good luck with Vasque in the past.
Price Paid: $120

Bought these boots yesterday, wore them on a 7-mile hike today, all unimproved trail, uphill, downhill, over roots, boulders, rocks, sticks and tree branches...and not a single blister or any other discomfort. They were lightweight, cool enough, and the soles - which so many other reviewers here seem so unhappy about - seemed to eat up the terrain like they were starving.
To be honest, my thoughts after reading some of the comments about the soles failing after a year or two is this: soles lasting two years is above average, one year is about the standard: why complain about needing a new pair of boots when all you have to do is get them resoled?
Price Paid: $127

I think these boots are great! They are new to me. There was no break in period. I started hiking in them around my home and expected some soreness of new boots, but there was absolutely none.
Additionally, and for me this is very important, these boots have kept my feet very warm, even in the teens in temps. I have awful circulation and my feet are always cold, even with liners and wool socks, but these boots have been tremendous with warmth!
I have seen other reviews concerned about durability, I cannot comment on that. I do know that so far, with the warmth, comfort and fit, I love these boots!
Materials: leather/gore-tex
Use: day/trail
Break-in Period: none

This is an overall good boot. I've used them extensively for the last 4 months. I go to an outdoorsy school...we hike on a consistent basis every week in the mountains and hike up trails to get to classes, etc. These boots are very good with the waterproofing....in 4 months my feet never got wet even in extensive downpours. When they do get wet from water over the ankles it dries rather quickly.
What I do not like about this boot is I tend to roll my ankle a lot in these, more often than in other shoes, and that is why I gave them a 3. Other than that they're great boots.
Use: daily trail use
Break-in Period: week
Price Paid: $160

I don't understand the bad ratings. I have worn Vasque, Lowa, Asolo, and Montrail boots. Vasque always works for me. These boots required very little break in time.... just a couple days wearing them at work then off to the trails. Whether I am on rocky trails, climbing extremely steeps ascents and coming down crazy descents, wading through snowmelt, or kicking steps in snow slopes, these boots do it all.
Fit is great right out of the box. Even without the Gore-tex, the leather stays totally dry while crossing streams and while post holing in slushy snow or while hiking in rain, snow and slush storms (mushy snow and rain mix).
Materials: gore-tex lined leather boots
Use: Backpacking in Colorado
Break-in Period: 2 days at work
Weight: 170 lbs

I have worn my boots for 3 years now and they are ready to retire. I am going to purchase another pair.
My current boots have been climbing on Yosemite granite, swimming in creeks, trecking over ice, snow, mud, even dry climates. The soles are in good condition but the tread is about gone. I worn the rubber toe protection almost off climbing, but the soles are still secure.
I hope my next pair are just a sturdy.
I agree with the statements about them not being breathable. But then again I have also done canyoning with countless miles in squishy wet boots and both feet and boots dried just fine.

Materials: leather
Use: rough trail w/ heavy pack
Break-in Period: none
Weight: 40+
Price Paid: $150

These boots are a moderate weight all leather boot with good breathability and waterproof Gore-tex inside.
The durability seems well and the toe is covered with a robber to prevent kicking and tearing into the leather when walking (as toes take a huge impact). The break-in period is relatively quick, I wore them for over 5 hours my first day wearing them with very little discomfort. There was no discomfort the second day.
Heel lock is good for heavy loads uphill or on descent to avoid black toes.
Good price when compared to other Vasque and even Asolo boots. When used for what they're designed, they are top notch boots.
Materials: Leather
Use: Hikes, Scrambles
Break-in Period: Less than a week
Price Paid: $140

Let me begin by saying these are very good boots – once they are broke in. I wore mine around town for a few days especially in the late afternoons when I have ran my three miles and my feet were nice wet and swollen. Then did the day hikes close to the house a couple of times, but when in was time they came through like champions.
Made the summit of Mt. Fuji in these boots no problems what so ever – no blisters ever, no problem with the toes nothing.
I have tried several other brands of boots and I will not give up these boots.

Materials: leather
Use: trail/ heavy pack
Break-in Period: 2-3 weeks
Weight: 220lbs
Price Paid: gift

My pair felt fine in the store, but gave me brutal heel blisters for the first several hikes. I tried every sort of insole or heel pad I could find to no avail. The heels of these things are just incredibly stiff!
I've never had a pair of boots that took so long to break in. I ended up just beating the heels with a hammer for a while & that seemed to do the trick. My last 3 day backpacking trip went over with no blisters at all....
Overall, they are really nice boots that just take a heck of a long time to break in.
Materials: gore-tex / nubuck
Use: backpacking & dayhikes
Break-in Period: > 2 months !
Weight: ?
Price Paid: $120

I purchased these boots as my first pair of higher priced boots. I initially was very impressed by them due to the fact that were very easy to break in and incredibly comfortable.
However, after not even a year of backpacking with them, the soles cracked near the balls of my feet. As soon as that happened the rest of the sole construction started falling apart. They then started to let water which sped up their demise.
While initially they were very comfortable I was extremely disappointed. From what I have seen this is a problem a lot of people were having.
Price Paid: $170

I broke these boots for two weeks in advance of an overnight, but difficult hike through virgin forest in the early fall. These boots were totally useless. I got blisters on both heels within the first two miles (which included an immediate 1200 foot elevation gain) and the outsoles were treacherous. Since I was hiking in a somewhat damp region, bits of leaves, dirt, and sticks got in the grooving and created a smooth surface on the bottom of the boot. From this point on, unless I cleaned out the soles, I slipped on the slightest wood, stone, or muddy trail.
Materials: Leather and Gore-Tex
Use: Rough trail in forest
Break-in Period: Two weeks
Weight: 3 lbs. 6 oz.
Price Paid: $110 on sale

The only thing positive I can say about these boots is there is no break-in period. I have had mine for just over a year. I am sad to report that they are already shot: the leather is decomposing (I think it is belly leather) to the point of holiness; the soles are peeling off in chunks; the rubber on the toes is separating from the leather.
These boots are nowhere near the quality of the Vasque boots I have had previously. I will no longer recommend Vasque to friends and associates. These boots should never leave the sidewalk.
Price Paid: $165

I had high expectations for these shoes. Bought them at an REI store. I started wearing them during the winter on light walks, trying to break them in. I tried to hike in them last weekend (a two mile hike) and my toes were killing me...extremely sore. I've given up on these boots and am hoping against hope that I can return them. I've never had problems with shoes or boots before, so I don't know what the problem is. I'm sort of wondering whether the positive reviews here are planted by Vasque.
Use: short dayhikes
Break-in Period: Still not broken in
Weight: don'tknow
Price Paid: Don't remember - bought them from rei

I really like these boots. Wore them right out of the box on a 17 mile day hike in the Blue Ridge Mountains in rain and dense fog; they worked flawlessly, including crossing streams and wet rocks; feet stayed dry with no blisters or hot spots; this was helped by wearing Thorlos winter backpacking sock; this was my second pair of these boots; had about 500 miles on them and the vibram sole broke all the across the ball of my foot on the left shoe; Great Outdoor Provision Company replaced them without question.
Materials: leather and Gore-tex
Use: long dayhikes
Break-in Period: none
Weight: 215
Price Paid: replacement

I bought this boot because I needed a heavy duty boot that would hold up to carrying a heavy pack for several days. I have a wide foot so I bought the men's instead of a women's. I love the way the width and the toe box area fits.
Unfortunately, I just can't get past the heel blister stage. I've tried different weight socks and a sock liner but still have problems. Anything further than 2.5 miles and I'm guaranteed a blister. Guess I'll have to try a different brand :(
Materials: gore-tex
Use: rough trail w/ heavy pack
Break-in Period: 3 weeks
Weight: ?
Price Paid: $165

I loved these boots. They took me quite awhile to break them in, but after that they were great with proper insoles.
Shortly after break in the soles started cracking across the ball of both boots starting from both outside edges. I had bought theses boots to have for long hikes and not have to break in a new pair yearly. I was wrong, these boot were a waste of time and money.
I will only buy a pair of boots that I can resole from now on.
Materials: leather
Use: hiking
Break-in Period: 100 miles plus
Weight: a lot
Price Paid: $180

Coming from the Asolo TPS 520 I didn't have high expectations. This boot was fairly cheap compared to other "all leather" boots and performs quite nicely with a 40lb pack on.
Positive points:
No break-in period
Toe guard
Good sole
Soft fit/feel
Poor points:
Leather is not full grain
Soft leather breaks down quicker
I applied some Nikwax to the boot, gave it a full grain leather look and feel. Helped prevent the leather from soaking and should increase the life of the boot.
Materials: Leather w/ GTX lining
Use: Hiking
Break-in Period: None
Price Paid: $170

Wow! I am so glad I bought these boots. Broke them in about 2 weeks walking on trails near my house. Couple weeks later I went on a 78 mile trek through the Rockies. They were almost flawless. Sturdy when walking on the rocks, great ankle support going uphill, and great with withstanding moisture.
Not many cons except it did take a lot of effort to break them in. Great product and do recommend them to any one who's serious about backpacking!
Materials: leather, gore-tex
Use: rough trails w/ heavy pack
Break-in Period: 2 weeks
Price Paid: $160

Surprised by the bad reviews. I broke these boots in for one week at work and went out on a five-day, four-night loop in the Porcupine Mountains. Two weeks later I did a three-day, two-night trip in the Trap Hills (UP of Mi). No blisters or discomfort at all. Boot sheds water like a magicians trick. I just inspected them and they are no worse for wear. I replaced the insoles with Superfeet due to the weight I was carrying.
Materials: Gore-tex
Use: rough trail w/ heavy pack
Break-in Period: one week
Price Paid: $120 on sale at REI

Bought these boots today after owning Red Wing boots for many years, and as soon as I put them on I was very impressed with the fit. I wear a size 13 wide in most boots and they fit perfectly, and no break-in period. They are a little overpriced, but comfort is worth it. I think I payed $130 for my last pair of Red Wing boots with steel toe. If you want really comfortable hiking boots you will love them.
Materials: leather and gore-tex
Use: Hiking and work
Break-in Period: No break-in period
Weight: average
Price Paid: $159

Short break-in period and took several months to be comfortable. However, they blister my feet when hiking over 15 miles a day (I could do 40 miles a day in my old Vasque boots]. Then I find after 1 year they have cracked across the flex point on the bottom of the sole and I only have about 500 miles on them.
Very disappointed based on past Vasque, but I could no longer get the model I wanted.
Price Paid: $135

The fit people are complaining about...some boots don't fit some people's feet. Some of the reviews here make me shake my head. I've worn these boots extensively over the past summer. Several trips to the bush. They are a bit hot, but I didn't mind them to much and it was 33C+ on a few of my trips.
Price Paid: $200

After sixty miles of trails either they're not broken or my feet aren't broken in.
Still get severe blisters on both heels in spite of two pairs of socks and moleskin. It's like lacing a cheese grater to my heels.
I'm not impressed with this boot. It is nowhere near the comfort of my now defunct Sundowners.
Price Paid: $165

Great boot, short break in time very comfortable. Their versatility is the best feature. Warm and waterproof, great to wear for hours. I have gone 3 days without taking them off.
This comfort is their downfall as well. They become slightly unstable when carrying over 60 lbs. But I only noticed it slightly. Overall a great boot.
Use: everything
Break-in Period: 3 days
Price Paid: $150

Pay no mind to reviews less than 4 stars. I've done over 1,000 miles in the past 2 years, by far the best boot I've owned. Most comfortable, ease of maintenance, and didn't break the bank. I now wear them to work, hike, even wear them to watch the ball games. I wear these things everywhere!!
Materials: Gore-tex
Use: EVERYTHING
Break-in Period: less than a day
Weight: 2-3 lbs
Price Paid: $80

I somehow don't get the reviews. I purchased these after trying on several other comparable boots. Put them through the incline tests at REI. Broke them in as best I could. Went on a 4 mile hike in them last week. Lots of ups and downs. Couldn't be more pleased; very comfortable overall.
I had these shoes for five years and they were amazing. I used them in my army duty and they went through a lot.
I bought them in Israel and it is pretty expensive there (250$) but it was worth it!
Highly recommended.
Price Paid: 250

Replaced 350$ Asolo (took my toenails off after 10Km ) with those. So far they have been in Australia (top of Uluru), Tasmania, New Zealand, Europe, Canada, USA.
5000Km + (walking) and so far score E X C E L E N T!!!!

Materials: gore-tex, vibram
Use: mixed
Break-in Period: None
Price Paid: ???

Easy to break in, comfortable, waterproof, good traction, nice leather upper, but the soles will catastrophically fail after 1 to 2 years. I have purchased 2 pairs in the last 3 years and the soles cracked and broke in the same place on both pair. It's a design and material flaw and Vasque knows about it. That is why there is only a 1-year limited warranty.
Price Paid: $169.99

Your Review
Where to Buy
Help support this site by making your next gear purchase through one of the links above. Click a link, buy what you need, and the seller will contribute a portion of the purchase price to support Trailspace's independent gear reviews.
You May Like
Specs
Men's
Price
Historic Range: $45.83-$184.99
Reviewers Paid: $80.00-$200.00

Women's
Price
Historic Range: $69.95-$184.99