Vasque Zephyr GTX

The Zephyr GTX has been discontinued. If you're looking for something new, check out the best backpacking boots for 2023.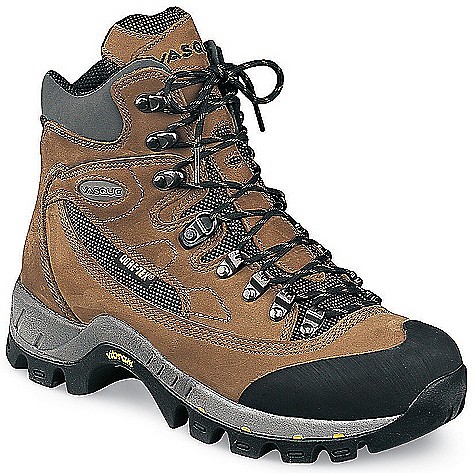 This is a very good light- to mid-weight backpacking boot. It served me well on a 3-day backpacking trip in the Sierras with a 25-30 lb. pack, 10 mile days with 3000 ft gains (no blisters!). It had just the right amount of sole and ankle support for hiking both on- and off-trail without feeling too heavy or stiff. The Vibram sole is very grippy and was good enough for scrambling up steep boulder fields.
I didn't put the waterproofing ability of the Gore-tex liner to test. The lining is somewhat breathable but not as much as, say, the Vasque Breeze (or other boots with mesh construction) but I'd trade that for the durability of leather.
Break in was minimal - I just wore it to work for two days to loosen it up. It is a low volume boot, so get the wide size unless your feet are narrow.
I have rated this boot 4.5 stars instead of 5 for the
following reasons (and the fact that I don't know how well it will hold up over time). The heel pocket of the boot isn't as snug as it could be, so it's necessary to lace up the heel well to prevent blisters. Thankfully the locking eyelets allow different lacing pressure on the forefoot and heel sections (a great feature) and help achieve this without cramping up your toe box. Also, the earlier comment about the lack of stiffness in the lugs is true - they do twist, but I didn't find this to be much of a problem.
Shoebuy.com has great prices on Vasque shoes, and you get 10% off for registering and I got another 15% off using a coupon code I found online.
Materials: Leather and nylon, goretex lining, vibram sole
Use: Light- to mid-weight backpacking
Break-in Period: short, maybe 10-15 miles
Weight: 3 lbs 4 oz (mfr spec)
Price Paid: $105

I bought this boot specifically to hike the John Muir Trail thinking that it was a "heavy backpacking boot." Instead of listening to a salesman and other reviews I should have read Vasque's description "A lightweight backpacker with a streamlined, lower-volume fit, the Zephyr's tri-density EVA midsole is designed to carry smaller loads on athletic, fast-paced overnights."
The fit was about right but tended to blister my middle three toes on both feet -- should have gone 1/2 size larger, but other reviews indicated the shoe was large. Arch support was solid at first, but about 15 days into a 19-day hike I began to experience arch-related pain and Morton's Nuroma in both feet that I attribute to increased flex in the mid-sole as the boot began to break down under 10-15 mile days on rough trail. Also, as the flex increased, the upper material creased and began to "bite" me on my left instep.
This makes it sound like a problem boot, but I used it for the wrong application. As a day or overnight hiking/backpacking boot I would not hesitate to take it on the hardest trails. It has a great lacing system that lets you tighten the upper and lower sections differently, the sole gripped very well (very dry conditions), and the uppers saved my ankles during several serious twists.
Materials: Leather with Gore-Tex interior
Use: 19-day/220 miles of mountains.
Break-in Period: Three weeks/60 miles
Weight: 175 with 30-40 pound pack
Price Paid: $160

Mine have been to 13K and above. Rocky and treacherous, wet and mud. I am small 5' 6" 145 lbs. Male. I hike fairly aggressively, passing people on the trail while toting about 35 to 40 lbs.

The only gripe is they are discontinued. The interior has weld up pretty good and they are still water proof after about 400 miles of strictly off road. The rocks ate the Vibram soles in about 2 years.
Pros
Vasque boots
Waterproof still
Comfortable
I wear a 9.5 USA and the Zepher fit perfect. Never got a blister or hot spot. I wear merlno wool socks all the time.
Break-in was in New Mexico climbing around Chaco Canyon. These have been comfortable from day one. Maybe because I am so small, there is less stress on the boots.
The support is good and I have never noticed a lack of lateral support. Again, I am small so probably don't put much force on the boots anyway.
These are super easy to put on and take off. The 3 speed lugs are great and I have never had a problem with them.
There is some concern about wet flat surfaces being slick and I can vouch for that. These are some slick boots on wet, flat logs and rocks.
I consider this an outstanding desert boot, mainly due to my bias of loving the desert. The do really well in loose, rocky terrain.
Would buy again if Vasque didn't pull the plug on these great boots.
Source: bought it new
Price Paid: $150

I have owned two pairs of this boot. THEY ROCK!!! They have unbelievable traction, and the ankle support is right on. Break-in time is an hour or two, and they have tons of support. I am 6'4" and am 225, I usually carry a 35-40 pound load, and these boots have ALWAYS served me well. I have NO sore feet even after 20+ mile days in them.
They are good down to about 25 degrees or so, and breathe well for a Gore-tex boot. I am a bit of a boot junkie, and despite their ho-hum looks, if I were to choose one pair of boots that do-everything, these would be them.
Materials: leather, cordura, gore-tex
Use: all
Break-in Period: nil
Weight: 3 pound or so
Price Paid: $125

I have used this boot on several overnight and two night trips with excellent results. They make a very good lightweight backpacking boot for on trail use. While they are not as sturdy as my heavy weight Merrells, they do the job on the vast majority of trips that I am able to put together. If you believe that one pound on the foot equals five on the back then you will appreciate these shoes.
They also do a great job for snowshoeing, giving enough stability and keeping my feet dry.
There was no problem wearing these out of the box, but they have gotten more comfortable with time.
Use: 2 and 3 day trips, day hikes.
Break-in Period: < 1 week
Weight: 3 lbs.
Price Paid: $150

This boot is for the big foot of the average joe, for me I had to step up the socks to get the right fit but these have been truly great. The Gore-tex on these are good and the tread has stuck with me. I walk all over for my job and going to school at night, and out to my parents' farm on the weekends to hike up and down the Tennessee hills where our cows and horses run. These are what I have been trying to find in a light boot.
Materials: Gore-tex and big toe bumper
Use: walking and hiking with light pack
Break-in Period: over 6 months now
Weight: 3 lbs
Price Paid: $160

I used this boot for a week-long trip in Yosemite. Up and down Half Dome, across El Cap. Thousands of vertical feet and averages 25 miles/day. They worked great. Good grip. Solid boot, and very waterproof. They get more confortable the longer you wear them. Definitely a good boot for the weekend warrior and can handle longer trips if necessary.
Materials: Gore-tex
Price Paid: $115

These boots are very comfortable and great for use on the trail. My boots pretty much went straight from the box to the Sierras with maybe an hour or two of break in, which it really didn't need.
Unfortuntely, the rubber on the sole is a bit soft and the space between the lugs is deep. Therefore, if you are carrying a load over uneven ground or climbling/rock-hopping you can feel the lugs squish and twist under your foot. There is also a bit more flex in the foot and less side-to-side ankle support than I would prefer.
So, I think that these are great for trail use but I would definitely think twice before using them off-trail or up a mountain (again).
Price Paid: $159 ?

Your Review
You May Like
Specs
Men's
Price
Historic Range: $50.00-$132.00
Reviewers Paid: $105.00-$160.00

Women's
Price
Historic Range: $114.95

Recently on Trailspace