VauDe Tour 50

The Tour 50 has been discontinued. If you're looking for something new, check out the best weekend packs for 2022.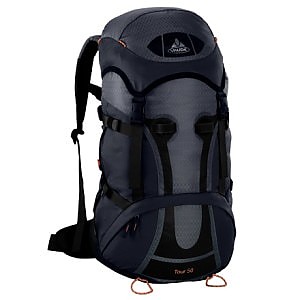 Specs
Price
Historic Range: $59.97
Reviewers Paid: $43.00

Reviews
3

reviews

5-star:

0

4-star:

2

3-star:

0

2-star:

1

1-star:

0
Hello,
I bought my first Vaude Tour (the 40l version) in NZ in 2005. Since then i used this model for a lot of hut-trails in Norway. Carrying around 8-10kg.
This pack has a few nice details I really like:
1) very good ventilation system... if u use it right (not like the guy writing about carrying an overload..) your back doesn't touch the pack at all. That's really nice, if you are a "sweatter" like me :)
2) the large side pockets as well as the separate(able) bottom pocket is a good thing to keep order in you equipment.
3) integrated rainsheet, very light weight, very stable
4) hip belts in the old model are superb... the new one (i got the 50l 2009 version as well) has a removable hip belt, which is sort of ... too small and wobby....
5) size adjustable, so you can fit the pack on your smaller girlfriend as well :)
yep.
with the 40l version i did a Pyrenee-crossing for 6 weeks, carrying tent, mat, sleeping bag, cooking equipment and so on. and the pack never let me down. not a zipper broke, not one damage in the hul.... all together it was just a little to small. so i bought the 50l version afterwards for trips that long.
So I can recommend this pack, for longer trips as well.
The newer version has a few little improvements, but they are not really worth mentioning here.
Design: rucksack
Size: 50l
Number of Pockets: 5
Max. Load Carried: 18kg
Height of Owner: 182cm
Price Paid: 100$NZ

This is an excellent pack for short hauls. The previous reviewer that took it on a six day back-country trip was just not using the pack as it is intended. The pack is very light-weight. I like its aluminum tube frame. It has excellent back ventilation which is very desirable in hot weather.
It has a wonderful hidden-away rain cover that saved my contents a couple of times. I traveled Asia with a larger multi-day backpack and this as a secondary day journey pack. The two complemented each other perfectly. Use this pack for the right purpose, and you should be very pleased with it!
Design: semi-internal
Size: 50 liters
Number of Pockets: 3
Max. Load Carried: 10k
Height of Owner: 175 cm

I bought this pack on a whim on steep and cheap, because of its cheap price, and low weight. Do not be fooled. I stupidly decided to test this pack out on a 6 day trip through the Canadian Rockies, and found many things to be wrong with it:
1. The pack advertises an adjustable frame, which can increase the space between the pack and your back for ventilation, and decrease it for technical stuff. While this is great in theory, in practice it was horrible. Under weight, the mechanism was too weak to hold the frame away from the pack, so it would always collapse into the back in "technical" mode. Unfortunately, this meant having a giant black piece of plastic jutting into your back. Comfortable. so on the 3d day, I broke of the mechanism, removed the frame, and used my Thermarest for a support system. much improved. Surprisingly, there is much more wrong with the pack.
2. the bottom sleeping bag access zipper, while a handy addition on most packs, is too short on this one, so while closed, constricts that part of the pack, making bottom items impossible to reach, and straining the zipper when the bag is stuffed. A problem because the zippers on this pack are VERY small.
3. the hood does not float, eliminating lots of potential carrying capacity of the pack.
4. the hip belts look like they should come off a 20l pack at most. they are approximately 3 inches long. As well, there are no hip stabilizer straps, making a good fit hard to achieve.
5. Actually, a good fit would be impossible to achieve. The frame is a simple hoop of wire that does a horrible job of conforming to anybody's body, despite being (or because?) a one-size-fits all pack.
6. after 6 days, there is already a hole in the bottom.
7. the hood pocket zipper is located near the shoulder strap size of the bag, meaning if the zipper is open, and the hood is lifted, all hood contents fall out.
The good:
nice hydration sleeve, nice large baffled side pockets, but hidden behind compression straps.
To be fair, I was carrying heavy loads and stuffing the pack quite full. Still, I can almost guarantee that you will waste your money on this pack.
Design: Top loading, internal frame.
Size: 50L
Number of Pockets: 3
Max. Load Carried: 45lbs
Height of Owner: 5'7
Price Paid: $43

You May Like
Recently on Trailspace