Vibram FiveFingers KSO Trek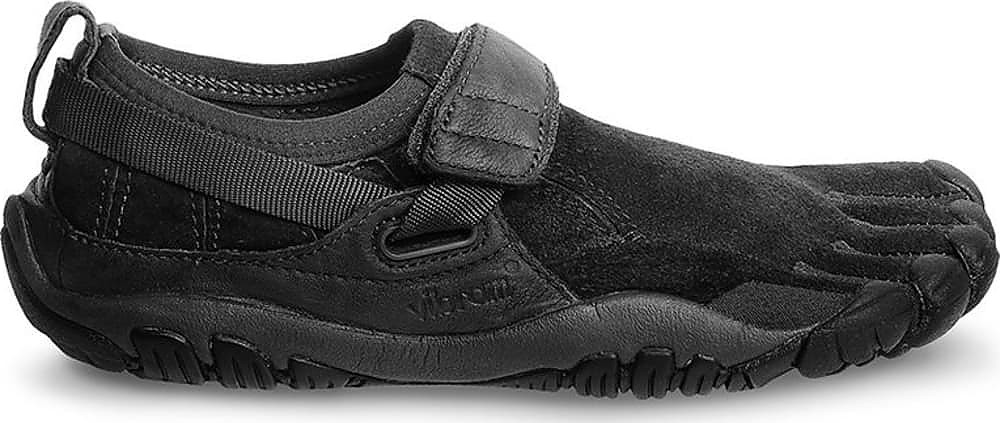 Having gotten on board the Vibram Five-Fingers train very much at the beginning, I have nearly two years' experience walking and running in Five-Fingers. And must say that they are unequivocally my favourite running shoes of all time.
It certainly took a little time to get used to (muscle ache in my calves like nobody's business at first) and it required changing my stride pattern, but this all benefited my running significantly: I have considerably less knee and back aches than previously, and haven't sprained an ankle since I began using them. Prior to this, I was spraining or twisting an ankle about once every six months.
The Vibram Five-Fingers provide super ground-feel, and excellent protection against sharp objects. They don't protect you entirely from bigger objects that can (painfully) bruise the bottoms of your feet, but this is a self-limiting and self-educating process - the more you run in them, the harder your feet get, and the more careful/aware you are of where you place your feet.
I run a combination of heel and toe landing, with forefoot running accounting for about 70% of the total. The heel running is reserved for long flats or soft ground - and is still a bit different from running in cushioned running shoes.
The KSO offers minimalist protection but also minimalist weight. They are exceptionally well made, and the newer models have resolved several of the issues that plagued initial models - among others the abrasion on the tops of the toes (from scuffing or scraping as well as from friction) and the smellyness issue.
All V5F can be machine washed, but I try not to do it too often. That being said, my 2nd pair of KSOs have now got something like 20 washings behind them, and they're holding up brilliantly. An occasional dose of Lysol or Sagrotan to keep bacteria to zero supports the shoe's naturally integrated anti-bacterial properties. It's worth drying them well (in indirect sun, even) after you run in them... this helps keep them fresh(er).
The KSOs have the added advantage that they're ideal for wet conditions - be it rain or in the water. The only caveat - when running in the rain/mud, take care on turns - they don't have any real traction, although they have plenty of grip on smooth wet surfaces. I wiped out once in a muddy patch, which didn't result in any serious injury, thankfully, but did a number on my clothes and my pride...
The KSO Trek is a wonderful shoe both for trekking/hiking and for casual wear. The kangaroo leather uppers are tough, thin and veeeeery comfortable. The ventilation-critical zones are made of a lycra-like fabric (like on the KSOs), which is comfortable in warm weather, but can get fresh in winter... I'd have wanted Vibram to make the interstices (between your toes) out of leather as well, to give them just that much more solidity/resistance.
The soles are considerably thicker than the KSO, but also have waaaay more traction - really good traction actually. For scrambling/approach climbing they are ideal. But also on regular trails, for hours at a time, they provide good protection (also from bruising, although not entirely) and excellent traction in nearly every possible condition.
I don't run in the leather ones (too expensive!) but my wife runs in her KSO Trek Sports, which are the same save for the uppers, which are mesh/fabric.
Getting the right fit is absolutely critical. I normally wear a 41-42 (that's 8-8 1/2 US size) shoe, but wear a 40 in the V5F. It's really important that you try them on and choose a close-fitting pair before you buy them! Otherwise you'll slide around and it will be uncomfortable, potentially even painful if a toe slips out of its little pocket and gets cramped on the next step...
They really should fit snugly (not bindingly tight, but snug) from (longest) toe to heel. The strap is uncritical, as you can shorten it, and I can't imagine any foot that would need to lengthen it!
Getting into a pair of V5F is a learning process - I've found that sliding my foot in half-way, then putting the shoe on the ground, and with a little pressure/weight on the foot, sliding it forward is the most effective way. You also learn to spread your toes a bit... Then a little wiggle, and pull up the heel (the shoes have a heel-loop, which is a great help!), slide back into the heel pocket (this is why it's important that they fit snugly!) and strap'em tight!
All in all, the price these shoes command is well worth what you get - quality, a great fit, and a wonderful feel. And they are a great conversation starter at bus-stops, on trains, in cafés, on the street... etc. etc.
These shoes get my five stars every time.
(PS: watch out for counterfeits - they are not nearly as supple and well made, and don't fit or feel nearly as good as the originals. Pay the difference, it's worth it.)
Price Paid: $85 / $145

I purchased the Vibram FiveFingers KSO Treks a couple of months ago. I have been wearing them everyday.
First off they are very comfortable. I would go farther to say they are the most comfortable shoes I have ever owned. To put this claim in context, I cannot sleep with socks on. I have been able to sleep wearing the KSO treks on several occasions. I don't make a habit of sleeping with shoes on but I have been so comfortable I just fell asleep. My daughter was surprised on camping trip I slept with them on. I didn't even notice.
Rock climbing. The KSO's grip rocks very well. I think they do a better job then my old sneakers and I am a little less concerned with sand on rocks but I still take my time. I think they grip pretty well.
Dirt and the KSO's. I have really got the shoes dirty digging my jeep out of the dirt. Wet and sandy and they looked pretty bad. I let them dry out and wiped them off and they are as good as new. I still have not run them through the washing machine because so far wiping them off has done the job.
KSO do get wet from time to time. This is when they fit different. The water drains out of them pretty fast and they dry quickly, but while they do dry out you can feel you feet sloshing around in them. I tighten the straps at that time to prevent slippage of the shoe. I did get the black KSO and they dry fast in the sun.
Hiking. I have been hiking through the desert with others and they all had to empty their shoes out because of sand and rocks. I didn't as the KSO's shoe didn't let the sand and rocks in. The way the shoe fits the rocks just run off back onto the ground. Minimal sand does get in but not enough to have to empty the shoes yet.
I have not tried socks with the KSO treks yet. There are toe socks available but I have not purchased them.
I only thing that has gone wrong with the shoes is the Vibram label on the inside of each shoe has detached. It doesn't matter to me if the label comes off on the inside of the shoe but it should be noted in a review.
Color. I did get the black KSO treks. These make my feet look like a gorilla feet. I have had people look at me strange. But you should expect that from any shoes with toes. :)
Toe flex. I have had problems with my toes on my left foot after an accident involving a 747 ladder. Using regular shoes my toes would start to hurt and I could feel it after hiking a mile or so. Wearing the KSO's my toes feel a lot better the pain has gone away. I don't think I will go back to regular shoes.
I want to get a pair for my wife and I expect I will be getting another pair for me when these wear out.
Materials: "Kangaroo Leather" "4mm EVA Midsole & TC-1 Rubber"
Break-in Period: 2 months "trail with heavy pack" "dayhikes" "daily wear"
Weight: 13.4 oz. a pair
Price Paid: $125

I love these shoes so much I now have four pair in two colors and wear them almost all the time I need to have a shoe on.
Pros
Love the Kangaroo leather, feels great!
Feet stay cooler
Color is neutral so I actually can and have worn these with regular clothes
Had one pair over a year now and holding up great!
Cons
Initially hard getting into until they loosen up a bit.
Velcro sometimes catches stuff.
Man these shoes have been awesome and feel like they are part of my foot. I have done a 17-mile hike in them as well as walking for four days all over San Francisco with not a problem. Seems like a lot of lower back pain I used to get and sore heals when walking with standard running shoes has been alleviated.
I also have run up to 4 miles continuously in these outside on both concrete and dirt trails, but you really need to take your time and adjust to a different running style. They also work great as an all around gym shoe and I find I can feel more movement in my foot on cross trainer machines as well as any exercise.
I love the way I can feel road texture and unevenness through the shoe which makes it easier to maneuver, especially on rocky terrain.
Seem my feet never really feel hot in these in the summer although they don't provide any cold weather protection. 
I am surprised to see how well these are holding up over the past year. Even the tread is not excessively worn but I did initially buy a brown pair and black pair that I switched off regularly.
My first two pairs were purchased around April 2011 and still going strong, although the leather color is more varied over time. I bought a second two pair in June 2012 and comparing the old to new, the old have actually become more comfortable and I slip in them easier then the new. I am glad I bought them a little snug which initially worried me but worked out great.
I was able to get these in Brown at REI where I made my initial purchase and the salesman was extremely knowledgeable and then bought my second pair at RoadRunner Sports online in black.
Source: bought it new
Price Paid: $100 plus tax

I purchased my Treks in the middle of January 2011. I bought the brown kangaroo leather Treks. My size is a 42. I started wearing them all the the time (well except at work - due to dress codes) just to break them in and see if my leg muscles would be effected (muscles never were sore or anything). I would come home after work and immediately change into the Treks. The more I wore them, the more I realized the high comfort level I had every time I was in them. 
Wearing the Treks around town and everywhere else, I would receive funny looks, double takes, and an occasional laugh. I also would be stopped by a lot of people asking me how those "toe shoes" were. That's when I would tell them about all the good qualities, comfort level, and the price that I paid ($54.95 - no tax and free shipping).
I have tried the Treks out on asphalt, dirt, sand, rivers, dry and wet rocks, and about every other possible terrain. I must say that they perform well in all areas that normal shoes would not perform in. They grip very well and have performed exceptionally beyond my original doubts.
I have not noticed any odors or foot problems, thus far. I do not wear toe socks with them and really do not have a desire to do so. I think that the Treks can perform better without the socks. They clean up and dry fast.
The only negatives that I would comment about my Treks is that the thread on my left Trek had unraveled on the edging, but still functions well. I believe that the price of the shoe for $125.00 is a bit on the high side and would be better suited at the $60.00 mark.
I would like to try out the other varieties as well, and my family is interested in purchasing a pair for themselves as well.
I absolutely love these Treks of mine, I would highly recommend everyone to purchase a pair for whatever the activity or in-activity.
Price Paid: $54.95

Let me start by saying, do not buy these until you have tried them on IN PERSON (if you're buying online). The sizing of these shoes is critical. I bought mine online and though they fit, I would have liked to try one size larger.
I followed the sizing chart as specified, and even talked to a sales rep who recommended I get a size 41. Well I went with the 42 just in case the 41 was too small and boy did I get lucky. They fit me just fine, though, I personally prefer a slightly looser fit.
The Vibram FiveFingers KSO Trek shoes are marvelous. I was never too fond of the toe socks or anything similar, but, after reading so many great reviews around the web, I had to give them a try. I don't do a lot of road running but, more of the trail running and casual wear, so I went with the Treks. After a week of break in time, they work it like a glove. You can actually feel the muscles (calves) get a workout.
I would not recommend these for craggy rock type rails as there is no ankle support. For trails consisting of mostly gravel, sand, or dirt, these are a great pair of shoes to have. Not to mention river crossing or simply, shoes for walking around the campsite. The moisture wicking is great.
Cushioning is about the only thing to nick the score on. I wish they made a custom insole specifically for the FiveFingers though, I can live just fine with what Vibram gave us. The 'over toe" support is slightly less than your average tennis shoe. For example, if someone were to step on your toes, it would only hurt a little more while wearing the FiveFingers.
All in all I gave these a 5/5 for great innovation, and all around comfort and versatility. They're getting harder and harder to find, so I'd suggest buying them if you find a pair.
Materials: Leather, rubber, synthetics.
Use: Smooth Trail, Single day, casual.
Break-in Period: One week
Weight: <1lb.
Price Paid: $125

Purchased 4 weeks ago and love them! I run about 30-35 miles per week on the road. I have transitioned into the Trek's over the 4 weeks. I now do all my recovery and easy runs in the Trek's. I am 6' tall and go 175-180#. I find that the Trek's stretch out my calf muscles and keeps them loose.
I'm not sure that I will use them for high speed or race days when I'm trying to get a best time, but there is no doubt that they make me run with better posture and form.
It is too cold and sloppy to use them on the trails yet, but I am looking forward to trying them on trails soon. I haven't tried it, but winter running where your feet might be immersed in cold water would seem like a bad idea.
I have to admit that I was lucky with respect to availability. I went to the Vibram web site and found a store within 5 miles of my home. They had my size and were selling them at normal retail price.
Lastly, I needed one size larger that the Vibram web site chart suggested. I was able to get in the suggested size, but could have never gotten a sock underneath.
Materials: leather uppers, 4 mm rubber soles
Use: 5 - 7 mile runs on roads
Break-in Period: I ran for 1 week on a tread mill to allow my legs to adjust
Weight: 6 oz each
Price Paid: $125

Favorite hiking shoes.
Pros
Light weight
Water resistant
Great for joints
I use these whenever I hike or backpack. After 1.5 years, my feet and hips have shifted and I don't walk with my toes pointed out.
I even use these when I go backpacking (a pound on the foot equals two in the pack). If you do wear these backpacking, keep you pack at less than 25lbs.
Source: bought it new
Price Paid: $125

Your Review
Where to Buy
Help support this site by making your next gear purchase through one of the links above. Click a link, buy what you need, and the seller will contribute a portion of the purchase price to support Trailspace's independent gear reviews.
You May Like
Specs
Men's
Price
MSRP: $125.00
Historic Range: $30.73-$125.00
Reviewers Paid: $54.95-$125.00

Materials
Kangaroo suede leather

Sizes
Men's 7.5-14

Weight
6.7 ounces per shoe (men's size 9)

Women's
Price
Historic Range: $0.01-$125.00

Recently on Trailspace