Vibram Women's FiveFingers KSO

#2 in women's Barefoot / Minimal Shoes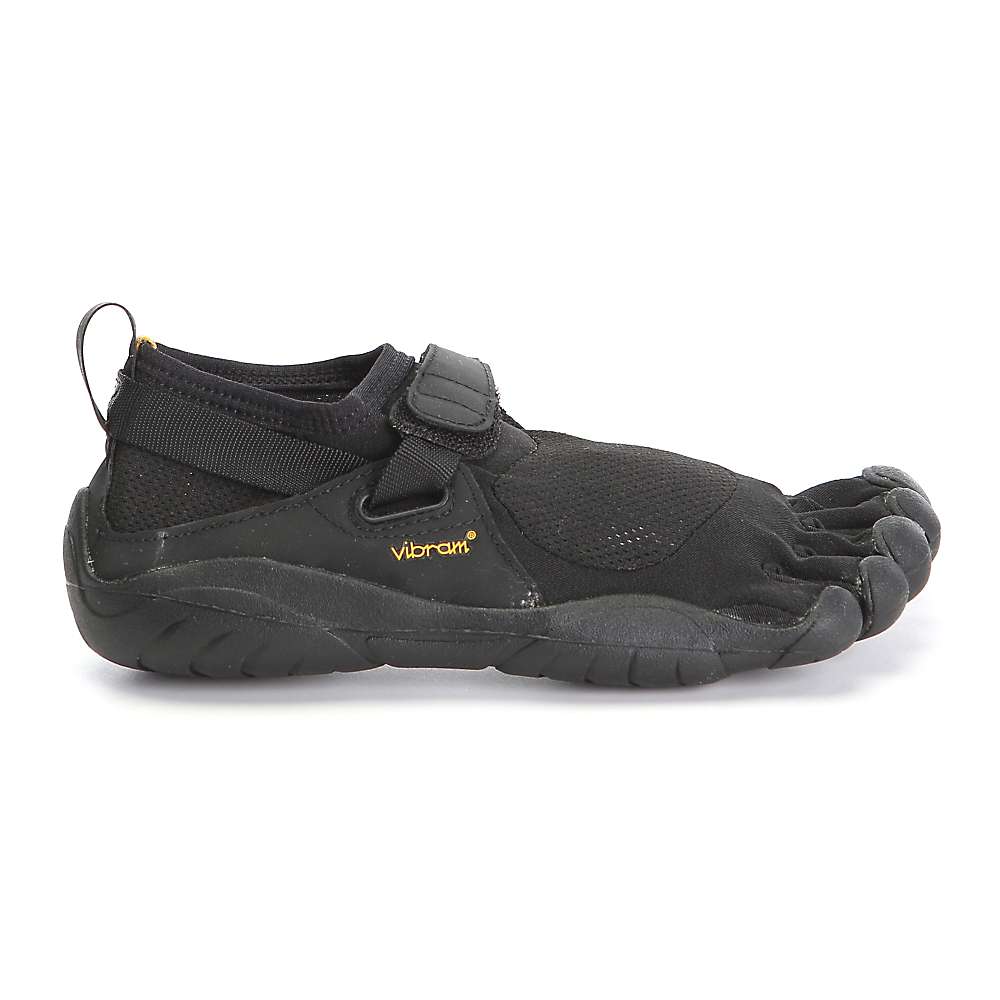 Specs
Price
Current Retail: $62.99-$84.95
Historic Range: $19.73-$90.00
Reviewers Paid: $54.00-$130.00

Reviews
5

reviews

5-star:

2

4-star:

2

3-star:

0

2-star:

1

1-star:

0
I have been wearing my Vibrams for four years. I can hike a mile upriver on a wooded trail then float down through class 1/2 rapids. They form to your feet making it safer to climb on rocks which can be slimey and slippery. You could jog or run in them, but it is painful on the feet when there are rocks, ie gravel roads.

Pros
Good grip on slippery rocks, rock clmbing, water walking
Cons
Hard to get toes into the slots quickly
Rocks can get caught between the toes
I bought this product four years ago and still wear them whenever I go kayaking or for a float down the river at our house, basically any water sport where you don't want your feet to touch the earth. They are great for climbing over rocks in the water or rock climbing.
The only drawback is they can be difficult to put on, getting each foot into a separate slot. They are waterproof in that they won't be ruined by the water but you will feel uncomfortable wearing them hiking immediately after getting wet.
I bought a cheaper pair, a Vibram knockoff, before this pair. I had to return because the seams became undone. The Vibrams with hard wear and tear in the river have not had a hole or split in four years.
Source: bought it new
Price Paid: $130

Love these shoes. These are about as bare as you can get. I wear these for jogging, yoga and the gym. Not meant for marathon running. Not resistant to rain.
Pros
Breathability
Lightweight
Stylish
Cons
Blister-prone
Heat from the soles
I prefer to not wear socks, ever. These shoes are very comfortable and fit snug, which I like. They are not meant for more than light running, yoga or at the gym. I also find them very comfortable the day after a night in my heels. I would recommend to break them in a couple of times for your toes to get used to the new space if you have never owned a pair before.
I am on my 3rd pair and I will definitely buy more. I wear mine almost everyday and have to buy new every 4-6 months. But I really do wear mine a lot, more than I've ever worn any other tennis shoe. They have bare traction which is why marathon runners should keep looking. I do not wear them for tennis either because the soles become very hot with side-to-side movement.
Bare support for ankles and not water resistant. But all-in-all if you prefer to be barefoot and need a great shoe for mild exercise I would hands down recommend this shoe.
Source: bought it used
Price Paid: $89-110

As a children how many of us did not need any shoes and were happy running around barefoot even if it meant to get some blisters here and there? Later on, when we had to put shoes on and go to school and then work and so on, things changed and it would be considered inappropriate to one day show up without any shoes on. I wonder how many of us feel happy with what they are wearing on day to day basis on their feet and how many of us is actually comfortable?
The Vibram soles is revolutionary innovation as far as comfortable shoes can be, which is based on the age old methodology that being barefoot helps your balance and will make you feel aware of the nature around and ground beneath your feet. Be it grass in the spring, mud in the autumn or rocks in any time of the year.
Thin, abrasion-resistant polyamide stretch fabric was design to feet any feet perfectly. Breathable material absorbs moister as well as antibacterial footbeds keeps skin on your feet healthy. Vibram FiveFingers will protect your feet with a resistant thin rubber soles and will allow you to experience barefoot freedom. That's why Vibram soles can be used for a wide range of walking situations
The running shoe first originated as leather upper with a leather sole, which not only could not keep moisture out but also did not provide a good support. Besides, toes design to be spread apart and by forcing those to be stuck together deformation of the feet develops, which of cause affect posture. Vibram soles have individual toes fittings, which keep toes apart and helps improve posture.
Vibram is the world leader in high performance rubber soles and compounds. Vibram shoes enter market only after approval from the tester team. The tests performed by the tester team guarantee that the soles of Vibram can be used for various surfaces and will keep your feet protected. That why Vibram soles can be used for Hiking, Climbing, Water rafting, Running, Fitness, Fishing, Travel, just name it, so by purchasing one pair you may cover many activities.
When you think of the range you can use these shoes for, you can't help it as too think about the financial aspects of it as well. To purchase a good quality shoes that will last you for more than a season you will probably spend around $100 to $200. And if you involved in more than one outdoor activity, you will probably need more that one pair of shoes. The cost will add to at least $300, although it will range depend on the brand and your criteria.
However, the cost of Vibram soles is range from $75.00 to $99.00 per pair, so you might be savings significant amount of money. But that is not the only benefit you are getting. What can be more important than comfort of your feet plus pediatric support?
The Vibram Soles FiveFingers is uniquely enjoyable products I have the pleasure to use. Every so often innovating product will come up on the advertising and it feels like we are fooled in to thinking that this is the best one and I got to try it. Well, the interesting part about Vibram is; they do not need commercial advertising, how often do you see them on TV or any other commercial advertising? Word is spread by actual users. That is how good this product is. The Vibram Soles is the first shoe that makes me feel comfortable and helps me to perform much better than I use to in my daily activities.
I would recommend these shoes to every person who value comfort and performance.

Price Paid: $99

These are great! I decided to try them for running after having an injury (IT band syndrome from too much hiking and running too soon last summer), reading a lot about how running barefoot rather than in big padded shoes is the ideal way to run, and experimenting successfully with barefoot running on an indoor track.
These shoes allow the feet to function pretty much as they would if bare while providing protection from sharp objects on the ground. The mesh/nylon upper keeps sand, twigs and gravel from getting in and causing irritation.
No socks required, although there is the option of using toe socks if you want to add a little extra warmth. I have worn the shoes with and without Injinji toe socks and both ways work just fine.
I have not gotten any blisters from the shoes; so far I am up to 30-45 minute runs in them. Which brings me to a very important point: it is critical to build up slowly to running in these if you are used to regular running shoes.
When you run barefoot or in shoes like this, your foot works differently and there are a lot of muscles and tendons that are working more than they do in regular shoes. Working up gradually allows them to adapt and get used to working as they were designed to do (they have gotten lazy if you have been wearing shoes all the time).
As mentioned, I have been using these for running on trails, roads and on grass in parks. I feel that my form is better and I definitely feel more surefooted and agile. Hopping from rock to rock across streams and balancing on fallen trees/logs is great fun in these shoes.
I may very well try doing some of my hikes in them this year, and will likely bring them along as camp/river crossing shoes on backpacking trips as they are light, comfy and have excellent traction. Plus, they (unlike the Crocs knockoffs I have carried for camp/river shoes in the past) could be used to hike in if there is some problem with the boots.
Vibram claims these shoes can go in the washing machine (but not the dryer). I have not yet tested this as I have just washed them out by hand when they get dirty. One thing to be aware of is that they can get smelly after a while. Soaking for a few hours to overnight in a vinegar/water solution (about 1:3 vinegar to water) and then rinsing well seems to take care of this.
Make sure you look carefully at the sizing chart if you are ordering online; the fit is quite precise. Also be aware that a couple of the models differ from each other in sizing.
Materials: thin Vibram rubber sole, mesh upper
Use: trail and some road running

Rub blisters and HOT toes.
Pros
Fabulous ground feel
Unique idea
Cons
Hot, uncomfortable toes
Stiff toe pockets
Blister makers
Not as comfortable as Stems (now Leming Footwear). I'm getting blisters, blisters, blisters from the women's KSO Fivefingers. I have blisters on both heels, and even my toes seem to be getting blisters, and I haven't even tried running in them yet, just been walking around. 
They're also surprisingly hot — I live in Texas, and these shoes absolutely bake your toes! My Stems have a super-wide toe box in which I can freely wiggle my toes. The Vibrams actually kind of have stiff toes. The ground feel is better in Vibrams, but I'm not sure this makes up for the bound up, sweaty, hot toes. Stems (Lemings) have a pretty good ground feel. 
I'll probably go ahead and keep one pair of Vibrams just for novelty and they might be fun to hike in (in the winter) because of the awsome ground feel — that is, if I can stand all the blisters.
Source: bought it new
Price Paid: $54


All FiveFingers KSO versions
In addition to the 5 women's reviews above, there are 13 reviews for other versions of the FiveFingers KSO. Read all reviews »
You May Like
Recently on Trailspace