Vibram FiveFingers Spyridon LS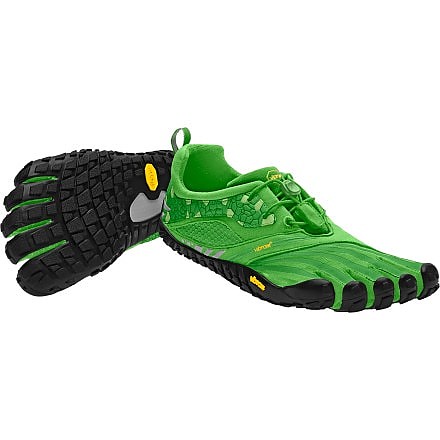 Vibram's Spyridon LS is a FiveFingers shoe intended for trail running. Design features that make these better for trails are a collar that helps keep stones out, a quick pull lacing system, a leather piece across the top that provides some lateral stability, and mesh built into the sole to blunt the impact of rocks underfoot. (note - the Spyridon MR effectively replaced these a few years ago - similar design, probably has some changes/upgrades).

I view these as a day hiker best suited for less rugged trails and lighter loads, but I have found them very comfortable. This review is of my second pair; I wore the soles flat on my first pair.

Best For: Forest, dirt, and modestly rocky trails

Pros
Very lightweight
Flexible sole/ground feel
Grippy treads
Lateral stability
Lacing system
Durable uppers
Cons
Limited foot protection
Can take time to for feet/legs to get used to them
Soles wear relatively quickly
Unconventional socks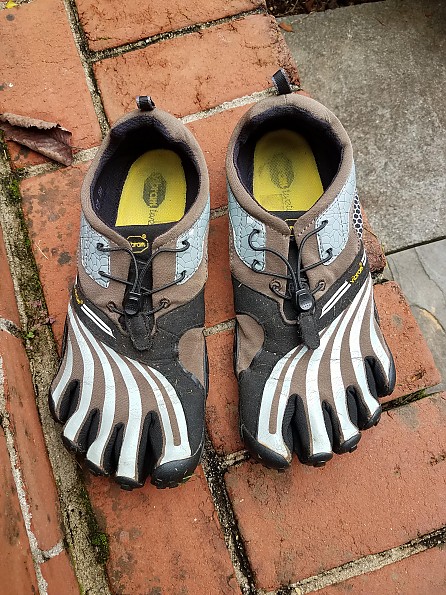 A Brief Intro to Fivefingers
Because you may not be familiar with this type of shoe, it's worth a few minutes to talk about minimalist footwear generally and whether this type of shoe is going to fulfill your needs. The Vibram Fivefinger is made on the premise that it's better for a person to walk barefoot than with their feet encased in a thicker shoe with a more robust sole. These shoes certainly fit that model. There is virtually no padding between the sole and your feet, and the upper is basically stretchy material with a few bands of leather to provide some structure.
Walking, hiking, or running in a minimalist shoe like this is a fundamentally different experience from using a typical trail shoe or boot. The absence of any midsole or padded heel strongly discourages walking with a heavy heel strike. You simply have to walk a little differently in these shoes than conventional shoes, with a lighter step, a little more weighted toward the mid or forefoot.
As a result, many parts of your legs—knees, ankles, shins, calves, tendons in some spots, inner thigh—all operate in a somewhat different way than you may be accustomed to. I tried to view wearing them as a form of cross-training when I first started using them. I can't ultimately say that I have noticed much of a difference in how I walk or how my legs feel in the long run.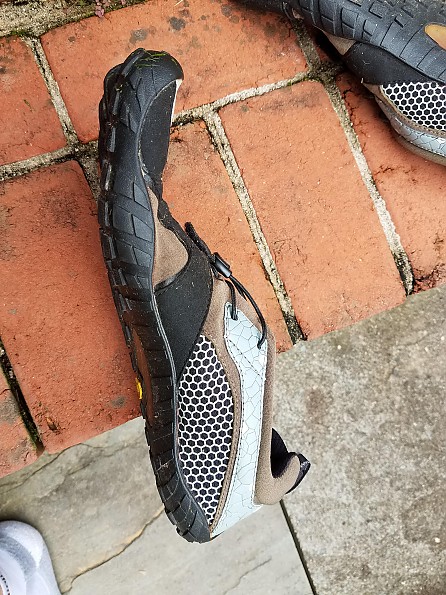 Vibram recommends that you start using these shoes gradually, so your feet and legs get accustomed to these differences, and this is essential and critically important advice…not only for Fivefingers, but any minimal type shoe. Increasing your mileage too quickly can lead to very sore feet, joints, legs, and could even lead to some very painful conditions like plantar fasciitis and tendinitis. Assuming you do this and get used to them, though, they offer a pretty unique and comfortable alternative.
As a person with very flat feet AND more than a little wear and tear, I find these are best as an alternate, not as an everyday shoe. That is how I used my first pair of Fivefingers, and I felt they strengthened my arches some and helped me limit some biomechanical issues I sometimes have—tendinitis in particular.
After that, I wore my first pair of Spyridons more frequently because I was pretty excited about having a "trail friendly" Fivefinger shoe, and I developed some tendinitis in my left ankle. Once I let that heal, I backed off a bit, and I have been fine, but I consistently alternate these with other shoes after learning the hard way. I have to believe that people with more "normal" feet who are younger might not experience that issue.
Fit
Fivefingers uses European sizing, and the fit is sufficiently unusual that you really should try them on. Putting them on takes a little bit of care to ensure that your toes find their way into the corresponding toe on the shoe. Basically, you have to wiggle your toes and slide the shoe on gradually.
Socks help quite a bit. Injinji makes a variety of five-toed socks that are a great match for these shoes, ranging from low profile running socks to reasonably warm wool blend socks. I won't wear these shoes without toe socks.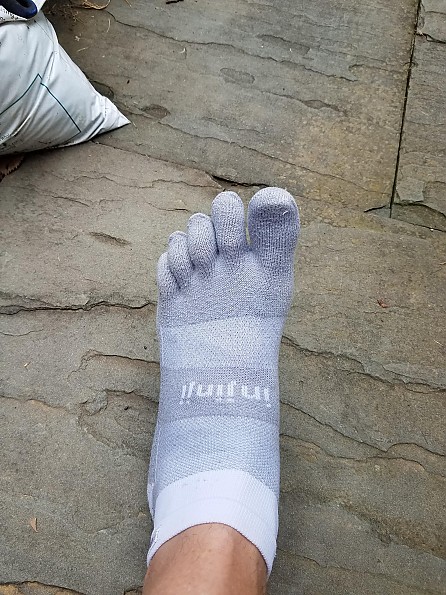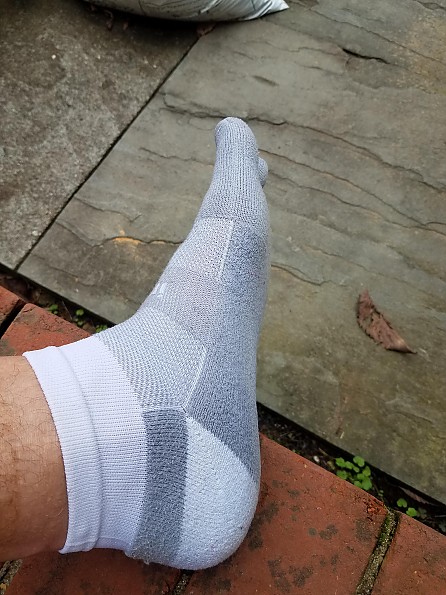 The Spyridon LS (or MR, which I believe has replaced the LS) is, compared to some other Fivefinger shoes, fairly close-fitting, almost to the point that you might want to consider going up one size. My feet measure 11.5 on the U.S. scale, D/E width, and I wear a 45 in the Spyridon vs. a 44 in another pair of Fivefingers I used for quite a while.
Once these are on, the fit is nice and snug. There is a synthetic leather piece across the top that gives you added stability and a closer fit, and the laces (they pull tight easily, then the pull has hook/loop to attach to the shoe so it doesn't wave around) add to that.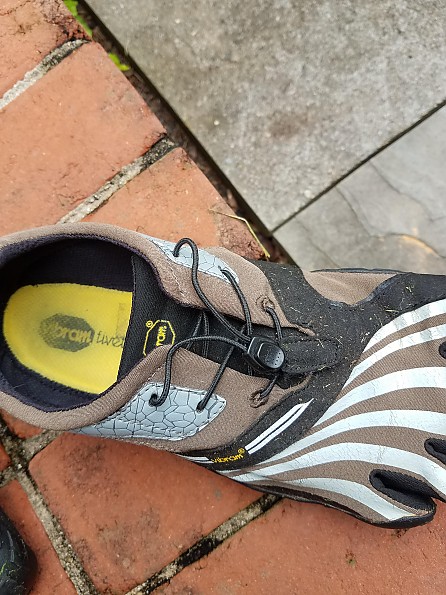 Getting Used to Them
Start gradually and figure out what you can handle. When I first started hiking and doing field sprints in Fivefingers, I lightened the load in my packs and alternated these shoes with conventional shoes for the first 2-4 weeks. Even with that gradual kind of use, my feet, calves, inner thigh, and inner ankles were sore for a while when I started wearing them.
I have very flat feet and always wear custom orthotics in my shoes and boots, so I may have needed a longer adjustment period than some people. By the time I started wearing these, I had put a fair bit of mileage on another pair of Fivefingers, so I didn't do anything special to get used to these. I also started taking these more onto rocky trails because the shoes are supposed to be suited for that.
What It's Like to Hike in Them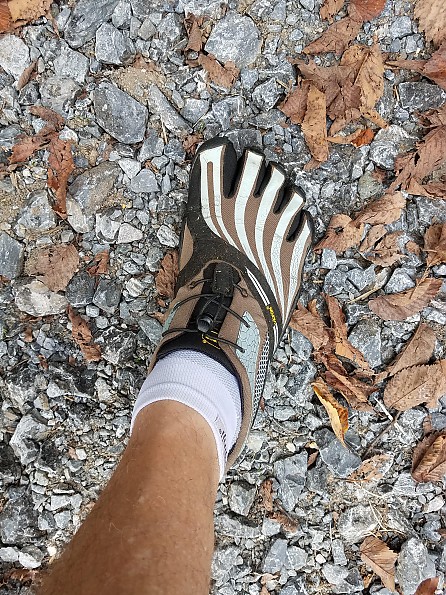 If you like walking barefoot and have wondered what it would be like to hike barefoot, this is your shoe. (Note, these are a couple of years old. I have read that Vibram introduced other trail-friendly models more recently). You can feel the ground under your feet in these, unlike any trail shoe or hiking boot I have worn, and it's pretty great if that works for you. Your feet naturally act like springs, and these shoes definitely allow that to happen.
With a heavy backpack on, I found that my flat feet tended to roll inward a little, and that created some soreness on the insides of my ankles; I don't use these hiking with serious weight any more. Interestingly, I think your feet are slightly less like to 'roll over' into an ankle sprain in Fivefingers. I don't know why; it could be that feeling the ground better means that you are less likely to take the kind of misstep that turns into an ankle rollover.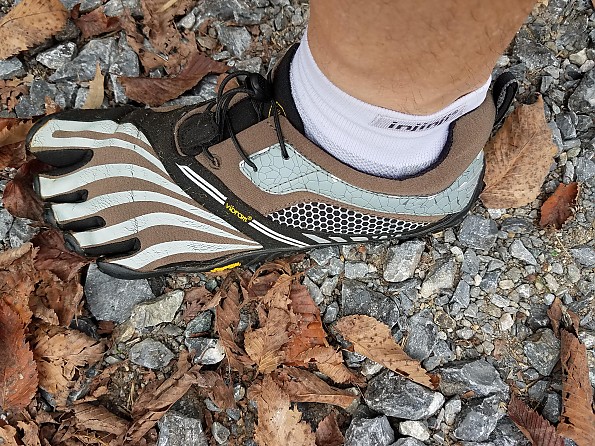 An advantage of the Spyridon's close fit is that your feet don't shift around much, if at all, either forward/aft or laterally. Also, as discussed below, the soles have great treads for a minimal shoe.
Foot Protection
It should be pretty obvious that these shoes are not going to protect the soles of your feet as well as a trail shoe or hiking boot. That's what you get with a thin, flexible sole and effectively no midsole. If you hike on an abundance of pointy, jagged rocks, you might want to reserve these for wearing after the hike. This shoe does have a feature that absorbs and spreads some of the impact of stepping on a rock, in the form of a nylon mesh insert that is between the sole and the very thin insole. Its goal is to spread the impact of a rock strike across a wider area and give the soles of your feet a little more protection.
It's fair to say that "a little more protection" is accurate. I think these provide more protection than Fivefingers that don't have the mesh, but you are still going to feel and potentially get a bit of a sore spot or bruise by a firm step onto a pointy rock. I am reasonably careful with these shoes, avoiding the most jagged trails in them. I also don't hike in these with a heavy pack on that might lead to some heavier footfalls. With those provisos, I am well into my second pair of Spyridons, have probably walked close to 400 miles in them between the two pair, and I have not bruised my feet walking or hiking in them.
Another type of foot protection is interior. With my first pair of Fivefingers, I developed a few blisters when I first started wearing them. I have always worn the Spyridons with toe socks, and I have not blistered in them at all. (my feet were used to these kinds of shoes by then). Get some toe socks, they add tremendously to your comfort and eliminated blistering for me.
Finally, all Fivefingers I have seen extend the sole to the front of each toe. That helps somewhat if you stub your toe on a rock or trip over a root, though it's not nearly as protective as a conventional shoe. I had one good toe-stub in these, and I was surprised it didn't hurt more.
Sole Traction
The tread and rubber on these shoes is made for trails, they are a real plus. For a sole that is very low profile, the rectangular tread does very well on smooth rocks, gravel, dirt, etc. Thick/slick mud, the treads aren't so great—but remember, you can dig your toes in, so you should be OK. (On wet trails, expect that your feet will get wet. These aren't remotely waterproof, including the fabric between each toe).
I don't know for sure, but I think that the rubber Vibram uses in these is "stickier" than most other Fivefinger shoes. That comes at a cost; these soles have consistently worn more quickly than the other Fivefingers I used.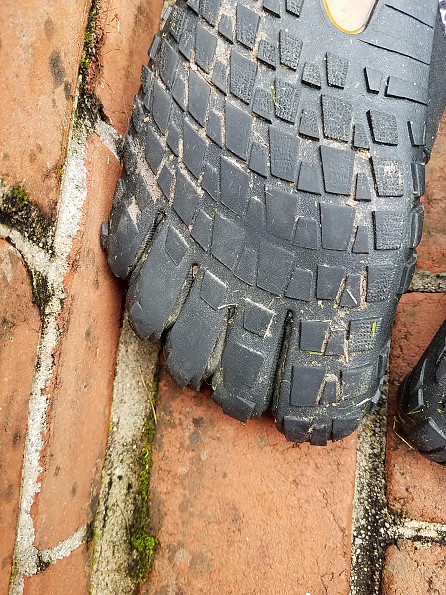 Note the treads at the ball of the foot are well-worn, and the treads on a few of the toes are worn flat.
Durability
Setting aside the soles, the uppers and lacing are very durable. This is my second pair of these shoes, and neither the stretchy parts nor the synthetic leather pieces have failed in any respect. No delaminations, tears, and so on. The only wear appears on the soles and on the weird pattern on the tops, which have developed some cracks in places.
As a Water Shoe or Camp Shoe
Great traction on wet rocks, not so quick to dry….but that's wearing them with socks. As some other water sandals have gotten lighter-weight, I have trended away from these for crossing streams. Sandals dry so much more quickly than these. It's worth noting that some Fivefingers have nylon mesh uppers, and those dry more quickly than the Spyridons. After hiking these are super lightweight, so easy to carry for wearing while you cook dinner, and they are a nice change of pace from a pair of boots.
Winter
Ok, stop laughing. I live in the Washington, D.C., metro area, where we get little or no snow 80% of the winter. I would not wear these in snow. I have worn them quite a bit on winter day hikes with no snow on the ground, pairing them with wool toe socks. If you keep moving, your feet and toes can and will stay warm, using wool toe socks, with temperatures in the 50s, 40s and maybe high 30s. (without socks, expect your feet to start feeling the cold in the 50s, and expect 40s to be pretty uncomfortable).
If you might stop for any meaningful period of time, and it's cold, bring something warmer. I wore these with wool socks to a soccer game, sitting in bleachers on a stadium blanket (to keep the metal bench from transmitting cold) with temperatures in the high 30s and was not a happy camper. The cold went right into my stationary feet and toes. 
Smelly? Nope.
My other pair of Fivefingers had a tendency to smell bad—like sweat socks. No matter—you can throw these in a clothes washer and hang them up to dry, and that takes care of it. I wore that first pair barefoot a lot. Wearing these with socks, I have had zero issues with odor. These are also machine-washable. 
Testing Grounds
I put some miles on these shoes, I'm estimating close to 400 miles between the pair I wore out and this pair, which has some significant wear on parts of the sole. I have used them on day hikes and training walks on trails, dirt paths, forest trails, and pavement. 
Takeaways
Minimal shoes are an acquired taste and not for everyone, and this is a pretty expensive shoe considering how quickly the soles wear. Also, as an aside, this is such an ugly shoe; I think later models were better, and I think the Spyridon model may have been supplanted by their Trail models.
I like these as a shoe for easier/softer trails and as an alternative to thicker, heavier boots. If you plan to wear minimal shoes on any kind of rocky trail, I recommend looking at these or an equivalent Fivefinger that is built for trails.
Source: bought it new
Price Paid: $79 on sale

Your Review
Where to Buy
Help support this site by making your next gear purchase through one of the links above. Click a link, buy what you need, and the seller will contribute a portion of the purchase price to support Trailspace's independent gear reviews.
You May Like
Specs
Men's
Price
Historic Range: $54.83-$120.00
Reviewers Paid: $79.00

Women's
Price
Historic Range: $29.99-$120.00

Recently on Trailspace