Voormi River Run Hoodie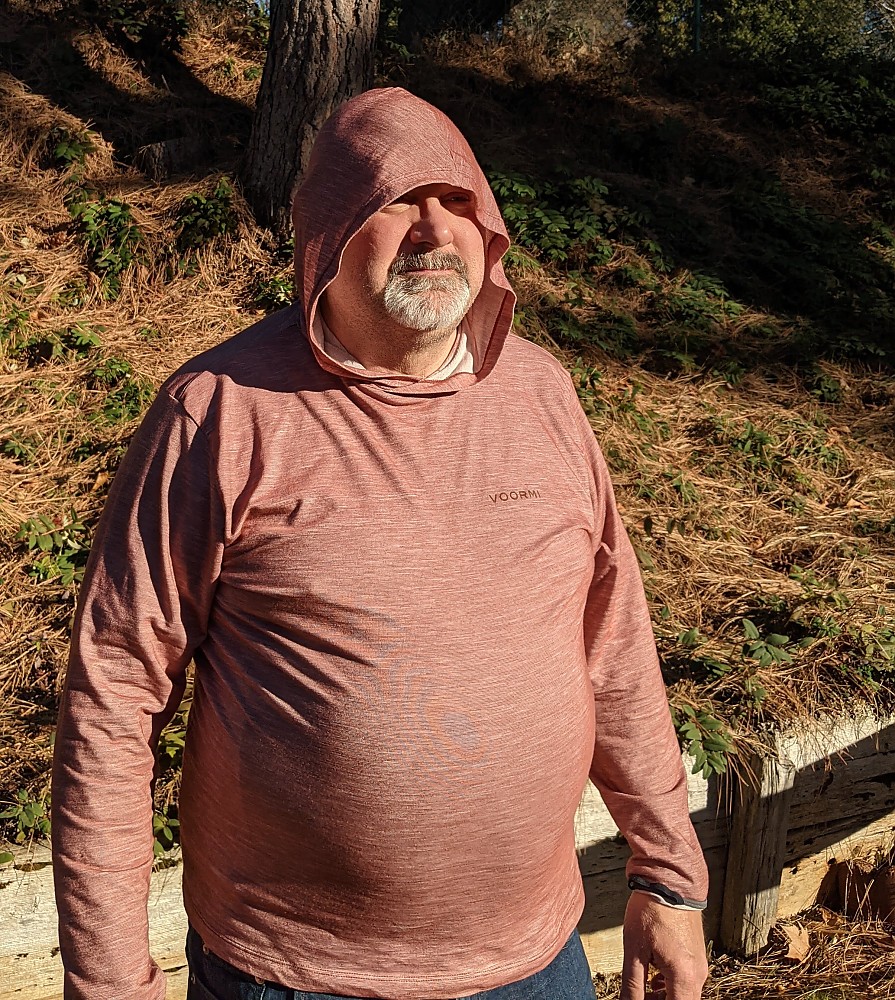 Who needs another baselayer or hoodie? Apparently I do. After three months of use the Voormi River Run Hoodie has become a standout in my baselayer collection. It's a versatile, lightweight, wool-polyester top that is comfortable, well-constructed, good-looking, and odor-free. While it's a minimalist design, it performs in a wide range of temps and terrain—from summer hiking to fall camping, and I'm planning to keep it in rotation for winter runs and skis.
Pros
Lightweight
Comfortable
Well-constructed
Good looking
No stink
UPF 30
Made in America
Cons
Cost
Some might not like the large hood or button, I do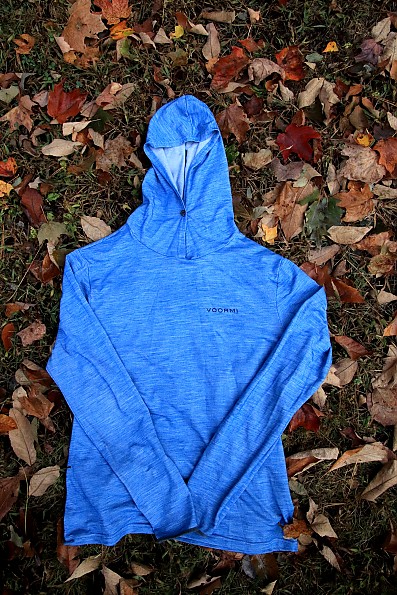 I have a lot of base layers and tops in wool, polyester, and blends. So I wasn't sure I'd have enough use to test out the Voormi River Run Hoodie. I was wrong. After wearing this lightweight merino-poly top for nearly three months I am a fan...an avid, non-stinky fan...of this comfy outdoor hoodie.
The River Run Hoodie is designed for spring and summer outdoor adventures, such as fishing, hiking, camping, and climbing. However, I keep finding more uses for mine in fall and as winter approaches here in northern New England. With the right layers and use this hoodie can be versatile year-round, and I'm planning to keep mine in rotation for winter runs, nordic skiing, and uphill skinning in Maine.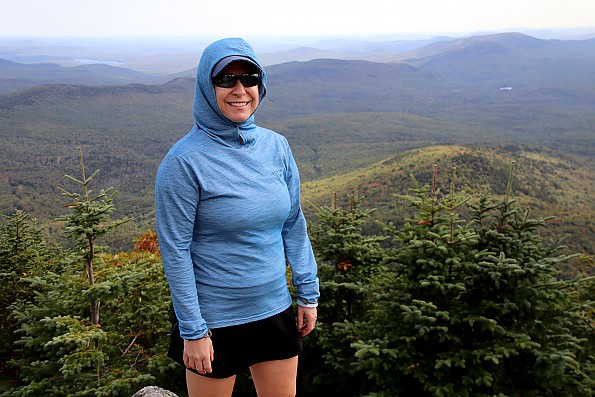 Construction
The River Run Hoodie is a lightweight top designed for spring and summer. It has a fabric weight of 100 g/m and is made from Voormi's "UAL SURFACE UL Precision Blended Wool," which combines wool (52%) and polyester (48%). Basically, it has a thin inner layer of polyester next to your skin that helps pull moisture away from your body to the outer-facing wool surface, where it's dispersed by wind or temperature to help you stay dry. Good for summer or anytime.
With its light weight and a UPF 30 rating, you can use it as a sun hoody while hiking, paddling, fishing, or climbing under the summer sun. However, you needn't limit your use of this baselayer to summer (see Performance below).
All Voormi pieces are made in the U.S. in either Pagosa Springs, Colorado, or Bozeman, Montana. The company sources its wool from Colorado, Montana, New Zealand, and Europe. 
Material: wool (52%) / polyester (48%)
UPF 30
Made in America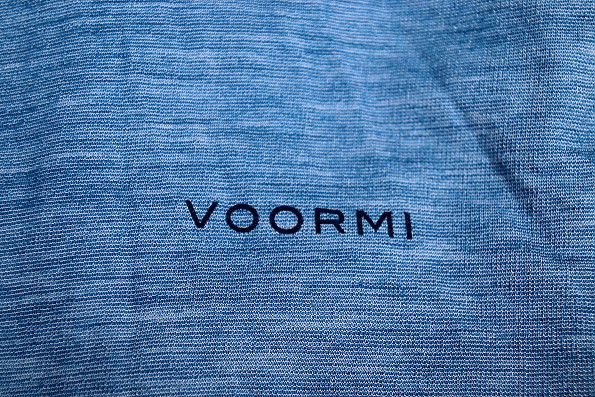 Fit
The River Run Hoodie hits the right spot for me between fitted for performance and loose enough not to hinder. It comes in women's (XS-XL) and men's (S-XXL) sizing, though the fit differs between genders. The women's hoodie I'm testing is a more form-fitting women's specific "Athletic Fit," while the men's is a "Relaxed Fit."

Despite being more fitted than the men's, my women's medium isn't tight or snug. It still has a slightly relaxed fit. I can easily layer it over another baselayer or two, which is good since this top works well for layering in a range of temps.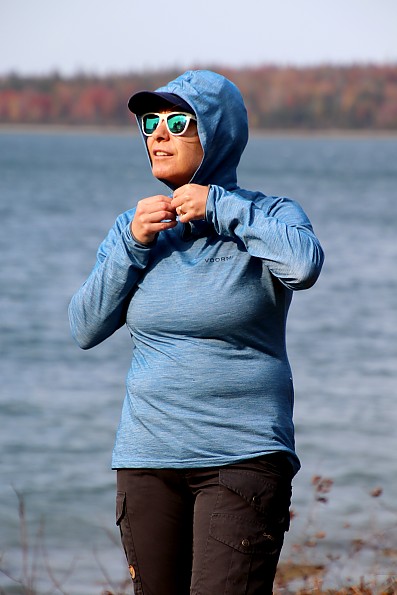 It has a "Relaxed Full Cover Hood," which seemed baggy at first glance, but I quickly found it fits well over a beanie or trucker hat when needed, while draping nicely when not in use. I never notice the hood when it's down and it doesn't flop around.
There's a button at the throat to cinch if you're using the hood, or if you need to keep out the flies. I think the button adds some unique style instead of being yet another quarter zip. I am keeping an eye on it to see if the button comes loose over time, but so far it is holding strong, and if I did lose a button, that's an easy repair.
Since Voormi intends this hoodie for a range of outdoor activities, I also tried it on with a climbing helmet and a ski helmet. The hood fit easily over both helmets, though it would be snug where you close the button. The thin hood would easily fit under a helmet.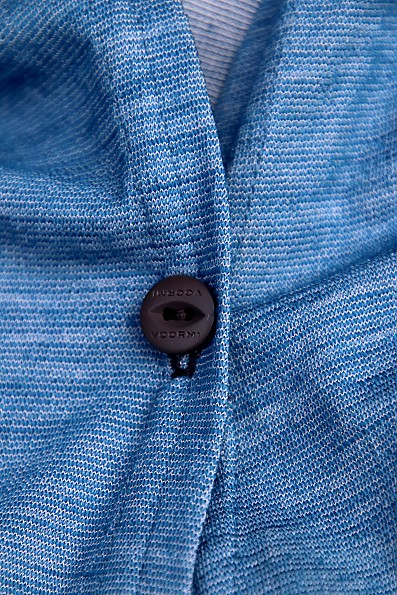 Performance and Comfort
Wool is an excellent natural temperature regulator and polyester draws moisture away from the skin. Together this hoodie keeps you dry, warm, and comfortable in a wide range of temperatures. It also dries quickly if it gets wet from water or sweat.
I can put this hoodie on at the summit of a summer hike when the wind picks up and temps drop, and then descend without needing to yank it off right away as soon as I start heating up. I've kept it on for several hours of hiking or walking at a time, even as temps and my exertion changed.
It has integrated thumb loops, which I appreciate in cooler temps. Since they're a small, stretchy elastic you can ignore them if you don't use them.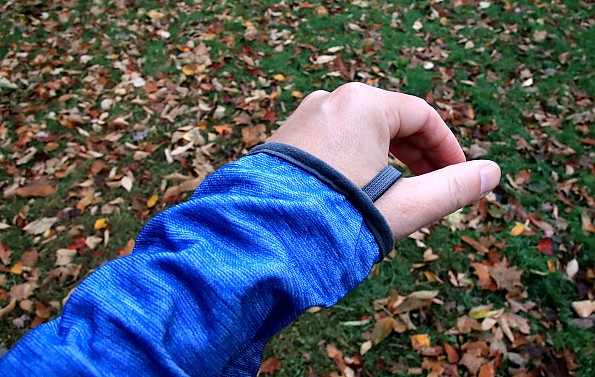 Overall this hoodie is breathable. It's warm for its weight. It's moisture-regulating. It keeps you dry. I've found the River Run Hoodie to be far more versatile than its spring/summer designation suggests.
Durability and Care
This is a lightweight wool-polyester top, so keep that in mind and take some care. That said, I have worn mine hiking, camping, and working from home for nearly three months with no signs of pilling or pulling.
While I would not go berry-picking in the brambles or bushwhacking in it, it has held up surprisingly well to my frequent trail and outdoor usage.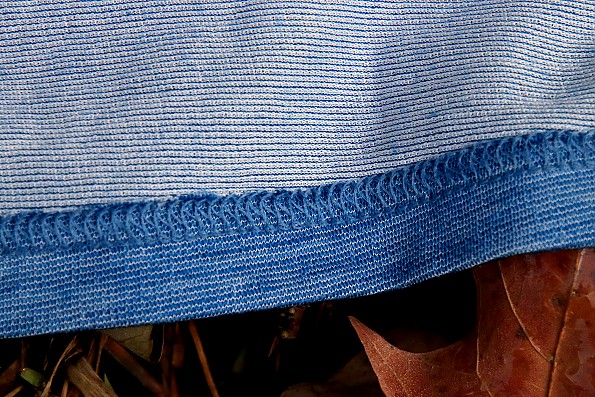 Even though it's not 100 percent wool, you can wear this hoodie many times without washing it. I have only washed my top three times. The first time I did it without thinking (cold, delicate, hang dry) not because it needed it. The second time because I had to help jack up a car and didn't want car dirt to permanently stain it.
Then I decided to not wash it for several weeks. I only washed it again once it was dirty after several days of camping and hiking. It still didn't smell. 
Despite containing wool, which can hang onto moisture, this top dries quickly, especially outdoors with some wind. Its light weight and polyester work to keep you dry if you get wet from water or sweat, maybe not quite as fast as a comparable 100% synthetic top, but close enough that I don't notice.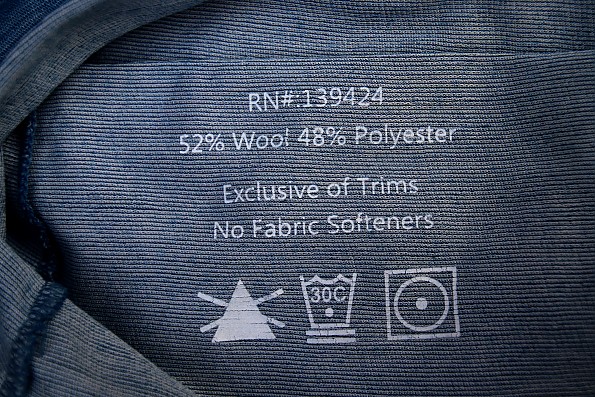 When I use my hoodie for more aerobic (i.e. sweaty) uses, such as cold-weather running, Nordic skiing, or skinning uphill, I suspect I'll wash it more regularly. But at this point I've never noticed a whiff of stink, and none of my loved ones have mentioned any either (and they would say something).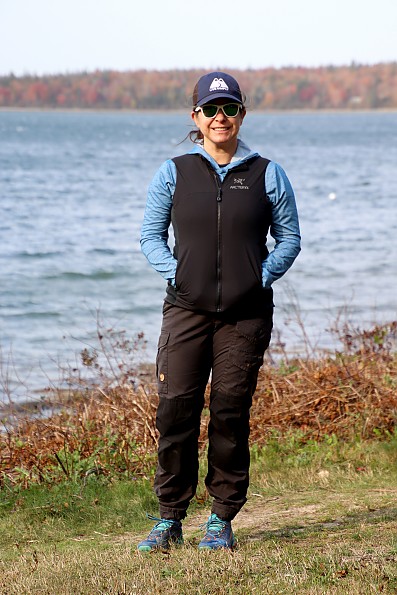 Best For
I've been wearing the Voormi River Run Hoodie hiking, walking, camping, and hanging out in the summer and now fall here in Maine. It's a great just-in-case top for warmer weather, such as when you reach the summit on a summer day hike. It's continued to be a great layer for cool weather. I've worn mine on multiple hikes and walks in Maine from the heat of August and now down into the 40s.
It's lightweight, so I wouldn't consider it a primary winter base layer, but, I'm planning to try mine as a running top this winter in Maine, with other layers.
I think it would also work well for paddling, fishing, and climbing, particularly as a sun hoody (it is called River Run for a reason).
All of this comes at a significant price ($129), but if it's in your budget you'll get a well-constructed, comfortable, versatile top with the potential for year-round use outdoors. Plus, you'll be supporting a brand that makes its apparel in America.
I do not need another top, but I love and choose to keep wearing the River Run Hoodie, despite a drawerful of alternates. It has a clean minimal look that belies its high performance and I keep returning to it again and again. While I could pack it away for winter, I'm keeping mine in rotation and am eager to see how it performs this winter.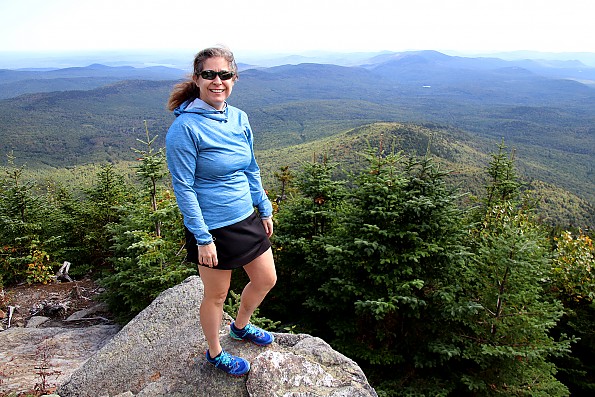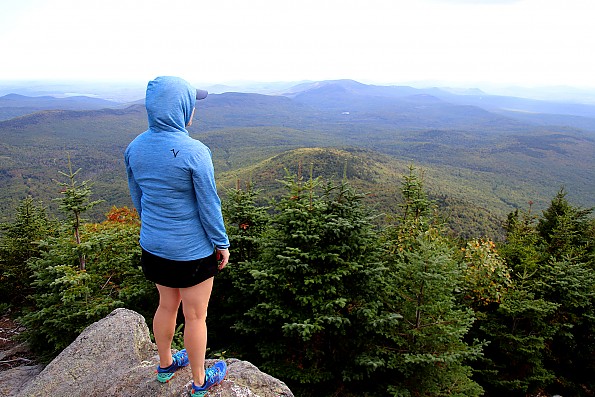 Background
I've been wearing the Voormi River Run Hoodie for three summer to fall months in Maine for hikes. walks, and camping. I've also worn it a lot while working from home. I plan to keep using it for higher aerobic actives like running, cross-country skiing, and uphill skinning this winter.
Source: received for testing via the Trailspace Review Corps (Sample for testing and review provided by Voormi)

A super-comfortable and versatile Merino blend hooded shirt, excels as a sun or wind shirt. This is the first time I've really tried a long-sleeved sun protective shirt, and I was pleasantly surprised how comfortable it is in warm conditions. Though it is marketed as a sun shirt, it is much more than that.
Pros
Soft comfortable hand
Lightweight
Breathable
Great fit
Versatile
Machine washable
Cons
The hem could be a little lower for better coverage of my long waist
Thumb loops can rub against your hand with hiking poles or handlebars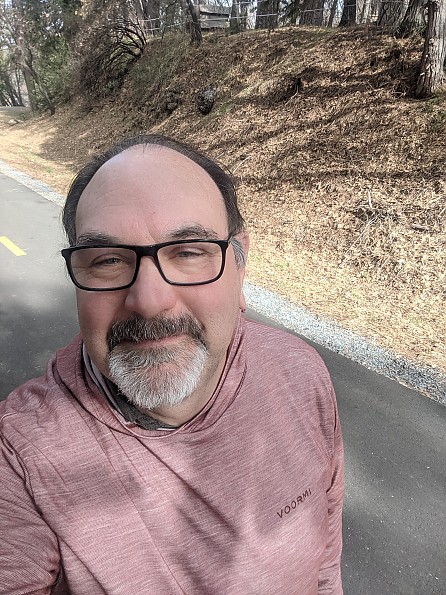 Having read several super positive reviews about this hoodie, I wanted to give it a try, but was put-off a little bit by the price tag. But having recently moved to the Sierra foothills, where it is generally colder than the central valley, I went for it anyway, and was not disappointed. 
Fit and Comfort: I would consider the fit to be on the "athletic" side. I wasn't quite sure whether to order the XL or the XXL. While I usually fit XL in most shirts, occasionally they can be a little tight (Icebreaker shirts are a good example of this. I always have to get XXL with them). I ended up ordering the XL, and it fits just right... close enough for good moisture transfer, but relaxed enough to not feel constricted. The shoulders and sleeves have plenty of give in them when using poles in steep terrain, and my movement never felt constricted.
Voormi calls the merino/polyester blended fabric "DUAL SURFACE™ UL Precision Blended Wool," which puts a layer of polyester (43%) against your skin, and transfer moisture to the outer layer of merino (57%). At 100 g/m, the silky fabric is incredibly light and airy, and one of the most comfortable shirts I've ever put on. When I first got it, I found myself looking for excuses to wear it!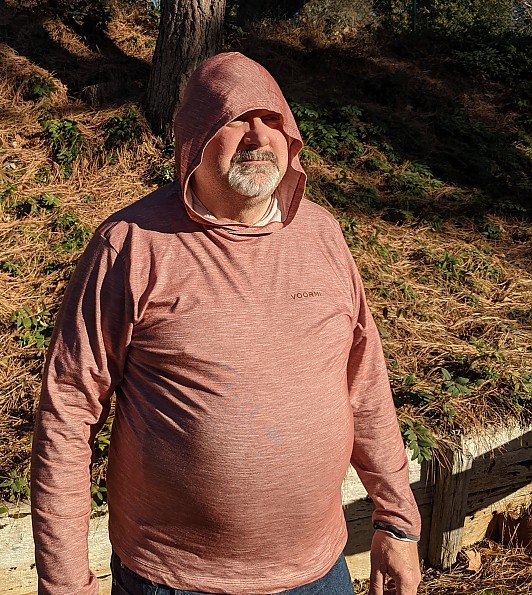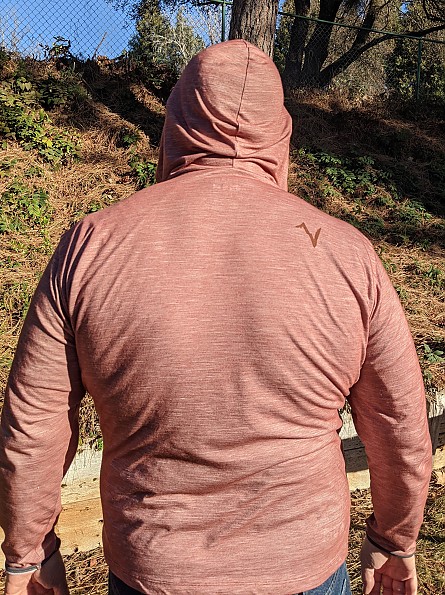 The hood fits comfortably, giving good coverage even to my big head, and in fact may be just a little too roomy. But, I found I could even wear it over a cycling helmet, and never felt tight. I would think it would fit equally well over a climbing helmet.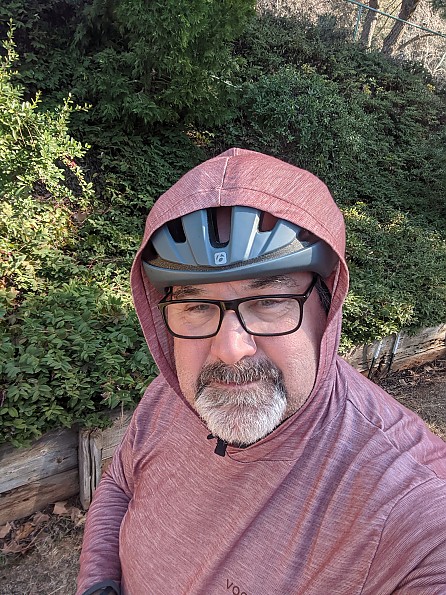 My body type is long waist and short legs, so my only complaint is that the hem could be a little longer.
The only fit thing which I'm not quite sure about are the "integrated" thumb loops. Other similar tops I own have a reinforced hole in the fabric itself. The River Run has an independent piece of stretchy trim stitched to the end of the sleeve. I find that it occasionally rubs against my hand when using poles or on a bike, and can be a little uncomfortable over time.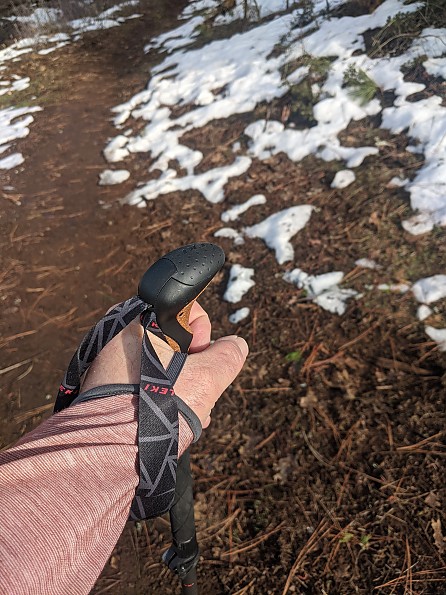 Adjustability: The River Run hoodie has no adjustability of any kind. Occasionally, I find myself wanting to zip the neck open a little bit, but that's a very minor issue.
Breathability/Temperature regulation: The lightweight merino/polyester blend is super breathable. I tend to get VERY warm when I hike or bike, and can work up a good sweat pretty quickly. I found that the hoodie really kept me dry, even in the warmest conditions.
In the past, I've tried hiking in long-sleeved tops on sunny Sierra days. I've always found that  I can overheat pretty quickly, so I've always gravitated towards short-sleeved shirts and lathered up the sunscreen. This is the first long-sleeved top I've been able to use in warm and sunny conditions, without feeling like I'm getting broiled.
I've also used the River Run Hoodie for warmth on chilly mornings walking the trails near my Sierra foothill home. It has just the right amount of warmth, without feeling like I'm wearing a heavy top, and I've also found it useful as an outer layer over a shirt on cool morning commutes.
Layering: As I mentioned above, I've found the River Run Hoodie useful as a light outer-layer on cool foothill mornings. 
The wispy thin fabric layers nicely under my Arc'teryx Squamish Hoody when the wind kicks in, and also works very well under a rain shell. On a backcountry snowshoe day near Lake Tahoe, I found it to be just right under a light shell, in varying conditions from sunny to overcast.
Construction & Durability: The River Run Hoodie is made in the USA with wool from Rocky Mountain sheep, and the workmanship is impeccable. After ten months of use, there is hardly a loose thread or point of wear anywhere. Despite its silky light weight, the fabric has held up really well so far, and it feels like it will give me many years of service. 
This shirt is machine washable (cold water/delicate cycle). Voormi recommends hang drying, but also says that it can be thrown into the dryer at low temperature if needed.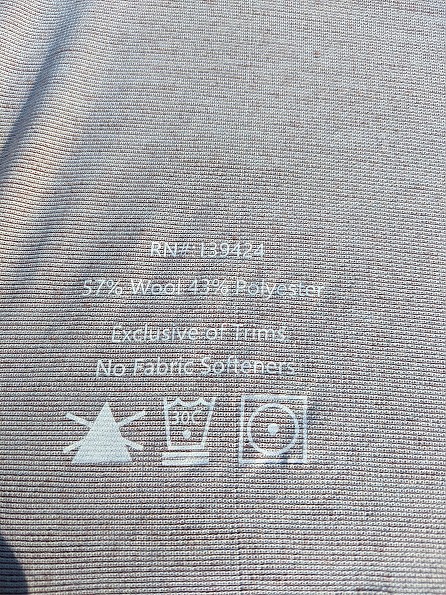 Versatility: This shirt works well in so many ways. A great base layer in a variety of conditions. Also a light outer layer over a base layer shirt. At the end of a recent hike, I replaced a sweaty t-shirt with this for my usual post hike winery stop, and it was perfect.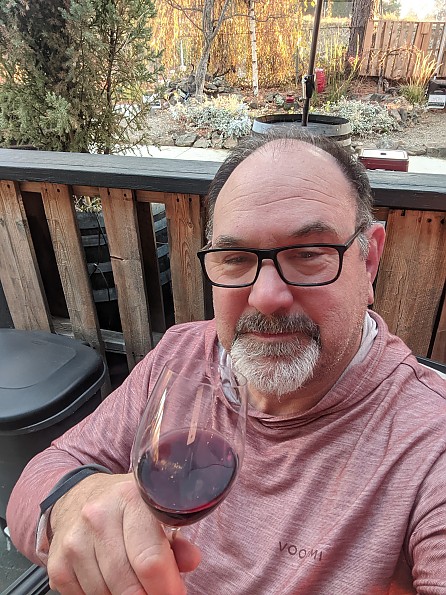 Conclusion: While I was having a bit of sticker shock initially, I have found that the usefulness and versatility of this hoodie is worth the dollars. 
p.s. My wife keeps asking "why did you buy a pink hoodie?" Voormi calls this color "Red Rock," though because of the way it is woven, it does come across more pink than it showed on the website.
Background
Chilly morning walks in the foothills near our home. Snowshoeing in the Tahoe Sierra. Hiking in warm and cool conditions in the Sierra and the Coast. Chilly fall bike rides.
Source: bought it new
Price Paid: $129

Your Review
Where to Buy
Help support this site by making your next gear purchase through one of the links above. Click a link, buy what you need, and the seller will contribute a portion of the purchase price to support Trailspace's independent gear reviews.
You May Like
Specs
Men's
Price
MSRP: $129.00
Current Retail: $129.00
Reviewers Paid: $129.00

Fabric Weight
100 g/m2

Garment Weight
186 g / 7 oz (men's large)

Fit
relaxed fit

Origin
Made in the USA

Women's
Price
MSRP: $129.00
Current Retail: $129.00

Fabric Weight
100 g/m2

Garment Weight
152 g / 5 oz (women's medium)

Fit
women's specific athletic fit

Origin
Made in the USA

Recently on Trailspace