Vortex 4500

(4)
The 4500 has been discontinued. If you're looking for something new, check out the best expedition packs for 2020.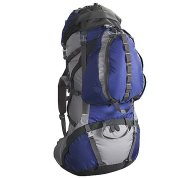 Specs
(no Gender)
Price
Historic Range: $149.95-$180.00
Reviewers Paid: $225.00-$436.00

Men's
Price
Reviewers Paid: $350.00

Reviews
Before I bought this pack in 2004, I owned a North Face Snow Leopard for 16 years and never thought I'd find anything to compare. Even North Face doesn't make anything like the old SL or SL2. It was those wing pockets and the weight distribution that sold me on the Vortex 4500.
It's a bit smaller than my old Snow Leopard, but it forces me to carry less as I am now 54 years old and not in my 30s anymore. If the wing pockets were designed like the old Snow Leopard, then I could carry my one litre white gas bottle for extended trips there.
As it stands, there is no real convenient place to carry a large bottle in this pack. So I have gone to the Peak butane system, which is ok for 3 - 4 day trips. I have found that My old Svea with a one litre bottle of white gas still works bett for an extended trip of 5 - 7 days.
Anyway, I guess that what I am most impressed with on the Vortex is the system of inner straps and most of all the frame system. It's awesome. On my old men's extra large Snow Leopard I had to insert a cut up back pack pad to get close to the Vortex. There is nothing on the market that I have found to compare in comfort and fit.
For all the running towards ultra lite backpacks, I remind my older friends that it is not about how light a pack is, but how it carries and distributes the load. Vortex proves this beyond a doubt! And with the top that converts to a small day pack it is very versatile. I still carry my Dana ultra lite day pack inside for extended day trips where I need my medical supplies, stove, and emergency clothing, and other goodies. So for a reconoitering walk, the converted top works adequately for a couple of hours.
The other innovation I find fascinating is the Kevlar woven into parts of the pack for increased strength. This pack is bomb proof.

Design: internal frame, top and botom loader
Size: 4500
Number of Pockets: 6
Max. Load Carried: 65 lbs
Height of Owner: 5'11"
Price Paid: $350

I obtained the year 2001 model of the 4500. From a comparison with the year 2000 model still viewable on Vortex's web site and their catalog, the new version has two fewer attachment points on the lid and includes a detachable, combination shovel pocket and small pack (most likely for use as an hydration pocket) with independent set of shoulder straps and sternum strap. Also, the newer version no longer is made in the United States but in Sri Lanka (according to a tag sewn inside the pack). Although the pack came with an attached Vortex sticker, it did not come with a specifications pamphlet or brochure, which I would have found more useful and preferable.
The pack cost $300 on special sale but retails for approximately $436 (US -- March 2001). It is rated to have a volume of 4500 cubic inches unextended and 4850 cubic inches extended. The extension sleeve is 13 inches long, and I estimate the actual fully extended volume to be in the low 5000 cubic inch range, which makes this pack the perfect size for three day to week-long excursions under most circumstances.
With 46 pounds (combined weight of the pack and contents) the backpack felt pretty comfortable, but when I increased the total weight to 57 pounds, a gap formed between my body and the pack. No degree of load-adjustment strap adjustment, shoulder-strap tightening, or belt adjustment helped. The gap remained, and in a matter of minutes I could feel the additional stress on my back muscles caused by the pack failing to adhere closely to my 5' 8" and 140 pound body. I attribute this to the lack of flex in the polycarbonate frame. In my opinion, the frame material in the currently used dimensions is too rigid. Without the ability to flex, the frame remained essentially straight and would not bend forward toward my head to any appreciable degree when I tightened the load-adjustment straps. That, in turn, prevented me from shifting the combined center of gravity of my pack and me more closely to my body to enable me to carry the heavier load more comfortably and stably while remaining upright. Instead as I increased the pack's weight, the center of gravity migrated away from my skeletal structure pulling me off balance and causing my back muscles to work harder than they should have.
A threshold range of comfort for many people seems to be approximately 40 to 50 pounds. Although there are variables other than pack weight that also affect carrying comfort, it is in this range that loads often start to become uncomfortable in packs not truly designed to carry heavy weights. This is why it is important for people to test their prospective packs with at least this much weight prior to purchase -- twenty-to-thirty-pound test weights are not nearly sufficient. Of course, this assumes a person ever intends to carry that much weight.
In addition to the frame being too rigid (at least in this case), there are other considerations pertaining to the use of polycarbonate in the primary load-bearing or load-transfer components of a frame. Once shaped, the material cannot be reshaped to better conform to an individual's body. This means that if the original frame shape does not closely conform to your body, you are at a loss -- as I was -- to reshape the frame to fit your body more precisely. Additionally under certain extreme conditions, polycarbonate can crack or break. Although Vortex currently has a generous warranty, that warranty will be little comfort to someone with a broken or cracked frame miles from nowhere and carrying 50, 60, or more pounds.
The harness system is vertically adjustable by several inches to fit more than one torso size, and I found it rather comfortable except that the edge near one of the shoulder-pad ends continually wedged itself into my rib cage. It was not painful, but it was annoying. This only was a factor when I wore a single layer of clothing. With multiple layers of clothing, I could not feel the pad's edge. The hip belt fits well and is replaceable. The same foam padding appears to be used on the harness, belt, and back panel and is very comfortable.
I have strongly mixed feelings about the pack bag. The bag's shape is wider at the base and tapers toward the top. In order to permit greater loads, Vortex opted to design its packs taller rather than deeper. This is clever bag designing and helps to result in a pack that is stable with taller and heavier loads. (Were it not for the inflexible frame, I suspect this pack would have been very stable carrying 57 pounds in my test.) Additionally, the bag is designed in such a manner as to not require compression straps to help stabilize the load. This is fortunate since I usually would not see any need to carry the detachable hydration-shovel pocket, which doubles as a compression panel on the main pack bag.
The upper compression straps pass across the zipper of the panel opening. Why do manufacturers insist on designing zippers that have webbing passing across them? To reduce stress on the zippers? Please... if that's the case, then perhaps the bag and/or zipper design requires alteration. To enhance bag access by adding a zippered panel and then simultaneously impede access by crossing that zipper with compression straps, is (at best) a conflicting design.
A better designed feature is the single ice-tool loop that is located high enough on the pack so that ice-tool access and foam-pad access are independent of one another. Unfortunately if the small-pack-compression panel is left behind, there is no easy way to secure an ice tool at the other end. An additional daisy chain or two placed on the main bag would have been very useful. Inside the pack there is a compression strap that extends from the internal shelf on the back side, vertically up to the start of the extension sleeve, and then directly across the pack top to the opposite, harness side. This design helps compress loads without impeding access and is an improvement over the design Vortex used on certain models in the past.
The pack has a separate sleeping-bag compartment with zipper access, a large zippered panel for access into the main compartment, and top-aperture access. Except for the compression-strap issue stated above, I found the multiple points of access very convenient in loading and unloading the pack. The sleeping-bag compartment is divided from the main compartment by a shelf that is sewn in on the harness side, attached by three, ladder-lock buckles on the back, and unattached on the other two sides. This construction eases release of the webbing to let the shelf drop into the sleeping-bag compartment if a large, single compartment inside the bag is desired. However if the shelf ever needs repair, there is no easy way to merely order a replacement and insert it yourself.
Another negative aspect of the pack's design is the folding, side water-bottle pocket, which is difficult to reach, and once the bottle was removed, I found it almost impossible to place back into the holster. This holster is a complete waste of fabric. If you want to remain hydrated, I suggest placing a water bladder within the lower lid compartment, which also has an exit hole for the drinking tube. The upper compartment of the lid has about 200 cubic inches of available volume.
The lid also has only a single, rubber-gripped zipper slider instead of two. I found this inconvenient. A second zipper slider would ease access considerably. When fully extended, the harness-side lid-compression straps are too short. This might have been by design to limit the pack's height, but I would have appreciated several more inches of webbing to take advantage of the bag's full extension. Another almost useless feature -- at least when the bag is stuffed -- is the wand pocket(s). The fabric is so tightly compressed against the bag (when the bag is full) that only the narrowest and smoothest items can slip inside the pocket without risking fabric damage. One means by which this problem can be circumvented is to use a pleated pocket.
What might be a more controversial item is the detachable hydration-shovel pocket combination. Firstly, the shovel pocket part of the combination is not wide enough to fully contain a standard shovel's spade, say from a Voile. Why bother with a zippered pocket then? Why not merely use a flap of fabric? The hydration-pocket part of the combination has a volume of approximately 300 cubic inches. When attached to the main bag, it can be used to carry a couple small, light items. When detached from the main pack and combined with the lid/belt/hip pack, you have approximately 500 cubic inches of cargo space.
Although I found this combination cute the first time I tried it -- especially since I noticed that by threading the lid's one-inch webbing through the plastic rings on the lower part of the hydration pocket I could prevent the hydration pocket from bouncing when I ran, the novelty quickly ended leaving me convinced the combination is more a gimmick designed to amuse adolescents rather than a tool to be used by serious backpackers. My suggestion for the future would be to replace the hydration pocket with twin, folding water-bottle holsters on the sides of the lid (a more useful location for the tuck-away holsters), integrate the shovel pocket into the main pack bag, add a couple compression straps lost by that integration (not necessarily for load control but for lashing items to the pack's exterior), and double or triple the lid's volume to make it a more useful belt/hip pack. In other words, keep the pack simple and discard the gimmicks.
According to Vortex, the pack fabric consists primarily of single-layer 500 denier Cordura but also has 1500 denier Ballistics cloth on the bottom exterior, and 220 denier nylon pack cloth for the extension sleeve, bottom interior (liner), double-layered shelf, and lid interior. With the exception of the durable bottom fabric, this fabric combination is average fare. As with numerous other companies, Vortex appears to be designing lighter-weight packs by sacrificing some fabric durability. I would prefer that the customer have an option between heavier, more durable fabrics and lighter, less durable fabrics in bag construction. If more than one fabric cannot be offered for each pack, then perhaps two lines of packs can be offered: one line constructed with lighter, less durable fabric and the other constructed with heavier, more durable fabric to offer the customer a choice.
Overall, I would give this pack a mean (average) score. With light and middle-weight loads, the pack feels comfortable; the frame, harness, and belt combination can control the load; and it is relatively easy for a person to access the pack's contents. However with heavy loads, the pack becomes quite uncomfortable, and the design deficiencies stated above are less easily overlooked when your body is experiencing discomfort. Personally, I would not consider this pack for carrying heavy loads and would entertain other options even for light and middle-weight loads so that I might have a more versatile tool. Considering the pack's cost and its several useless or nearly useless features (I have a low tolerance for gimmicks), I don't consider this product a good value in backpacks.
Design: Internal frame
Size: 4,500 to low 5,000 cubic inch range
Number of Pockets: 2 plus lid
Max. Load Carried: 57 pounds
Height of Owner: 5'8" (140 pounds; 17.5 inch torso length)
Price Paid: Approx. $436 USD (March 2001)

This is the most comfortable backpack I've ever used. Vortex uses a special foam padding which slowly comforms to the body. I like the strap adjustments, including the ability to vertically slide the chest strap to the best position for my height. The top compartment doubles as a removable fanny pack, and there are plenty of cinch straps and hang points for external gear. Everything about this pack seems to be of high quality, and I highly recommend it to anyone looking for something in the volume range of 4000 to 5000 cubic inches.
Design: Internal Frame
Size: 4500
Number of Pockets: 2
Max. Load Carried: 75lbs.
Height of Owner: 6'2"
Price Paid: $225

With the Vortex 4500 the search is over for the ultimate backpacker's pack, read: Polycarbonate, molded foam, kevlar.
It's all here: Panel or top loading, detachable day pack, hydration pouch, 1600 denier nylon bottom. The price is out there, but it's the last pack you'll ever buy. Vortex gaurantees the pack for life...even if you screw it up through your own stupidity. Just clean it, call them for a return number and send it in. They fix it...no questions asked--forever. Vortex is not the most well known name in the kingdom; they should be though because they produce the best product. Did I mention that carrying 50 lbs. in the Vortex 4500 is like strapping a feather pillow to your back?
Design: Internal
Size: 4500
Number of Pockets: 3
Max. Load Carried: 50 lbs.
Height of Owner: 6"1'
Price Paid: $375

Recently on Trailspace