Walrus Rapeede XV

Walrus is no longer in business, and the Rapeede XV has been discontinued. If you're looking for something new, check out the best four-season tents for 2022.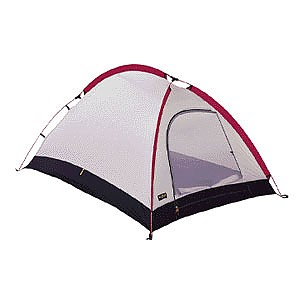 Easy set up and break down. Very waterproof. Good for the back of a motorcycle.
I brought this tent new from REI and was going to use it for a backpacking trip which got cancelled.
I ended up using it for about a month. I got a job in Santa Barbara. I couldn't afford to stay in a hotel so I rented a camping spot at this RV campsite. They had a 10x12 sand box for you to put your tent in.
Anyways, one night I woke up and it felt like I was on a waterbed. So I unzip my tent and I was sitting in 2" of water. Ut been raining all night and my little sand box filled up with water. So I look around in the inside of my tent to see what was wet. Nothing. So I zip back up and enjoyed my new waterbed. I was really amazed by the fact my tent could float.
After 14 years of owning the tent I just replaced the shock cord in the poles. Good to go!
On setup and break down, yeah the first two or three times it took a minute to figure out, but after that I don't know why people say it is harder to fold up. See what you do is break all the poles, fold them together, then roll the tent around the poles (3 out of the 5 poles are in sleeves).
This is not like other tents where you fold them like a blanket. So once you wrap it up, you now take the tarp that you had over the tent and fold that one nice like a blanket, and then you wrap it around the tent and place back into the carrying case. I'm talking no more than 2 minutes if you are in a hurry.
Now I'm using the tent for my dualsport adventures, which works really well for me. Ties right to the bike.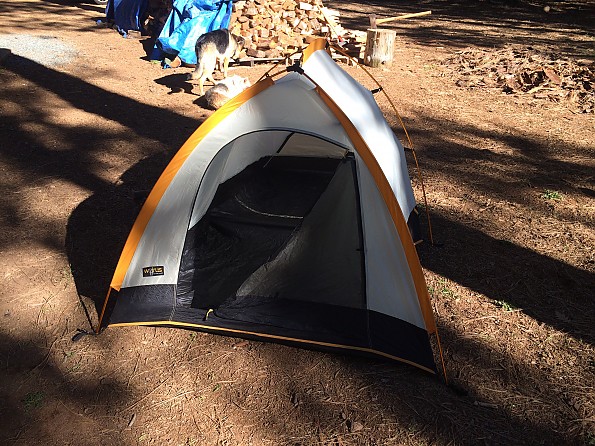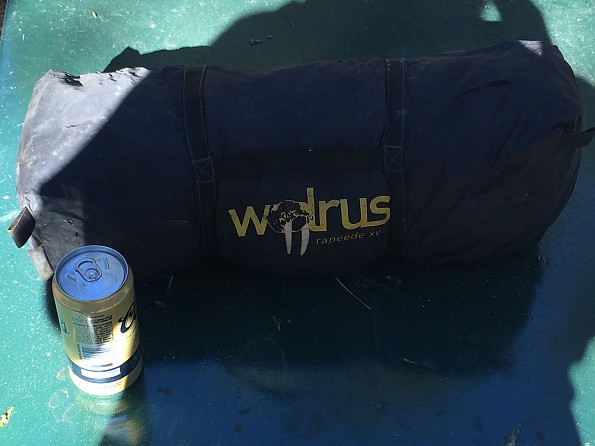 Source: bought it new
Price Paid: $200

I've been using this tent for 11 years, only waterproofing the seams twice. I've been to the far corners of the world in this thing, and it is an absolute hoss. Quick, simple, sturdy, and big enough to sleep two plus gear comfortably. Great design and good, clean tension lines keep the water out.
Can't believe they don't make this beast anymore. Many a storm has been weathered in the belly of a Walrus.
I used my XV for both backpacking and mountaineering, and it held up well to eight years of constant use. Without the additional cross pole and fly, it's a lightweight (though not very waterproof) summer shelter, and fully pitched it's storm worthy on real mountains. Mine went up Mt. Rainier, to Everest Base Camp, up Orizaba in Mexico, and on countless lower elevation trips.
It's adequate but not roomy for two people, with packs stored in the vestibule. Mine has slept three in a pinch on several occasions, if you don't mind spooning a bit. The two vents on either side of the door work well, but the door itself is a flap design that is never really far enough out of the way to allow unimpeded entrance. Even with the fly fully zipped up, I never had condensation problems if I left the inside door and foot window cracked behind the bug screens.
The poles are integrated into the tent body sleeves, which makes it much stronger than most tents being produced today. This makes set-up faster than normal, once you figure it out, but taking it down is slow. In camp, I was usually the first tent up and the last tent down.
Years ago I made the mistake of pitching mine on some spear grass in the Serengeti, which put hundreds of invisible holes in the floor, so it was no longer waterproof. This was never a problem unless I was camping in a low spot. Choose your campsites carefully, or get a groundcloth or footprint, because the floor's not very puncture resistant.
It has a little dual pocket gear loft that I didn't think was big enough, and two interior mesh pockets. Mine was made before the days of reflective pull tabs and jingle-free zipper pulls, but I can't speak to the later models. The burrito style stuff-sack was revolutionary in its day.
As far as I know, they no longer make the Rapeede since MSR bought out Walrus a few years ago (they replaced it with the Fusion 2, which has a bigger door and different pole design). If you find an old one for a good price, I'd go for it, but for comparable new tents I'd recommend the Marmot Swallow unless you absolutely require 4-season functionality.
I slept in this baby hundreds of times, but don't have any particular attraction to it. It's adequate, lightweight for a 2-man 4-season shelter, and was inexpensive compared to the competition.
Design: 3-4 season convertible
Sleeps: 2
Ease of Setup: quick and easy once you learn the tricks
Weight: around 6.5 pounds
Price Paid: $235

I have used this tent several times, for a total of less than 14 nights. I have never used it in seriously adverse conditions. It is an excellent tent for use in other than backpacking conditions; it is a bit heavy at 6 to 7 pounds for serious backpacking. But it is excellent if weight is not a primary consideration.
I had previously, for many years, used a bivy sack, and was accustomed to shelter weighing less than two pounds. One must pay, in one way or another, for comfort and accomodation.
I just got the tent out for a planned trip to Sequoia Park next week, and must admit I had trouble remembering how to put up the rain fly. I finally went to the net and got some pictures from www.backcountryequipment.com/tents/rapidexv.html
This is a good tent, easy to set up (once you remember how) and I recommend it for any use, in just about any weather.
Design: four-season freestanding
Sleeps: 2
Ease of Setup: easy and quick
Weight: 6 to 7 pounds, depending on season
Price Paid: About $200

My backpacking partner actually bought this tent and used it before he sold it to me. He never had any problems with it and only sold it to me because he wanted to go lighter. This thing is like a tank: wind, rain, snow, nothing gets into it, its a veritable fortress. It could be a little lighter but I prefer a little weight (better workout). I highly recommend this tent if you are going to be backpacking alot or in bad weather.
Design: Freestanding integrated pole design
Sleeps: 2
Ease of Setup: Very easy once you know it.
Weight: 7lbs
Price Paid: $200

Version reviewed: 1999
I set this tent up once before I went camping with it. It took me a few minutes to figure out how, but once you get the hang of it it's okay for one man. Rolling it up takes some practice too, only because of the integrated poles. I was the first out of 15 people to have this tent up (in the dark). It fits one person nice and two with gear under fly is still a little too cozy for me. This tent didn't have a drop of condensation on the walls. That was surprising, because every other tent I've owned rained on me anytime the walls moved. it has a full cover fly and two eyelid vents on either side. So far I love this tent.
Design: 4 season
Sleeps: 2
Ease of Setup: simple for one man, (after practice)
Weight: 6 pounds
Price Paid: $150 (sale), $200 reg.

Your Review
You May Like
Specs
| | |
| --- | --- |
| Price | Reviewers Paid: $150.00-$235.00 |
Recently on Trailspace