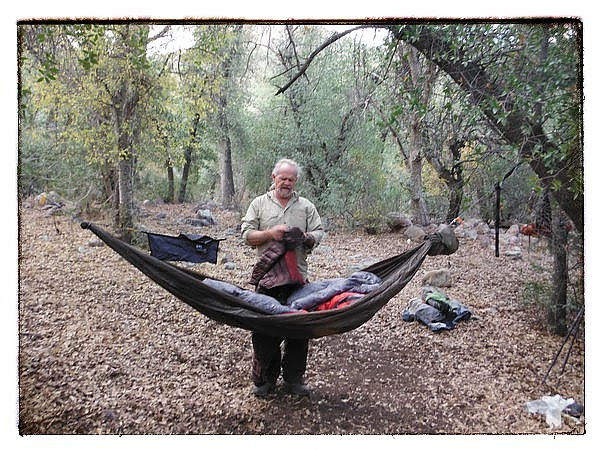 Specs
Price
MSRP: $75.00
Reviewers Paid: $75.00-$85.00

Weight
19.5 oz

Weight Limit
275 lb

Dimensions
65 x 120 in

Reviews
2

reviews

5-star:

0

4-star:

2

3-star:

0

2-star:

0

1-star:

0
Good hiking hammock.
Pros
Lightweight
Comfortable
Affordable
Fast delivery
I bought my Warbonnet Double Layer 1.1 Traveler to use in chilly and cold weather because of its light weight, pad insert openings between the layers, and lack of integrated bug net. I ended up using it more than I thought I would, in all seasons, but not using the pad inserts. Purchased with whoopie sling suspension it weighs in at about 17 ounces, is very easy to set up, and its simple design lends itself well to a variety of insulation types.
Here the hammock is shown without insulation, nothing inside or attached (tarp sold separately and not staked down:)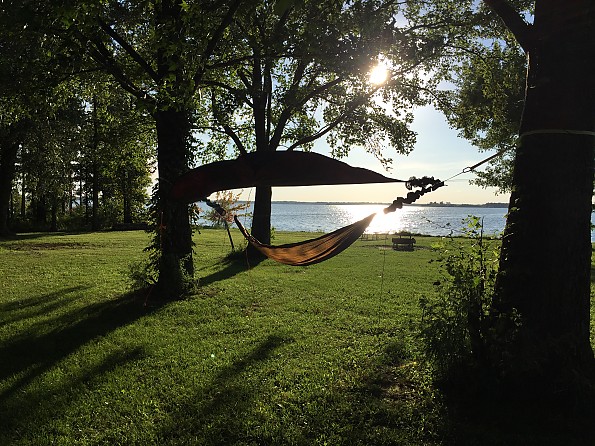 This Traveler features a structural ridgeline, which is helpful in determining whether the hammock is pitched too tight or not, at the right angle, and for hanging things that you might want quick access to in the night. It also works when adding a bug net or sock to the set up. It does reduce its convenience as a camp chair somewhat, as the ridgeline is at head level when sitting upright.
I would say I'm a little more pro-pad as opposed to most hammock users. I like my underquilts but don't mind pads. For me they are comfortable, affordable, and versatile. My favorite pad was a Stansport 72X19X3/8 blue foam ccf (R.I.P.) It had a tendency to slip out when placed between the layers, the two openings for pad insertion on one side of the Traveler made it easy to get the pad in, but also easy to slip out.
Note pad working its way out of empty hammock: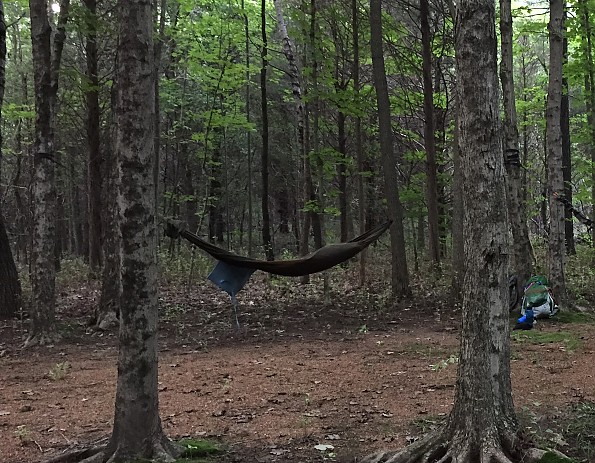 Another pad that gets quite a bit of use in this hammock is a slightly wider and stiffer reflective backed 70X23X1/2 model, which is a little more difficult to insert than the narrower, thinner pad. Using an inserted pad reduces the ability to lay asymmetrically as the pads are oriented toward the trees, which can leave one's feet and head off the pads.
So I just lay the pads on the hammock directly, and this works out fine for me, though most users seem to like inserting the pad between the layers.
Larger model pad on hammock with insulation on top, hammock is fully stretched out and ready to sleep in:
I move around in my sleep a bit and have had my top quilt fall off on the ground during the night, but this not the fault of the hammock, though a shock cord mod to make a slight foot box might correct this problem.
This hammock works well with underquilts, as well:
It would be nice to have the option when purchasing of tie outs, quilt connection points, knotty mod, or something to make a slight foot box, and a ridgeline sack. Keeping it simple results in fast delivery and keeps it inexpensive, though.
The Warbonnet website stated two week delivery for this product. I received it in under a week! The company was very responsive to my inquiries about this hammock and other products. The Traveler is well made and rated at 275 lbs capacity, which is high for its weight.
This is a great backpacking hammock due to its weight and packabilty (packs down to about the size of a 20oz bottle,) the quality, price, and the fact that you can scale it up or down for whatever conditions you might face.  
Source: bought it new
Price Paid: $85

This is Warbonnet's basic gathered end camping hammock. This particular hammock is constructed with two layers, facilitating the ability to slip a ground pad between the layers for insulation or the usual underquilts many hammockers use. This setup allows hammock camping backpackers to hang from trees when available or four to ground the next night when above the tree line.
Pros
Comfortable
Well constructed
Versatile
Options available
Exactly as advertised
Cons
The standard amsteel suspension should be whoopie slings
I received my Warbonnet Traveler 1.1 DL Hammock (hereafter the hammock or Traveler) and the hammock Travel Sock (more on the sock in another post) a few weeks ago. First thing I did was to weigh it and compare it to Warbonnet's published weight of 19.5 oz. Good news, my Traveler 1.1 DL was only 18 oz! Next, I inspected the hammock and with exception of some wobbly seams here and there, the workmanship is excellent.
Of course the next thing was to hang the hammock. The first thing I noticed was how much better this hammock is to sit on/in camp chair wise. My other hammock is an ENO Double Nest and between the Traveler being a double layer and made from ripstop nylon it makes for a lot less stretch in the hammock when seated.
I hung it with its structural ridgeline at the proper tension and spent the night. Interestingly the hammock was too taut. It actually felt hard, not uncomfortable but not nearly as comfortable as the next night.
The following night I hung it with a deeper sag (the ridgeline was just a bit slack) and that was a fantastic night's sleep. Almost perfection, the flattest lay ever. Side sleeping was awesome. I may have to consider shortening the ridgeline for future (I like the ridgeline for hanging stuff) trips. I'm taking the hammock out this weekend and will update this post soon.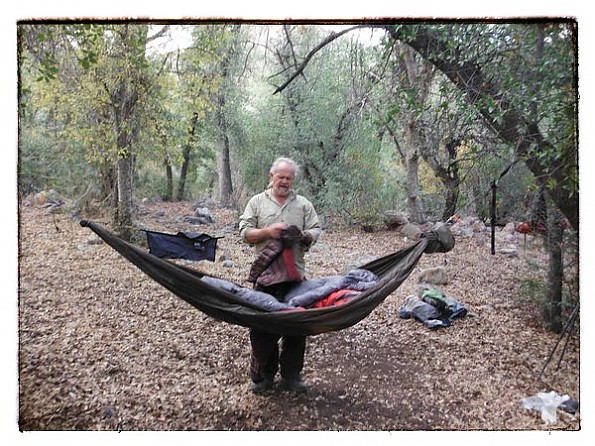 UPDATE: I took the hammock out for a two night trip recently and used both the hammock and the hammock sock. I wanted to see how warm the bottom of my hammock stayed with minimal hammock inulation. It did a remarkable job of creating a dead air space under the hammock even with the top portion of the sock open. The traveler was just as comfortable as at home and a bit easier to hang than the ENO because it a tad smaller. Definitely worth my investment in these two pieces of equipment.
I did have to swap out the stock amsteel suspension cord for amsteel whoopie slings. Amsteel is about as slick as teflon and anybody close to #200 even properly tied knots tend to slip. I'd pay $10-20 more for the hammock for the upgraded suspension.
Source: bought it new
Price Paid: $75

You May Like