Wenzel Kodiak 9

Top 50 in Tents and Shelters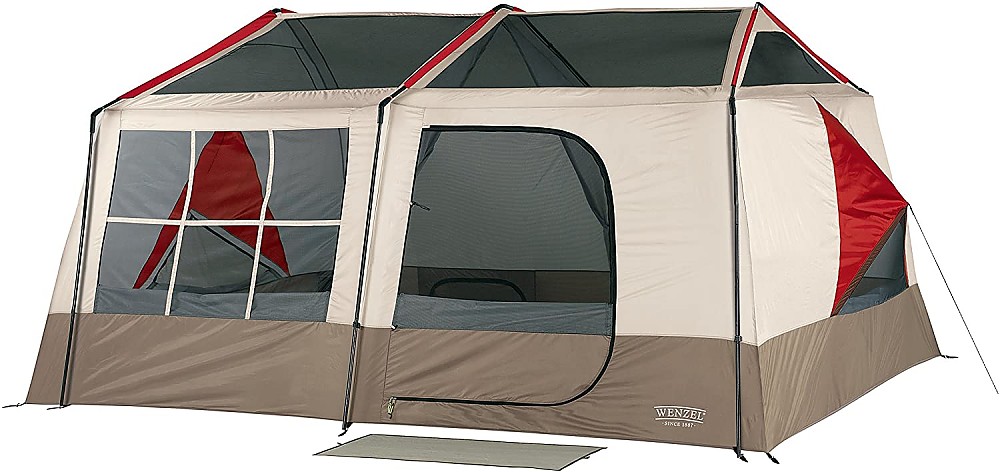 Specs
Price
MSRP: $279.95
Current Retail: $259.99
Reviewers Paid: $279.00

Floor Size
14 x 14 ft

Floor Area
164 sq ft

Peak Height
78 in

Fly Material
Polyester Taffeta

Floor Material
Welded Polyethylene

Reviews
1

review

5-star:

1

4-star:

0

3-star:

0

2-star:

0

1-star:

0
Perfect for Basecamp!

Pros
This tent has a footprint of approximately 14 feet by 14 feet, so you do need a larger campsite to set up. The inner tent size is actually 14 x 12, but there are two side bump-outs that add an additional 2 feet out along one side. These bump-outs are about 2 x 3 x 2 in size, and are terrific for storing packs or gear you want to have in the tent but out of the way when you are walking around. In our case, it is also the perfect size for a dog bed and our dog loves this cozy cave! The out wall of the bump-out has a nice window for extra ventilation, or it can be zipped shut.
This tent is TALL! No crouching down needed inside. The gabled peak provides plenty of room for walking around normally, even for tall people.
The tent has windows galore, two large "picture windows" on one side, both can zip shut, both can be partly or fully open with thoughtful attachments to roll up the window cover and tuck away.
The door is huge, making it easy to move gear in and out. It also has a large detachable roll-out "doormat" that you can step on to take off your muddy hiking boots before entering
The cabin space inside can be fully open, or you can drop down a divider curtain to separate into two bedrooms, or a bedroom and a living area.
The sides and roof are a lightweight but sturdy tent material of the usual kind, but the floor is a really heavy duty thick tarp-like material. The tent will therefore stay dry on the bottom, but also be sturdy enough for our dog to run around without making claw marks, and sturdy enough to hold up under camp furniture, or bikes, or whatever you might want to put on it.
The top of the tent is made completely of netting, with a detachable fly that covers the whole top. I love this because I have wanted to do stargazing while sleeping inside the tent, and this works beautifully. If you have the fly rolled back from the ceiling and it starts to rain later, it is pretty easy to roll it back over the top of the tent so you are all set.
There are a couple side windows that are angled with an alcove type shape. If it is raining such that you have to have all the big front windows zipped shut, you can still have these alcove windows open, at least partly, to get air without rain coming in.
The color, mostly tan and brown, blends in well to most outdoor environments.
Cons
Because the tent is so tall, plus has a fly across the whole top, it does pick up the wind a lot. You really need to set it up in a somewhat sheltered spot if you think you might get a lot of wind, else there might be a parachute effect!
There are quite a few guy wires or ropes needed for the tent to be set up properly. They hold the alcove windows out as well as the bump-outs etc. They are fairly low to the ground. If you are going to be walking around the tent in dim light or at night, and forget they are there, you might trip. This just takes a little getting used to if you have always just used a small pop-up tent that doesn't need guy wires.
We had a little trouble with the corner anchor stakes, we pitched the tent in an area of soft sandy soil and some of these stakes didn't want to stay in. We had to place some wood on top to secure them. That worked, but it would be helpful to have longer more substantial stakes for those corners.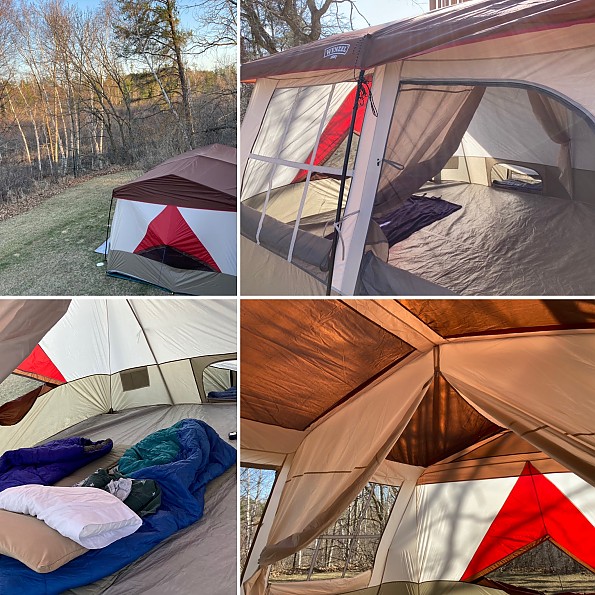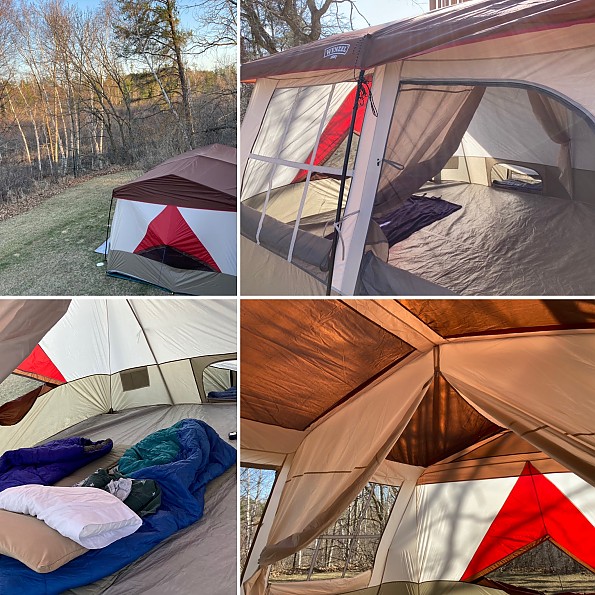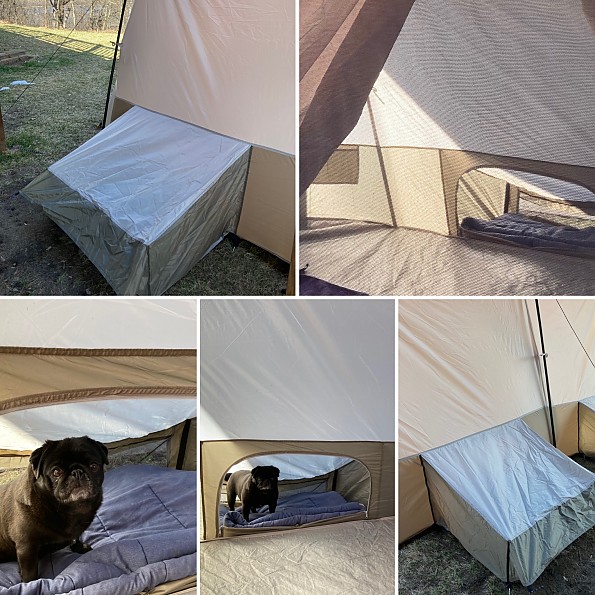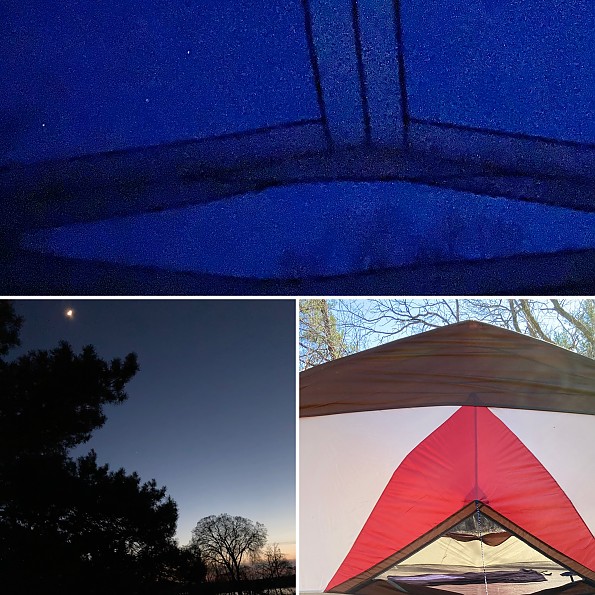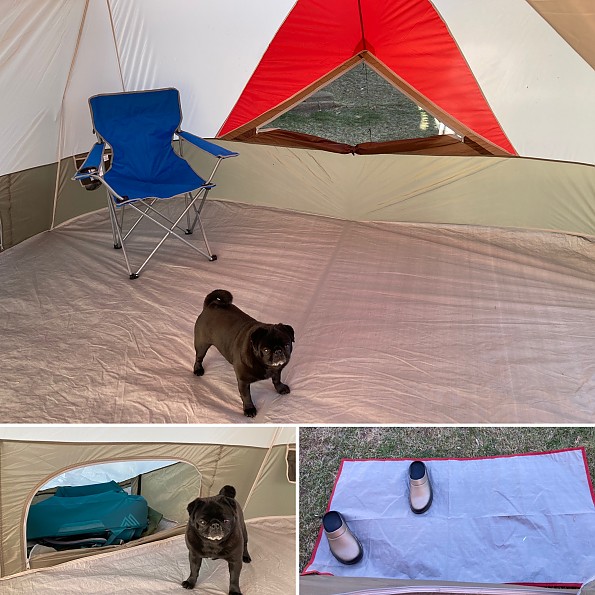 My husband and I have been doing primitive tent camping for decades, and have used a portable pop-up tent meant for a couple people who are backpacking or canoeing, where the name of the game is having very small and very lightweight gear .
Now that we are in our 60's, portaging canoes or backpacking on long wilderness treks are less likely to happen, so we have switched our thinking to the idea of setting up a base camp on our camping trips, and then doing different day hikes or day paddles from our base camp. That being the case, we decided to take the plunge and go for a larger cabin type tent that would be a "home away form home" for a week or so, where we could settle in and have room for more gear and for friends to join us if we want.
We ordered the Wenzel Kodiak, which says it can sleep up to 9 people (in case you have a Scout troop!) or of course just to serve as a "cabin" for a few people, with comfortable living space besides sleeping space. We had a late cold spring in Minnesota this year, but finally had the chance to test it out recently. And there is lots to love!
On a final note, we really love this tent and look forward to using it a lot this summer. It did take about 30 minutes for the pair of us to set up the first time, but the second time maybe only 15 minutes; and now that I have the hang of it, I'm sure I could set it up by myself pretty easily.
We haven't tried the tent in a heavy rain, and some reviewers have mentioned some leakage along seams in those conditions, but that is true of many tents, and so it would be wise to apply or have handy some seam sealer for that. 
Otherwise, looking forward to happy camping! Thank you, Wenzel!
Experience
First time using a large cabin tent, usually use pup tents or pop-up backpacker tents. Great experience!
Source: bought it new
Price Paid: $279

You May Like
Recently on Trailspace