Werner Cyprus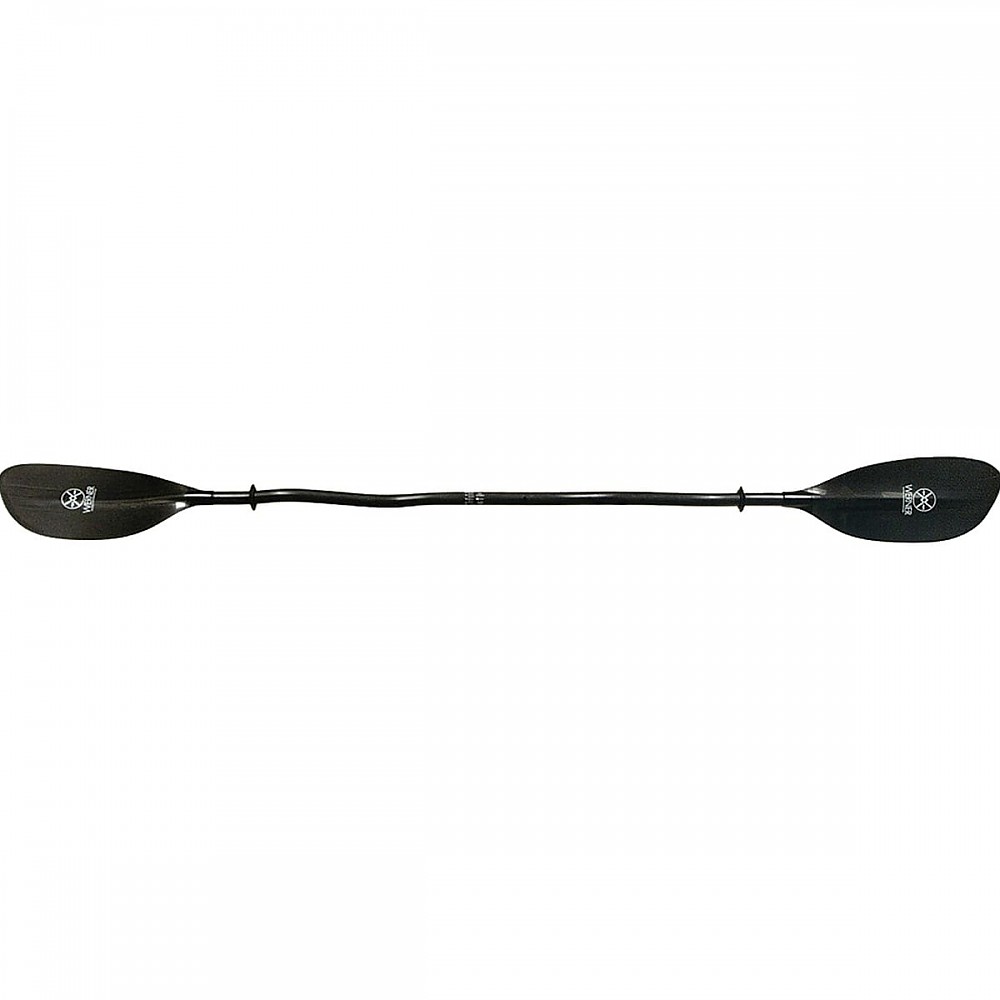 Light, stiff, and just a little picky... you just might paddle further and faster than you ever thought possible.
Pros
Lightweight
Quiet entry and exit
Extremely well made
Best two-piece design ever conceived
Cons
Expensive
Possible learning curve
Chips easily compared to other materials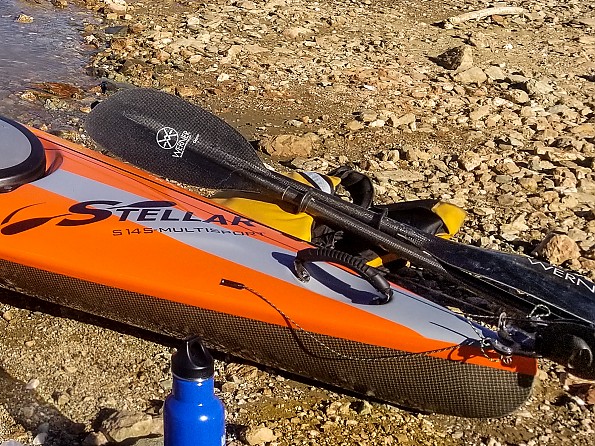 Werner started out in the family garage making paddles and kayaks for their own personal use. Now located in Washington State, they are committed to handcrafting the very best paddles available. Their stated mission is to obtain the Ultimate Paddle Performance through attention to detail and by building to a higher standard. Visit their website to learn more about their products and their very interesting story.
Me? I'm no pro, instructor, or racer. I'm just an average joe with a passion for paddling. I've met people who contend that a high angle stroke is the correct way to paddle and holding your paddle at a low angle is wrong. My litmus test is simple; if the boat's moving forward and you're comfortable with what you're doing then you're not doing it wrong. There are however definite advantages and disadvantages to various styles and strokes. If you are unsure what those are, you may enjoy a little research. Youtube and Google or both excellent sources for that.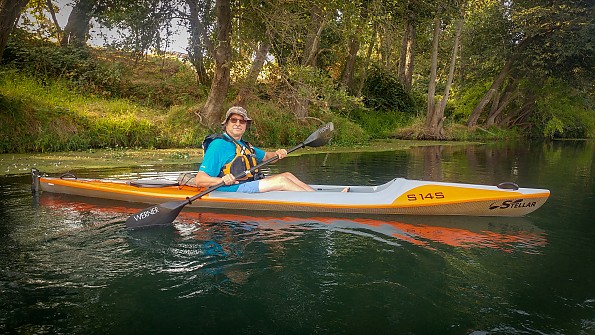 The Werner Cyprus is a paddle designed for a high angle stroke. It's an advanced paddle and requires—no, insists—that you use it a certain way. Dare I say correctly? Yes, as much as I hate saying it, you will need to practice proper technique and this paddle will let you know any time that you slip up even just a little. So it may not be for everyone.
I had been using a $45 SeaSense X-Tream paddle with a Wilderness Systems Tarpon 140 for a while when I purchased my first high performance sea kayak. Naturally I wanted a paddle that was lighter and offered a higher level of performance to go with it. Based on the boat I had purchased, my local kayak shop loaned me a Werner Cyprus paddle to demo and they promised I'd love it. I'd read all the reviews and I was sure I would. Well I didn't.
It fluttered terribly in my hands despite my best efforts. I returned to the shop with it after only a weekend of use, and asked to try something different with longer, more oval blades. Long oval blades are designed for a low angle stroke, but I digress. The shop owner insisted I keep it longer and practice. He even threw a boat on the floor, got in, and demonstrated the movements... twisting at his core and pushing with his feet. I took the paddle for another week. After that week I still failed to see what all the praise was about. I attempted to return it yet again and still he refused to allow it. He insisted I do some internet research and learn to use it right (oh god, I've said it again).
So I did, and somewhere within that second week of struggling I had my epiphany. It was as though the Lady of the Lake had bestowed her magic upon those very blades. I found myself a comfortable cadence and was moving like I never had before. I fell in love with it at that moment and I've never looked back. I went back to the shop, thanked the owner for making me stick with it, and purchased that very demo I'd been learning on. I've been working on improving my technique ever since and have no problem saying there is always room for improvement... especially in my case.  
I include this story with my review because if you're an amateur like myself, you'll probably need to give both the stroke and the paddle a chance. I promise it'll be worth the effort if you do.
So again, this paddle is designed for a high angle stroke and it excels at that. If you are still not sure what that means, suffice it to say that it requires a certain amount of energy to perform and that amount of energy definitely exceeds that needed for just leisurely tootling about. I would also like to point out that there is nothing wrong with leisurely tootling about, and if that's all you aspire to do this is probably not your paddle. If that happens to be your thing you may want to check out the Werner Camano instead.
If however, covering ground is your thing, or water as the case may be, then the high angle stroke is by far the most efficient way to do it. You will get more forward momentum out of each stroke using this technique than with any other. Master it, or at least get competent at it, and you will love this paddle.
The Cyprus comes in one- and two-piece designs as well as a bent shaft. I prefer a straight shaft and the convenience of a two-piece design myself and Werner's Smart View Adjustable ferrule is probably the simplest, most precise fitting ferrule on the market. It has the same solid feel of a one-piece paddle and is so unique that it was granted a patent.  
When assembled, it's perfectly smooth just like a one-piece paddle, and it has a small "window" through which you can see the feather angle you've chosen. It is extremely easy to use and the benchmark by which all others are measured.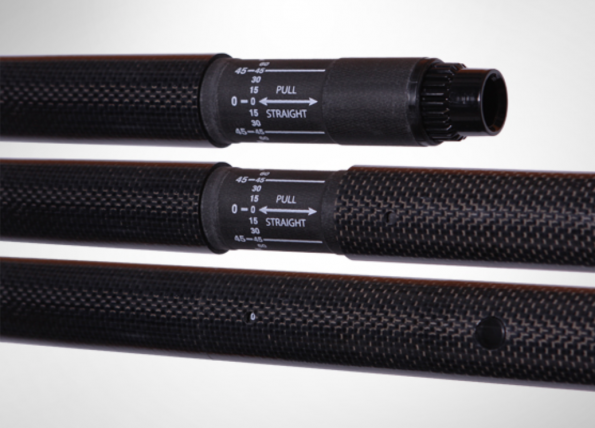 The blades of the Cyprus have a foam core which makes them buoyant. It feels a little off at first, but once you get used to it you'll notice it helps decrease fatigue. They also have Werner's trademark dihedral shape, which allows smooth and stable forward paddling. The back sides are smooth, giving every stroke a cleaner entry and exit. Put simply, it feels elegant on the water. Once you get the hang of it, you'll marvel at your ability to paddle in total silence with ease and speed. Smooth is another adjective I'd use.
While this is a stiff paddle, it still offers enough flex to be comfortable, even at an escalated pace. A paddle that is too stiff can cause a lot of wear and tear on your body. I find that this paddle strikes a perfect balance between performance and comfort in that regard.
It's very lightweight at only 22.5 ounces, again helping to reduce fatigue. It feels well balanced in your hands and is available in standard and small diameter shafts. It pulls through the water like butter when used as intended and releases clean.
Though carbon fiber is strong, stiff, and light, it is also prone to chipping and cracking. You won't want to loan this paddle to a novice who might use it to push off or possibly slam it into rocks. While carbon fiber trades durability for weight reduction and performance, I have found that this paddle is very durable for what it is. Mine was purchased as a demo and I've had it for several years now. It is still in good condition and in fact most of the wear and tear on it was already present when I purchased it; most likely from abuse as opposed to just plain use. That said, it does require more care than paddles built from other materials like fiberglass and polyethylene.
So that's about it. The Werner Cyprus is a lightweight paddle that's a joy to use if covering some distance is your goal. It helps reduce fatigue through weight reduction, by eking out every bit of energy you put into your stroke, and by efficiently focusing that energy into forward momentum. While it requires a bit more care than paddles made from other materials, I have found it fares well and is quite durable for what it is. In my opinion it's worth every penny and the possible learning curve. Your style, and thus your milage, may vary... no pun intended. Well, maybe.
Experience
I'm just an average person who loves to paddle. I've owned and paddled all kinds of kayaks using all sorts of paddles. Not an expert, more a jack of all trades, always a student.
Source: bought it used
Price Paid: $150

The greatest paddles I have ever owned—Cyprus and Kalliste Werner Paddles. Werner paddles are by far lighter than any other kayak paddles I have ever tested. These buoyant paddles allow even me to be able to paddle hours longer than with heavier / non buoyant paddles.
Pros
Ultra lightweight
Buoyant
Comfortable
Bent versions of paddles, design prevents you from being exhausted from paddling longer distances
Amazing customer service and sales reps are extremely knowledgeable and helpful
Cons
Only for high angle paddling style
Very pricey
Fragile
About the Author:
Michael is an outdoorsman and refers to himself as a Survivalist with 40+ years of outdoor experience. He is a camper, hiker, paddler, off road cycler, and enjoys shooting and archery at outdoor ranges. Michael was seriously injured prior to turning 18, damaging his back which he would eventually require surgery for many years later. He now is driven to help others with disabilities, introducing new technology and innovations that can assist those with physical ailments/limitations, in the great outdoors.
                             The Werner Cyprus Kayaking Paddle
Intro  
Having nerve damage from my neck to my ankle on my right side greatly hinders my ability to do many outdoor water sports. Between the weight of kayaking paddles and lifting the paddles out of the water, I have little time on the open water before I tire out. Having an ultra lightweight and buoyant paddle that actually pushes out of the water by itself due to its buoyancy for someone like myself is a game changer. The Werner Cyprus also comes in bent and straight versions, of which the bent versions are a better design for people like myself as it gives a more efficient stroke and easier on the body while paddling.
Werner's buoyant paddle series not only float in the water if dropped or if detached from the paddle fastener, but as you plunge the paddle into the water it literally starts to assist you and taking it out of the water due to its buoyancy 
I personally own the Cyprus and Kalliste Werner paddles. When deciding to purchase these paddles simply call Werner Paddles and give them your height, weight, type of kayak you use, and distance you travel. They will tell you which paddle best fits your needs, eliminating the guesswork from it.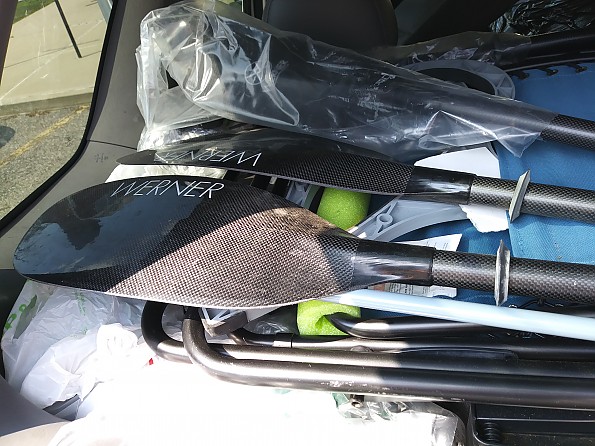 Using these paddles on the water
The Werner Cyprus Paddle is the 4th paddle I had gotten.  With each paddle I got I became more aware of each of their limitations and although each new paddle was easier to use then the previous one for someone with nerve damage, it wasn't until I was introduced to Werner Paddles that my quest for the perfect paddle was achieved.
The Cyprus is so lightweight and buoyant, it allowed me to paddle 4 times  longer without fatigue compared to the other 3 paddles I had owned.  With the ability to adjust the handle using the adjustable LeverLock system  allowing for up to 20cm of adjustment, I was able to alter the way I paddled on the fly which alleviated pain from constant repetition of the exact same angle of paddling. This is a high angle paddling style kayak paddle.
And yes, I have dropped the paddle in the ocean and it did indeed float, and luckily I had my fishing rod to reel it in, being the 1st person to ever catch a Werner pad. in the ocean.
Conclusion 
In short, my biggest mistake was not buying these Werner paddles  1st. Despite how expensive these paddles  are, in the end I bought 3 paddles that I end up getting rid of and paid more for the combined 3 paddles then what I paid for my Cyprus paddle. If only I knew back then what I know now about kayaking paddles I would have saved a lot of money and most importantly, I would have been able to spend more time kayaking without fatigue and body ache, so they were worth every penny.
Specifications
Shaft Option:  Straight / Bent
Shaft: 2 Piece
Weight:  634g. (22.5 oz.)
Length Range:  200cm to 250cm in 5cm increments
Feather Angle:  Smart-View Adjustable
Blade Surface Area:  610 cm2
Blade Length x Width:  46cm x 18cm
Experience
I have owned these two paddles (Werner Cyprus and Kalliste) for over 8 years. I have kayaked with them in Hempstead Lake, Douglaston Bay, Port Washington Harbor, and other areas in N.Y. in lakes, rivers, and the ocean.

I also own the Werner Kalliste paddle. Each of these paddles of different blade widths and lengths that are designed for completely different types of paddling. Switching back and forth between these 2 Werner Paddles was the ultimate trick to prevent my nerve damage from flaring up.

I have been paddling most of my life starting in summer camps when I was 8 years old where I first received my 1st canoe paddling award. I prefer sit on top kayaks for their weight capacity, storage room for bringing camping & fishing gear, and for their stability and ease for getting back in the boat when on the water.
Source: bought it new
Price Paid: 400 each

Outstanding premium touring paddle, extremely well designed and built. Always a pleasure to use.
Pros
Ergonomics
Design
Attention to detail
Cons
Price? You get what you pay for with this one.
I've been paddling with a Cyprus since 2011. Several two-week expeditions and many shorter trips.  Lots of day paddling. I'm a sea kayaking instructor.
I initially purchased the Cyprus as a backup to my Werner Ikelos (also an excellent paddle) because I wanted something with a slightly smaller blade area for long days on the water with a heavy boat.  It quickly became my primary expedition paddle thanks to reduce stress on my elbows. I carry the Ikelos as a spare/backup/teaching paddle.
The break-apart mechanism is the best I've used.
Materials are all top-of-the-line.  The positive buoyancy inherent in the foam core is a nice move up from solid glass composite models.  Werner has ensured that the paddle is beefy by adding strengthening stringers that are invisible but create a super strong paddle.
This is a paddle designed for the intermediate/advanced paddler. If you have not used a core paddle, you will immediately notice that the blade is absolutely neutral hydro-dynamically, in particular when sculling. If you have learned to scull with non-core paddles, you will be forced to develop proper technique when using the Cyprus.  But once you get it, the degree of precision and resulting control will only serve to increase your pleasure on the water... plus, you'll have a hard time wiping that grin off your face.
Source: bought via a "pro deal"

Your Review
Where to Buy
Help support this site by making your next gear purchase through one of the links above. Click a link, buy what you need, and the seller will contribute a portion of the purchase price to support Trailspace's independent gear reviews.
You May Like
Specs
Price
MSRP: $445.00
Current Retail: $470.00-$550.00
Historic Range: $279.96-$550.00
Reviewers Paid: $150.00-$400.00

Shaft Option
Straight

Pieces
Adjustable Length

Weight
25.5 oz / 723 g

Length Ranges
200-220cm, 220-240cm, 240-260cm

Blade Surface Area
610 cm2

Blade Length x Width
46cm x 18cm