Westcomb Apoc Jacket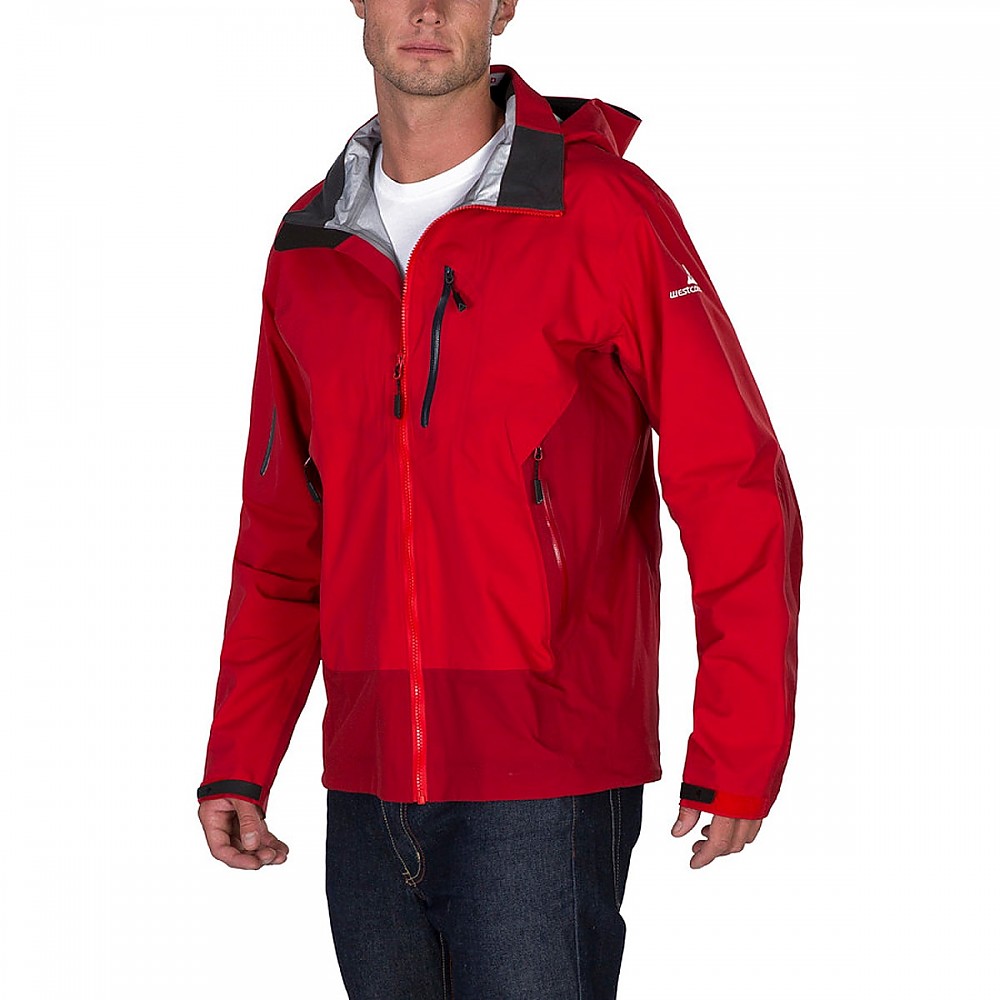 The Holy Grail is Found:
Pros
Breathability
Waterproofness
Features
After using Gore-Tex Pro Shell, Performance Shell, and Paclite products for many years, and never having been very satisfied with their breathability, especially in warmer weather, Polartec's NeoShell fabric is a welcome addition to the mountaineering market. It pushes the limits on breathability to such an extent as for me to declare the arrival, finally, of the Holy Grail.
This is the real deal. Unlike Gore-Tex, NeoShell breathability doesn't vary with temperature. In warm temperatures, Gore-Tex really does not breath at all. Not so the case with NeoShell, which breathes well in any temperature. In fact, it breathes so many times greater than Gore-Tex, in both warm and cold temperatures, that I cannot even begin to quantify the actual difference.
And quite frankly, whether it is five times greater or ten times, is immaterial. Suffice it to say that it relegates all of my Gore-Tex to retirement status. If this fabric ever really takes off, (Think about e-Vent's troubled history) it will be the Gore-Tex killer. (I have not used Active Shell but no matter as it is only marginally more breathable than their other fabrics.)
Polartec's NeoShell fabric is being marketed to clothing manufactures as a fabric that is so breathable that pit-zips are unnecessary. This is incredibly shortsighted of Polartec for two reasons. First, many, such as myself, will never buy a shell without pit-zips regardless even of the most extraordinary claims. Second, pit-zips serve two functions. They permit perspiration to escape and they allow for greater heat-temperature control. Profuse perspirers such as myself cannot live without pit-zips to help keep us cool.
Westcomb was the first company to make NeoShell jackets with pit-zips. As far as I can tell, the Apoc may still be the only truly full-featured shell to incorporate them. I see that The North Face just updated last year's Jammu shell by adding pit-zips to it and I expect many more companies to quickly follow Westcomb's far-sightedness.
I would even venture to state that the single greatest factor to explain why NeoShell has had such a limited impact on the market in the two years since it was released, is the almost complete dearth of models available with pit-zips. If not already, it is only a matter of time before Polartec realizes what a bone-headed marketing decision it made.
Polartec claims that Neoshell meets industry waterproof standards, and I entirely agree. I recently wore it in a record-breaking rainstorm in Parque Nacional Villarica in Chile. I could find no difference between it and Pro Shell's waterproof capabilities. Like all shell fabrics, its water-shedding ability will decrease with use. I recommend treating it occasionally with a DWR product such as McNett's excellent, ReviveX.
The Apoc is probably the most feature-rich Neoshell jacket currently on the market, even including a helmet-compatible hood, though I will not bother to list all features. Please visit the Westcomb Website. I recommend buying the Apoc at least one size greater than you would normally take, perhaps even two, as Apoc sizes run quite small. (Perhaps it's a Canadian thing.)
If there is one weakness in the Apoc it is in the terrible sleeve cuff design, a significant disappointment regardless of all else I love about the Apoc. The sleeve cuff diameter is much too small. It is nearly impossible to put on thick gloves or mittens and then get the Apoc's sleeve cuff to cover over the ends of your hand-wear, something that is essential to keeping water from running down your sleeve and into your gloves. Even when you get one mitten end covered by the cuff, it is nigh impossible to get the second one tucked-in using your now mitten covered other hand.
To make it somewhat easier, I take the jacket off. Zip it up partially. Put my mittens on, and then slide the jacket over my head as if it were a sweater. This is a royal pain in the neck which gets you wet and requires you to take your pack off. Westcomb needs to increase the cuff diameter by at least two if not three full inches.
Second, the velcro band on the cuff attaches quite poorly if you want the cuff somewhat loose. Only when the cuff is tightly adjusted dues the velcro hold securely. Otherwise, it continually flaps around, another annoyance.
Even taking into consideration the poor sleeve cuff design, this shell is quite likely the best product currently on the market, and certainly the most breathable. And for whatever it is worth, it is a great looking jacket, especially the red color. I recommend it highly.
Your Review
Where to Buy
Help support this site by making your next gear purchase through one of the links above. Click a link, buy what you need, and the seller will contribute a portion of the purchase price to support Trailspace's independent gear reviews.
You May Like
Specs
Price
MSRP: $480.00
Historic Range: $199.98-$519.95

Recently on Trailspace