Western Mountaineering Antelope Super MF

Top 25 in unisex 3-Season Down Sleeping Bags
The Antelope Super MF has been discontinued. If you're looking for something new, check out the best 3-season down sleeping bags for 2022.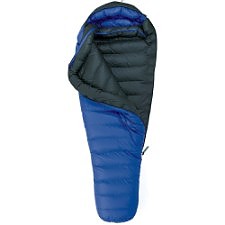 Specs
Price
Historic Range: $395.00
Reviewers Paid: $300.00-$450.00

Reviews
9

reviews

5-star:

7

4-star:

2

3-star:

0

2-star:

0

1-star:

0
Great bag, superb workmanship, rather dew and wind-resistant outer fabric.
Only gripe is that at 6'1" I sometimes wish I'd bought a long, and I might opt for a WM Kodiak MF, which is wider. 
Owned since 1993. I'm a rather cold sleeper, it's 5F rating is optimistic for me, 10-15F is more like it.  I recommend WM's HotSackVBL liner for cooler nights.
It's been washed once by Adventure 16, lost maybe 1/3 to 1/2" loft, liners are the way to go.  Basically make sure you get the right sized WM bag, cuz they last forever!! 
Price Paid: $300

Western Mountaineering should be at the top of anybody's list when looking for sleeping bags. They aren't the cheapest, but as always you get what you pay for.
Things that I love about this bag:
1) The zipper is the best I have seen. It hasn't snagged on me yet and I doubt that it will. This might be the single feature that most sets W. Mtng apart from Feathered Friends - I have a FF down parka and it requires constant attention to make sure that the zipper doesn't snag.
2) Impressive weight - my bag was within 1 oz of the advertised weight. Even with a 2oz overfill this sleeping bag weighs less than my Marmot Sawtooth, and it packs almost as small.
I can't speak fully to its warmth yet since it ended up being warmer than expected on the trip that I took it on. However, at the low teens I had to be careful not to wear much clothing in this sleeping bag, so I have no reason to think that I would have trouble with it at its rated temperature. I also can't speak to the durability of this bag since I have only slept in it 7 nights. It still looks like new though, so I have no complaints.
Design: Mummy
Fill: 850
Temperature Rating: 0 F with overfill
Weight: 2 lb 10 oz
Price Paid: $390

Western Mountaineering sleeping bags are simply the best. In October of 2002 I went to Pictured Rocks National Lakeshore in the Upper Peninsula in Michigan. Two of the nights it got down to 10 degrees Fahrenheit. I sealed the bag totally when I went to bed and went to bed cold. Within 2-3 hours I had to vent the bag because I was sweating! This bag is rated at 5 degrees Fahrenheit but will certainly go lower. The workmanship is superior and the loft superior. Spend the money and buy the best. 750 plus goose down fill. The newer bags are a little lighter and 850 plus goose down fill.
Design: mummy
Fill: 750 plus
Temperature Rating: 5 degrees
Weight: 3 pounds 1 ounce
Price Paid: $405

Best bag manufacturer anywhere. Only complaint about the bag is that fits like a pair of Levi's right out of the dryer. I like room to move around, even though this isn't heat efficient.
Price Paid: $450

I've been hiking with this bag for the last 3 weeks with nightime temps. ranging from 10 f to 35 f. On the colder nights I was warm enough without wearing anything but my long underwear. With the open baffle construction it's possible to shift the down to the bottom so it's comfortable in the warmer temps. It's a bit wider than most mummys, a plus for some and a negative for others.
The bottom line, in my opinion, is that it's a superb bag in 15 to 30 weather. At 5 degrees f. you would get by o.k., but that's about it. As a cold sleeper myself, the antelope mf works better than expected. When comparing warmth to weight it's the best one I've found for these temps. If it was a bit narrower I think this bag would be hard to beat. As with all Western Mountaineering bags, the construction is superb. I'm 6' 1" and the reg. size fits perfect. No complaints with the hood fit, nor with the draft collar. The Micro Fiber has worked fantastically well with keeping the moisture away, but I question how well it will work once the DWR wears off.
Design: mummy
Fill: 750+ fill down
Temperature Rating: 5 F
Weight: 2 lbs. 11 oz.
Price Paid: $375

Version reviewed: MicroFibre
Just a great bag. I sleep cold and have used the bag to 15 with no tent, slept in skivvies. No problem, warm as toast, and was dry after a dusting of snow.
Design: mummy
Fill: 775 fill down
Temperature Rating: 5F
Weight: Just under 3 lbs.
Price Paid: $350

Version reviewed: MicroFibre
Probably the only piece of gear I ever bought that wasn't on sale. Probably my favorite piece of gear and maybe the best value. Workmanship is the best I've found. Polyester Microfiber shell sheds condensation well. Obviously not as moister resistant as Dryloft but it is quieter, more comfortable, and much better than normal nylon taffeta. Shell is also reasonably tough and abrasion resistent. The bag lofts like a cloud and fits extremely well. Enough girth to move but snug enough to warm efficiently.
Very versatile bag for high alpine summer to late fall. At the end of a long day hiking, I can't wait to experience the feel of the 750 fill down and soft lining. Super fitting hood and anti-snag zippering. It just doesn't get any better than this. Add a silk liner to keep the bag clean and add a few degrees of warmth or if its too warm, leave the bag unzipped top or bottom to ventilate and use liner as a sheet. Technology may change and improve over time but this bag is really going to be tough to improve on.
Design: Mummy
Fill: 750 fill down
Temperature Rating: 5 F
Weight: 2lbs. 13 oz.
Price Paid: $375 US

Version reviewed: MicroFibre
Outstanding bag. The difference between WM's down and others I've used is tremendous. It drapes over your body, but doesn't feel like it weighs anything. I haven't really pushed the temp rating yet, but it certainly feels like it'll be good for 5 degrees, and probably a lot lower. The hood design is the best I've ever used. It cinches perfectly over your face without cutting you with cords. Oh, and the super microfiber shell really does bead water right off. This may be the best piece of gear I've ever owned.
Design: mummy
Fill: 775 fill down
Temperature Rating: 5 F
Weight: 2lbs 11oz
Price Paid: $385

Version reviewed: MicroFibre
Buy this bag... felt warm and cosy from quebec (winter camping in march) to the everest base camp. Nothing could compare to this bag stuffability and lightness for that temperature rating. Furhtermore, I like the color! What else to say
Design: mummy
Fill: 700 fill down
Weight: 1.3 kg
Price Paid: $320

You May Like
Recently on Trailspace