Western Mountaineering Bison Super DL

The Bison Super DL has been discontinued. If you're looking for something new, check out the best cold weather down sleeping bags for 2023.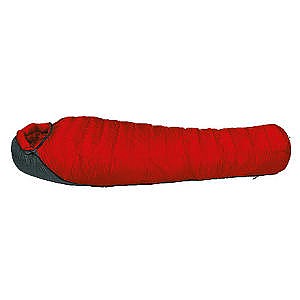 I rated the bag useless due the fact it must have slipped by quality checks in the factory. The hood was flat, almost devoid of fill, the top tube which doubles as a neck collar was not large enough to seal the gap around my neck and did not seem fully filled.
You always hear about the high quality of WM bags, somehow, I received a lemon. After unpacking, fluffing it up and allowing it to loft fully for two days, it never did reach its advertised loft, it stopped about an inch short.
It did fit me very well (I'm 6'1", 250 pounds). The Gore windstopper fabric seems almost completely airtight. I put my open mouth on the fabric shell and tried to blow or suck air through it. So, it should resist moisture and wind very well. It does make the bag time consuming to stuff into a sack. It's like mashing the air out of an airmattress through too small of a hole.
I've looked over many WM bags over the years in retail shops, and was impressed with them. I mail ordered this bag sight unseen due to the fact no one in VA stocks -40 degree rated bags, and I was offered a 10% discount and no sales tax to sweeten the deal. The bag's lack of a good sealing neck collar will prevent me from re-ordering one of these and the lack of fill will keep me from trusting the WM name in the future.
If you are looking for a top of the line -40 degree bag, consider ordering from Feathered Friends. They have a waiting period, but from what I understand, the wait is worth it. Costing hundreds less and weighing about the same, my cheap Kelty -15 degree bag beats this WM Bison hands down. I hardly believe it myself...The end must truly be near :-)
Design: Mummy
Fill: 850 fill down
Temperature Rating: -40 degrees
Weight: 4 pounds 10 oz
Price Paid: $675

I just got a Bison GWS 6'6" from Travel Country Outdoors out of Orlando and this bag rocks. I had requested an overfill as well.
There is no way you can stay in this bag anywhere above the 0F mark. If you get into a hypothermia situation with this bag, zip it up for about 10 minutes and you'll be begging to get out of this bag. The loft on this bag is huge and toasty, it doesn't describe how hot this thing gets.
This will make my 2nd WM bag from Travel Country, the other was a Bristlecone MF. I can vouch for Western Mountaineering, both of my bags are hard core and are bags I would definitely trust my life on them if things went south for cold.
I know a previous comment was made that it came with no loft and although things do happen to slip by at factories, I guarantee that if you had a problem with it, they would probably send you a replacement immediately.
I bought mine from Travel Country and they are a high volume dealer through WM and I've never had any issues with anything I've got from them and they would easily remedy any problems.
Doug's case was the first time I've heard anything bad from this particular bag and was a little worried until I went to pick it up and man, talk about an impressive bag. This bag is worth every penny spent, I'm definitely a WM for life fan. If you don't believe how hot it is, go see one yourself before dropping money on it. Once you get in this thing it's like crawling in a oven.
Design: Mummy
Fill: 850+ fill power down
Temperature Rating: -40° F
Weight: 4 lbs. 10 oz
Price Paid: $835

A great bag. Used multiple times in the Canadian Ski Marathon where you have to bivy in the Quebec woods in Feb. Spent comfortable nights in the bag only- no bivy sac, no pad, just some straw under the bag. I think it got down to -28 C. The dryloft was nice because the bag was being used as a stand alone shelter.
It's not too heavy less than 5 lbs but a bit bulky even in a compression bag (but I think it compresses a bit better than comparable bags). It's reassuring to know that you've got a safe warm place after a day of skiing. The only bad thing is leaving the Bison the next morning to start skiing.
Well constructed and roomy.
Very happy with the bag, after the first year some buddies saw the awesome loft of the Bison and had to get one.
Design: mummy
Fill: 850 down
Temperature Rating: -40 C
Weight: 4 lbs 10 ozs

Your Review
You May Like
Specs
Price
Historic Range: $450.00-$785.00
Reviewers Paid: $675.00-$835.00