Western Mountaineering EverLite

#2 in unisex Warm Weather Down Sleeping Bags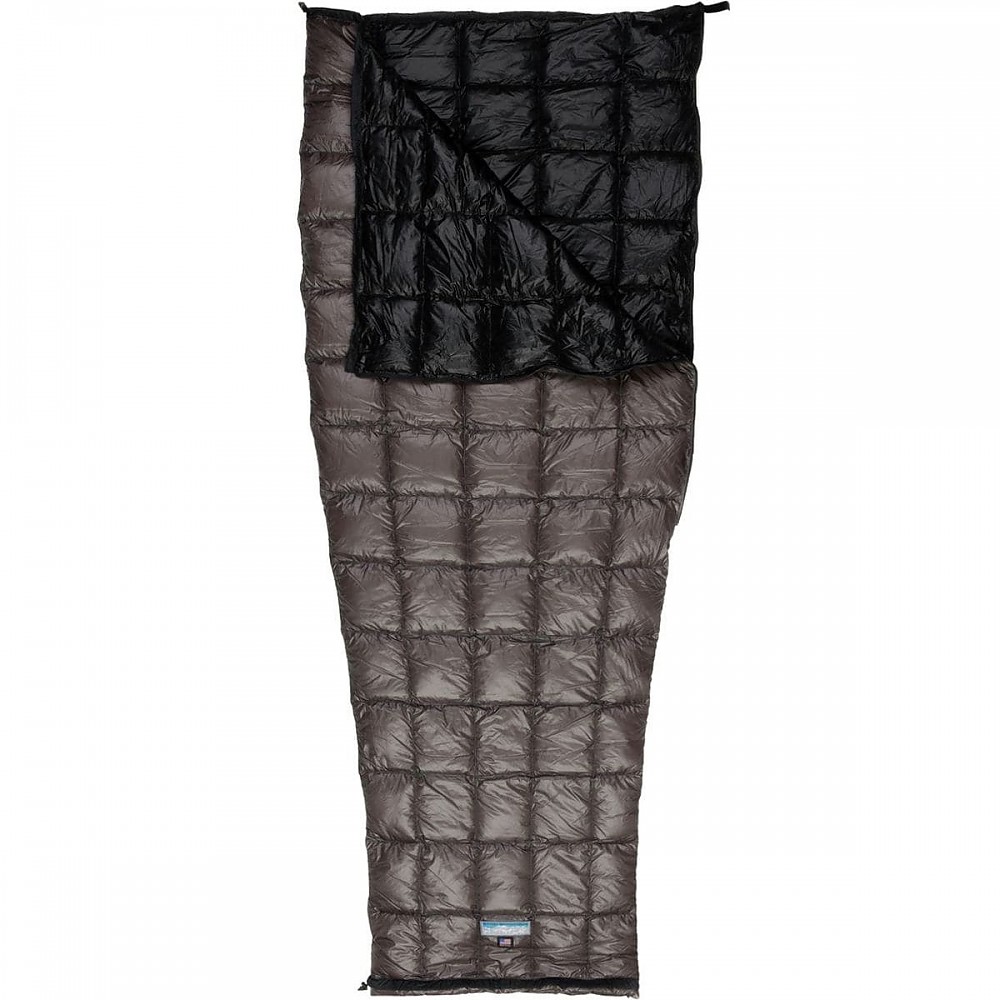 The Western Mountaineering EverLite is a lightweight warm-weather down sleeping bag. A versatile piece of gear, it can also be used as an inner bag or an overquilt.
Pros
Warmth
Light weight
Comfort
Quality
Cons
Price, though worth it IMO
No zipper pulls on inside
I bought my Western Mountaineering EverLite sleeping bag about 3 years ago as part of my 4lb summer bag/pad/tent setup, and I'm thoroughly impressed with it. It keeps me warm below the 45°F rated temp, packs down way smaller than I've needed, and the tapered design makes it very versatile—it can be used as a sleeping bag, blanket, inner/outer bag to increase the warmth of another bag, and an overquilt for a hammock. 
Construction is very high quality, all stitching is even and straight, and the only flaw I've found on mine is the hook and loop fastener at the foot was mistakenly sewn as a hook and hook fastener. I don't use them so it's not a big deal to me; there's a local seamstress who does excellent work if it suddenly starts bothering me. 
The outer shell of the EverLite, like all of the ExtremeLite series, is 7-12D nylon ripstop, with 10-15D nylon taffeta lining. No DWR is used and the down isn't treated for water resistance, but I've never had dew or tent condensation do anything but bead up on the surface where it could be shaken off. I baby it, taking care when stuffing and pulling it out, not going anywhere near it while wearing shoes, and brushing dirt off any clothing I'll be wearing in the bag.
It gets a good squeeze before being put in the stuff sack to remove as much moist air from perspiration and damp clothing as possible. That's not a problem when I only go on overnights and dry it completely before storing it loosely, but I figure it's best to develop good habits for when I eventually go on a multi-night trip. 
Weight is 17.25oz for the 6'6" model, with 8oz of 850+ fill power down (14.5oz and 6.5oz for 6'.) Shoulder/hip/foot girth is 65"/60"/42", 60"/55"/39" for the 6' bag. There's plenty of room for me to wear a light down jacket (like my EMS Feather Pack hooded down jacket) for more warmth in borderline temps. I got the 6' 6" bag for the extra room to put damp clothes for drying or keeping tomorrow's clothes warm. Oftentimes I'll stick my down jacket at the foot for added warmth for my feet (I usually sleep without socks.)
The sewn-through box stitching keeps the down from migrating but does allow for cold spots. I've never noticed any, probably because the claimed 3 inches of loft insulates well enough to offset the thin areas at the stitching. Down leakage, while very minimal, seems to happen mostly at the stitching, which makes it harder to grab the down from the inside with two fingers and pull it back in like WM recommends. I just leave it instead of pulling it out and potentially making a bigger hole for more down to find.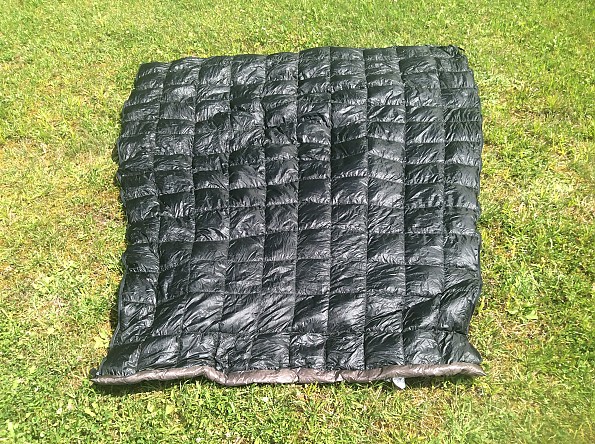 The zipper runs along both sides and has two sliders for ventilation. There are no inside zipper pulls, unfortunately, so to zip it all the way you need to reach out of the top and pull from outside. Snags don't happen very often even though there's no anti-snag tape, and pulling the slider backward while gently pulling the lining out is all I've had to do to free snags.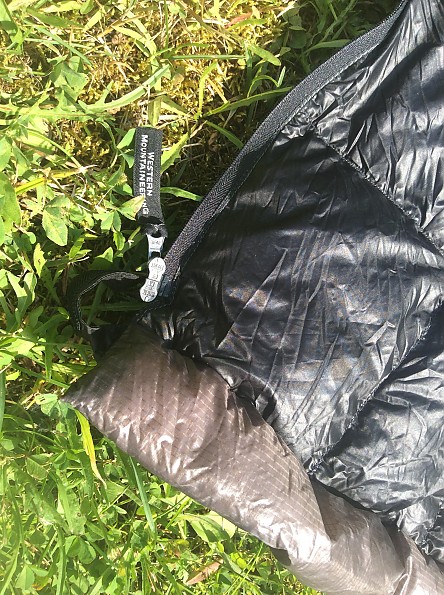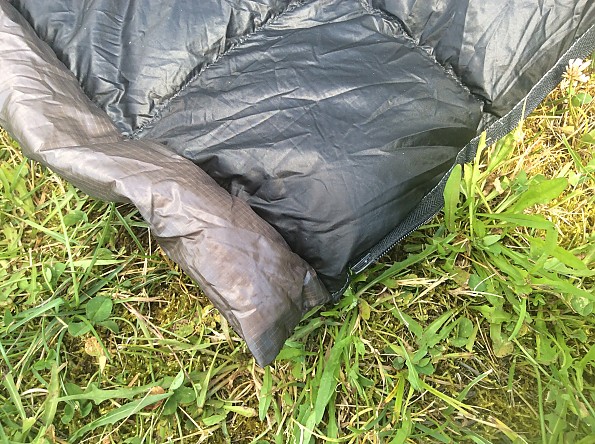 The top and bottom of the bag have drawstrings with cord locks to allow you to close either end for comfort. The bag is warm enough that I often have to loosen the top drawstring so excess warm air can vent. I don't think I've used it in temps higher than the 50s so the foot stays closed up tight.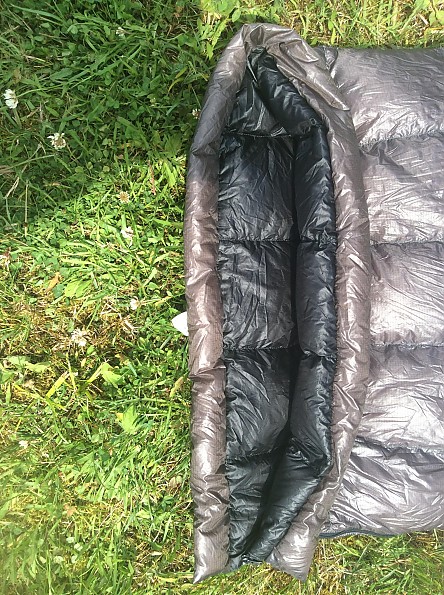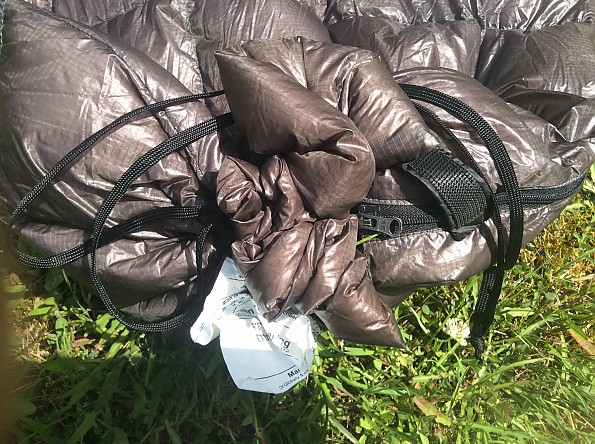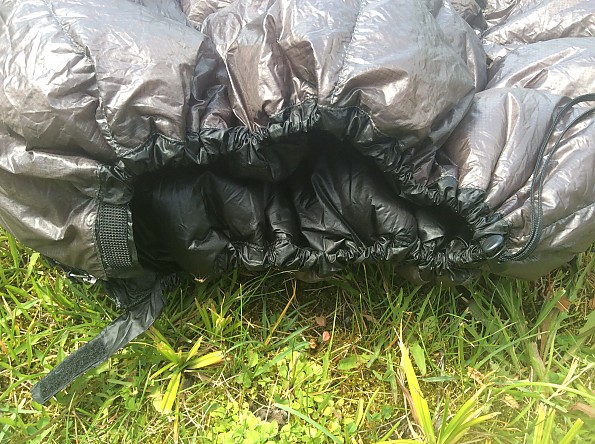 The EverLite is a basic warm weather bag with no bells and whistles. There's no pocket for glasses or cell phone, no glow-in-the-dark drawstring pulls, and no draft tube or collar. I basically bought it for the light weight to stay within my arbitrary 4lb setup weight limit.
The shoulder girth is nice. I could probably get by with 62" with a down jacket or 60" without, but I like having a bit of room to move. I don't regret buying it, but if I was doing it again I'd set a 5lb limit and get a bag with a 10-15F lower rating. I have good/very good down bags I bought prior to buying the EverLite, but this was my first premium down bag and I think I'm hooked!
Update: 30 October 2021

I'm writing this while inside my EverLite, around 1am on my last night using it until next spring. After hearing about the high likelihood of Aurora Borealis tonight AND the forecast calling for clear skies, I hiked up Coburn Mountain to hopefully catch a view of the phenomenon. 
With the forecast calling for temps in the low 40s I brought the EverLite so I could use my smaller pack. It's warm a little below its rated temp, and I always have a Feather Pack down jacket with me as well. No rain? Don't need a tent, just a footprint to go under the air mattress. 
So I'm sure it's obvious where this is going. The temp is 30F, winds 20-25mph, and I'm in the sleeping bag with merino base layer and down jacket. Oh, and an UNinsulated air mattress beneath me. I'm not toasty warm, but I'm far from cold. The tips of my toes are chilly from nature calling around midnight, but other than that I'm "fine enough." 
Western Mountaineering: Good Sleeping Bags For Bad Judgment. I should send that to them!
 Update: 30 October 2021 
Last night wasn't a complete bust even though I didn't see the aurora and was uncomfortable half the night. I'd brought an older digital camera I've had for a while but didn't have cables for, a tripod, and figured I'd give astrophotography a shot. I'd never even used the camera so I was reading the manual I downloaded before it got too dark.
After dinner and putting warmer layers on I made the settings I wanted and opened the shutter. Max exposure time is 16 seconds, I have no idea what the film speed was and f-stop is almost as far beyond my understanding as string theory. But my 2 attempts came out pretty good, I think, especially since I couldn't see anything on the LCD screen or through the electronic viewfinder. I just aimed the camera where I thought it needed to point and locked down the tripod.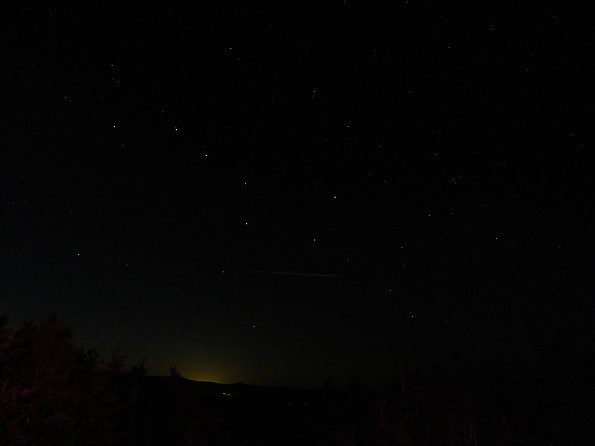 Experience
I've had this bag for about 3 years, with 12-15 nights of use. 5 or 6 nights in my other down bags, for at least 30 years prior I've always had synthetic bags.
Source: bought it new
Price Paid: $330 USD

Great lightweight, adaptable bag. I've used it by itself in warm and muggy summer camping in northwest Arkansas and in the Black Hills on very cool nights. Love it!
Pros
Lightweight
Compact
Adaptable
Cons
Price
Makes me want to buy more WM products I can't afford!
I bought this bag in preparation for a week in the Black Hills, South Dakota. It's my first down bag of any weight and I couldn't wait to use it so I snuck away for a weekend in the heat and humidity of Northwest AR.
For the first night I really didn't need it till 2-3 a.m. and just used it unzipped as a blanket which it was perfect for.  
The second night was cooler, but not significantly, and I was able to manage sleeping comfortably with this bag which is usually difficult for me in the heat. This initially worried me that maybe it wouldn't be warm enough for the cooler nights in the Black Hills.
I packed a Sea to Summit liner to use in tandem just in case I needed it. Of the seven nights I spent in the mountains I only need the liner once after a huge hail storm after which the temp dropped into the 30's. Even then, with the liner and my Therm-a-Rest I was pretty toastie! I had cinched up the bottom and tightened the top around my shoulders, slept in shorts and an Icebreaker lightweight hoodie to protect my baldness and no complaints!  
This is my first down bag and I don't know if I'll ever go back to synthetic bags. I could never seem to get to the right comfortable sleeping temperature.  But this little beauty has done just that in a pretty variable range of temperatures. I am very impressed!  
Can't wait till I get a chance to use it with my hammock!
Source: bought it new
Price Paid: Retail

Version reviewed: 6'6"
Excellent choice for overnight bivy summer summits, bikepacking etc. Best weight-to-warmth ratio.
Pros
extremely lightweight
packs in a pocket!
great warmth-to-weight ratio
versatile
Cons
no hood
got to cinch foot opening tight to avoid cold feet
Have 6.6ft version.Used on Mt Moran in summer, multi-day trip to Big Horns in summer, sleeping in the car in the fall while driving cross country.
On all occasions, I slept in dedicated long underwear, long-sleeve top, and wool socks. Haven't had any condensation issues. Haven't had the need to wash (sleeping in dedicated long underwear, top, and socks prevented stinking up the bag).
I am 5 ft 9 in guy, weight 180 lbs.
Experience
other bags used: MEC Pharaoh down bag rated to approx 17-20°F, weight 1.2 kg; EMS Mountainlight down bag rated to 0°F, weight 1.6kg (used for mid-winter camping in Adirondacks).
Source: bought it new
Price Paid: $349

Your Review
Where to Buy
Help support this site by making your next gear purchase through one of the links above. Click a link, buy what you need, and the seller will contribute a portion of the purchase price to support Trailspace's independent gear reviews.
You May Like
Specs
6'0″
6'6″
Price
Current Retail: $350.00-$370.00
Historic Range: $299.95-$370.00
Reviewers Paid: $330.00-$349.00

Temp Rating
45° F / 7° C (adds 10° F as an overbag)

Total Weight
14.5 oz / 410 g
17.25 oz / 495 g
Fill Weight
6.5 oz / 185 g
8 oz / 225 g
Loft
3 in / 7.5 cm

Stuff Size
5 x10 in / 13 x 25 cm

Origin
Made in USA

Recently on Trailspace