Whiz Freedom Feminine Funnel

#2 in women's Waste and Sanitation Supplies and Devices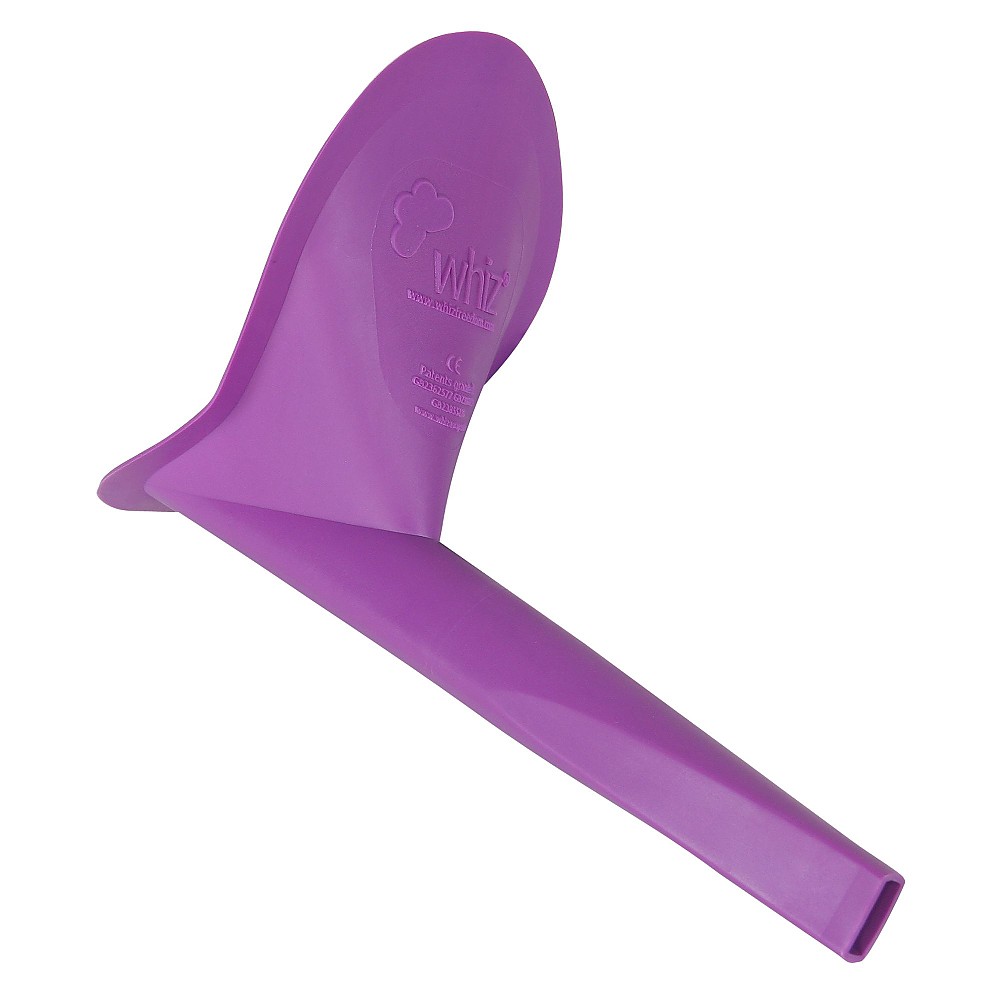 Oh my gosh. Before the Whiz Freedom, that awkward squat when everyone can tell exactly what you're doing—PEEING! You don't want anyone to see you peeing!

Now with the Whiz, I can pee like a man! Sure if someone saw a dude standing with his back to the road it would be assumed he was peeing. But a woman just appears to be standing behind a car!
Pros
Clean, once you get the hang of it.
PEE LIKE A MAN AND NO ONE WILL KNOW.
Pee almost anywhere. Side of the road, a bottle, the beach!
I love this product.
Cons
Messy at first. Take some time to get used to.
Award shape. Do not carry in clear bag.
I have been camping with this three times, but I do recommend practicing in the shower about ten times before you try it outside. 
First time I used it  on a camping trip when I was out on a hike. Some men walked by while I was peeing and gave me weird looks. But I just proudly peed on. A few minutes later I passed them back when they has all decided on a pee break. I gave them a weird look. 
Second time I went kayaking on the lake and had to pee so bad. What do I do? Whiz Freedom that's what. I peed right out into the water while my boyfriend peed in the other direction. No more getting out into the water and getting soaked just to relieve myself. I didn't get any on me and my boyfriend was impressed.
On the way home I had to pee again. We were on the highway with no businesses or houses to stop at. My boyfriend was driving so I told him to pull over. I got right out of that car and peed without a second thought. If a man had been seen standing behind a car it would be assumed he was peeing. But to the drivers driving past, I was just a woman standing next to a car. Amazing!
The third time was a few years later when my boyfriend was now my husband and we had a daughter of 5. I figured before we went camping I would teach her to use the Whiz Freedom, just in case. It was messy at first, because she wanted to press the Whiz right up against herself but I taught her how to use it. We went camping and she used it three times.
One time a woman with three boys walked by us while she was peeing and started giving me crap about how my daughter would fall in love with peeing standing up and not want to pee like a proper little girl.
I explained to her that I would rather have her pee into a bush like a boy than squat and pee on her shoe. My daughter understands that the Whiz Freedom is only for emergencies, and uses our toilet like a girl at home. By the time we were camping, I had made sure that my daughter knew how to use the Whiz so she wouldn't pee all over herself.
It worked all three times, and once, early in the morning before it was light, I heard her grab the Whiz, exit the tent, and use it by herself. She came back into the tent and whispered "momma, I peed by myself!" I asked her where and she said behind the tree at the other side of the campsite. Her father in the other tent then decided it was a good idea for him to take a leak too.
The third time my daughter used the Whiz Freedom, it was when we were on the beach. She was wearing her bathing suit and all of a sudden ran up to me and yelled that she needed to pee. I told her she could use the Whiz in the bushes over there or go out to where the water was above her waist and pee. She replied she "didn't want to give the fishies stomach aches" and chose the whiz. No one was around this time so the soft pitter patter of her pee againt the rocks was uninterrupted by critical moms and screaming children.
When we were on our way home. I used the Whiz into a bottle and my daughter wanted to use it a little later. There was a rest stop in a mile so I asked her if she could hold it and she said yes. I encourged her to sit on the toilet like a girl because most of the time that's what she would be doing. At another rest stop about 3 hours later. She was asleep and my husband and I really needed to go. We got there and woke our daughter up, but she said she didn't need to go. I stayed In the car with her while my husband went to the men's room.
It was my turn after that but there was a line 20 long for the women's room. I went back to the car, grabbed the whiz, and got in the line for the men's room, which only had two men in it. They gave me funny looks but I stayed there. When it was my turn, I slowly approached a urinal. The men around me snickered but I pulled out my Whiz and used the urinal, right in front of their eyes. They were astounded but I just washed my hands and returned to the car. An hour later we got home and my daughter rushed to the real bathroom. 
Now she's 8 and we still have the same Whiz that we originally had. We go camping every year now. And I got my daughter her very own Whiz Freedom so she could carry it around and we could pee at the same time. 
We both love it and I just now got around to writing a review, so it's probably really long but I hope you enjoyed it. I highly recommend the Whiz Freedom.
Source: bought it new
Price Paid: $22.99

Your Review
Where to Buy
Help support this site by making your next gear purchase through one of the links above. Click a link, buy what you need, and the seller will contribute a portion of the purchase price to support Trailspace's independent gear reviews.
You May Like
Specs
Price
Historic Range: $3.79-$24.95
Reviewers Paid: $22.99

Material
Latex-free thermoplastic elastomer

Dimensions
6 in total length, 4 in wide cup opening

Recently on Trailspace