Wild Things Custom Insulight Jacket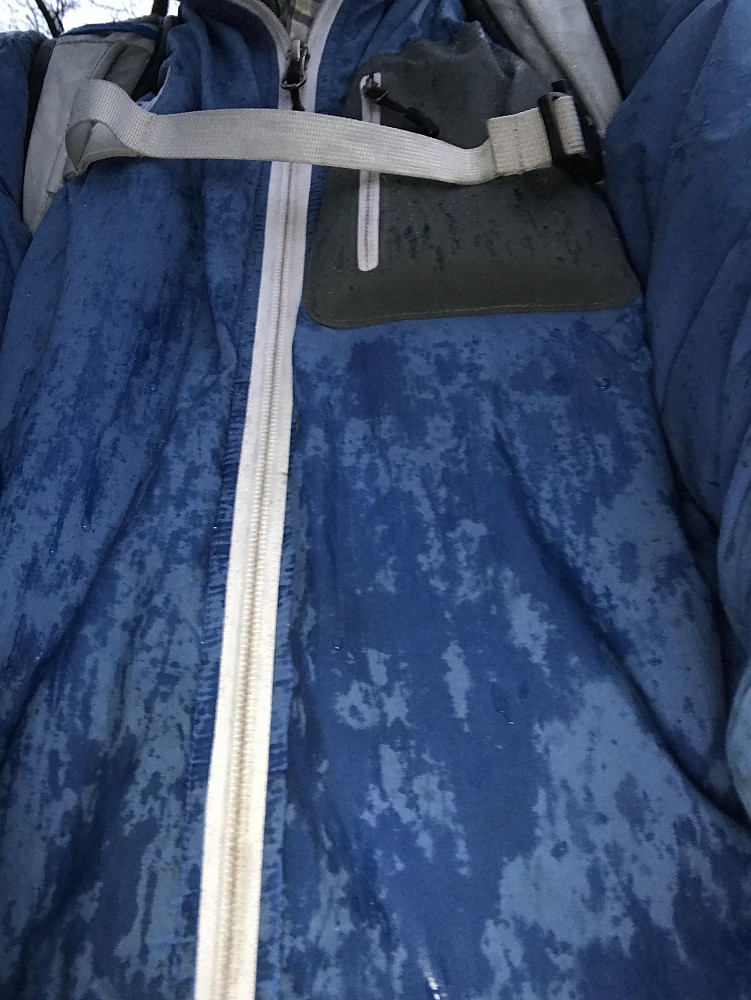 Wild Things (WT for short) is offering its customers the opportunity to custom design a synthetically insulated jacket. This is a hard jacket to summarize as you could design it for an infinite number of configurations and uses. I designed mine as a belay jacket, in other words the last insulating layer for stops in activity. Keep this in mind when reading this review as my expectations are shaped and influenced with this use in mind.

The jacket I ordered, in a size large, does not not fit over enough layers to be able to use as intended. I have began to use it as a mid-layer in extreme cold, or a mid-layer in mild weather where it has excelled.

The design process is easy, yet thorough, and allows for fool-proof customization as you are guided through a step by step process to creating your very own jacket. An accompaning photo makes live updates as you make changes to the product.


-Supplied by Wild Things for testing for Trailspace Review Corps
(my jacket as designed costs $290 US)

Pros
Design process
Hood
Interior mesh pocket
Epic Praetorian fabric
Made in the USA
Cons
Fit
No insulation behind zipper
About me:
I am a 6 foot male, 165 lbs, 38 inch chest and a 33 inch waist. I am a large in most clothing and generally prefer a looser cut over a tight performance fit.
Uses:
I was able to test the jacket for numerous applications (ice climbing, hiking, skiing, mountaineering) over a 2 month period. It did multi duty as an insulating mid-layer, rain jacket and outer layer on different occasions. I also wore it as my daily jacket to become very familiar with its strengths and limitations. Temperatures ranged from -40° (with windchill) to 10° Celcius, wind speeds up to almost 100 mph (160 km/h) and elevations from 75 metres (246 ft) to 1552 meters (5091 ft).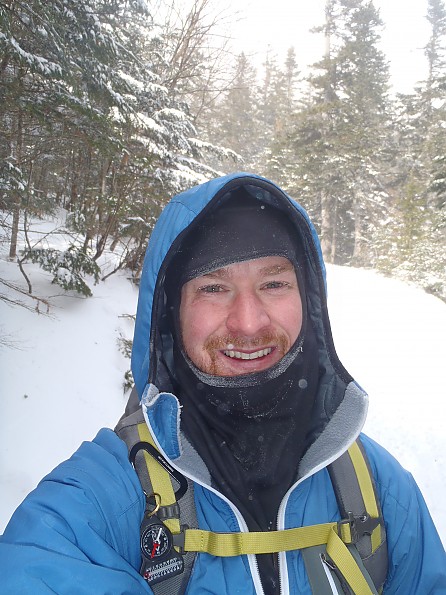 My Jacket (number of customizations, followed by my selection):
Shell (3 fabrics): Epic Praetorian
Colour (17 colours): Delft
Side Panels (3 fabrics, 12 colours): Polartec Wind Pro (grey)
Cuffs (2 fabrics, 8 colours): Schoeller soft shell (grey)
Liner (6 options): 4 oz Primaloft one
Hood (hood or fleece lined collar): Yes, please!
Pocket (left, right or none): Left side (grey)
Zippers (12 colours), Logo (8 colours) and Customization (8 colours): White
Final product weighs 26 oz and packs down into a 5L stuffsack.
Ordering and Design Process: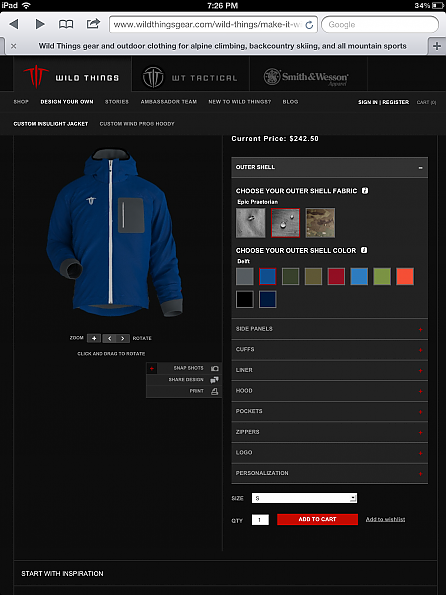 (photo used courtesy of Wild Things)
The design process is the highlight of this jacket, no question. The user interface has been carefully thought out and is easy to navigate. I found the software to be quick and responsive on both my Ipad and my desktop computer. There is an endless number of possibilities for you to customize, I was amazed. This isn't merely "what colour do I want, and do I want a hood?", although those are options.
The first step alone, shell fabric, you have 3 choices — Toray P510, Epic Praetorian, Multicam — and 16 colour options. These fabrics have differents performance attributes which allows you to create a highly specialized piece of gear. The fact that you can hover over a choice with the mouse and it will give you product info helps you make an informed decision without having to search the web for more information about that fabric.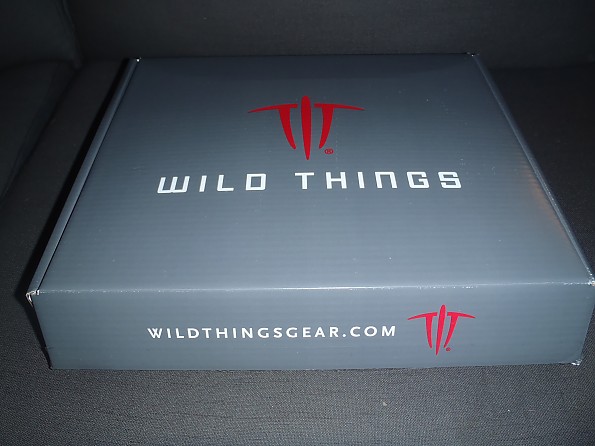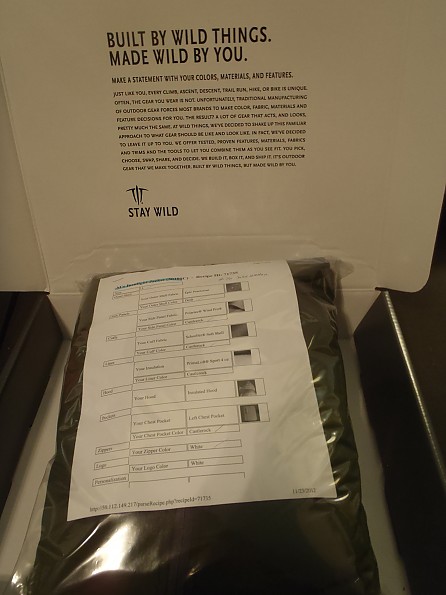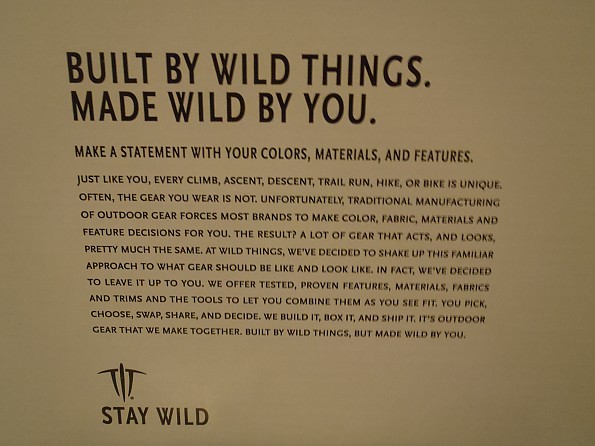 WT says that the jacket will be made and shipped to you within 14 days. Pretty incredible claim. Is it true? Yes, well kinda.
I ordered my jacket on November 21st and recieved it on December 10th, only problem was it wasn't my jacket. It was a 2XL dark green, nice colour for what it's worth, with no hood. Far from the one I ordered. I promptly emailed them the same day, as I imagined someone else, somewhere must have received mine. Not hearing a response over the next two days I emailed again on December 12th. This time I received a response within an hour. I explained what had happened — wrong jacket, my order number, etc.. and was given a promise to rush my jacket along as well as being able to keep the incorrect jacket. I received my jacket on December 21st.
So I can say that I think the claims of two weeks for a custom jacket is accurate, especially given the fact that mine had to cross the border, and customs, and still made it in their time frame. I'd like to think that my first email slipped through the cracks somewhere and the second response time will be the more accurate measure of the WT customer service. Especially given a product like this the customer service is going to become increasingly important.
For all you socialite outdoorsmen, and women, WT has added a "Share Your Design" feature which allows you to show off your fashion prowess immediatly via text message, Facebook, Pintrest or Twitter......OR, in my case, confirm with friends and family that I havn't just designed the ugliest piece of clothing since Lady Gaga's meat dress!
Fit:
This is my only major gripe with this jacket. I took all my measurements and compared them to the fitting chart on the WT website, the size in brackets is what the WT size chart lists me as: 37" chest (small), 33" waist (medium), 39" hip (medium), 15.5" neck (small), 34" sleeve (medium). On most measurements I came up a medium, two even a small. Given my preference for clothing and my intended use I sized up to my regular large.
WT says on its website that the sizes are designed with layering in mind. Hopefully you aren't trying to layer this over something bulky. I can fit a thin synthetic long sleeve shirt with just enough room for an EMS Bergalene or thin fleece, nothing else. I would be very hesitant to wear any down sweater, etc underneath as it would compress the insulation.
The length of this jacket is significantly short as well, 2-3 inches too short in my opinion. If you are sitting, leaning over, or reaching the jacket will lift up exposing your lower back to the cold wind you so bitterly hate. I have found the width, (side to side), and depth, (front to back) to be a snug but comfortable fit.
Keep this in mind and SIZE UP, maybe even two sizes, from their chart if your intended uses are similar to mine.
Cuffs:
The cuffs are made with Schoeller softshell. The inside of the wrist portion is 3 inches long, which is 1 1/4 inches longer than the top side. They fit snugly around my bare wrist which is approximatly 7 inches around. While I do like the durability of a softshell here, I think I would prefer an elastic cuff, or a hook and loop closure. My reasoning for that is that I can not fit gloves under the cuff of the jacket. Not a problem when you have a large chunky glove, like a gauntlet style, but when you have a more fitted glove with a tight fitting wrist, like my OR Stormcells, you aren't able to get them under which creates a small seperation and some cold wrist spots. I'd be interested to see if a wrist gaiter is added as an option as well.
Zipper:
The zipper runs smooth and has never snagged on me. I do have a couple issues with it though. I chose a white zipper. While it looks great and contrasts nicely, it shows dirt easily. My bad! Are the kids still saying that?
On a more function note, there is no insulated backing behind the zipper. I have found wind speeds as low as 30 km/hr are able to penetrate the zipper. While the rest of the jacket is toasty warm it is all null and void when the heat is being ripped away from the middle of your core. Like a hot knife through butter...but in reverse! A simple fleece, or better yet primaloft insulated, backing would remedy the problem.
The zipper pulls are also woefully small, at 1 inch they are hard to operate with gloves on, let alone cold hands. As a winter jacket I would have hoped for WT to include a beefier toggle. Personal preference: I also would have liked to see a belay zip, possibly as an option for a couple extra bucks.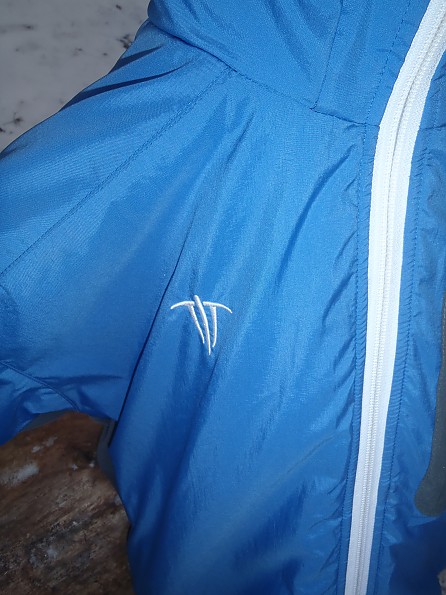 Hood: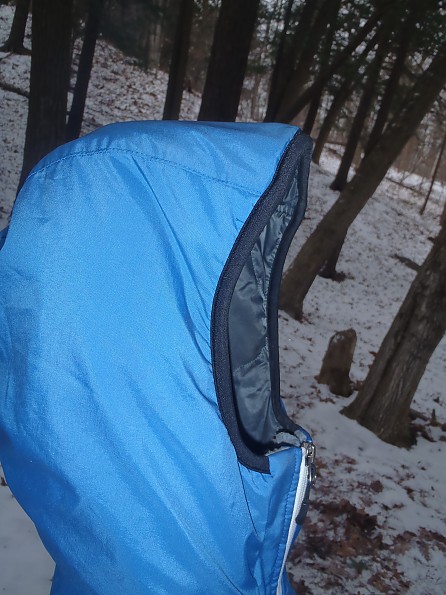 I chose to add the insulated hood, all balding men or short haired people know how much heat you can lose so very quickly. This hood has an elastic cuff around the face and a fleece lined chin guard. Although there are no adjustment points to the hood I never once missed them. The elastic cuff snugs in nicely without cutting off any peripheral vision. There is also an elastic running vertically along the back of the hood to allow it some flex and the ability to move with you.
WT describes it to fit as "comfortably over your head and snugly over a helmet." While I would agree with the first part I have to disagree with the second. Can I fit my helmet under, yes. Can I turn my head while wearing it, no. While fully zipped up I find it frustrating trying to turn my head with a helmet on, the problem is remedied by unzipping the top a little though.
Personally this isn't a negative for me. In fact I wish all hoods fit this way, but that is because the majority of my uses don't require a helmet, but keep it in mind if yours do. I have also found that the hood cuts off a lot of hearing. With a touque underneath and the hood up I can barely hear anything. It is significantly more than any other hood I've ever worn. Why? I don't know. I could see this being an issue if your intended use is a crowded ski hill where you need to be alert.
Shell:
Aside from the design process the best part of my jacket is the shell fabric: Epic Praetorian. It is described as a "70 denier, 100% Nylon fabric made with Nextec's patented encapsulation process. Weather resistance is in the fibers. Fibers are encapsulated for a waterproof performance. No coatings or laminates to wear off, or wear out."
All the marketing mumbo jumbo aside, this fabric performs.The most suprising, to me, was the water resistant qualities. I wore this jacket for a bitterly cold downpour, at 3 degrees Celcius, for 3 hours during a hike. Not a drop got it. Colour me impressed. The zipper is not waterproof, nor are the seams taped but the rain was unable to penetrate. It was coming from behind me so I'd be interested to see other people's results on that.
The added benefit of the encapsulation process is the durability. I have purposely taken this jacket into areas bushwacking and tight jams through rocks. The only thing that failed was me.... in my attempt to find the fabric's breaking point. Jacket still looks new, my hands however do not.
Other:
Huge interior mesh pocket. It is big enough to keep a 1L water bottle AND a pair of gloves comfortable. Simply cavernous.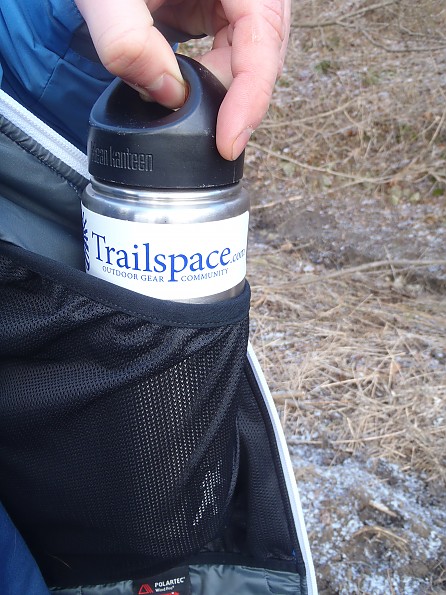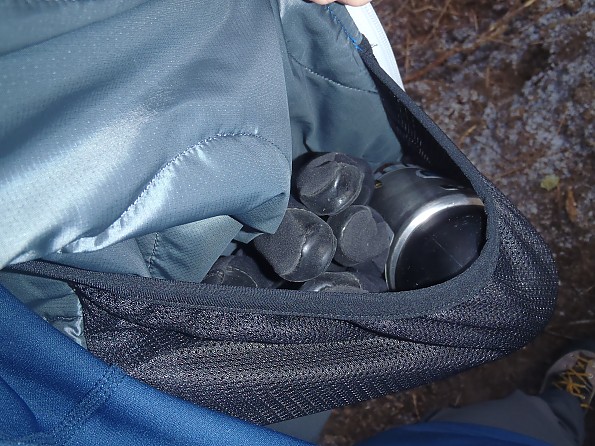 The tricot lined handwarmer pockets are a good size as well, same small problematic pull tabs.
Made in the USA; supports local ecomony, increased quality control, reduced shipping time and environmental impact.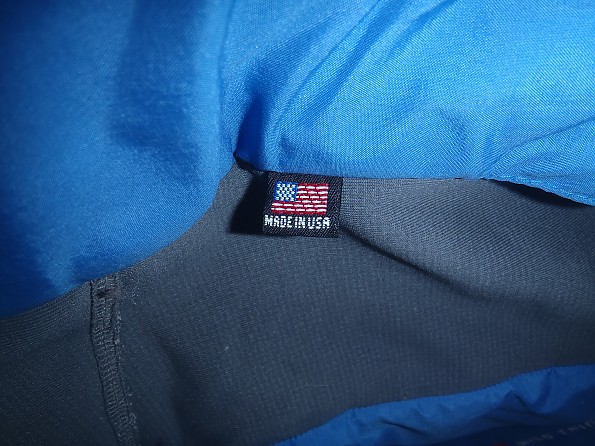 The insulation doesn't compress under backpack straps, this does however apply to the whole jacket. It doesn't pack overly small and is certainly not UL but I didn't design it to be, in fact, I chose every heavier option possible!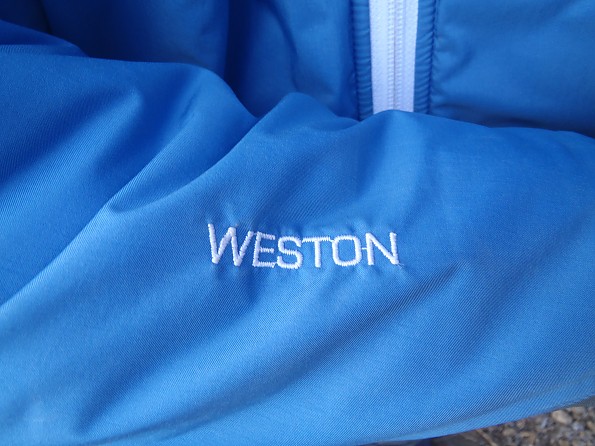 WT is continuing to update and progress their custom line.When I designed my jacket you had only the choice of 2 or 4 ounces of Primaloft One, now however you get to choose what type of Primaloft's 3 offerings—Eco, Sport and One—as well as the amount. There is also talk of their other highly regarded products hitting the custom track, possibly a shell and a pack. Let's hope so, the idea of a custom pack intrigues me the most.
Update (02/18/13): I had a chance to talk to some staff from WT on a recent trip to their North Conway store and they confirmed that the Mountain Guide Jacket and both the Andinista and Guide pack will be coming!
Conclusion:
This is a quality, durable, insulating jacket made and produced entirely in the USA. In my experience it has become quite the utilitarian jacket providing many different functions. The two situations I believe it excels in are: cold, wet weather (5C to -5c) as an outer layer, and extreme cold (-20C and below) as a mid-layer.
There is some room for improvement, the most important being the overall fit of the jacket and insulating the zipper. To further progress the custom program I would love to see a belay zip and wrist gaiters added.
It is competitively priced, made with top quality materials and with an eye for perfect construction. I would buy this jacket again, just in an XL as I feel this would address many of my fit issues.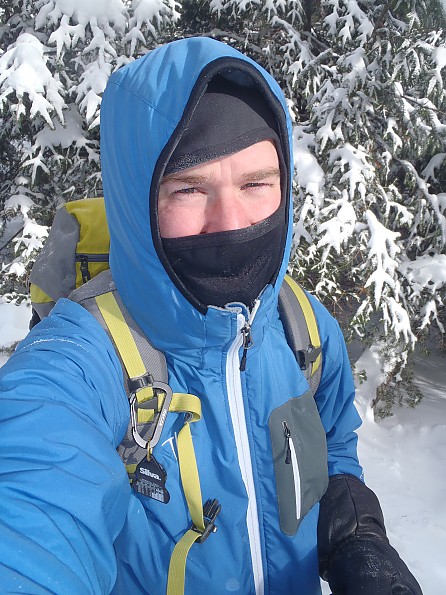 Please feel free to ask any questions and view my profile for more photos of the jacket.
-----------------------------------------------------------------------------------------------------------------------
UPDATE (08/30/14)
This is bar none the most veratile jacket I own, and I own many! I've had conversations with the people at Wild Things a couple times, both in their old brick and mortar store and over the internet, and the one unexpected that still amazes me is its use in cold, cold rains — those times when you don't want take a shell and an insulating layer.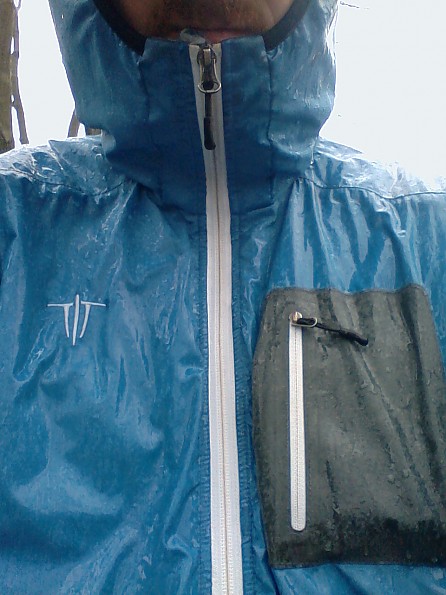 Photo was taken aften a butt cold, non-stop rain shower last November (I believe). The Epic Praetorian shell was able to keep up with the dedicated rain pants I had on.
I'm changing my review to 4 1/2 stars rather than 4 based solely on the fact that I've used this jacket more than I ever expected to, and absolutely love it. I've reached for it in all four seasons, for two years now, and my other jackets are beginning to feel neglected.
------------------------------------
Update Feb 2017
Still wearing this jacket all the time. It's been through hell and back and is starting to look a little worse for wear, and the performance is starting to deteriorate, but it's been used almost daily for four straight years. Compared to the picture above you can see the fabric is now starting to absorb some water, rather than beading it off.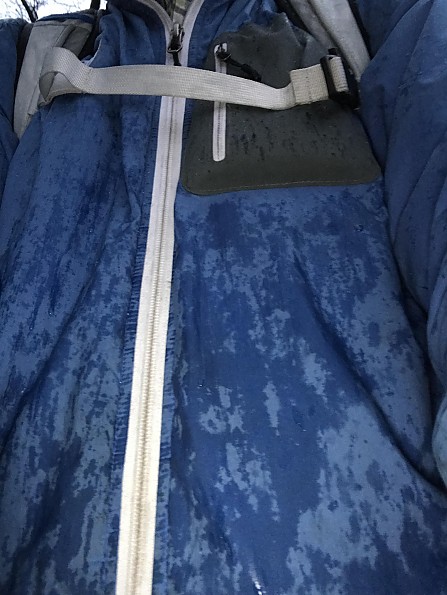 I would buy another one of these in heartbeat if Wild Things ever brings them back.
Source: received for testing via the Trailspace Review Corps (Sample provided by Wild Things for testing and review)

Your Review
Where to Buy
Help support this site by making your next gear purchase through one of the links above. Click a link, buy what you need, and the seller will contribute a portion of the purchase price to support Trailspace's independent gear reviews.
You May Like
Specs
Men's
Price
Historic Range: $49.95-$136.99

Women's
Price
Historic Range: $39.95-$229.00

Recently on Trailspace