Wild Things Epic Hooded Windshirt

The Epic Hooded Windshirt has been discontinued. If you're looking for something new, check out the best wind shirts for 2023.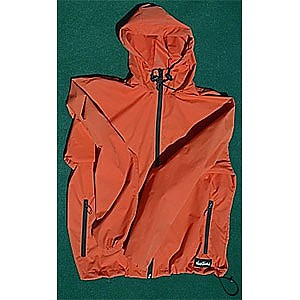 My Wild Things wind shirt served me well in Antarctica, among other places where I have used it. Windshirts are a frequently overlooked clothing item when headed outdoors, despite the fact that they can be worn over fleece, softshells, sweaters, and other clothing to block wind while still providing lots of breathability. They often provide some water repellency adequate for a light drizzle and dry rapidly. They are usually very light and can be stuffed readily in a pocket (including their own pocket). While I have a few minor quibbles, I rate the Wild Things hooded wind shirt at 5 stars.
Pros
Light
Windproof up to 40 knot winds during testing
Very breathable without windchill
Full zip front allows good ventilation control
Stuffs into its own pocket
Epic fabric provides some water repellency
Hood fits over helmet
Pocket design provides 2 large inside pockets as well as the 2 hand pockets (map or snack size)
Cons
Heavier than some similar windshirts from competitors
Thin fabric can be snagged in dense brush
Over the years, I have had various windbreakers, although I had fallen into the habit of using my Goretex and eVent expedition parkas as the do-all outer shells. I found, as many others have, that even the best "waterproof/breathable" fabrics are  not all that breathable when carrying a full expedition pack, even with the pit zips fully open.
When I was in Antarctica in 2006, my friend Damien Gildea pointed out to me that in places like Antarctica where the temperature is so low that you do not have liquid precipitation, you don't need the waterproof qualities. A light windshell is all that is needed. I realized that I had been using light windshells when doing bike rides in cold, but dry weather for years. I had a couple of old windshirts and windshells in the closet. I tried these out in several winter trips in mountainous areas in temperatures into the sub-zero range, using fleece and puff (down and Primaloft light jackets and vests) for insulating layers, finding the wind shirt worked well to cut wind chill, while the breathability kept overheating to a minimum during the hard climbs with a heavy pack full of my share of climbing gear, sleeping bag, food, stoves, and tent.
Details
Wild Things is a company which has been around for many years. They are based in North Conway, N.H. I have a number of their items including an eVent shell and bibs that I have used on Denali in Alaska, Kilimanjaro in Africa, several Andean peaks in South America, and Mt. Vinson in Antarctica, as well as winter snowshoe and backcountry ski trips.
I have found their gear to be well made and durable, plus their sizes fit me pretty well. So I called their shop, finding they were having a sale, and ordered their Epic hooded windshirt. Epic is a fabric that has been around for a while and has good windproof properties, plus is fairly water repellent. It is not waterproof, but that is not what I was looking for. The photo above wearing the Wild Things wind jacket is on the summit of Vinson in December 2010.
I should note that Wild Things did as many outdoor gear shops have done, namely, they took on several military contracts a few years ago. This slowed their non-military production for a while. Currently, they seem to be pretty well caught up, plus (for you hunters and fans of "camo"), their military production shows up in their "Technical Gear" section. Those of us who do expeditions in cold, windy, high altitude places tend to prefer high-visibility clothing.
Details of testing
I wore the windshell during many outings, including month-long expeditions like my 2010-11 return to Antarctica, winter camping during cold but dry spells in the Sierra, Cascades, and Wasatch, as well as bicycling during the winter months. I did encounter some spells of drizzle, despite trying to stay with dry spells, and encountered lots of cold winds with measured windchill factors well into the subzero range (on Vinson, I had to spend time rebuilding our wind-walls in 40-50 knot winds with the air temperature in the -20 to -40°F  range). I did a couple of ice climbs in which I needed my helmet, with the hood up in the wind when belaying.
The sewn-on hood fits over the helmet, though not as completely as my wpb shells. There is an elastic drawcord to tighten the fit around the helmet or your head when not wearing a helmet. As is common for windshirts, there is no storage pocket for the hood. Only one of my windshirts, an ancient REI one, has a place to stash the hood. But it is easy enough to just tuck the hood into the back of the neck area.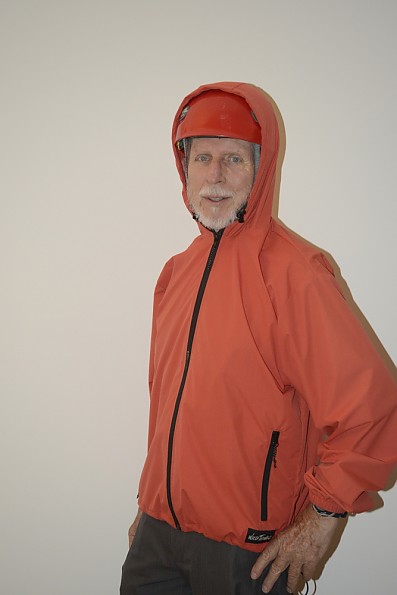 The jacket can be stuffed into either pocket. The zippers on the pockets are "outside" zippers only, without a pull on the inner side for either pocket. This makes it a little less convenient to close or open the pocket once you have stuffed the jacket, a very minor point.
In trying to keep weight to a minimum, many backpackers and climbers will omit a wind shirt, making their gtx shell do double duty. However, the breathability and resulting increased comfort during steep climbs with a heavy pack, or just cutting the wind during a rest stop more than make up for the extra few ounces.
There is also a drawcord elastic in the skirt of the jacket, which helps keep the cold wind from  blowing in.
Conclusions
The Wild Things eVent hooded windshell performed as advertised. It kept the wind at bay, but breathed well enough during spells of carrying a heavy pack up 3000 ft of fixed line. The hood could have been a bit larger for the Petzl Ecrin helmet I used, though it fits better on my newer Petzl Elios. The shell stuffs easily into either of the hand pockets, almost too easily, since it could be a bit more compact when stuffed.
I also have a Patagonia Houdini (reviewed here on Trailspace as well) that stuffs more compactly). I have also carried folded maps in the inside "open pocket" spaces, along with some snacks to keep handy for refreshment stops. The wind shell being an outer layer, though, gorp and candy bars tend to get a bit on the "hard to bite into" stage in really cold weather. 
Source: bought it new
Price Paid: $50 (on sale)

This jacket, like windshirts in general, need to get more attention from consumers. They offer most of the weather protection of a hard shell, but their greater breathability makes them wearable in a much wider range of temperatures and exertion levels.
I have used this jacket for more than a year in a wide range of conditions. You might want to also read my review of the Wild Things Epic Halfzip Windshirt - a garment to which I award 5 stars. Many of those comments apply to this jacket, and potential buyers should read that review for more detail on the Epic fabric, but I only award the hooded version 4 stars for these reasons.
-- Workmanship Issue: Unraveling edging and loose threads. The cut and assembly of the jacket are somewhat sloppy.
-- Oddly enough, the jacket is overfeatured for the fabric. The fabric is thin, light, and has a very soft hand. It wrinkles and sometimes snags under the force needed to slide the waterproof zippers. The jacket really "wants" to be lighter and more minimal, which describes the halfzip version.
It's worth noting a sometimes handy feature. The waist pocket construction results in a open vertical pockets on the inside of the jacket - pockets that are surprisingly large. They can take a surprisingly large trail map without inconvenient folds.
Fabric: Epic woven polyester
Fill: N/A
Price Paid: $96

Your Review
You May Like
Specs
| | |
| --- | --- |
| Price | Reviewers Paid: $50.00-$96.00 |
Recently on Trailspace