Wilderness Experience Latok 1

Top 25 in unisex 3-Season Synthetic Sleeping Bags
Wilderness Experience is no longer in business, and the Latok 1 has been discontinued. If you're looking for something new, check out the best 3-season synthetic sleeping bags for 2023.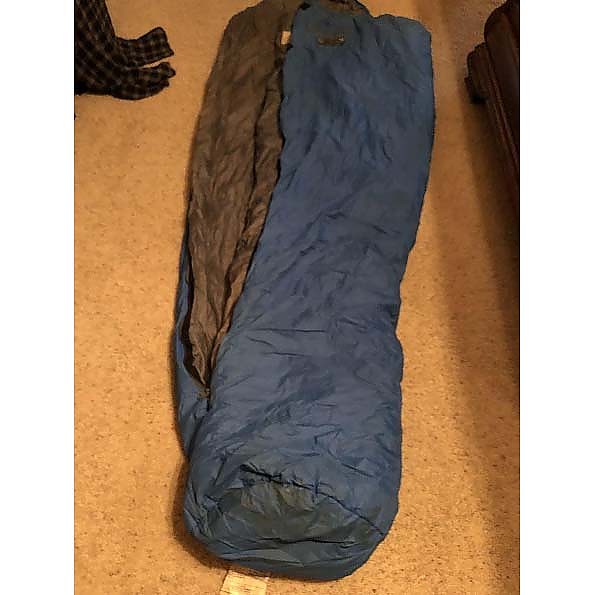 The Latok was the first non-quilted Gore-Tex sleeping bag ever made. I designed it for Jim Donini's expedition to Latok 1 in Pakistan in the late '70s. WE didn't make very many, so enjoy your Latok as much as I have. Cheers Greg Thomsen co-Founder Wilderness Experience.
Pros
Seamless weather protection
Perfect for ice, snow, and wet conditions
The Latok is a very warm sleeping bag because the outer shell is a non-quilted layer of Gore-Tex fabric—so no heat loss through the quilt lines. There is also a layer of aluminized foil sandwiched between the Polarguard insulation layers that reflects heat back into the bag.
Very light for a synthetic bag and it is cut a bit slim to reduce additional weight-to-warmth ratios. Well ahead of its time, the Latok could be reintroduced today over 35 years later and it would probably win awards for innovation and performance!!
Source: Designed it for Jim Donini's expedition to Latok 1 in Pakistan in the late '70s

The author of this review designed the product.
Thirty-four years later the bag is in excellent shape. Now November 2018...Highly Recommended.
Pros
Luv the Gortex and heat this bag can hold
Cons
Just kind of hard to clean after a lot of use.
So I bought this bag back in the early '80s when I lived in Minnesota as it was rated for -20 degrees I believe. Paid $220 for it new then from Midwest Mountaineering. Slept in my Chevy Van for awhile during -20 degree winter and this thing kept me comfortable.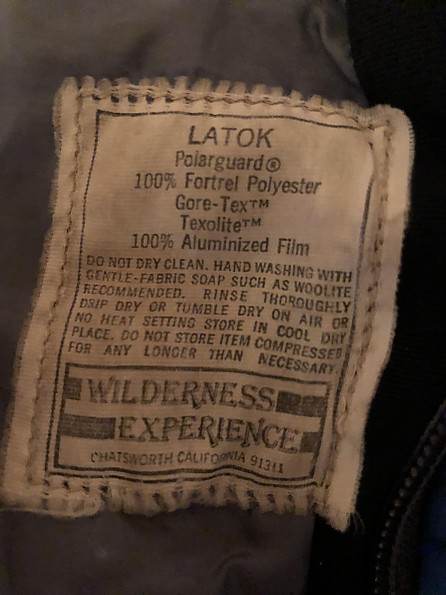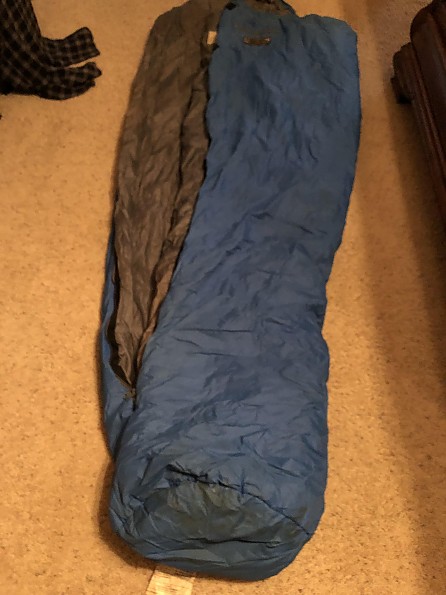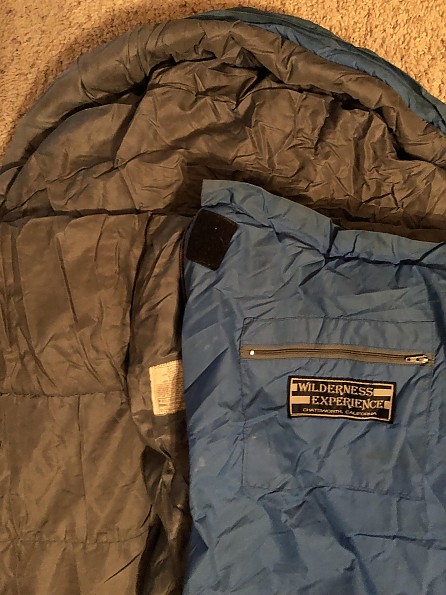 I'm not a climber or anything—just like good gear and to go camping occasionally. Decided to take this thing out of storage and air it out some. Then decided to look up to see if there was any info on this bag—not much out there so I decided to put my two cents worth in.
Experience
Great winter bag—used it for quite awhile in severe Minnesota winters.
Source: bought it new
Price Paid: $220

Purchased the Latok as my first mountaineering bag in 1981 and I still use it today (2018).
It has saved me from peril on more than one occasion, also I've slept directly on snow in this bag and was completely comfortable! It's kept in near perfect condition. The quality of Wilderness Experience products are second to none.
Pros
Lightweight and warm!
It has a zipper stash pocket on the top
Stuffs down to a very compact size
It's Gore Tex!!
I grew up in Central Oregon in a little town named Bend.
In 1981 I got my first job at Discount Mountain Supply where I worked and spent every penny I made...on Wilderness Experience and Lowe products. I was obsessed with climbing and climbing gear! The Latok 1 bag by Wilderness Experience has been my go-to bag for cold weather since I purchased it brand new back in 1981 and I still use it today (2018). It has been absolutely bulletproof!
On what was supposed to be a weekend trip that became a....I survived four days in it during a relentless winter  blizzard on Broken Top Mountain in the High Cascades! The bag kept me warm and dry while my tent literally collapsed around me from the weight of the snow..almost 5 feet of it.
From that moment forward I never have considered a different winter bag and it's been through hundreds of climbing and backpacking trips. Even after 37 years the zippers still work perfectly and the bag still hold 7+ inches of loft.
The little stash pocket on the top is also one of the best things ever on a sleeping bag. Middle of the night, high up on the side of a mountain, and where did I put my little flashlight? Oh yeah in the pocket about three inches from my nose! Used to keep melatonin in it also, for those nights I just couldn't sleep.
The only real failures have been the drawcord tuber came loose on the hood, which I just sewed back into place, and the velcro flap at the top of the zipper came loose as well. Again stitched it up and good to go! At this rate the bag will outlive me!
I have bags from North Face, Ascent, Wilderness Experience, and Sierra Designs...all great bags. But if you want a winter bag that goes the distance find yourself a Wilderness Experience Latok1 sleeping bag.
I highly recommend it!..
Curtis Page 
Bend, Oregon
Source: bought it new
Price Paid: $325

Very good bag. Zipper, loft, and Velcro all are in excellent shape.
I just spent three days in the Ozarks, temp in the low 30s, and all was good. The bag was bought at a garage sale by my wife. Any additional info about Wilderness Experience I would like to hear from you.
Design: Mummy
Fill: Fiber
Temperature Rating: ?
Weight: 3lbs
Price Paid: $12

Your Review
You May Like
Specs
| | |
| --- | --- |
| Price | Reviewers Paid: $12.00-$325.00 |
Recently on Trailspace