Yakima SweetRoll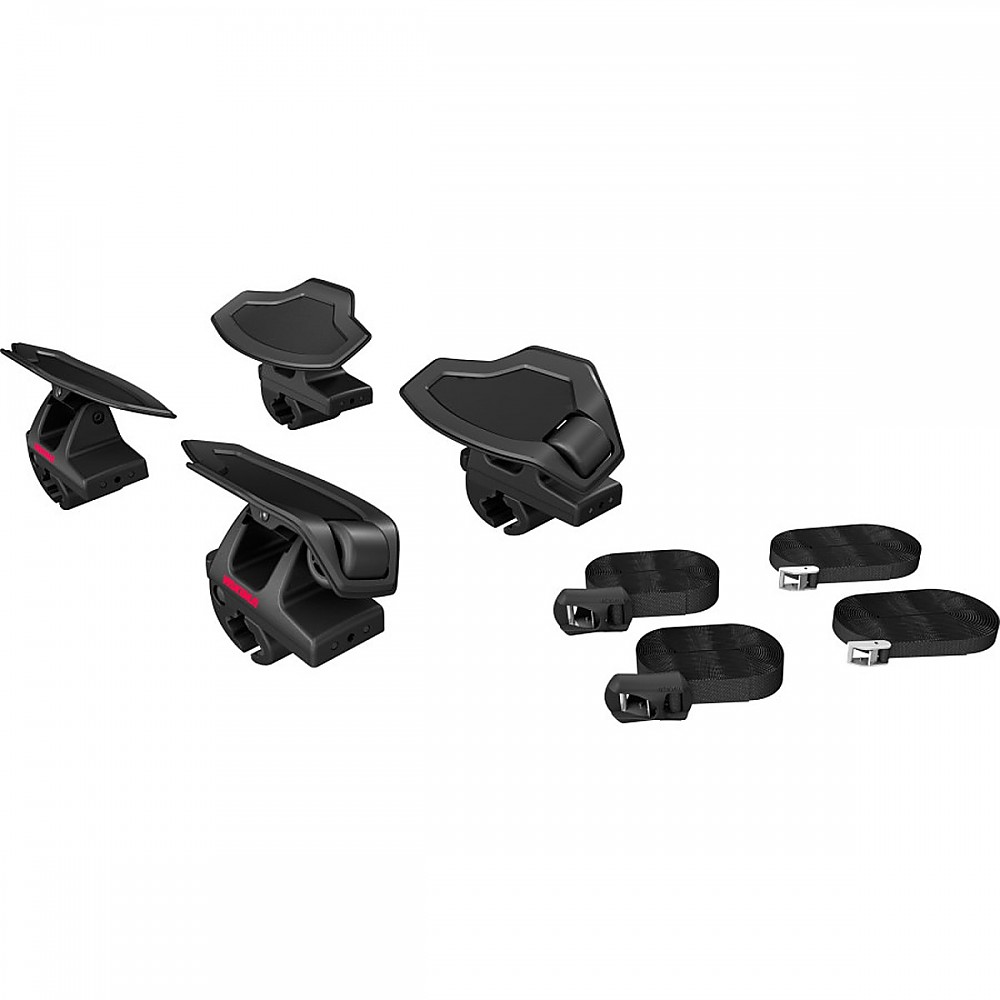 Specs
Price
MSRP: $239.00
Current Retail: $249.00
Historic Range: $239.00-$249.00
Reviewers Paid: $75.00

Weight
7.71 lbs

Dimensions
L 12 in x W 11 in x H 11 in

Minimum Crossbar Spread
24 in

Reviews
1

review

5-star:

0

4-star:

1

3-star:

0

2-star:

0

1-star:

0
A solid kayak carrying solution that just may make loading and securing your kayak a breeze.
Pros
Small
Secure
Lockable
Easy to use
Aesthetically pleasing
Cons
Expensive
Rotates on round bars
25% of kayak weight concentrated in small area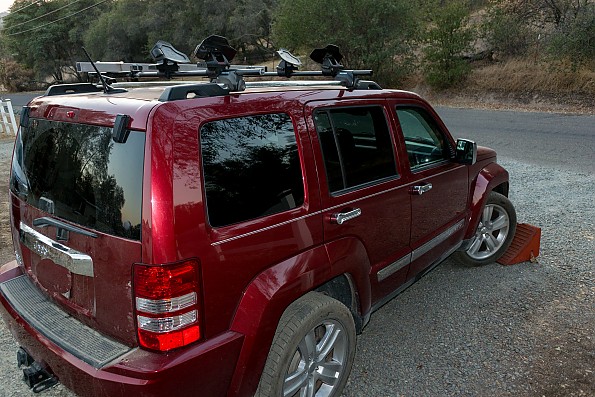 Yakima is a name synonymous with quality roof racks and accessories. They've been providing solid solutions for well over 30 years and you can learn more about their story here https://explore.yakima.com/about?_ga=2.941745.1892425786.1603854147-1282894828.1603854147
Just as there are many different types of kayaks, there are also many different types of mounting solutions for car topping. Every solution is not going to work well for every boat, rack and vehicle combination. You must consider all three of these things, and your own physical limitations, in order to best meet your expectations.
Yakima's SweetRoll is designed to allow you to easily roll your kayak on to your vehicle's roof from behind the vehicle, and then gently cradle it at four points with self adjusting saddles. The only specification or restriction given by Yakima is an 80-pound weight limit. I deducted a half star for that because I feel Yakima should provide a little more guidance concerning what these saddles are best suited for and the limitations thereof.
To use them you'll need to be able to comfortably lift your kayak above your vehicle's roof, and your rear bar will need to reach far enough back to allow the front of your boat to easily reach the rear saddles. If you have a heavier boat, you may need to commandeer the aid of a second person.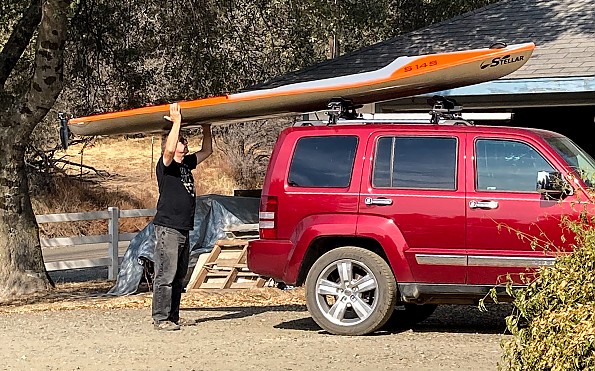 In practice it works very well, and tilting the back of the kayak down a little makes things go even more smoothly. The saddles are spring loaded and move in four directions, automatically adjusting to the contour of your boat. They have a soft smooth surface that's not too grippy and they're gentle on your hull.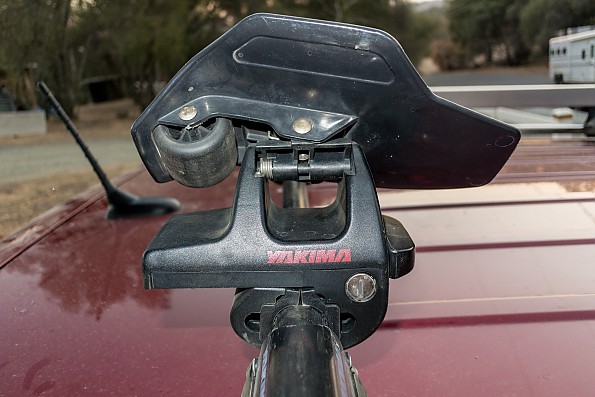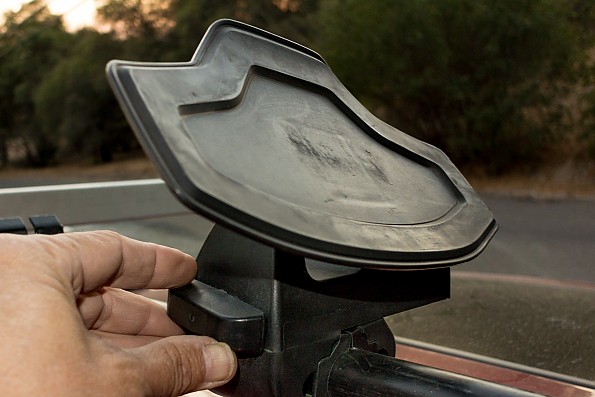 As with most such products, the SweetRoll does not come with locks and this seems to rub a lot of people the wrong way. The thing is, selling them with preinstalled locks would give you another key to deal with. By ordering your locks after the fact you have the option of matching the locks to the key you already have for your bars, bike rack, etc. That way one key fits everything.  I believe that in this case, choice is a good thing. 
I purchased my SweetRoll used on Craig's List about five years ago. I absolutely love it. It basically lives on my Jeep and is used year round. In all that time and whatever came before, it has continued to function as new and still looks fine. So I can say with full confidence that it's well made and quite durable.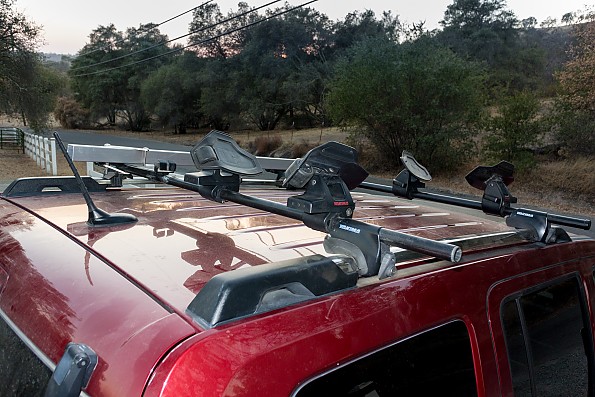 I've carried a variety of kayaks on them ranging from roto-molded kayaks that approach the stated weight limit to composite sea kayaks and surfskis. They have performed admirably in all cases, though they do excel at lighter and more narrow boats like sea kayaks. I suspect it's no accident that Yakima's instructional videos feature this kind of craft. I use mine primarily for that kind of kayak. I only use them for fatter, heavier boats when I have no alternative.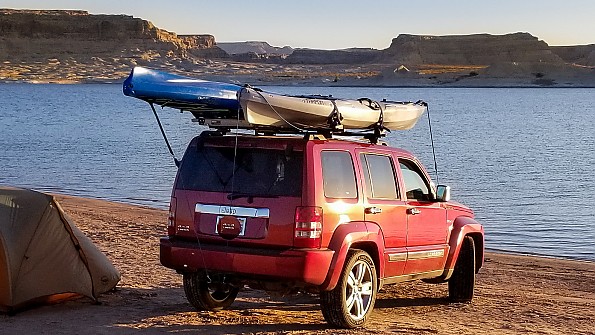 It's important to adjust the width of the saddles on your bars so that they contact your hull at its stiffest and strongest locations, particularly if it's a roto-molded kayak. Though I've had no such issues, I can see where oil canning could become a problem for heavier roto-molded kayaks if the saddles are not placed carefully; especially in higher temperatures. Remember that all of your craft's weight will be concentrated in those four small areas. While the SweetRoll does work for these boats, I personally believe that there are better options available. My vehicle is tall and I'm not fond of lifting 70-pound kayaks over my head by myself. You may feel differently.  
Strapping your boat down couldn't be easier. The included cam buckle straps simply wrap around the base of the saddles, under the bar, and over your boat. The buckles have rubber housings around them to prevent any damage. Bow and stern lines are also included.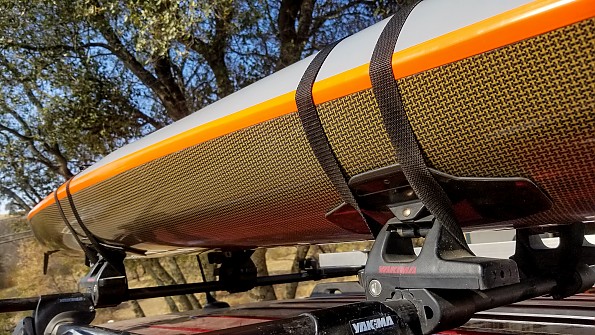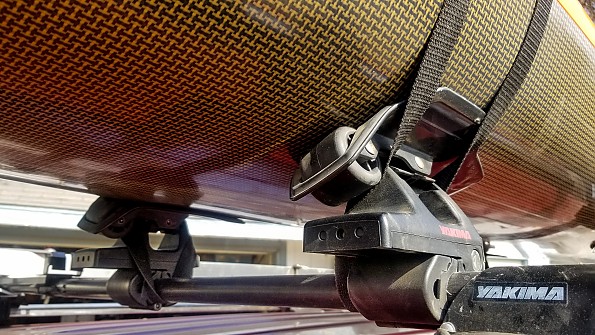 The SweetRoll saddles are made to attach to just about any kind of bar. Square and aero bars should fit into the jaws easily as they are. Round bars will require the included adaptor be used.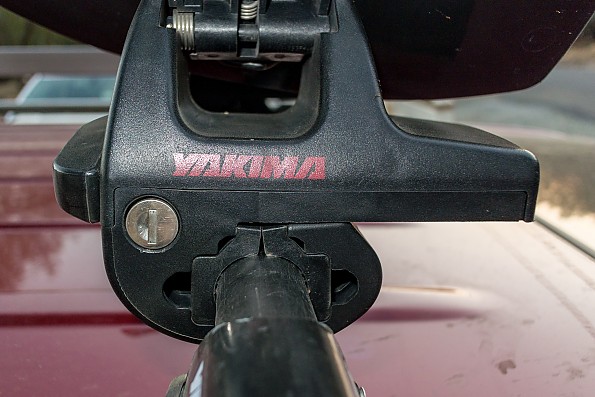 I've attached my SweetRoll to the factory aero crossbars on what's now my daughter's Toyota Highlander without issue. I use both square Thule and round Yakima bars on my Jeep and have had the same great experience with those as well.
I have read some negative reviews stating that the SweetRoll does not work on round bars because they don't clamp tight enough and they will rotate/tilt when trying to load your boat. I'm not sure about all round bars, but my Yakima bars have a grippy plastic coating and I can tighten my saddles to the point of sinking into that coating. While the saddles themselves do clamp very tight and do not tilt or rotate, the same is not true of the bar itself; with heavy boats it does spin no matter how much I tighten it.
That said, this has never really caused me any problems. I find if I don't tighten the bar to death, I can easily straighten the saddles once the boat is in place if they do tilt a little. I've never had any issues with my boat remaining securely fastened while underway and I've carried a WS Tarpon 120 on them for well over 800 miles on more than one occasion. So this is a non-issue for me, though your milage may vary.  
So are they right for you? Well, only you can answer that. What I can say is that they do work very well and seem to be built to last a long, long time. Even if I had to buy them again and pay full retail, I would.
Experience
I've been carrying kayaks car top for many years. I've carried all kinds of kayaks, atop all kinds of vehicles, on everything from the simplest foam blocks to the most extreme—the Hullavator. I can tell you without a doubt, there is a solution that will work for you; be it this one or something else.
Source: bought it used
Price Paid: $75

You May Like
Recently on Trailspace