YAMA Mountain Gear 1P Cirriform Tarp - Dyneema

Top 25 in Tarps and Shelters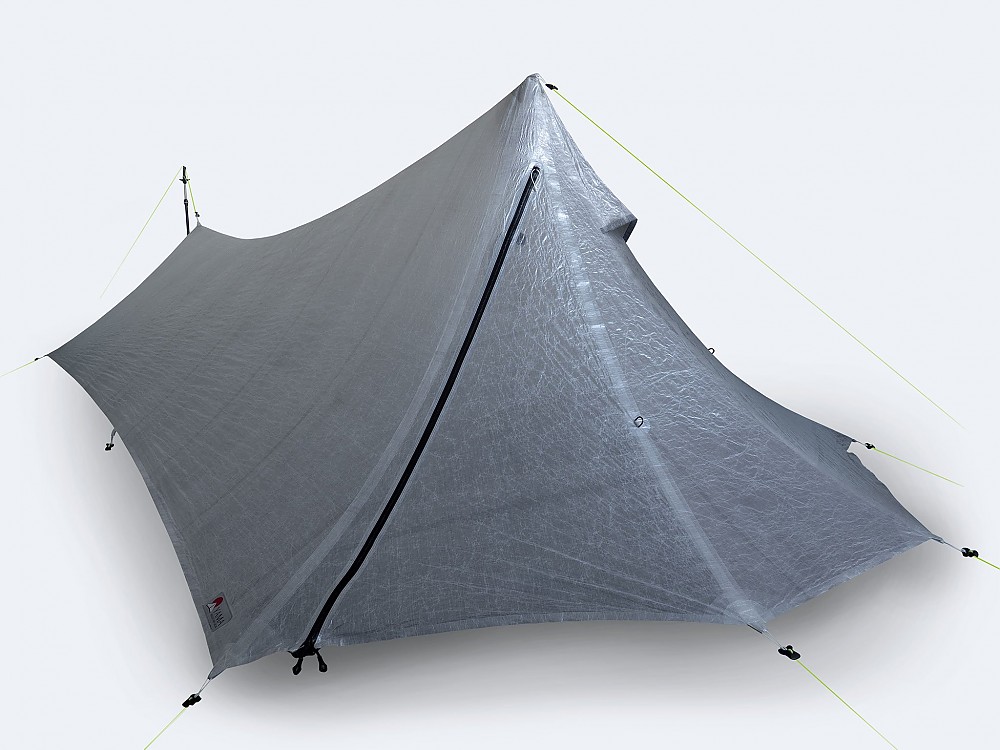 Versatile quality, handmade, full weather protection in a sleek design.
Pros
Pitching options—for inclement weather conditions or fair
Space is modest
Design sheds wind, rain, and snow.
Cons
No headroom for sitting or dressing
Pitching cuben can be tricky
Price for some can be off-putting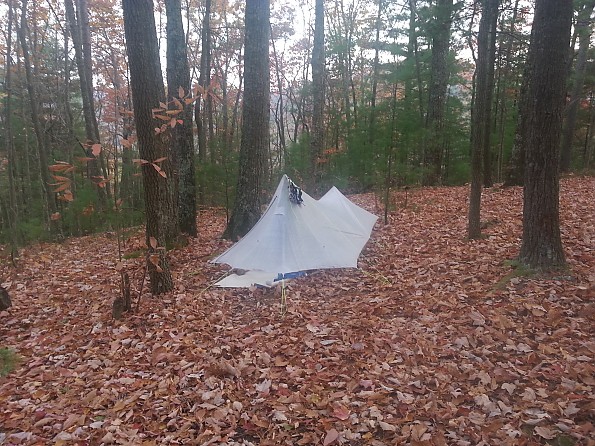 I purchased the DW Cirriform in .8 cuben but use the tarp alone during the shoulder season and have grown to love the versatility of the entire kit. I was hesitant to switch to cuben/dynemma after only using sil shelters for so long, but the weight savings in this piece while still having full weather protection from anything that nature throws your way is exhilarating!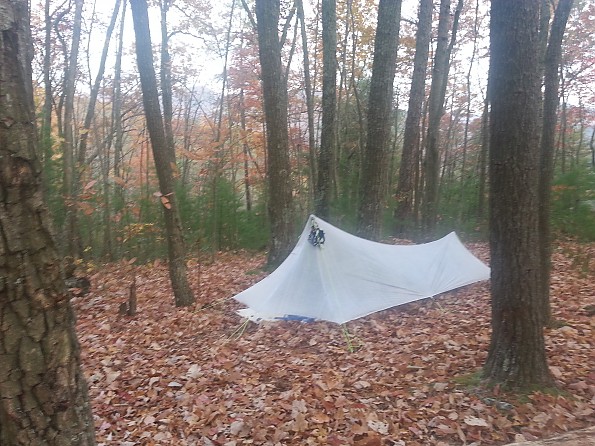 Gen at Yama is great to work with and understanding of any questions or concerns you may have. He makes all of his pieces with straight up LOVE YO!  
So on to the shelter itself:
Pitching can be a bit precarious for a first timer, however once you get the hang of its design and fabric it's a matter of habit. I actually had my neighbor come over to suggest it looked like something that belonged on Mars (these reviews can be humorous right?). The entry and exit is a bit of a well... 'ye know'- I'm a fairly petite female and had issues changing inside while in more populated campsites, entry and egress was rather like shedding a skin (best I can describe it) and could be hard on someone with bad knees.
I would suggest looking into the two-person model or contacting Gen directly to ask about other options, if available. This may not be an issue with hikers who only use their shelter to sleep in primarily. I'm not that person sometimes, I base my selected campsite on its own unique beauty and may hunker down all day reading. 
The vestibule itself is large enough that I can actually sit in it! My parents seem to think that I bought a two-person shelter. Silly silly parents, you'd wake up wet and miserable! Anyway, I could actually sit inside the vestibule area without it pitched in storm mode. This just tickled me pink.This, mind you, is while using the insert.
**Not sure if I've suffered too many concussions throughout my young years but attaching the inner can be a 'ye know' for me. I am but a simple person who likes simple processes and procedures and I may be overthinking Gen's directions for this.**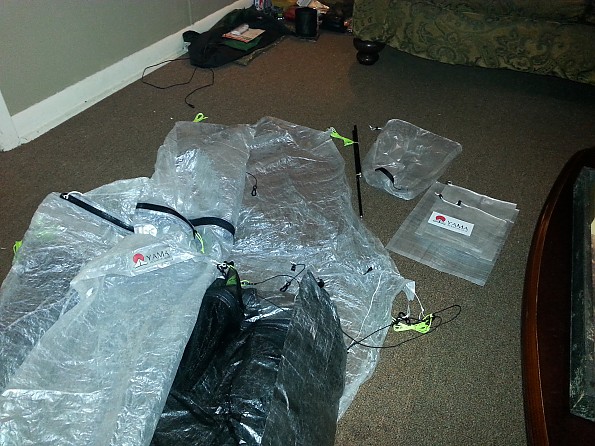 *Note shown in the above image are the insert with cuben floor, and optional pole I purchased in case of needing  (you can purchase both front and rear). The rear is shown here. Both the tarp and insert, purchased together or individually come with separate stuff sacks that are adequately sized to prevent dimples in the material.*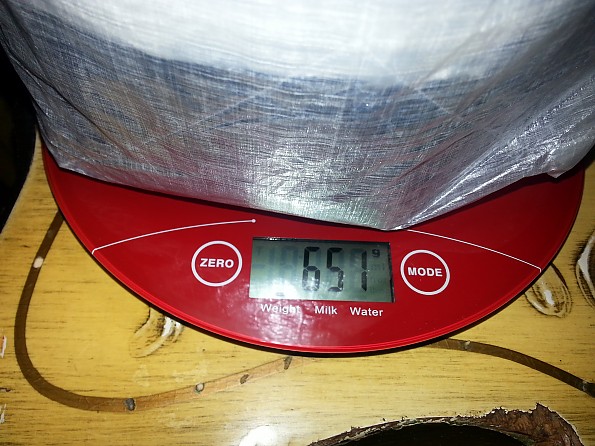 *Note the weight here in grams is for the tarp in .8, the insert/floor in 1oz cuben with stuff sack made to fit both.  Tarp itself is listed as 12.2oz with included guy lines etc on Yama's website which has proven to be accurate* 
Condensation was NEVER an issue with the Cirriform, except for one time I pitched rather close to a brook in a low ravine (again beautiful). My fault, not the design. Even then I had vented properly and condensation was a minimal amount. I simply shook off and hung out my bag's footbox in the sun while I ate.
In the colder months I bring along a UCO candle lantern and vent properly due to wind and weather conditions, have had no issues with wetting out my gear. The simple yet thought out design of the walls directs any moisture away from you and back to the surrounding area.  
If you are looking for a thought out, lightweight, and strong shelter that can take anything you encounter on the trail, the Cirriform is for you. At my age and physical condition the design is perfect; alternatively if you're rickety, have bad knees (I'm continually mentioning this because I had a friend of mine access it who swore at the end of the day it'd kill him to crouch/crawl constantly), or want to spend a lot of time in a SPACIOUS shelter...move on to something else. This just may not be able to meet your needs. If you're happy sprawling out at the end of a long day, feeling a breeze on your face or being able to cozy up and hunker down warm and dry in 'storm mode' then this is for you. 
Gen has revised the design of the Cirriform several times, as an avid outdoors man himself who actually depends on his own shelter, he's hit a sweet spot for a lot of us. Respective to the link's photos it's exactly the same! Stitching immaculate, stress points impeccably reinforced. I'll be reviewing the longevity of the Cirriform at a much later date. I'm sure it will still be as positive as it is now.
When visiting the page for the Cirriform DW please keep in mind that the pictures are showing a sil nylon version, however the design is relative just with the benefits of dynemma. 
*Continued edit-
The stability for the Cirriform is absolutely phenomenal, I believe Gen drew directly from his experience of living in the Blue Ridge Mountains and recreating there often.  Anyone who has lived in this area or spent time hiking trails there knows that it can go from beautiful to beautifully scary within an instant, so having a dependable and capable shelter is pertinent. You have that in the Cirriform.  Gen didn't just throw some lightweight materials together with profit in mind, he refined and used it himself in the world with you in mind. 
I've had no issues with splash back from rain when either using the tarp alone and pitched in appropriate locations, or with the included insert. I've pitched in storm mode expecting severe conditions and although received none the ventilation design is still adequate to keep condensation away. In storm mode when conditions do persist you'll be able to have a good amount of space for your gear to stay dry, albeit depending on how high your pitching perhaps not enough head room and your neck may be sore or left laying down. Dynemma/cuben sheds snow and water due to its plasticity and the slickness of the material, the shape of the Cirriform further sheds wind like it's nobody's business. Win, win.
I was on Moosehead Lake in Maine and I wasn't disappointed with how comfortable the Cirriform kept me from the elements. I've used it so far from NC, VA, WV, OH, ME, CO (not as fancy as some other travelers) in varying conditions with no problems and issues. When used in mild to moderate snowfall be sure to always shake off. If inside I just 'tap' off, I've noticed that it handles the weight exceptionally.
When storing for use on the trail dynemma can be rather cumbersome due to its fragility. I have limited patience for these delicate matters....seriously I should start meditating or something. Anyway, Yama states you should roll the material in the air and avoid the ground when packing away.
This is rather impossible for dwarf sized individuals like myself. I typically just roll carefully where I've already selected my campsite, cleared of abrasions etc and am able to roll very small. I'm not one for measuring so I can 'image' relate for you, about the size of a wide mouth Nalgene for the tarp alone. Possibly smaller, I just don't smash my favorite expensive gear because I'm poor.
I think I opted for the .8 cuben as opposed to the .5 for my own stated impatience with gear and financial instability so I opted for the sturdier while slightly heavier materials. Either way I would now have no qualms in having ordered the lighter option from Yama, I've looked over every stitch and reinforcement point to find nothing but the highest quality and service marks taken.  
If any questions about the product I might be able to help with, feel free to ask:)
Source: bought it new
Price Paid: $360

Your Review
Where to Buy
Help support this site by making your next gear purchase through one of the links above. Click a link, buy what you need, and the seller will contribute a portion of the purchase price to support Trailspace's independent gear reviews.
You May Like
Specs
tarp
rigging
stuff sack
guyline
Price
MSRP: $385.00
Reviewers Paid: $360.00

Weight
10.2 oz / 289 g
2.3 oz / 65 g
0.3 oz / 9 g
-
Packed size
7 x 5.5 x 2.5 in / 18 x 14 x 6 cm

Materials
0.8 oz DCF / CT2E.08
-
-
UHMWPE Core
Required items
Trekking poles: ~38-44 in at front, ~29 in at rear / Stakes: 7 (9 for better wind stability)

Recently on Trailspace